TNT's "No Play-By-Play" TV Experiment Amounts To A Lot Of Fake Camaraderie And Silence
The network broadcast a game last night with three analysts and zero people explaining what was happening.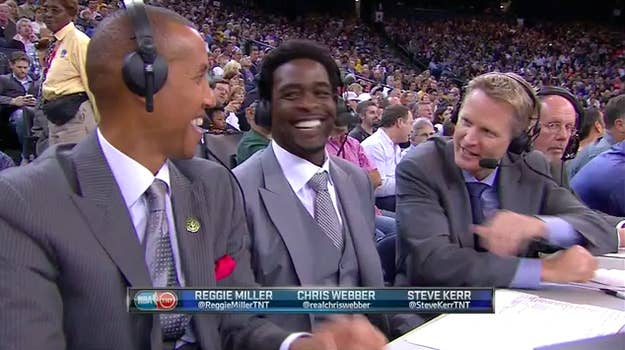 The best thing going for TNT's Thursday night experiment in dumping the traditional play-by-play broadcaster in favor of three former-players-turned-analysts is that it was delayed by the preceding game going into overtime.
Because the Knicks and Bulls played an extra frame in Chicago, basketball-watching America was mercifully denied some 20 to 25 minutes of Steve Kerr, Chris Webber, Reggie Miller's ramblings. Unfortunately, by 11:05 Eastern time, this trio had gotten on the air and what followed went pretty much as expected. Mildly confusing hoops analysis was the night's one-course menu and context was not in season.
From the outset, the Kerr/Miller/Webber machine was only interested in conversation, while the events happening mere feet from their sight were given the most cursory treatment. If you turned your head and conveniently forgot there was a basketball game on your TV, you might have thought you had downloaded some new basketball podcast or fallen into a late-night sports radio roundtable. But the atmosphere was saturated with nervous dispassion, as if the trio were unable to stop worrying that their usual safety nets — Marv Albert, Kevin Harlan — would not be putting on a headset.
In fairness, the group improved by the second quarter's midway point, if only because Steve Kerr, the self-proclaimed "point guard" of the three, started taking casual notice of passing events, a welcome confirmation to the viewers at home that the analysts were just as interested in Kevin Durant and Steph Curry as they were their own conversations. Kerr clearly held the reins and however he fared, so would this broadcast. When Jarrett Jack's layup brought the Warriors to within two less than five minutes before the half, Kerr's immediate analysis — "So the Warrriors, after a slow start to this game, had some sloppy turnovers, [but] they've climbed back in it, and they've settled themselves down" — felt applicable in a whole other way.
But by the end of the half, the three had slipped back into their familiar roles. They watched in near silence as the seconds toward halftime ticked down, then made an insider-ish remark about Marv Albert not being around.
And that's what was a disappointment about last night: not the analysis per se, not that the whole thing seemed like a podcast, but that it wasn't a good podcast. The concept of three colleagues discussing the general implications of a game whose specific details we can see in front of us isn't necessarily a bad one, but that's not what happened. Rather, we got three guys who seemed to sort of know each other having a tentative personal conversation. If TNT wants to try this again — and hey, let's give them credit for creativity — they'd be advised to tell their analysts to worry less about banter and more about what's happening in front of them, regardless of whether they're telling us home many team fouls there are and where each player went to college.