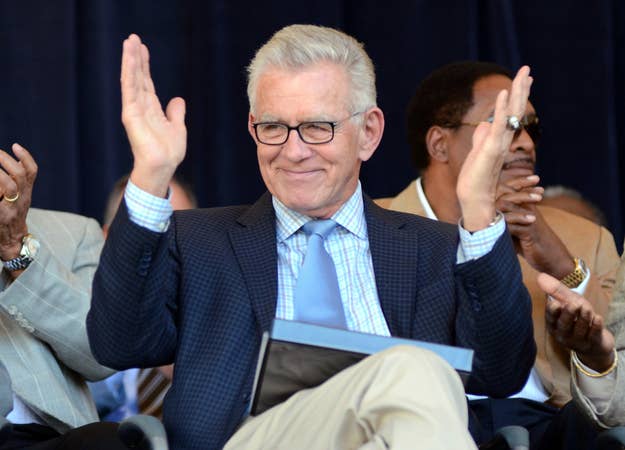 The news that Tim McCarver was finally planning to step away from calling Major League Baseball games for Fox after the 2013 season — after he works his record 24th World Series, of course — was upsetting, but only in that it hadn't happened sooner. Though his mind "had been made up for two years" to retire, it's only now that his longtime play-by-play man, Joe Buck, will have to find a new sidekick — an odd thing to think about since Buck almost always played the Robin role alongside McCarver's wiser-mentor schtick. And though the Twitter Age has been unkind to the 71-year-old former catcher, the forgotten truth is that Tim McCarver used to be an excellent broadcaster.
Back in the late '80s and early '90s, he called New York Mets games locally, and his promotion to working nationally televised games was wholly warranted. But a sad thing has happened the last few years. McCarver morphed from one of the most reliable color analysts in the business — few were better when he and Buck were in sync — to something resembling more of a rambling loon than sage ex-ballplayer. For a web culture that gave rise to things like Shit My Dad Says, he became perfect fodder with proclamations like "It's a five-letter word. S-T-R-I-K-E," uttered during the 2011 World Series. Or there was the time he laid out his crackpot theory about "climactic changes" making our planet's air thinner and causing more home runs to be hit. But funny and weird as those asides were, it was McCarver's complete inability to adapt to changes, even those that were good for the game, that cemented this present-day dinosaur status. McCarver has called 23, soon to be 24, World Series: a record that will likely stand for decades. But at 71, he easily missed his peak exit moment by five years or more.
It's not an ageist thing. Baseball, despite its sepia reputation, has never been static for long, and the game has evolved dramatically enough to see McCarver look positively stone-aged even when compared with his old-man peers. If anything, his shortcomings have only been magnified by his contemporaries. Baseball-minded broadcasters like Vin Scully, Marty Brennaman, Jack Buck, Ernie Harwell, Bob Murphy, Curt Gowdy, and Dick Enberg have, over the years, proved being old didn't equate to being out of touch, especially regarding a sport that's undergone significant transformations over the last 10 years. Advanced metrics and new terminology are receding from the fringe and becoming more mainstream every season. Today's fans are more well-informed than ever before, thanks to, say, in-app pitch tracking. Sabermetrics, meanwhile, has made everyone smarter — the reasoned and passionate MVP debate regarding Mike Trout and Miguel Cabrera may be eventually looked back on as some kind of breakthrough — and social media helps spread that awareness faster and farther than we could have possibly imagined a decade back.
Back in 2001, McCarver didn't have to be concerned with any of this. He was a sharp-color man who practically described Luis Gonzalez's World Series–winning hit in 2001 before it happened. If this is what people ultimately remember him for, he can be proud.
But lately he's just been playing the crotchety contrarian archetype. Last April, he derided the impact of Twitter, which drives so much of MLB's popularity today, declaring, "nothing in my view more disturbing than social networking — nothing." That's not the sort of diatribe you hear from someone like Scully, who will be calling his 64th season for the Dodgers this year and remains beloved for making his age into an asset. McCarver complains about computers; Scully tells stories about ice-skating with Jackie Robinson.
This isn't all McCarver's fault, for sure. Two months after the S-T-R-I-K-E line, he was announced as the Baseball Hall of Fame's latest honoree of the Ford C. Frick Award, given annually for "excellence in broadcasting." The sequence of events, from punchline to the peak of his professional in weeks, made it clear that three decades in the booth meant McCarver couldn't be touched — MLB's press box version of a made man. However long he wanted to work the sport's most prestigious moments would be up to him, and we'd not see him quit a day sooner. Fox, and the baseball establishment, were enablers for his crankiness.
Over time, McCarver's gainful employment came to represent the worst kind of institutional legacy, but now Fox has a chance for a course correction. Someone younger and more current, such as Ron Darling, who does Mets games for SNY and moonlights on Turner broadcasts during the postseason, or Orel Hershiser, who does excellent work on ESPN's Sunday Night Baseball, would make an excellent accompaniment to Joe Buck's sobering, grounded style. (Although, Hershiser's lame remarks regarding WAR — that it's too math-y and confusing — were quite disheartening.)
Fox execs say they likely won't name a successor until after the season ends, so let's consider this 2013 season not as a ceremonial good-bye party to McCarver but as an open casting call to fill his shoes. A few years back, this would've been a taller order, but the timing now couldn't be better.