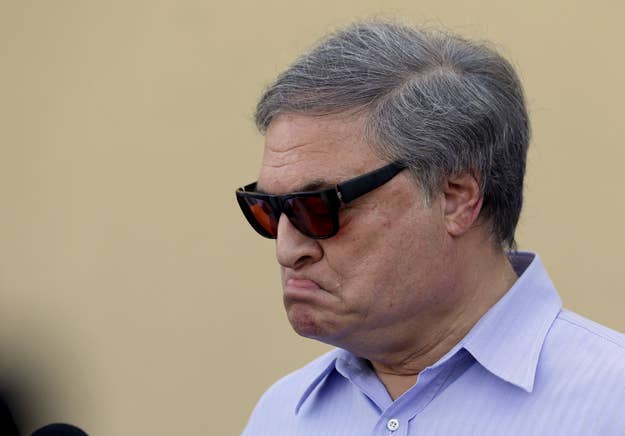 Marlins owner Jeffrey Loria and team president/stepson David Samson have been apologizing a lot recently. The owner has been approaching reporters during spring training while his top deputy engages the media on shows like ESPN's Outside the Lines. (The OTL segment reaches especially cringeworthy levels when Keith Law, who's just about the smartest person alive on the subject of MLB prospects, lays into Samson for the mind-numbingly bad trade that anchored the Marlins' offseason moves.) And now Loria has kindly given himself a new reason to apologize: threatening to sue two of his last remaining season-ticket holders because they don't want to pay for seats that he put a view-limiting advertisement in front of mid-season.
This ingenius Marlins public-relations coup is the latest reminder that sports franchise owners didn't necessarily get rich by being good at any of the things that they'll have to do when they're actually running the team they spent all their money on. The ugly backstory: Loria (who made his money as an art dealer) strong-armed Miami residents to fund his team's new baseball stadium in the Little Havana neighborhood, a move that ultimately led to the highest-profile mayoral recall in American history. He then spent hundreds of millions to stock his team's roster with the best talent one could buy. But it was, ultimately, a disparate crew of free agents that flamed out in spectacular fashion, and the new ballpark sold out only two of 81 home games. Loria's grandiose promises from spring training turned into roster-gutting. Well-liked players who had been told to find a house in the immediate area were traded just days later. The team had become a reality TV joke, but with such cost-cutting moves, management had to find a way to fill a structure that stayed mostly vacant in its inaugural season.
That's where the whole apology tour came from. But the campaign has not exactly paid the dividends either had hoped, and this latest snafu with longtime season-ticket holders Jan and Bill Leon will assuredly derail whatever dregs of goodwill had accumulated.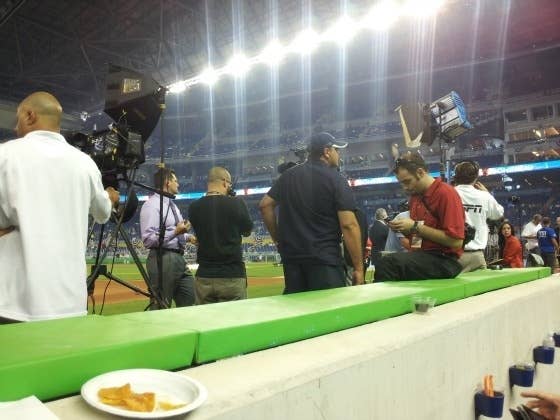 The Leons have paid five figures annually for season tickets going on 15 years now. They got awesome front-row seats for Marlins Park, but the team erected a billboard midway through last season that both partially obstructed their view and (they claimed) made it harder for them to catch the angle of foul balls coming at them from the batter's box. Now, it's clear from the before and after (above) photos that the Leons are not in immediate deathly peril because of several inches of padding that've encroached on their line of sight, but if The Customer is Always Right™, then that's that, especially for a business that's not exactly viewed so favorably at the moment. And it would be a pain to show up to your seats and find your view had been made worse without warning. The Leons are now refusing to pay for this season's tickets, for which they'd agreed to do so back in 2010 — and the Marlins are threatening to sue them for breach of contract. Of course, if the Marlins truly "don't care if nobody comes," this is the way forward, for sure.
The most baffling thing is that Loria did this so soon on the heels of his public contrition; he doesn't seem like he's learned a thing from the past year. Whether he's able to pull out a small profit from the Marlins despite this kind of repeated PR incompetence is almost immaterial — think of how much more money a halfway-professional owner could make in his place just by behaving like a decent human. You can't help but wonder what else Loria may have in store for his fans. Other team owners, historically speaking, have set the bar rather high. George Steinbrenner paid off a mob-linked informant in the '80s to dig up dirt on his own players. Donald Sterling wouldn't pay for the cancer surgery of his own team's assistant coach. Loria's efforts only make sense if he's determined to reach a new low.
If historically abhorrent behavior is Loria's goal, he'll have gotten off to a great start by giving fans absolutely no reason to come to the Marlins Park this year — and then going to court against the remaining few that actually want to.