1.
First, you can be a teacher, the most well-known occupation with an English degree. Teachers are so important, but it takes a lot of passion and patience.
2.
You can be a literary agent, the person who goes between the author and the publisher, and often protects the author. Also, you get to read for a living, and what's not great about that? You get to help the author write their book. You are there during the whole process. You read every updated manuscript. Basically, you get to read the book before it is presented to the public, even to the publisher.
3.
You can be an editor, which also allows you to read for a living. Having a degree in English means that you know how to watch out for grammatical errors, which is really important. Editors are pretty importat, because otherwise you get books that don't make much sense, which can sometimes be the case with self-publishing. A novelist needs an editor.
4.
You can be a lawyer. People often think that you have to major in Political Science to go to law school. That is totally not the case. Having a background in English means that you know how to write well and think critically, and these skills are so important in lawschool.
5.
You can be a copywriter, and write for companies. They always need people who can write well.
6.
You can be a technical writer and write instructional manuals or other documents that require complex material to be made easily understood.
7.
You can be a book critic. Yes, publishers will pay you to read new books and review them before the books are sold to the public. Doesn't that sound awesome?
8.
Surprisingly, you can also go into the medical field with a degree in English. Also, a degree in English will enhance your application to medical school. English teaches humanistic values that are sought after in medical professions.
9.
You can be a journalist, which will let you travel. You don't have to stay in the same city. Journalists often travel the country or even go abroad in search of stories.
10.
You can go into the media and be a news anchor or a show host. Several news anchors majored in English when they were in college, such Diane Sawyer and Andrea Mitchell, as well as many show hosts, such as David Garroway.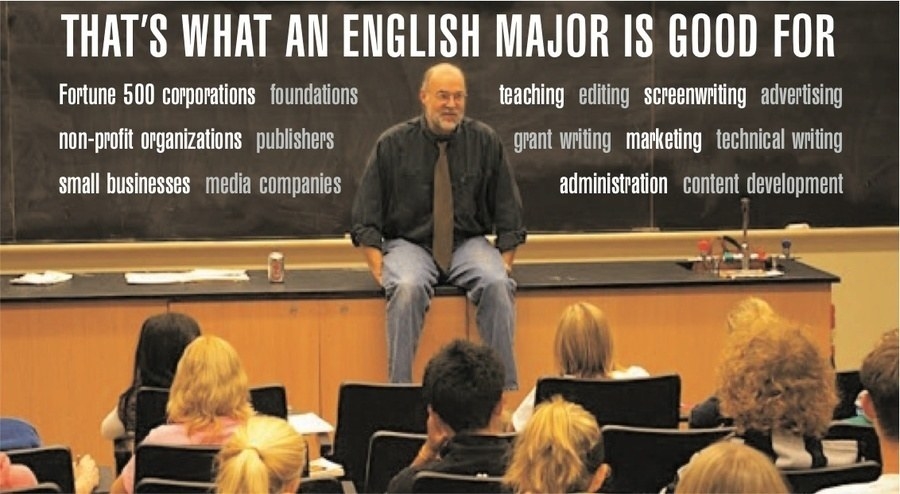 This post was created by a member of BuzzFeed Community, where anyone can post awesome lists and creations.
Learn more
or
post your buzz!