1.
A book-shaped flower vase with some real "Belle from Beauty & the Beast" energy (like TELL ME this vase wouldn't absolutely come to life and start strutting its stuff all over their library). 

Check out a TikTok of the book vase in action. 

Promising review: "The vase was so pretty I bought a second! They're durable and very appealing to the eye. I will be purchasing more." —kayla
Get it from Amazon for $22.99+ (available in four colors). 
2.
A copy of Burn After Writing, a guided journal that tens of thousands of reviewers swear by — through a series of questions and thought experiments, it encourages people to take time away from their screens to explore their feelings, both new and old, so they can embrace meaningful ones and try to let others go. 

Promising review: "I first saw this book on TikTok and decided to look more into it. I purchased four total because I know some people holding onto things that are difficult to let go of. It's a great way to look at things from a different perspective and truly hold yourself accountable to different things in your life. I love what it stands for and I look forward to when I burn mine after I'm done. Self love, self care, and meditation for a better state of mind tomorrow is always the goal. I definitely recommend it to those susceptible to change and the willingness to try things different. You're so much more than what's been done to you and someone's inability to see your worth does not decrease your value. Choose you for a change." —Brent Helm
Get it from Amazon for $7.32.  
3.
A Vintage Bookshelf Edition of Candy Land designed in a box that blends so seamlessly into their bookshelf that guests will be downright dazzled when they pull it out for game night. Psst — they can collect even more of the 12 classic games converted into "books" from the vintage collection, including Monopoly, Scrabble, and Clue! 

Check out a TikTok of the Vintage Bookshelf Edition of Candyland in action. 

Promising review: "I was born in 1983 and this is the EXACT version I adored and obsessed over as a young girl. Thrilled that I can share this game with my now 4-year-old daughter exactly the way I remember it. Also the book box is amazing. Keeps all the pieces tidy and in good condition. Looks great on the shelf." —Elle MK
Get it from Amazon for $39.95. 
Check out the rest of the vintage game collection on Amazon. 
4.
A chic minimalist fruit bowl/colander that lets them wash your fruit from the grocery store right in the bowl they're storing it in. Here's to an extremely adorable life hack. 

Check out a TikTok of the colander in action. 

Promising review: "Absolutely love this fruit bowl! The bottom comes off for drainage and it's super easy to clean. It looks great on the counter and fits a decent amount of fruit! Great find and I would recommend this product!" —Faith Reviews
Get it from Amazon for $23.99 (available in three colors). 
5.
A wireless, Bluetooth-enabled karaoke mic they can sync with preeeeetty much anything, including speakers, players, or singing apps on their phone. Now they can live out their Ariana Grande fan fiction in the comfort of their own home.
Promising review: "You don't understand TikTok made me obsess over this microphone. As a 30+-year-old woman, I resisted purchasing it. I finally broke down and bought it because it was haunting me in my sleep. I'm so glad I did. When I am in a bad mood I start karaoke in my house and am instantly better. It has 'ruined' my teenage son's life because my performances can be heard through his Xbox microphone. This is a must-have product." —Zane A. Undercoffer
Get it from Amazon for $29.99 (available in 11 colors).

6.
A mushroom growing kit that grows right there in the packaging, so they can add some sweet, sweet umami flavors to new dishes by sautéing, roasting, or air frying them up.
Back To The Roots is a California-based small business founded by two college friends that specializes in indoor gardening kits with a mission to reconnect families to food.
Psst — if you have not put mushrooms in your air fryer, my friend, you have not yet lived the full human experience. Also this growing kit comes with some recipes to get you started!
Promising review: "This product has been so much fun to watch! I followed the directions, exactly as written, and the mushrooms began growing within 3–4 days. I will say that I did soak them for close to 10 hours before putting them back in the box to grow and I believe this helped a ton. I also kept the box inside by a window with the blinds closed in order for them to get indirect sunlight. The mushrooms grew tremendously for almost a week before they started to shrink so I clipped them to cook with and they were DELICIOUS! This was such a fun product and process to watch. I am now in the process of trying to get a second batch of shrooms from the same box. Fingers crossed!" —Steph A
Get it from Amazon for $19.98.
7.
An undetectable mouse jiggler for folks working at home who need to stay "active" on Gchat, Teams, or Slack and sometimes want to dash out to use the bathroom or walk the dog without doing the whole "BRB, BACK IN A BIT!!" song and dance every time they dare to get up from their desk. 

Promising review: "Like everyone else, I stumbled upon this product because of a TikTok I saw. Setup was extremely easy and I'm pleased to say that my Teams green light is on all the time now. Workers of the world, unite." —Amazon Customer
Get it from Amazon for $29.99 (available in six styles). 
8.
A solar bird feeder truly out here serving some Hannah Montana vibes — during the day it's a sweet little haven for birds to get some grub, and at night it uses solar power to light up and enchant the backyard. 

Promising review: "My wife and I love this so much, we are going to buy two more. Works great as a bird feeder and is lovely besides. At night the light cast through the pattern in the feeder is absolutely stunning. We can see a few more of these spread through our wooded yard. So freaking cool!" —Randy A Coy

Get it from Amazon for $16.19. 
9.
A worry ring that's equal parts cute and functional — reviewers swear by this as a fidget to help them stay focused and calm. (And prevent them from picking their nails or skin!)
JulieAnn Jewelry is a Pennsylvania-based small business that specializes in handmade jewelry. 
Promising review: "I bought this ring because I was picking my fingers raw. Rolling the balls is so soothing and I've told all of my friends about this ring!!" —cris18
Get it from  on Amazon Handmade for $24.95.
10.
A 3-in-1 foldable magnetic wireless charger guaranteed to be a favorite in their tech arsenal — It folds out from a small square into a rectangular charging pad with a spot for their iPhone, AirPods, *and* Apple Watch to charge at their desk all at the same time. 

Check out a TikTok of the foldable 3-in-1 charger in action. 

Psst — a lot of travelers swear by it because it saves soooo much space in their luggage! 

Promising review: "I use this product to charge my IPhone 13, AirPods, and Apple Watch. Prior to this 3-in-1 compact purchase, I have purchased three different kinds of 3-in-1 chargers — I frequently travel between school and home with carry-on bags on airlines and all of the previous stand version chargers doesn't fit well in my bags or I am always worried I would break. This is compact and folds so well that I can fit in my carry-on or in any zipper pockets without having to worry about breaking anything. Charger works really well and it is the best compact one you can find in market. Love it and been using it for two months now and no issues!!" —SBREDDY
Get it from Amazon for $33.99 (available in six colors). 

11.
A portable Chill-O-Matic Instant Beverage Cooler, aka every finicky cold bevvie drinker's DREAM. This gadget can take a 12-ounce can of seltzer, soda, or beer at room temperature and make it ice cold in just one minute. A lot of people who complain that their fridge doesn't make drinks "cold enough" also swear by this for an extra icy kick.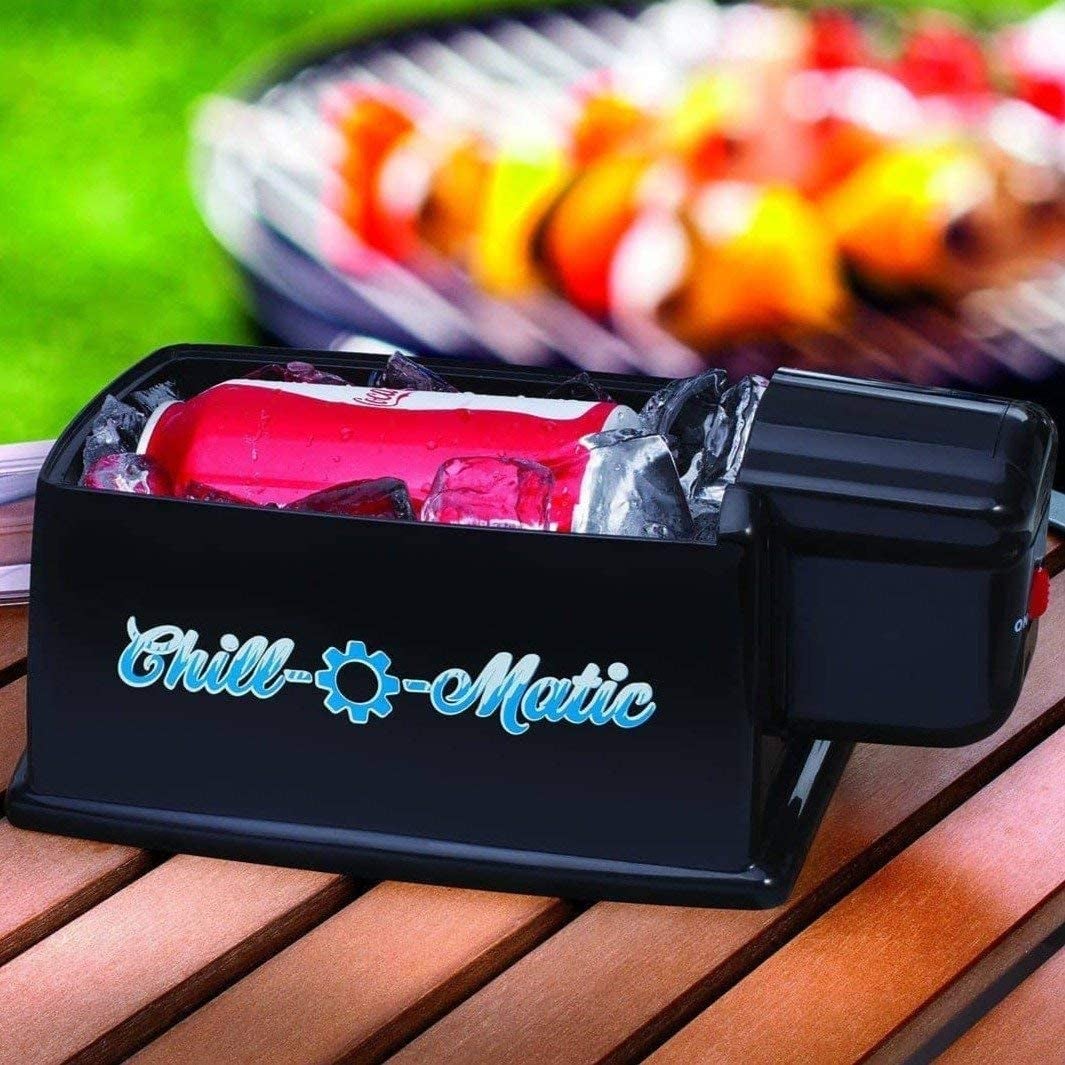 Check out a TikTok of the Chill-O-Matic in action. 

Promising review: "I was so afraid of wasting money. But I didn't. I love my sodas cold. But sometimes there's not a cold one available, and waiting 30-40 min for one to get cold in the freezer is not always ideal. This will get your room temp can to fridge cold in 90 seconds. I let it run double that to get almost freezer cold. I wish it had a power cord. But I do appreciate the portability that the batteries provide. I can't wait to try it out on vacationing, as access to cold sodas isn't always available. All you need is a literally a little bit of ice." —G. Massey
Get it from Amazon for $29.94. 

12.
A rainbow prism suncatcher they can easily hang indoors to refract sunlight and make a bunch of teensy little rainbows all over the place, adding a subtle touch of magic in their space. 🌈
13.
A "flaming" humidifier so they can have your aromatherapy and perfectly breathable air *and* enjoy the coziness of a teensy fireplace vibe for a little cottagecore touch.

Check out a TikTok of the flaming humidifier in action. 

Promising review: "I like how this diffuser kind of looks like a mini fireplace and it's perfect for winter. I also like how long the water of this diffuser lasts — I always add my favorite essential oil in it when I go to sleep every night without worrying it will run out of water. I used to have insomnia and it helped me to sleep through the night with my relaxing essential oil scent, and it also worked as a humidifier." —Benny
Get it from Amazon for $32.69 (available in black and white). 
14.
A Morse code bracelet you can get for them in a *ton* of different messages (including some delightfully NSFW ones). I'm personally a fan of "Buzz Off" and "Badass," but there are plenty of super cute ones for moms and dads and siblings, so this is a true choose-your-own-adventure.