1.
A rainbow prism suncatcher you can easily hang indoors or out to refract sunlight and make a bunch of teensy little rainbows all over the place, adding a subtle touch of magic in your space 🌈.  
2.
A set of eye-popping fine point pens designed for planners and journals, so you can — gasp — color code all your to-do lists, fun plans with friends, and scrapbook pages. 

Perhaps most importantly for anyone out there planning to go full Leslie Knope on these is that they're designed not to bleed through thin pages!
Promising review: "I love how this pen feels to hold and it writes beautifully! I am very picky about how the ink looks from the pens I use and I don't remember having one that writes so smoothly and beautifully! I will buy these whenever I need more. I actually just purchased another package of all black!" —Marcia
Get a set of 18 from Amazon for $8.99. 
3.
A plug-in color-shifting mushroom light for anyone whose little cottagecore heart could use an extra dose of cozy to calm them down. 
Check out a TikTok of the mushroom night-light in action. 
Promising review: "I LOVE this night-light. It's in my bathroom and is a lovely addition. It turns off the second the lights go on, which is nice because I don't have to worry about accidentally leaving it on. Super cute and the little itty-bitty lighting element does a good job lighting, just enough so I don't have to turn the main lights on in the middle of the night." —1Thand

Get it from Amazon for $5.97. 
4.
A flexible power strip complete with three outlets, two USB ports, and a 5-foot extension cable designed so you can fit it into weird nooks and crannies around or under your desk while still being able to plug in bulky chargers. 

iJoy is a small business that specializes in headphones and tech accessories. 

Promising review: "I rarely write a review (this is the second in the past few years). One of the best purchases in a long time. Nice design and very practical. It solves all of my problems as it can go any direction. It's worth every penny. I turned around and bought two more. I am about to buy my fourth one. Love this!" —Pond P. 

Get it from Amazon for $19.99 (available in four colors). 
5.
A pair of ridiculously comfy pull-on cushioned boots reviewers *swear* are a perfect dupe for the sold out Ugg version, plus come in way more colors. These boots were made for walking *and* for casually flexing on the entire neighborhood that you managed to get the most elusive shoe of 2023 for half the price.

As an added bonus, there are no visible labels from the company on the shoe. (and reviewers say they're even easier to pull on than Uggs!)
Promising review: "I had these on my wishlist for a while but was skeptical. I'm glad I finally ordered them! They fit perfectly and SO much easier to put on than my real Ugg minis which I love. They're very comfy and warm. Highly recommend! Glad I bought them to wear while I wait for Ugg to restock their tan ultra minis." —Kamryn

Psst — if you have Amazon Prime Wardrobe, you can try this piece out before you buy it! 
Get it from Amazon for $69.99 (available in women's sizes 5–12, including Wide sizes, and in 12 colors). 
6.
A cloud-shaped magnetic key holder for an absurdly cute storage option for keys that will prettttyyy much guarantee you never lose them again. 
Promising review: "So, yes, TikTok made me buy this, but so far I really like it. It's obviously very adorable and offers a charming spot to keep my keys that works with my entryway. I'm really surprised by how strong the hold is for such a small object — I carry my car fob and a few keys and so far it's holding strong. I hung it with Command strips to avoid any potential damage to the wall and I will say make sure it's level as the hold is not so good on an angle (but that was from the original in-hand testing). Definitely recommend and for the price, I'm very tempted to get one for my at-work office." —D. Carter 
Get it from Amazon for $7.98.
7.
A lightweight quilted jacket reviewers swear is the ultimate Free People dupe 👀 — this features a thick, insulating fabric with a slightly faded vintage-esque look to it, making it the ultimate in comfort and cuteness. 

Check out a TikTok of the quilted jacket in action. 

Promising review: "I normally get medium in jackets. i ordered medium here. Nice, comfy, and a bit oversized. SO COMFORTABLE. I get asked about it all the time. Never take it off!" —Aron Wolfson
Psst — if you have Amazon Prime Wardrobe, you can try this piece out before you buy it! 
Get it from Amazon for $60.98+ (available in sizes S–XXL and 19 colors). 
8.
A customizable Lego bouquet building set for adults that is truly just 756 of the CUTEST PIECES you ever did see. Plus this is arguably an investment because unlike some OTHER bouquets you've brought home (*glares at nature*) this one won't croak on you a week after you bring it home!! 

Promising review: "These Lego flowers were amazing! I purchased them for my fiancé for Christmas, and we had such a fun time building them together! There is a good variety, getting you lots of different flowers and repetitions of ones that are really nice! For an experienced Lego builder, these are gonna be a super easy build and come together very quickly! For someone not as experienced, it's gonna take a little more time, but is entirely within the realm of reason! Additionally, they look amazing set up and posed!" —Brayden Rozelle

Get it from Amazon for $47.99. 
9.
A cow-themed cheese holder that is, in fact, a Big Moooooooood. Not only is this an adorable and handy way to store your cheese slices, but tons of parents say it's been a real hit with the kiddos! 

Each container holds 24 slices of cheese. 
Promising review: "I had an old Kraft cheese container from decades ago that finally broke and I didn't think I would be able to find a replacement, but this is even better! My kids named it Daisy immediately. It is cute to have in the fridge or even bring out to the dinner table. Great quality and should last a long time." —Karen
Get it from Amazon for $6.97. 
10.
A buildable Glimmer Glow Stick lipstick with a sheer, subtle glitter and a unique rosy tint formulated with ~pH technology~ so it will adapt to your own personalized shade. 

Check out a TikTok of the Glimmer Glow lipstick in action. 
Promising review: "This is such a pretty pH color lipstick, viral for a reason — it's very pretty to look at, it's not sticky at all, and the more you layer it, the darker the pink shows up. The only thing I don't like is the scent in it, I can almost taste it a bit. It's nice to have in my purse if I need a quick color while I'm out in case of sudden dinner plans or a meeting, because you can control the color saturation to how light or bold it is." —Kristina Bumbelow

Get it from Amazon for $3.99. 
11.
A Silly Poopy's Hide & Seek game, aka any parents' dream — this gizmo keeps kids entertained for hours of fun hiding it all over the house, where it makes little noises to give clues about where to find it. It's basically all the joy of playing hide and seek, except it's the *toy* hiding, not the humans. 
Check out a TikTok of the Silly Poopy in action. 
Promising review: "Let me tell you that if you want hours of endless fun of hide and go seek without having to hide yourself, this is a must get! When it's hidden it makes various toot noises and says stuff so the kids know if they are close. And when they find it and press the button to do and sing the silly poopy dance ... even you will dance and sing along!!! Doesn't need batteries and come on, it's poop? Who doesn't think poop and toot noises are funny and if they don't they are lying to themselves. A must-have for fun with your kids without barely doing any work!!" —andrea kelli gorman
Get it from Amazon for $20.38.

12.
A bunch of teensy macaron boxes for a delightful upgrade to many things in your life, whether it's storing pills or trinkets or just staring at them looking all fancy and French on your bedside table.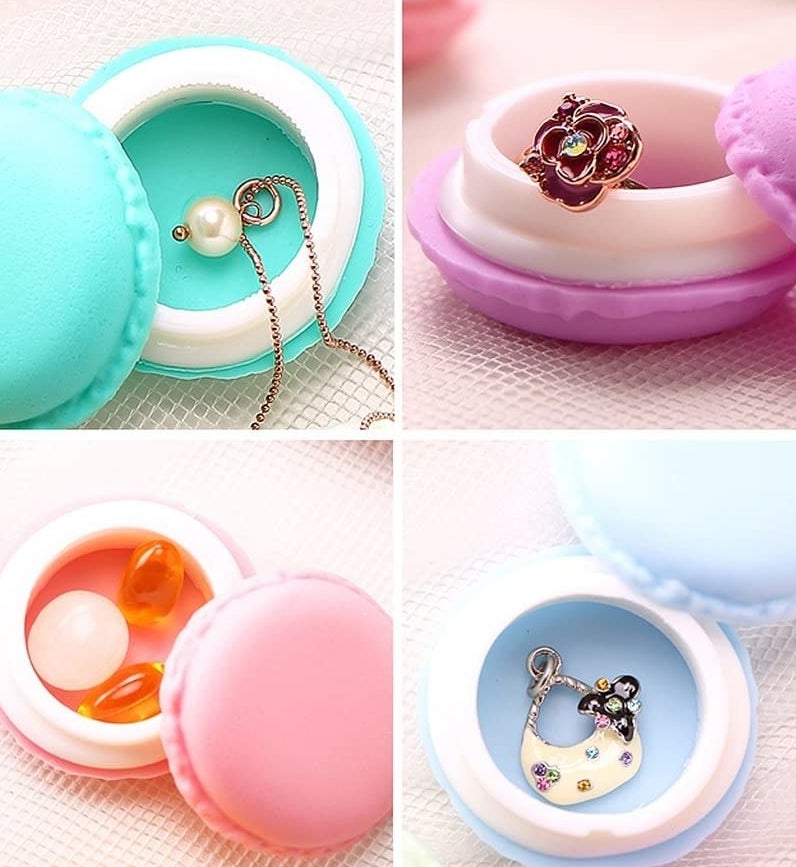 Promising review: "Just received these cute little boxes and am in love with them. Very thick and sturdy plastic but easy enough to open. These will work perfectly for filling solid perfumes and giving out as stocking stuffer gifts as I don't have to worry about it being a snug fit/lid falling off. I imagine these would also be great for pretend food for kids' playsets or for a kid's trinket box. Overall I love them, love their feel, love the colors and am very happy." —Mary
Get a set of six from Amazon for $6.99.
13.
A teensy dimmable toast-shaped nightlight you can carry around with you as a pseudo-flashlight without waking up everyone within a bajillion foot radius of you. Reviewers love this for reading, taking care of kids in the middle of the night, or navigating the house in the dark. (Honestly with the power of lit up bread on your side, the ghosts don't stand a CHANCE.) 

Promising review: "I needed some light in my bedroom for when I first enter the room at night. I don't have an overhead light. And due to the price of electricity these days I don't want to keep my nightstand lamp on. This is perfect. Plus, I think it's so unbelievably cute. It makes me smile every time I see it. It's cozy. I know that sounds strange, but I think it is." —G. Maiale

Get it from Amazon for $14.99 (available in three colors).