Fun fact: Amazon has an "Internet Famous" section curated with TikTok-viral products. Here are a few of the current ones you probably haven't tried yet, but most definitely should:
1.
COSRX Snail Mucin 96% Power Repairing Essence, a lightweight hydrating face serum designed for *all* skin types reviewers swear by for healing acne scars, fading dark spots, and smoothing fine lines. Users with sensitive skin especially appreciate how gentle it is compared to competitors, and a lot of them mentioned seeing results within the first few uses! 
2.
A beloved hydrating argan oil hair mask designed for all hair types to give you that extra *oomph* of softness and shine. People with damaged or weak hair from chemical dyes also love this for restoring hair health! 

Arvazallia is a small business that specializes in hair repair and hydration products. 
Promising review: "My hair was very dull, no shine at all. I put this on dry hair, waited about 30 minutes (after this first time I'll do the recommended time), rinsed, and was amazed. Soft, shiny hair after one use. Nothing mends the amount of broken ends I had, but they were less noticeable. I snipped off a couple of inches this morning and I feel human again. No more looking like a plague victim, having people make the sign of the cross and averting their eyes when they see me. This is a miracle in a jar." —nettlehart

Get it from Amazon for $12.95. 
3.
Taco Cat Goat Cheese Pizza, a DEEPLY beloved, fast-paced card game suitable for kids and adults that will have everyone in fits of high stake giggles in no time. Bonus: each game only lasts 10–15 minutes, so you can go one or a few rounds depending on how much time you've got together.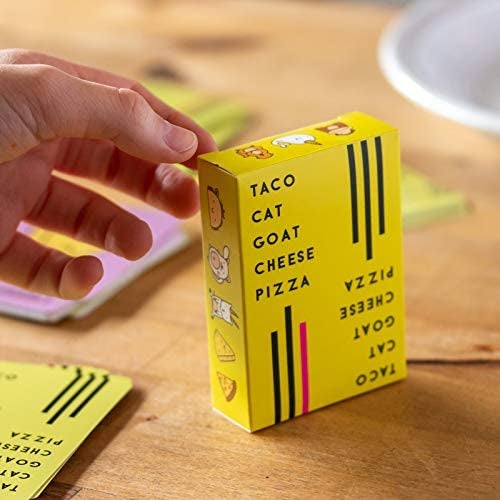 Dolphin Hat Games is a small business that specializes in family-friendly card games. 
Okay, so the rules: you divvy up all the cards equally, and then all the players take turns putting down cards that have different illustrations on them, saying "taco," "cat," "goat," "cheese," and "pizza" in order. If the card put on the table matches the word that's being said in that moment, whoever slaps a hand down on the card first gets all the cards under it. You keep playing until someone comes in possession of all the cards (or until you all start craving tacos and pizza so much you drive yourselves to the nearest combination Pizza Hut and Taco Bell). 
Promising review: "This game is hysterical! I played with my 7-year-old daughter and my 70-year-old father and we all enjoyed it. I haven't laughed that hard in a long time!" —bobkopolow
Get it from Amazon for $9.84. 
4.
A cult-favorite round ice cube tray set (complete with a bucket to hold the ice) to give you *the* most aesthetically pleasing, perfectly shaped ice orbs to elevate everything from your iced coffee to your lunch seltzer to your evening cocktails. Reviewers also love that these fit perfectly in water bottles! 

Promising review: "Worth every penny. I hit a wall with my ice trays always breaking, hard to get ice out, empty too quick. I splurged on this set and am really impressed. I already have a bin (which it comes with) full of ice and two back ups freezing. And the little scoop is fun as heck. Highly recommend if you don't have an ice maker!" —Kascidy Badon
Get it from Amazon for $23.13+ (clip the 10% off coupon on the product page for this price; available in two colors). 
5.
A set of delightfully affordable teeth-whitening strips a lot of reviewers compare to the popular Crest version, with many saying they can see immediate results within one use. Bonus: a lot of people with sensitive teeth and gums swear by these! 

Promising review: "I've been buying these particular strips for a few years now. The Crest strips hurt my teeth and gums, these ones do not at all. I also love how well they adhere to the teeth and do not slip around. I put them on for 30 minutes and it's a breeze. They really do whiten my teeth a lot, I use them for maintenance when I need a touch up. They are also economical. Overall, a great product. Highly recommend!" —T. Johnson

Get a pack of 28 strips (14 total treatments) for $16.99+ (clip the $3 off coupon on the product page for this price; available in two flavors). 
6.
Essence's Lash Princess mascara, because TBH, we've all wasted too many years and too much money looking for the ~holy grail~ mascara. This one is less than $5, gives you instant length, and is DELIGHTFULLY sweatproof for workouts. 
Hello, that is my face above, because I bought into the hype of all the 5-star reviews and now I will never look back!! Putting it on is like giving my eyelashes butterfly wings. It doesn't get clumpy, it stays put ALL the livelong day no matter how much you sweat, and you can apply it on very lightly if you don't want it to look so dramatic, or continue applying for longer lashes each time.
Promising review: "Saw this product on TikTok and thought it would be expensive looking at the results they got. I am beyond amazed with how my lashes look after about two coats. For around $5 you couldn't ask for a better mascara! I will be buying this same one when I run out. I was not expecting to like it as much as I do! No complaints." —Kd
Get it from Amazon for $4.99.
7.
Pure Instinct Roll-On, a TikTok-viral "pheromone-infused" scent a lot of reviewers love because it's designed to smell different on each user by blending with the unique pH of your skin. It's marketed as a way to make yourself smell more ~alluring~, but a lot of reviewers just genuinely love the sweetness of the unique but subtle scent. 

Pure Instinct is a small business established in 1985 that specializes in personal fragrances and essential oils. 
Promising review: "I'm extremely picky with perfumes. I hate anything overpowering, too floral, too sweet, too musky. This smells so faint like soap. It just smells clean. Like you just got out of the shower. Reminds me of Skin by Clean which is my favorite perfume ever. To me it has very subtle notes of vanilla and flowers. I mean like real flowers not like the artificial floral scent that is nauseating. This smells beautiful. The smell does change over time as it reacts with your body. I'll definitely be buying again when I run out. I love that it's a roll on oil too. Very convenient and easy to apply. It smells natural. Doesn't smell like you're wearing perfume. Just smells like you naturally smell good if that makes sense, lol." —Emily

Get it from Amazon for $16.95. 
8.
An Apple AirTag to help prevent all kinds of "oh my god where is that thing that I desperately need" disasters (read: missing keys, wallets, luggage, PETS). You can attach this ridiculously lightweight device onto the object/critter you need to keep an eye on and easily find it from your phone if need be — it even has a built-in speaker to make little noises so it's easier to find. (Psst — a lot of travelers SWEAR by this to keep tabs on luggage!)

Check out a TikTok of the Apple AirTag in action. 

Promising review: "Took a pair of these with me on my trip to Europe, and absolutely loved them. What a smart idea! I am one of those people that is unable to utilize carry-on luggage due to physical limitations, so this was terrific, and kept track of my checked luggage. And like somebody else's great idea, I also used it to find my way back to my hotel room while in Europe! Find your luggage, find your hotel room!" —Writing Rider

Get it from Amazon for $29. 

Psst — you can get an Apple AirTag-compatible keychain or collar clip-on, and you can even snag an Apple AirTag-compatible wallet! 

9.
A Bissell multipurpose carpet and upholstery cleaner with a *MAJOR* fan following of parents and pet owners — this compact, super portable powerhouse uses warm water and a special formula to make stains from grass, mud, pet accidents, food, and all your other home-related shenanigans look like they never even happened. 

Each cleaner comes with a trial size of Bissell's Spot & Stain Formula, which is also available on Amazon for $16.99! 
Promising review: "I wish I had taken photos since I was amazed at the results honestly. I bought my car about a year ago and it had stains all over the seats — I didn't want to pay $300+ for them to be cleaned since I'm a college student so I just waited. My sister saw a TikTok video or something about this machine and while I was doubtful that it would work since some of these stains have been there for who knows how long I finally bought it cause I spilt a blue slushee over my car seats. Lo and behold I now have a car with no stains whatsoever! I wish I had gotten it sooner!! I wish I would've taken before and after pics but I'll try and upload some of how it looks now at some point! But 15/10 recommend!!" —jovana montoya
Get it from Amazon for $109.59.  
10.
Cocktail Codex: Fundamentals, Formulas, Evolutions, a bartender-beloved book for beginner- to intermediate-level cocktail enthusiasts that breaks down six iconic "root" cocktails — the old-fashioned, martini, daiquiri, sidecar, whisky highball, and flip — to show you how to improvise and riff your own creations based on what combos work with the ingredients you have. 

Check out a TikTok of the cocktail book in action. 

Promising review: "This book has easily become one of my favorites. Great base knowledge and would recommend to anyone seeking to further educate themselves on spirits and cocktails. Even the first few pages is full of useful information. Purchase this for yourself or even as a gift. I cannot say enough good things about this book." —Adriana

Get it from Amazon for $22.49. 

11.
An exfoliating mitt to make the whole process super simple — you can use this in the shower once a week to help gently remove dead skin cells for smoother skin, fewer ingrown hairs and bumps, and *much* better absorption of moisturizers and other skincare products. (Also I think owning a "mitt" means you legally are allowed to say you play sports.)  
Seraphic Skincare is a small business specializing in cruelty-free, sustainable beauty products. 
Promising review: "I have very thin and light body hair so any form of removal (shaving, waxing, etc) usually leaves me with a lot of ingrown hairs. I've tried body scrubs and washcloths and neither really do a great job. I saw this product recommended by a dermatologist on TikTok and thought I'd try it, it's amazing! I also have very sensitive skin and this mitt doesn't leave my skin irritated at all." —Kat

Get it from Amazon for $6.99 (also available in a two-pack).
12.
A retro-inspired mini playable arcade game perfect for anyone who was ever like "Should I recklessly purchase a pinball machine for the apartment??" and then remembered the time-space-money continuum. Enter this affordable, nostalgic, and delightfully teensy throwback you can play with instead. 

My Arcade is a California-based small business that specializes in retro gaming products for the modern age. 
Promising review: "This is a GREAT toy. I am 61-years-old and played some of these games in the arcade when I was growing up. So far the toy has worked flawlessly and is holding up well. There are A LOT of games, some of which I would not play, but there are many that make this toy too fun to put down. Well worth the money. I had purchased one for my nephews for Christmas, but decided it looked like so much fun that I bought one for myself. The best thing is you do not have to put in quarters, like I had to do at the arcades!" —inSC

Get it from Amazon for $25.99. 
13.
Laneige's "Sweet Candy" Lip Sleeping Mask, a flavor of the cult-favorite treatment that will bring you straight back to your favorite '90s candies. This is made with vitamin C and antioxidants to help keep your lips so soft, hydrated, and happy that you'll take more selfies than your front-facing camera can prepare itself for.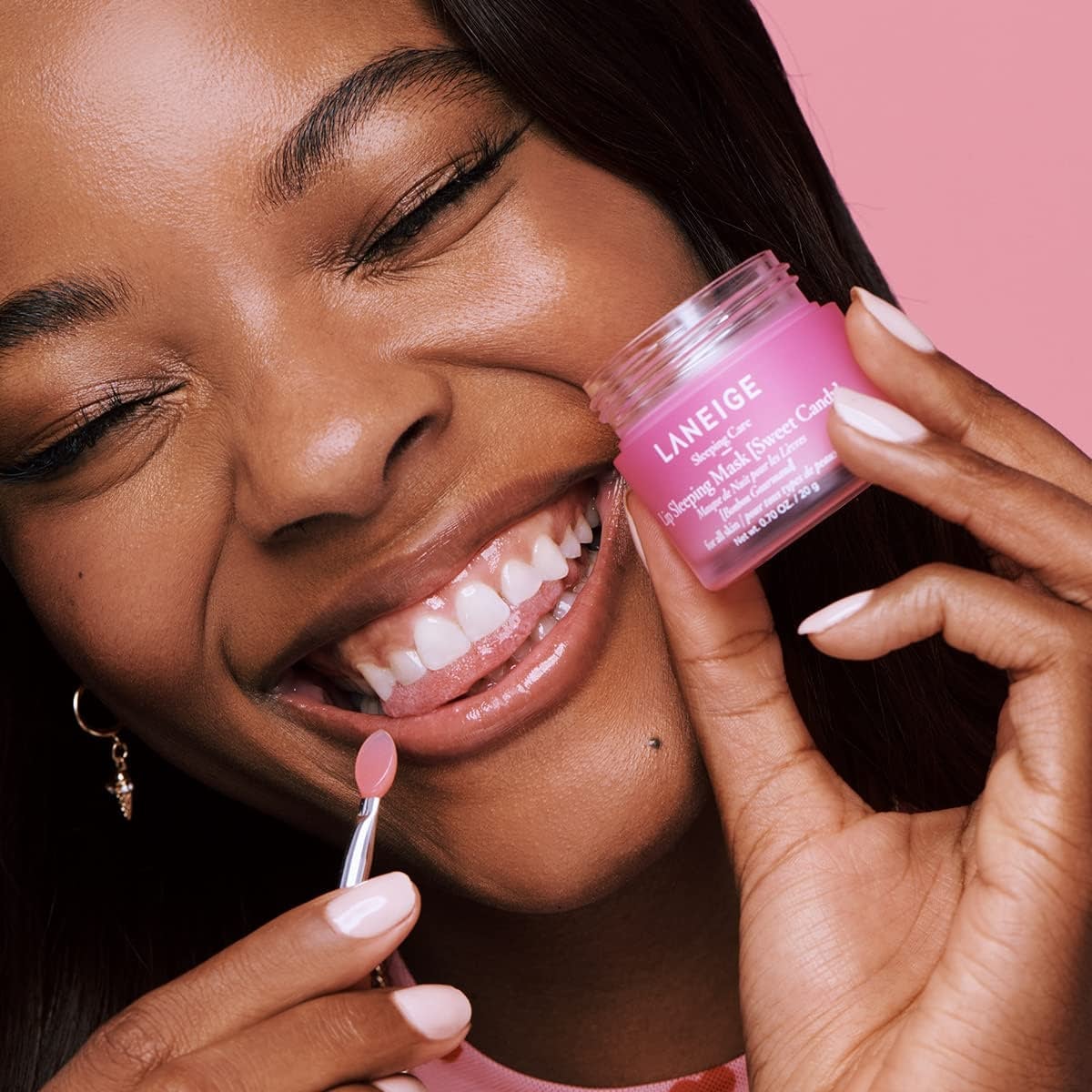 Promising review: "I'm obsessed with buying products I see on TikTok, I was a little hesitant about this one due to the price. My lips get easily chapped, but never crack. I put it on, within seconds they felt like my usual lip balm does after apply it all day! I'm in love!" —Emma White
Get it from Amazon for $24 (available in four flavors).