1.
A set of soda can "lids" to spare you the despair of being half finished with your can of LaCroix or Coke on the way out the door — these fashion them into a bottle and make them delightfully portable. 

Reviewers also *swear* by these for keeping sand and dirt off the rim at picnics or the beach! 
Promising review: "Biggest thing since sliced bread. Do you hate it when you when can't finish your soda or maybe don't have time? If you're driving somewhere it's difficult to handle a can drink sometimes, you're trying to take a sip and all a sudden you hit a pot hole. Soda up your nose, down your chin, on your clothes. It doesn't have to be that way anymore — with these you can enjoy you soda just like it was in a bottle. I was skeptical at first, but sold as soon as I put it on the can. I use it every day." —Jonesy
Get a set of six from Amazon for $13.97. 
2.
A "flossing toothbrush" with two layers of bristles — regular firm bristles, and longer ones that are ten times thinner to clean deep in between your teeth and gums to mimic flossing. Reviewers love how deep the clean feels, and also how soft it is on sensitive teeth!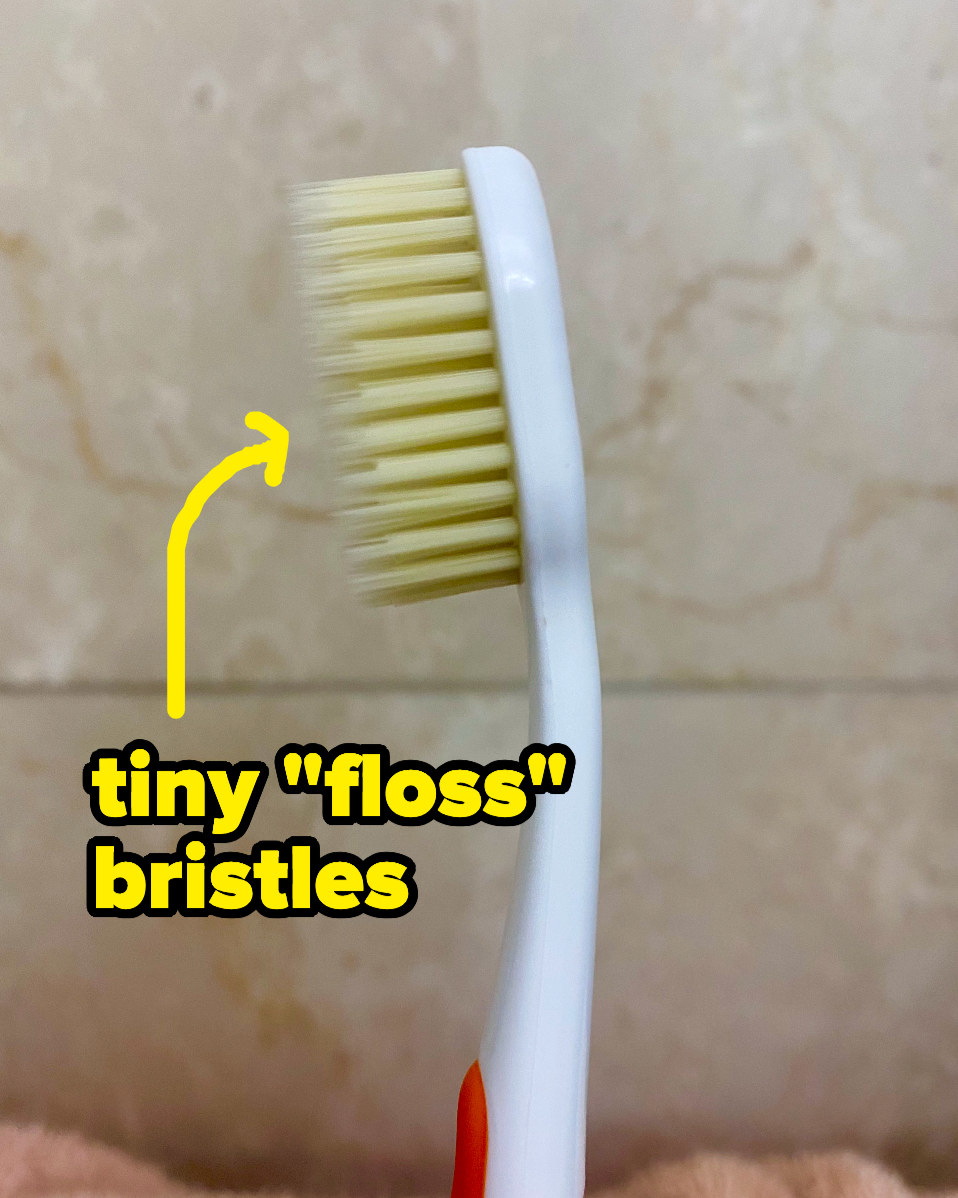 Mouthwatchers is a small business established by Ronald Plotka, DDS, that specializes in antimicrobial toothbrushes designed to get deeper cleans even patients with "great" dental hygiene might miss with traditional brush and floss routines. 
I personally just bought this at the recommendation of BuzzFeeder Stephanie Hope and love it just after the first few days of use! I use an electric toothbrush usually, but I feel like I'm getting a much more satisfying clean from these?? Especially because I tend to get yellow stains between my teeth no matter *how* much I floss, and these bristles seem to actually target that a lot more effectively. 
Here's what BuzzFeeder Stephanie Hope has to say about them: "Growing up, I was the absolute worst at flossing and brushing my teeth. It was so bad, I ended up developing periodontitis, which is inflammation of the gums caused by a build up of bacteria. It causes your gums to separate and recede from your teeth. It's pretty bad. Well, now I obviously go to the dentist regularly, but still struggle to floss my teeth as often as I should. These toothbrushes are such a game changer for me! The bristles at the tip are sooo tiny, I can literally feel them cleaning between my teeth. My gums get red easily if I don't floss enough, and ever since I started using this twice a day, they're no longer red! They look so healthy, and I truly feel like I'm actually getting a good cleaning, compared to other manual toothbrushes. It's gentle enough for my sensitive gums, but gets in deep to prevent plaque. I'm obsessed!" 
Get a two-pack from Amazon for $8.91. 

3.
A "Lifty Loo" toilet seat handle to keep things germ-free when you're lifting the toilet seat up and down — even your toilet seat deserves to accessorize!! And these come with an adhesive that make them super easy to install. 

Lifty Loo is a small business that specializes in toilet lifting tabs that are made with recycled ocean plastic.

Promising review: "Works perfect for what I need it for. I just figured out where it would work best on my toilet, then I adhered it. It doesn't get in the way and my younger boys are able to pick the seat up without touching the seat." —SK
Get a pack of two from Amazon for $11.97. 
4.
A set of Sea Bands, which target an acupuncture point on your wrists meant to help reduce nausea. Basically, if you're someone who has motion sickness, morning sickness, migraine nausea, or even nausea brought on by cramps, this may the be thing to take you from 🥴to 😊.
Promising review: "These were awesome! My entire family suffers from motion sickness, especially car sickness. My little one gets sick in the car on a regular car ride through the city. So I knew that a long road trip was going to be a disaster. I was amazed at how well these bands worked for everyone! Not one single person complained about being sick for 12 hours in the car. At one point I did have one child remove their bands because they said they were getting too tight. But after only a few minutes without them, a headache started to come on, so they immediately put them back on and the relief was instant. I have suffered for decades and now I know better. I will never travel without mine again!" —1SmartCookie
Get a set of two from Amazon for $8.54 (available in adult and children's sizes).
5.
A SwitchBot Smart Switch Button Pusher to turn virtually *any* device with a press-able "on/off" switch into smart tech in an instant. Once you adjust the device over the button — be it a light switch, a switch to turn on your kettle, or a switch to turn on a fan — you can ask Alexa or Google Home to turn it off or on, or control it via an app on your phone. 

Reviewers love this because it doesn't require you to "smart enable" other parts of your home. It's also a great way to turn on your kettle or coffee brewer from the other room so it's ready for you when you get out of bed! 
Promising review: "Super great! Comes with clear instructions, the mobile app is clear and well designed, and it's super easy to set the whole thing up. Honestly I'm really happy with the product. Now I don't have to get up all the time when I inevitably forget to turn the lights off. I can just hit the button on my phone and VOOP the little arm comes out and presses the switch!" —Noah R. 

Get it from Amazon for $29 (available in white and black). 
6.
A super absorbent hybrid scrunchie towel that dries hair faster *without* the heat damage of drying tools. Reviewers love this as an alternative to heavier towels, particularly if they're errand-running with wet hair. 
Promising review: "I ordered this because I was sick of keeping a towel on my head for so long while my hair dried, and if I didn't have a towel, my shirt was soaking wet from my hair after a shower. For reference, I had very long, thick hair and it takes a while to air-dry — and I'm so happy I found this scrunchie! It's a lot bigger in person than it looks in the image, which is great because it covers more of your hair to help dry it. No more heavy towels on my head or tight towel wraps." —Meghan
Get a pack of two from Amazon for $13.49+ (available in eight colors and designs).
7.
A set of ingenious double shower curtain hooks to make putting on the shower curtain and the liner so! darn! easy!! that you'll never go back to those silly rings that pop off annoy the heck out of you again.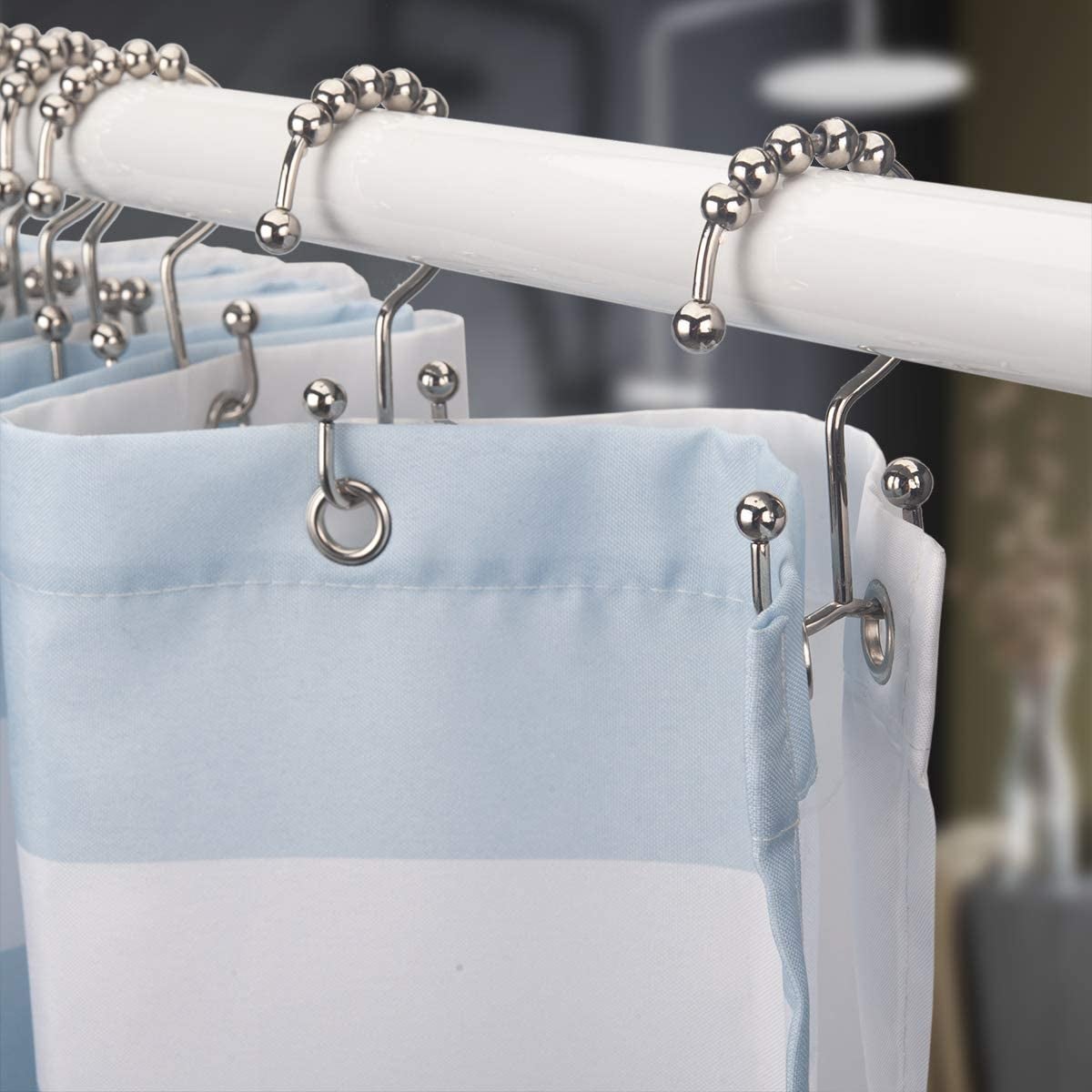 Promising review: "I hate changing out the liner on my shower because it meant I had to remove the curtain too. Not any more! I saw this set of hooks in a TikTok review. Now I can swap out the liner with ease. The hooks also slide on the curtain rod very easily, no tugging." —Christina
Get a set of 12 from Amazon for $7.49 (available in 10 colors). 
8.
An undetectable mouse jiggler for folks working at home who need to stay "active" on Gchat, Teams, or Slack and sometimes want to dash out to use the bathroom or walk the dog without doing the whole "BRB, BACK IN A BIT!!" song and dance every time they dare to get up from their desk. 

Promising review: "Like everyone else, I stumbled upon this product because of a TikTok I saw. Setup was extremely easy and I'm pleased to say that my Teams green light is on all the time now. Workers of the world, unite." —Amazon Customer
Get it from Amazon for $29.99 (available in six styles). 
9.
A weekly pill organizer designed with push-through silicone lids to easily organize your pills at the beginning of the week, meaning you don't have to spend a bunch of time rooting through pill boxes and trying to remember the timing of them each morning.
Sagely is a family-owned small business founded by husband-and-wife team Ellie Glazer and Ivor Miskulin, who spent three years designing the ideal, stress-free pill storage solution. The silicone lids are super secure, but also designed for gentle and easy opening and closing to account for users with dexterity issues.
Promising review: "Love this thing!!! I'm only 30 and didn't want an old lady pill box... and this one was modern and cool. The little slots to push in pills is fantastic and the containers are very large. It keeps my huge vitamin pills on either side and could fit over 10 large ones if needed. Love this thing. Worth the price and looks like it'll last forever. I do wish the magnets were stronger. They just keep them in place but will slide off if bumped. I assume this is helpful for people with arthritis. It's an easy fix. I take down one days worth of pills, set it on my counter and now I'm not too lazy to take my pills!" —Chicken McNugget

Get it from Amazon for $34.99 (available in four colors).
10.
A discreet rechargeable neck warmer for when the infamous "Hot Girl Walks" become "Freezing Cold Winter Gremlin Walks" — this holds a charge for over three hours and helps regulate your body temperature with multiple heat settings.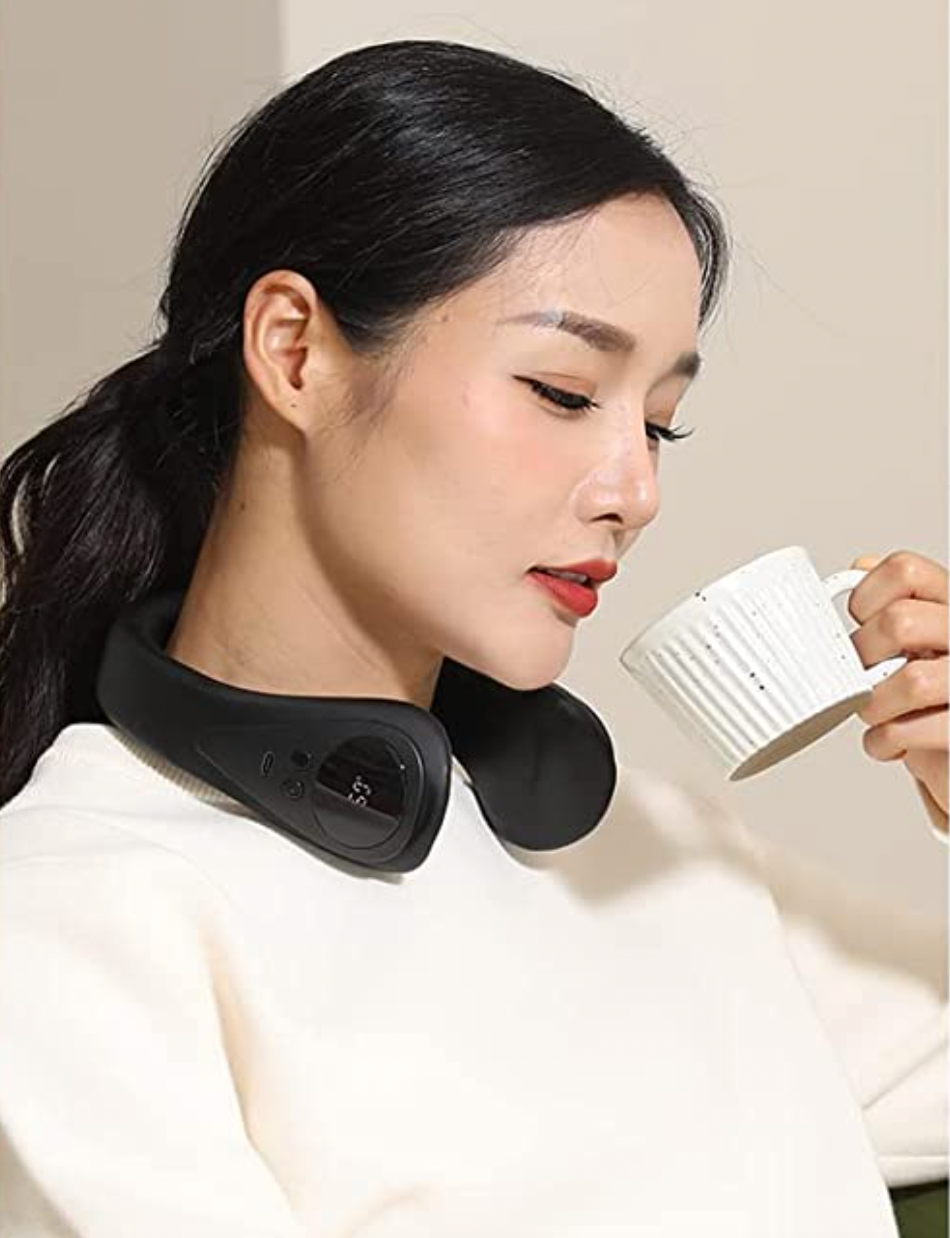 Promising review: "I am really happy with this portable neck warmer. I have other heated massage devices to help alleviate pain and other heated devices that work just for warming up the body. This device does both. It works like hand warmers, but it is designed to wear around your neck. Since I tend to carry tension in my neck, this provides relief. It is easy to charge and easy to use on the go. Good choice." —Jen C. 

Get it from Amazon for $35.99 (available in three colors). 
11.
A 3-in-1 foldable magnetic wireless charger you'll honestly be mad you didn't know about before now?? It folds out from a small square into a rectangular charging pad with a spot for your iPhone, AirPods, *and* Apple Watch to charge all at the same time. A lot of travelers swear by it because it saves soooo much space in their luggage. 

Check out a TikTok of the foldable 3-in-1 charger in action. 

Promising review: "I use this product to charge my IPhone 13, AirPods, and Apple Watch. Prior to this 3-in-1 compact purchase, I have purchased three different kinds of 3-in-1 chargers — I frequently travel between school and home with carry-on bags on airlines and all of the previous stand version chargers doesn't fit well in my bags or I am always worried I would break. This is compact and folds so well that I can fit in my carry-on or in any zipper pockets without having to worry about breaking anything. Charger works really well and it is the best compact one you can find in market. Love it and been using it for two months now and no issues!!" —SBREDDY
Get it from Amazon for $42.99 (available in six colors). 
12.
A set of Goody's "corkscrew" spin pins for your hair to give you the perfect, pain-free updo with almost zero effort. One of these pins literally can do the job of 20 (!!) regular bobby pins for a securely-held top knot, triple spin, or half-spin style, and reviewers love how simple the included directions are. 
Promising review: "I'm a nursing student and have to wear my hair in a bun every day. I've tried all the bun makers, watched YouTube videos, and spend way too much time on getting my hair into a bun. I was able to make a pretty bun that was secure in under 30 seconds. I thought it was a fluke so I did it again, and then again. I just ordered two more packs because I know if I lose one of these, I'd have to tear the house down looking for it. I have hair to my mid back, and three of these worked perfectly for me. If I can get my hair in bun in under 30 seconds, trust me...anyone can." —Tina
Get a pack of three from Amazon for $6.89.
13.
A set of Wad-Free pads to ensure that your sheets stay separate from each other in the dryer and come out fresh, dry, and unwrinkled instead of looking like they got into a wet cotton brawl. 
Wad-Free is a small business established in 2020 after the founder Cyndi Bray self-taught computer-aided design to create the pads.
Promising review: "THIS ACTUALLY WORKS!!!! I saw a TikTok about these and decided to order. Sheets balling all up in the washer and dryer has been a pet peeve of mine for forever. I was super skeptical of these, but I tried it, and it works as advertised! It's a little on the expensive side IMO, and that's kinda holding me back from purchasing a second set, but they really do work." —StrangerThings
Get a set of two from Amazon for $19.99.

14.
A massaging foot scrubber for your shower — not only is it super helpful for cleaning your feet without bending over while showering, but it's a great quick way to clean them before you go to bed at night or after you come indoors from a mucky day.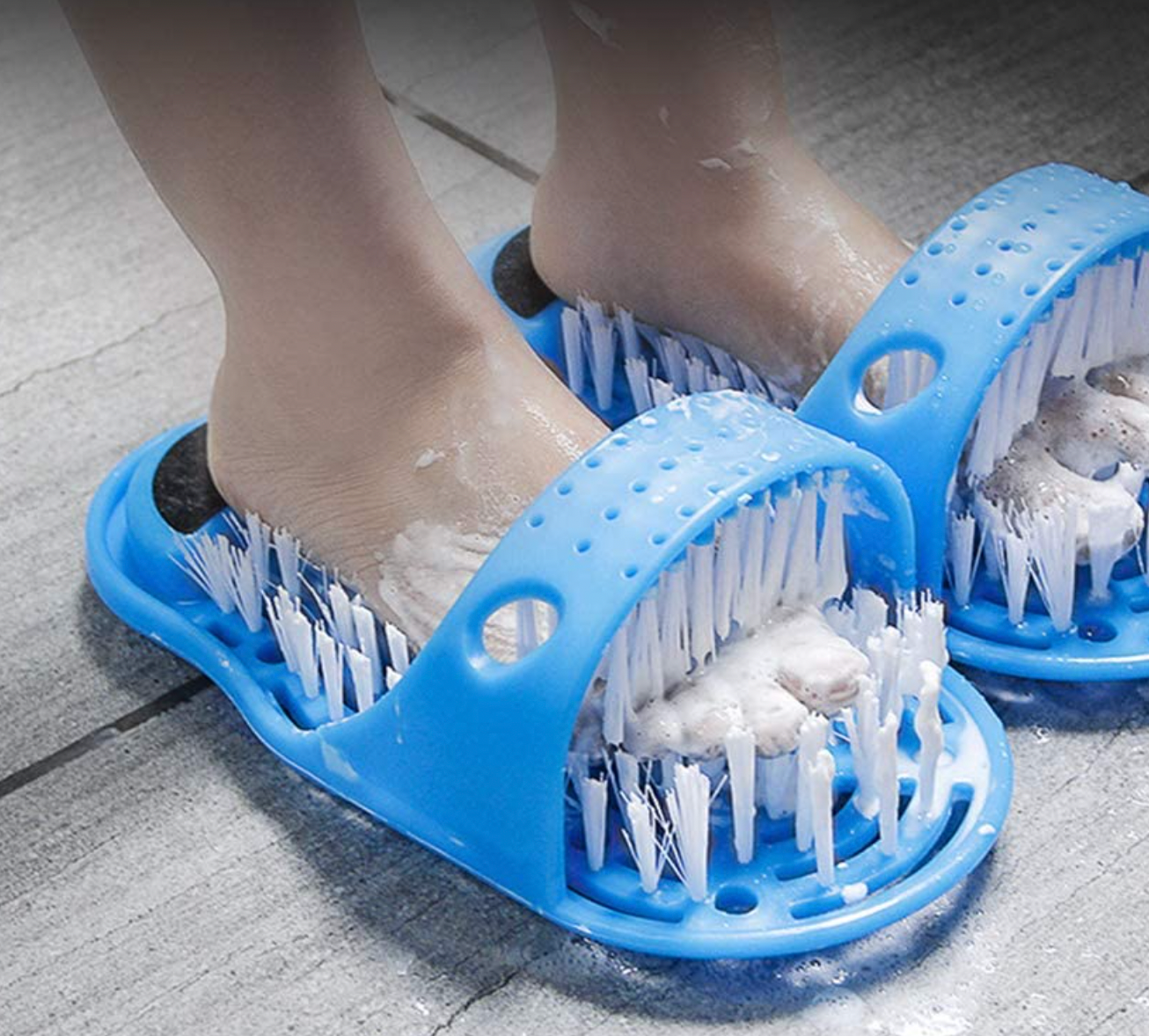 Promising review: "I wish I had ordered this foot scrubber earlier! After the delivery of my baby I been experimenting some backache and decided to give it a try! This foot scrubber is amazing, I don't have to bend down to wash my feet anymore, I just drop some body wash on my feet and voila!! I scrub as much as I want, my feet feel clean! This would've been awesome during my pregnancy. I regret my decision of not getting one before." —Adriana Gonzalez
Get it from Amazon for $16.49.