1.
An assortment of Cadbury chocolates for anyone whose British friends are like "Why can't you use me for my personality instead of my proximity to all the best chocolate?" Now you can have your treats directly delivered to you and they can at last know peace. 
Each set comes with with one Curly Wurly, one Picnic, one Twirl, one Starbar, one Crunchie, one Wispa, one Dairy Milk Caramel, one Double Decker, one Dairy Milk, and one Flake.
Promising review: "While watching Matilda the Musical recently on Netflix, we saw one of the kids handing Matilda a Curly Wirly bar. Having never tried one before, I went online to fine them and happened across this box. This candy has not disappointed. Fresh and delicious!" —Barbra
Get it from Amazon for $14.99.

2.
A copy of Burn After Writing, a guided journal that tens of thousands of reviewers swear by — through a series of questions and thought experiments, it encourages people to take time away from their screens to explore their feelings, both new and old, so they can embrace meaningful ones and try to let others go. 

Promising review: "I first saw this book on TikTok and decided to look more into it. I purchased four total because I know some people holding onto things that are difficult to let go of. It's a great way to look at things from a different perspective and truly hold yourself accountable to different things in your life. I love what it stands for and I look forward to when I burn mine after I'm done. Self love, self care, and meditation for a better state of mind tomorrow is always the goal. I definitely recommend it to those susceptible to change and the willingness to try things different. You're so much more than what's been done to you and someone's inability to see your worth does not decrease your value. Choose you for a change." —Brent Helm
Get it from Amazon for $7.32. 
3.
A gentle bubbly clay mask designed to help remove blackheads and minimize the appearance of pores, but most importantly to let you cosplay as a happy lil' cloud. 
Check out a TikTok of the foaming mask in action.
Promising review: "I love this stuff! I received some for a gift and then purchased it for my daughter from Amazon. It feels like a clay mask going on, and then starts bubbling and turns to a thinner substance when it's done. I feel like it is very gentle on my face. My skin feels amazing after I wash it off. It feels like I used moisturizer, even though I did not. I hear that these masks are very popular in Japan." —L. Shea
Get it from Amazon for $11.92 (available in packs of one, two, and three).
4.
A Michael Scott/Prison Mike reversible dishwasher magnet so you always know whether the dishes in there are clean and need to be put away, or whether they're dirty and here to SCARE YOU STRAIGHT.
Check out a TikTok of the Michael Scott dishwasher magnet in action. 

Promising review: "My whole family is a fan of The Office, so when I was searching for a magnet we could use on our dishwasher, this was the hands-down winner. Does it go with my farmhouse decor? Nope, not at all. But it does get the attention of two teenage boys. Had I gone with something a bit more my decor style, I can guarantee you it would not be as useful. I mean, we all would much rather see Prison Mike staring back at us than suit and tie Michael Scott, right? And there is only one way for that to happen...clean out the dishwasher!" —R. Funk

Get it from Amazon for $8.99.
5.
A tear-off daily self-care calendar for a gentle way to start your day and still keep it productive and fulfilling — this has space not just for a to-do list, but affirmations, things you're thankful for, reflections, meals, and plans for self-care.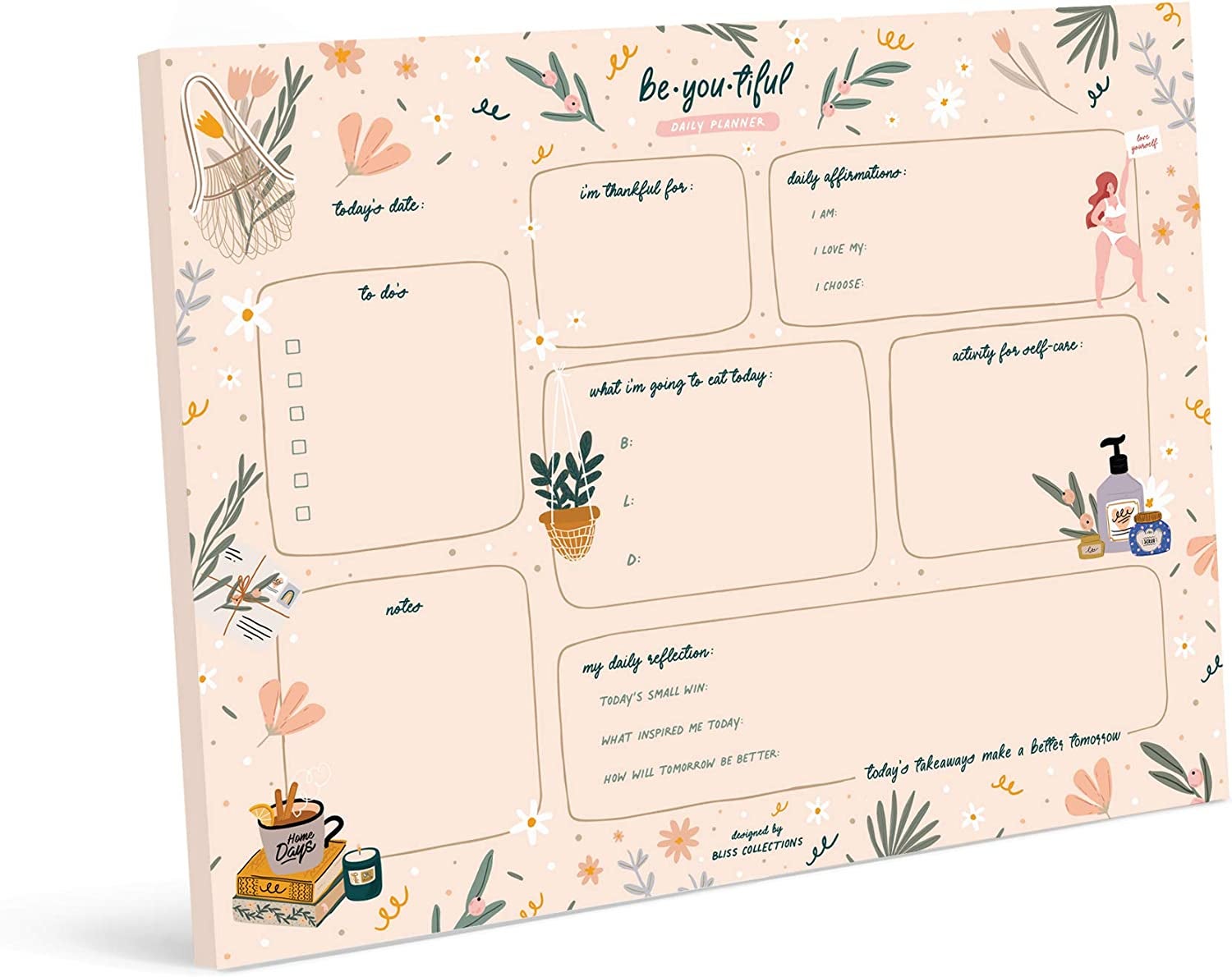 Bliss Collections is a family-owned, Wisconsin-based business established in 2012 that specializes in stationery, planners and pads, and drinkware.
Promising review: "I got this for my mental health when I was in a really bad place mentally and I was trying to figure out why I was having so many panic attacks. This made me feel on top of stuff and gives me something to look forward to. Super cute, super cheap, and it makes me happy." —katelyn
Get a 50-sheet pad from Amazon for $11.99. 
6.
A heatless curling rod headband that you can wrap your hair into before you go to bed at night, then wake up in the morning with big lustrous curls (and no heat damage from your frenemy the curling iron!). 

Each set comes with a curling rod, two hair scrunchies, a claw hair clip, and two duckbill hair clips to set it in place. These are designed to work with all hair types, but work best if you roll them with damp hair! 
Promising review: "Before purchasing, I'd seen a lot of reviews and tutorials on TikTok showing the results. My hair is thick, coarse, and naturally wavy, so I figured this might be a good alternative to rollers that are time-consuming to put in, difficult to sleep in, and ultimately not worth it. And MAN was I right to be hopeful. Wrap pieces of damp hair around it before bed, the tighter the wrap, the tighter the curl. Easy to sleep in since there's nothing on the back of your head, and my curls are BOUNCY the next morning. My only complaint is that it doesn't help give any top-volume, but nothing some teasing can't fix. 10/10. I'll never go back to a curling iron." —Mariah
Get it from Amazon for $9.99 (available in three colors). 
7.
An oh-so-satisfying 1,000-piece Mystic Maze puzzle you may have already seen on TikTok, where lovers of puzzles and magic lore are singing its praises. This whimsically-illustrated, colorful puzzle isn't just a puzzle, but a journey — there are over 50 Easter eggs in it, tons of miniature scenes full of optical illusions and surprises, *plus* a magical twist at the end. You'll have to solve the puzzle to find out!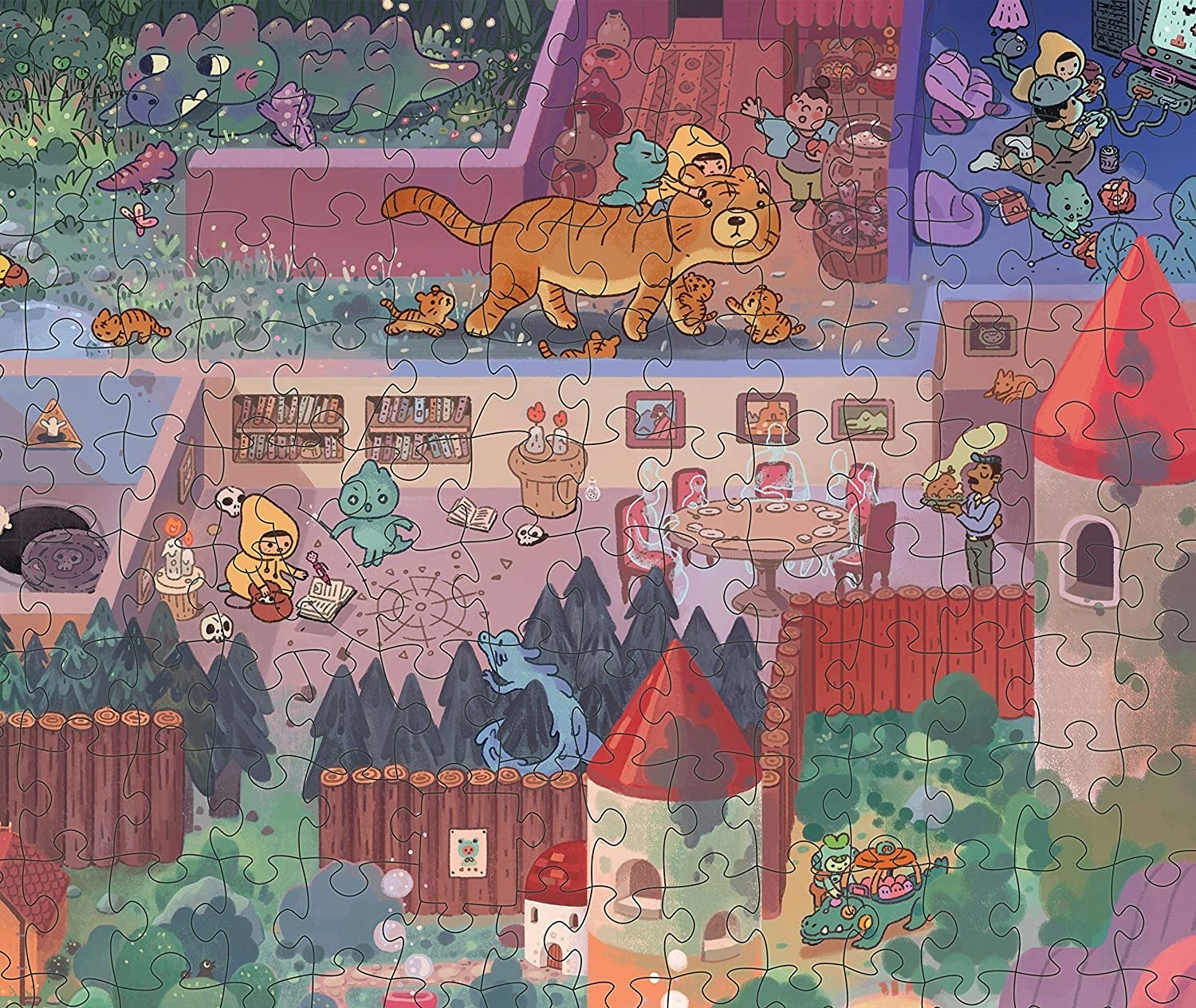 You can check out a TikTok of the Mystic Maze puzzle in action (but warning, it will spoil the surprise!). 
Promising review: "I bought this as a gift for my husband because he absolutely loves puzzles and magic, so it was a no-brainer! I was honestly way more excited to finish putting this puzzle together than a normal puzzle because I couldn't wait to see the end result. Blown away. I'm super impressed and will be purchasing a different version. Oh, and they weren't kidding about the no dust in the box...very pleased with this purchase!" —Nlbrimberry
Get it from Amazon for $22.99.

8.
Essence's Lash Princess mascara, because TBH, we've all wasted too many years and too much money looking for the ~holy grail~ mascara. This one is less than $5, will give you instant length, and is DELIGHTFULLY sweatproof. 
Hello, that is my face above, because I bought into the hype of all the 5-star reviews and now I will never look back!! Putting it on is like giving my eyelashes butterfly wings. It doesn't get clumpy, it stays put ALL the livelong day no matter how much you sweat, and you can apply it on very lightly if you don't want it to look so dramatic, or continue applying for longer lashes each time.
Promising review: "Saw this product on TikTok and thought it would be expensive looking at the results they got. I am beyond amazed with how my lashes look after about two coats. For around $5 you couldn't ask for a better mascara! I will be buying this same one when I run out. I was not expecting to like it as much as I do! No complaints." —Kd
Get it from Amazon for $4.99.

9.
A plug-in color-shifting mushroom light for anyone whose little cottagecore heart could use an extra dose of cozy to calm them down. 
Check out a TikTok of the mushroom nightlight in action. 
Promising review: "I LOVE this night-light. It's in my bathroom and is a lovely addition. It turns off the second the lights go on, which is nice because I don't have to worry about accidentally leaving it on. Super cute and the little itty-bitty lighting element does a good job lighting, just enough so I don't have to turn the main lights on in the middle of the night." —1Thand

Get it from Amazon for $5.97. 
10.
A set of affordable, highly popular wireless Bluetooth earbuds that make *excellent* AirPod dupes, except arguably better — these are completely waterproof (like, you can fully take them in the shower) and come with several silicone earbuds to get the best fit possible.
These come with a wireless charging case that provides up to 14 hours of charge (with the earbuds able to play for four-plus hours with each full charge). 
Promising review: "Best decision! These are the greatest headphones ever! I saw them on TikTok months ago and added them to my wishlist. I got a new phone that doesn't have the headphone port so I decided it was time to finally buy them. They are amazing and I probably won't ever take them out of my ears! 😂" —Katlyn D Arnold
Get it from Amazon $18.99+ (get this price by clipping the 15% off coupon on the product page; available in five colors).
11.
A set of eye-popping fine point pens designed for planners and journals, so you can — gasp — color code all your to-do lists, fun plans with friends, and scrapbook pages. 

Perhaps most importantly for anyone out there planning to go full Leslie Knope on these is that they're designed not to bleed through thin pages!
Promising review: "I love how this pen feels to hold and it writes beautifully! I am very picky about how the ink looks from the pens I use and I don't remember having one that writes so smoothly and beautifully! I will buy these whenever I need more. I actually just purchased another package of all black!" —Marcia
Get a set of 18 from Amazon for $8.99. 
12.
A cubic zirconia fidget spinner ring so you can be like, "Soothing distraction, but make it fashion." 
Promising review: "I LOVE these rings. They're gorgeous, they sparkle beautifully in the sunlight, they fit well, and the spinning is so satisfying. It spins very smoothly and can go on for quite a while. I've been wearing the silver one daily for almost two months, and there's no sign of fading either on the metal or in the rhinestones. It looks as new as the day I bought it. I used to carry a fidget cube around, but this is much more discreet, prettier, and since I can just wear it all day I'm never stuck without something to play with. I highly recommend!" —Michelle
Get it from Amazon for $9.99+ (available in three colors).
13.
A gorgeous pastel paint-by-number with an intricate, deeply satisfying pattern for anyone who is looking for an activity that pairs perfectly with a night in with Netflix.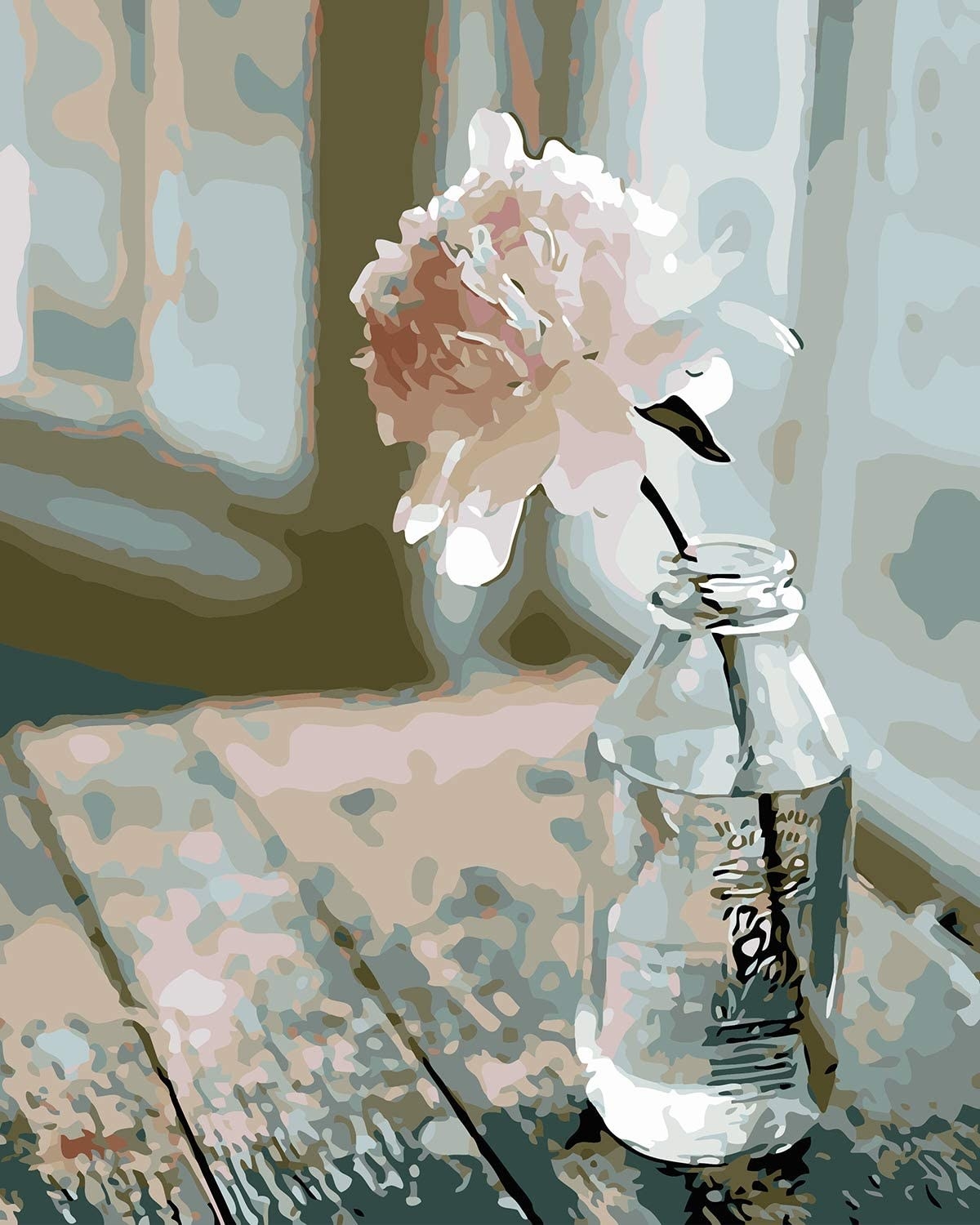 Each set comes with a detailed numbered outline, three brushes, and a set of numbered acrylic paints with extra to spare.
Promising review: "I've been doing a lot of paint by number paintings lately as a way to decompress from stress, and this one is by far my favorite one. It just looks so cool, and it was not as hard to do as some of the others I've done." —K Rivera
Get it from Amazon for $16.99.
14.
An eye-catching "As It Was" print inspired by Harry Styles' first single on Harry's House (you know, the one with the bridge so powerful it makes your brain short circuit and go into Main Character Mode whenever you hear it).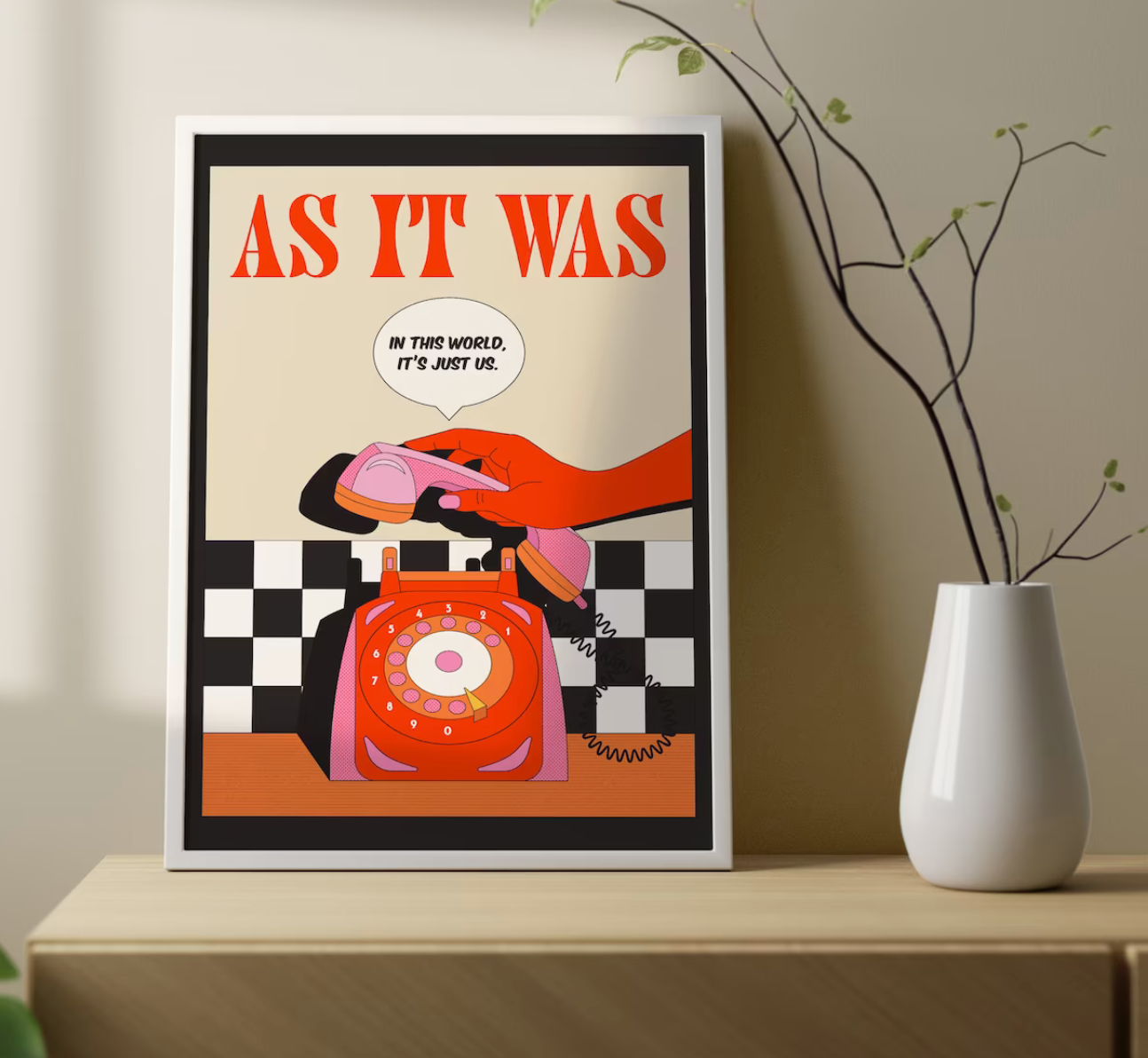 The Whimsy Committee/Etsy
The Whimsy Committee is a Virginia-based Etsy shop established in 2022 that specializes in pop culture-themed art and apparel. 

Promising review: "Absolutely obsessed with this print — saw it on TikTok and rushed to Etsy so fast. The quality of the print is amazing too — can't wait to frame it and hang it up! Thank you!" —Katie

Get it from The Whimsy Committee on Etsy for $21+ (available in four sizes).