Canada's ethics commissioner has ordered Justice Minister Jody Wilson-Raybould to stay out of issues involving First Nations that employ her husband's consulting firm.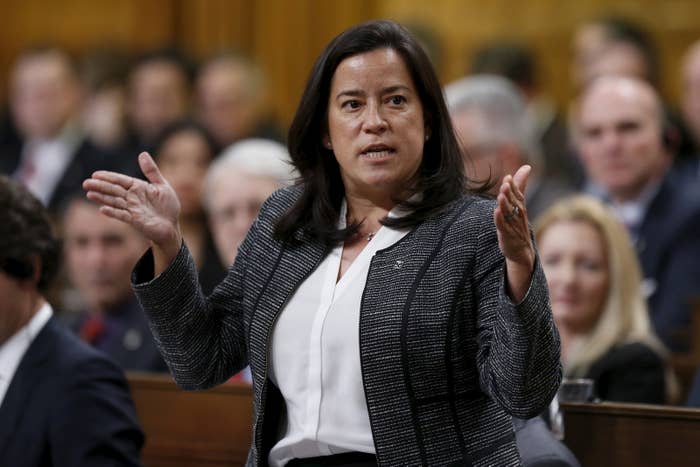 The conflict of interest screen means the highest-ranking Indigenous member of the Liberal cabinet won't be able to participate in any matters "relating to the self-government agreement negotiations of First Nations and indigenous communities" that are in business with the KaLoNa Group.
Wilson-Raybould ran the KaLoNa Group with her husband until she was elected last fall.
A former regional chief in the B.C. Assembly of First Nations, Wilson-Raybould has pledged a government review of all legislation that affects Indigenous peoples.

The conflict of interest screen, applied by commissioner Mary Dawson last week, states that Wilson-Raybould's chief of staff will filter out any issues that could become conflicts before they come before the minister.
If something gets past the screen, Wilson-Raybould will have to recuse herself and report back to the commissioner.
In a written declaration, Wilson-Raybould says the KaLoNa Group is "a private management consulting company in which I have a significant interest and whose president and controlling interest holder is my spouse, Timothy Raybould."

The screen is intended to prevent conflict of interest and "the perception of preferential treatment" toward the KaLoNa Group, the agreement says.
Timothy Raybould was criticized recently for registering to lobby the federal government after his wife was elected. He's registered to lobby for two clients represented by the KeLoNa Group, the Westbank First Nation and the First Nations Finance Authority.
According to Wilson-Raybould's LinkedIn page, the KeLoNa Group gives "negotiation support, policy advice and educational services primarily to First Nation Governments, institutions and associations."
Last month, another high-level Liberal cabinet member, House Leader Dominic LeBlanc, agreed to similar compliance measures with the ethics commissioner over a personal link to the east coast's powerful Irving family.
Wilson-Raybould's office did not respond to a request for comment.