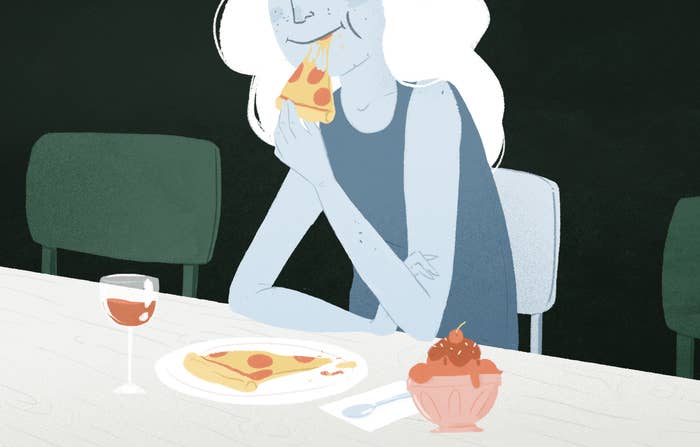 I am a self-proclaimed soloist. I love spending time alone. Boyfriends come and go (mostly go, for me), but the time I dedicate to the relationship I have with myself is constant.
My specialty is being alone in public. As someone who is passionate about productivity, I find I'm fidgety sitting at home and am always looking for something to do. I like to set myself out in the world, where I can be alone but not lonely. I go everywhere — from museums and movies to bookstores and record shops. But no aspect of my solitude gets more attention from friends and encounters than my dedication to solo dining.
It began innocently enough. I lived in a city with hundreds of restaurants to try and not nearly enough contacts whose culinary curiosity matched my own. So, I began taking myself out to dinner. It was casual at first — a meal here, a meal there — and then it wasn't. As the list of attractive destinations grew and so did my calendar of obligations, I found the need to bring formality to my practice.
For three odd years now, I've perched myself on a bar stool every Thursday night for an indulgent meal, on what I call Solo Date Night (SDN). I venture to a new restaurant each week: some that have made recent headlines, some that have come by suggestion, and some that have piqued my interest in passing. I've indulged in burgers, sushi, tacos, and pizza (obviously). I've explored refined French, Indian gastro, and contemporary Mexican. I've conversed with neighbors and tourists, and have sat inches from celebrities. I've gone home with many a bartender (whoops).
The satisfaction I get from SDN isn't just in the food, albeit good. It's in the immense pleasure of experiencing something new, and having that experience be mine and mine alone. It's in the intense thrill of the uncertainty of the hours ahead. It's in the freedom to be whoever I want to be, for just a night.
The satisfaction I get from SDN isn't just in the food, albeit good. It's in the immense pleasure of experiencing something new, and having that experience be mine and mine alone.
But no matter the restaurant, the regimen stays the same. I've created a framework for this magical night of the week that, over time, has come to define the experience and separate it from any passive (solo) dinner. These parameters transform what would otherwise be an ordinary meal into a treasured, nourishing act of self-care.
If you decide to venture out on your own SDN, here are the tricks of the trade. Just don't steal my seat.
1. Pick a night that is lively, but not nightlife-y. In New York, even the bar stools at most places are occupied on Friday and Saturday eves, so best to select a day of the week where you won't have a wait. At the same time, a sleepy Monday, just after everyone's spent their paychecks on weekend romps, won't offer the sort of people watching or chance encounter you're after. Find a night somewhere in between and call it your own.
2. Always sit at the bar. A table for one can feel lonely without distraction (more on that later), but a seat at the bar offers the possibility of companionship and conversation. In many restaurants, it may even offer an eye into the workings of the kitchen. Who needs Food Network when you have a front-row ticket to what's on the line?
3. Put down your devices. No seriously, put them down. In the elevator, in the conference room, on the sidewalk, at traffic lights, when a date gets up to go to the bathroom…when was the last time you weren't on your phone? It's not the emails that are calling us — those can wait — it's the anxiety. And a few hours without connection to anything but yourself will do a lot of good. If you didn't Instagram it, it still happened — I promise.
4. Leave your books at your bedside. I love nestling into a corner café with back issues of The New Yorker, or spreading out in a booth to read the Sunday paper. That's not what this is. SDN is the time to focus on nothing but the food on your plate, the environment that surrounds you, and the thoughts in your head. To distract yourself with material of any kind would be taking away from your ability to be present, observe, and absorb. You may be approaching the riveting climax of The Heart's Invisible Furies, but to pay attention to John Boyne is to be on a date with him instead.
Boyfriends come and go (mostly go, for me), but the time I dedicate to the relationship I have with myself is constant.
5. Ask for recommendations. Menus are seductive, and I love admiring their every detail — from the design to the descriptive complexities of each dish. Yet, on SDN, I free myself from the responsibility to make a decision of any sort, apart from the destination, and simply ask the staff: "So, what's the move?" You'll find you're not only pleasantly surprised by items you may not have ordered on your own accord, but you learn much about wine, flavor, pairing, and preparation in the process.
6. Let go of dietary constraints. At age 15, I discovered the South Beach Diet. At age 20, I began restricting my calorie intake. And between the ages of 25 and 28, I tried everything — juicing, Paleo, and all their little friends, in an attempt to acquire the 'perfect' body. Screw all that. Now I eat as I please, with intent, and there's no day I do this more than Thursdays. Of course, if you have intolerance to gluten or an allergy to shellfish, adhere to those restrictions. But, as much as you're able, I encourage you to order with your heart, not your head.
7. Come as you are. Not every Thursday starts well, and sometimes I pull up my seat with heavy thoughts that require the remedy of a few rounds. That's OK. SDN is about embracing the moment, however high or low it may be. Feeling on top of the world? Great. Ask them to fill your glass of champagne to the tippy top. Feeling as if the world is crashing in? Skip the entrées and go straight for a sampling of desserts. Whatever your mood, I guarantee there's an order for that. 🍽✨
Emily Schildt is a brand marketing consultant and freelance writer in Brooklyn, NY. She spends a lot of time alone, because she likes it that way. Follow her travels, reads, and solo-ing on Instagram @emilyschildt.