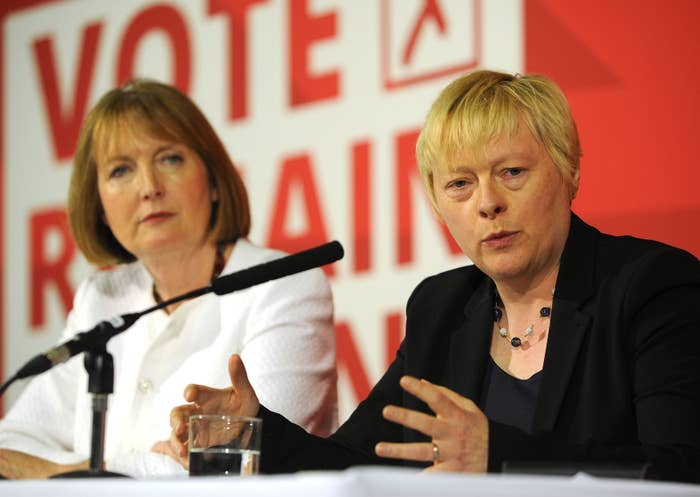 Men are "sucking up all the oxygen" in the EU referendum debate and need to allow women's voices to be heard, Harriet Harman has warned.
Labour's former deputy leader said twice as many female voters as male voters had yet to make up their minds about whether Britain should stay in the EU.
But women were being "squeezed out" of the debate by men, who were far more prominent on TV and in newspapers, she said.
At a press conference in London on Tuesday, Harman said bluntly: "The public debate about this, whether it's on broadcast media or in newspapers, is just a men-only show.
"We think it's very important to focus on what women say about this, and not have men pushing women out of the debate."
Harman pointed to research by Loughborough University that found that 91% of national newspaper coverage and 84% of TV evening bulletins relating to the EU referendum over 10 days in May gave prominence to men.
Shadow business secretary Angela Eagle said women's voices were being "drowned out by the unmistakably masculine playground spat that is taking place between Tory blokes who are fighting a proxy leadership election".
The politicians were asked to explain why home secretary Theresa May, a key Remain campaigner, had not been as vocal as male cabinet ministers on the issue.
Eagle said: "I'd like to see Theresa May get out there and do some campaigning."

But Harman said it wasn't right to pin the blame on May: "Actually it's the men squeezing the women out," she said. "Let's not blame women here, let's put the responsibility on men to not be filling up all the airtime, sucking up all the oxygen and pushing women out of the way.
"They've got to just move over and let a few women be heard in this."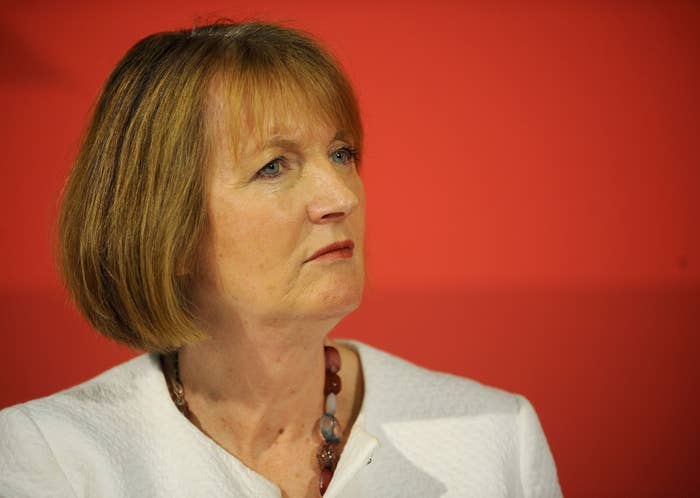 Harman has written to broadcasting watchdog Ofcom to demand action on improving the gender balance of politicians in the referendum debate on TV and radio.
Labour hopes that a boost in female voices will help win over more women to vote Remain on 23 June. The party has calculated that women hold 390,000 of the 820,000 jobs identified by the Treasury as being at risk if Britain leaves the EU.
Eagle also pointed out that the EU had brought in maternity and equal pay and improved protections for agency workers.
Labour leader Jeremy Corbyn will echo Harman's message at a rally in Hastings later on Tuesday. He will say: "So far, the referendum debate taking place across the country has been dominated by men, and mostly Tory men.
"This needs to change. We need to hear more diverse voices in this important debate. We need to hear more strong women's voices."