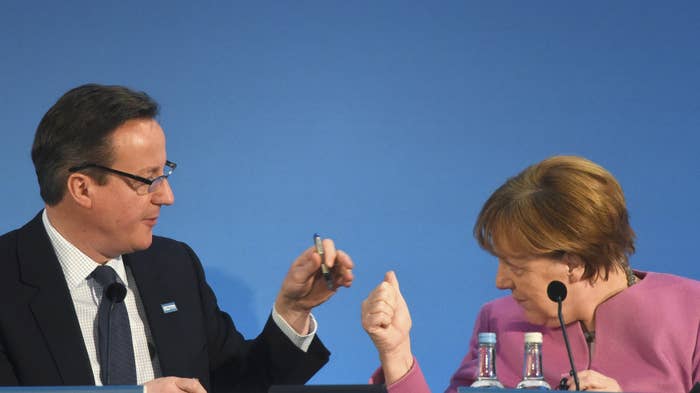 Britain is gearing up for a referendum on its membership of the European Union, the first such vote for 41 years. David Cameron is expected to announce the date later this week after a crunch summit of EU leaders. If he can get all the leaders to agree on certain changes – which, he claims, are very substantial – the referendum is expected to take place on 23 June. But whether the prime minister's reforms will be enough to satisfy members of his own Conservative party is another matter. Confused? BuzzFeed News attempts to explain how we got to this point.
What's all this about, then?
It all goes back to the Conservative party's election manifesto last year. Party leader David Cameron promised that if he was re-elected prime minister, there would be a referendum before the end of 2017 on whether Britain should stay in the EU or not.
The Conservatives went on to win the general election outright – defying the polls and leaving Cameron with no choice but to go ahead with the referendum. He's since said it could be "the most important decision" British voters will take in their lifetime.
But why did he promise a referendum?
It was in January 2013 that Cameron made a big speech pledging an in-out referendum if the Tories won the 2015 general election. At the time he was under pressure from UKIP, an anti-EU party that was appealing to people's mounting distrust of Europe, immigration, and politicians in general.
Cameron feared that the Conservatives would lose a big share of voters to UKIP in the general election if he didn't promise a referendum. UKIP went on to score a historic victory in the UK's European elections in 2014.
But it wasn't just UKIP putting the PM under pressure. For many years, he had faced calls from his own Eurosceptic backbenchers to give people a vote on the EU. He wanted to put the issue to rest once and for all.
Why doesn't he just get on with it, then?
Because it's not quite as simple as putting Britain's membership of the EU straight to a vote. As part of the pledge to hold a referendum, Cameron also vowed to secure some changes from the 28-country bloc in what's known as a "renegotiation".
That's why you've seen him whizzing around European capitals in the last few months on a charm offensive. It's only once all the leaders have agreed with his planned reforms that the referendum will be announced.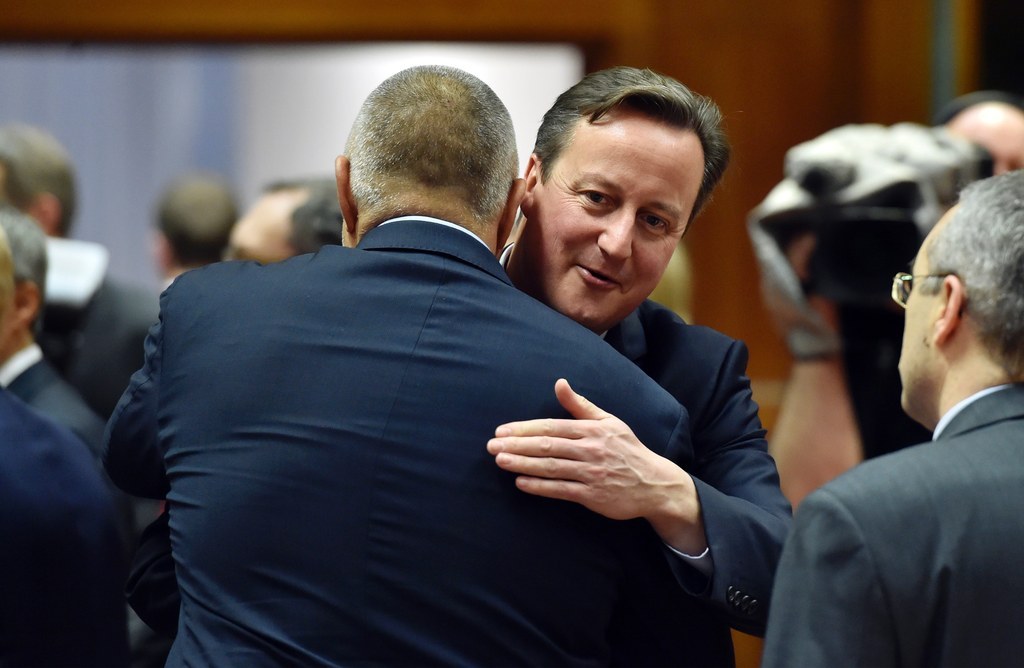 So what exactly does Cameron want to change about the EU?
The PM reckons the EU has changed a lot since Britain last had a referendum in 1975. That was back when it was known as the European Economic Community, or Common Market. Since then, many more countries have joined and the bloc has gradually increased its powers over national governments.
There are four main reforms the PM wants to see. These are: cutting benefits for migrants (to try to reduce the numbers moving to Britain), cutting red tape for business, exempting Britain from the EU's founding principle of "ever closer union", and introducing more protections for the nine EU countries – including Britain – that aren't in the eurozone.
European Council president Donald Tusk, who chairs EU leaders summits, put together a draft agreement on 2 February based on Cameron's demands. The PM instantly claimed it was a deal "worth fighting for", but his critics were less generous. UKIP leader Nigel Farage said it was "pathetic".
What do other EU countries make of his demands?
EU leaders want Britain to stay in the union, so most are keen to find compromises with Cameron that will allow him to claim victory. Many believe that, frankly, they have better things to be getting on with – such as tackling the migrant crisis engulfing Europe and finding solutions to the ongoing Syrian civil war.
But some have real concerns about the detail of Cameron's draft deal. Eastern European nations aren't happy with his proposal to cut benefits for migrants, particularly the plan to curb child benefit for their children who live abroad. They fear that other countries will demand the same – and that eastern European workers will be worse off as a result.
France is uneasy about Cameron wanting more protections for the City of London and more power for non-eurozone countries, so the wording of the final deal is crucial. Germany was wary at first but is now fully behind Cameron, with chancellor Angela Merkel saying the deal will "benefit Europe as a whole".
Some Tory Eurosceptics believe the whole thing is being stage-managed. They say it works in Cameron's favour for EU leaders to publicly chastise Britain for its "tough" demands, allowing the PM to claim a great victory when agreement is inevitably reached.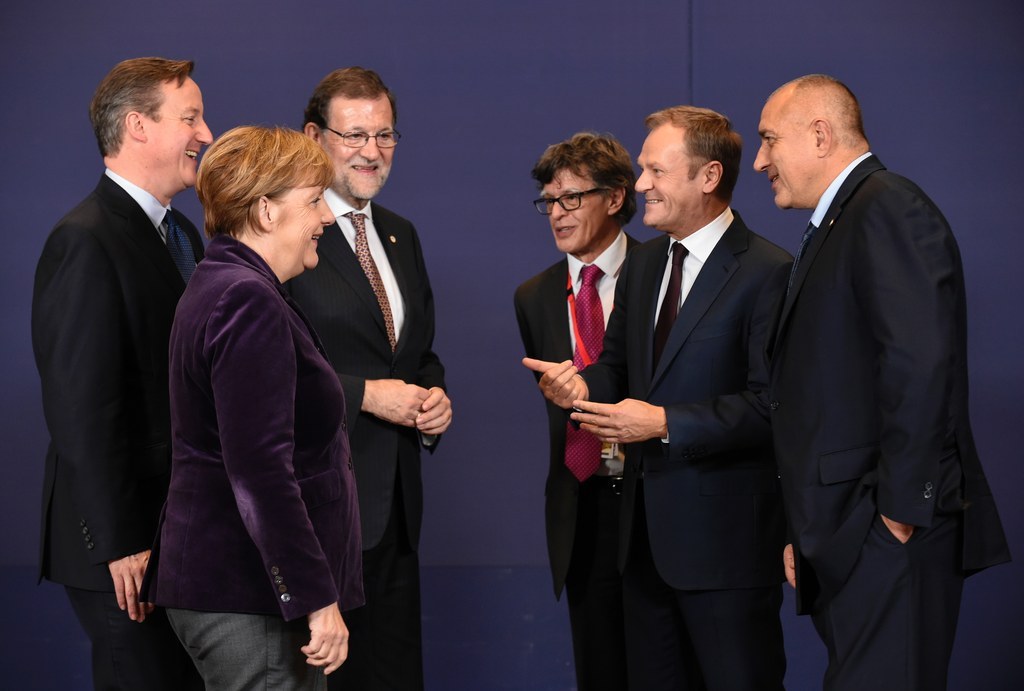 It sounds like Cameron is pretty keen on Britain staying in the EU no matter what.
Yep. He's always said he won't make up his mind either way until the deal is done, but Tory MPs say it's obvious he's always been in the In camp. He doesn't want to go down in history as the prime minister who led the UK out of the EU.
There's also been speculation that Cameron would have to resign as PM if Britain voted to leave the EU. But he's strongly denied that he has any plans to quit.
Who else in parliament wants Britain to stay in?
The Labour leadership is campaigning to keep the UK inside the EU, despite the fact that Jeremy Corbyn has been rather sceptical of its benefits over the past 30 years. The Liberal Democrats and Scottish Nationalists are very pro-EU. Cameron's also backed by a sizeable number of Tory MPs who want Britain to stay in a reformed EU.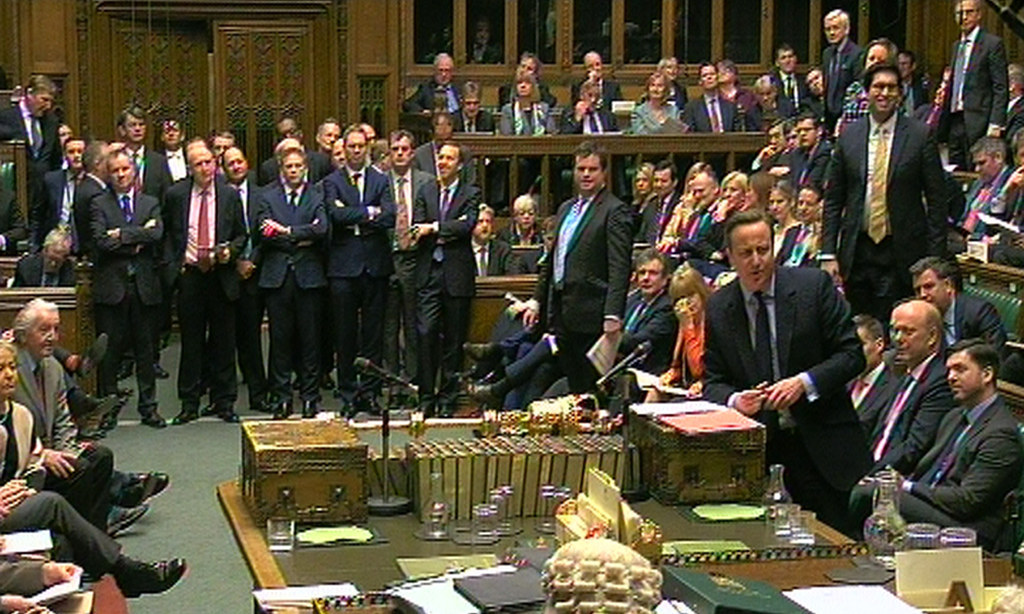 But there are a few MPs who want Britain to leave, presumably?
Cameron's facing a revolt from many of his backbenchers, which isn't a huge surprise because the Conservatives seem to have been rowing about Europe since the dawn of time. Lots of them are lifelong Eurosceptics who will seize their chance to campaign for "Brexit" (a British exit from the EU).
Among them will be a few Tory cabinet ministers. They've been ordered by Cameron not to say anything until the final deal is announced, but they can't wait to make their voices heard. A fair few Labour MPs are also campaigning for Britain to leave the EU. As, of course, is UKIP's sole MP, Douglas Carswell.
Are there official campaigns on either side yet?
No, not yet. The Electoral Commission gets to choose a designated campaign on the "leave" and "remain" sides. This is important because the official campaign gets a grant of up to £600,000 and a spending limit of £7 million, as well as TV broadcasts and free mailshots.
But haven't some campaigns started already?
Oh yes. Here are some that want Britain to stay in the EU.
Britain Stronger in Europe – This one's highly likely to get the official designation. It's headed up by former Marks & Spencer boss Stuart Rose.
Labour In For Britain – Labour's In group, led by former cabinet minister Alan Johnson.
Conservatives for Reform in Europe – A group for Tories who want to stay in a reformed EU, i.e. those who are backing Cameron. Headed by ex-minister Nick Herbert.
Another Europe Is Possible – Backed by Green party MP Caroline Lucas, this group wants to stay in the EU but believes it's "deeply flawed" and "undemocratic".
Environmentalists for Europe – This one's warning that the environment would be put at risk if Britain left the EU. Boris Johnson's dad, Stanley, is a founding member, alongside TV host Bill Oddie.
And what about the campaigns for Britain to leave?
Now it gets a bit more complicated.
Vote Leave – A cross-party group fighting for Britain to leave the EU, headed by former Tory chancellor Nigel Lawson, that has focused on the costs to individuals and businesses. Recently it's been engulfed in claims of in-fighting, with key figures Matthew Elliott and Dominic Cummings stepping down from the board.
GO Movement – Launched in February, this is an umbrella group that's fighting Vote Leave for the official designation. Backed by UKIP, it aims to be the campaign for ordinary people, rather than the "establishment", and hasn't been shy about raising fears over immigration.
Leave.EU – This cross-party group, backed by UKIP donor Arron Banks, was locked in a battle with Vote Leave for the designation but has now switched its support to the GO Movement.
Grassroots Out – This was set up in January in response to the "squabbling" between Vote Leave and Leave.EU. It's now backing the GO Movement.
Labour Leave – A group of Eurosceptic Labour members. They claim leaving the EU is a "left-wing move".
Conservatives for Britain – Headed by Tory MP Steve Baker, this group reckons Cameron's reforms don't go anywhere near far enough.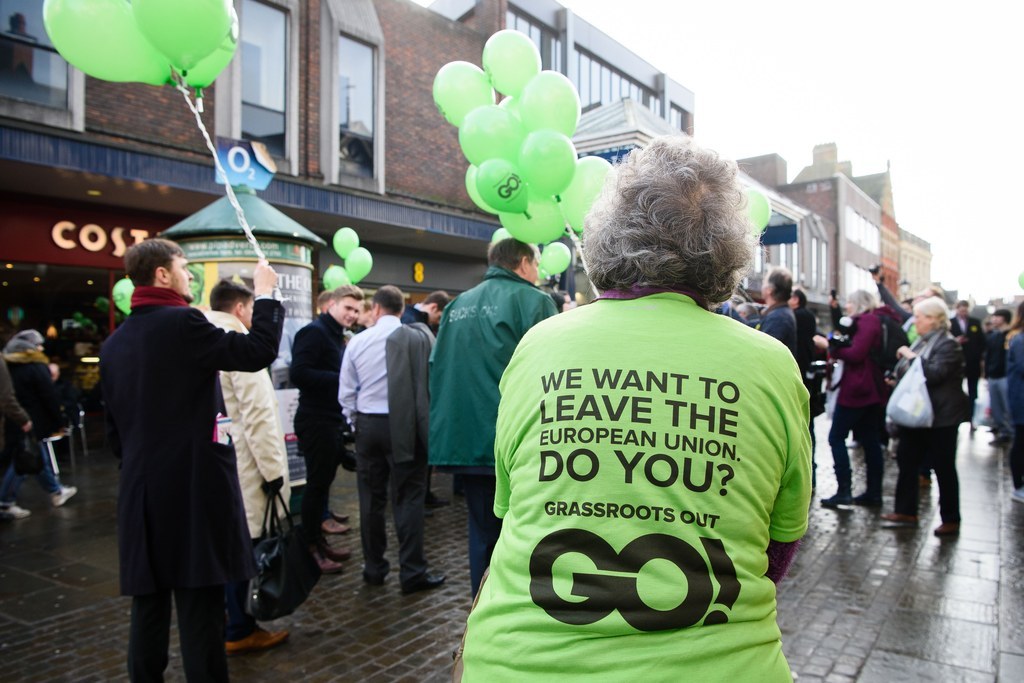 So what are the arguments for Britain staying in the EU?
Pro-EU campaigners say being inside the EU boosts Britain's economy by making it easier to sell goods to Europe. They claim that millions of UK jobs are linked to trade with Europe, and that British people get cheaper flights and lower phone charges as a result.
Europe's open borders mean Britons are free to live and work in other EU countries, and many argue that the flow of young, educated immigrants into the UK drives economic growth. Britain's status in the world could be diminished if it leaves the EU and it could be less safe because, for example, it would be harder to share information on terrorists.
Campaigners also warn that it's not at all clear what Britain would look like if we left the EU. This argument has been dismissed as "Project Fear" by those who want out.
What about the arguments for Britain leaving the EU?
Anti-EU campaigners say Britain is sending £350 million a week to Brussels and getting very little in return. They warn that businesses are being held back by the rules being imposed on them by Brussels and instead want to see a new UK-EU deal based on free trade.
On the immigration side, they say it's wrong that Britain has to accept all EU migrants regardless of their skill level. There are widespread fears that "free movement" means more pressure on UK jobs and public services. People also don't like how the EU "dictates" to Britain and worry that it wants to increasingly encroach on individuals' lives.
All this seems so far removed from real life. Does it really matter?
A referendum on Britain's membership of the EU is unlikely to be repeated any time soon. Chancellor George Osborne has said it's a "once-in-a-lifetime decision".
That's partly because promising a referendum – putting the people directly in charge of a major decision – is a massive risk for any prime minister. Last year's election proved that nobody can predict what's going to happen in a national vote. This one will no doubt go down to the wire – and if you don't take part, then you can't complain about the result.