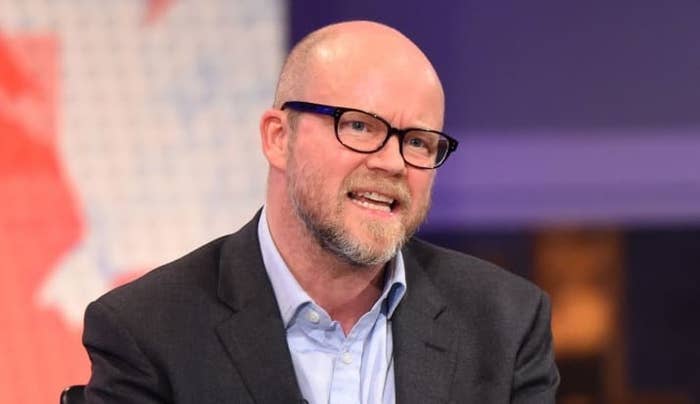 Toby Young has been on a "developmental journey" since he tweeted about masturbating over Comic Relief, and his new role on the universities regulator will help him "develop the best sides of his personality", a government minister has said.
Jo Johnson, the universities minister, was summoned to the House of Commons by Labour on Monday to defend the appointment of Young to the board of the newly created Office for Students.
Last week Young, an associate editor at the Spectator and a frequent contributor to the Daily Mail and the Daily Telegraph, deleted tens of thousands of tweets – many of which Labour called "vile, sexist and homophobic".
Tory MP Sarah Wollaston joined Labour critics in the House of Commons by warning that Young's tweets did "cross a line" and were "indicative of an underlying character".
And she highlighted one deleted tweet in particular. "The kind of person who would tweet comments to a woman that talk about masturbating over images of refugees, I'm afraid it just does cross a line," she said.
"And I do feel that he should withdraw or at least, as we all do when we apply for jobs, we say whether or not there is anything in our past that could cause embarrassment – if that question was asked and it was answered no, well clearly there is a case for the board revisiting and asking him to step down."

Johnson replied: "I recognise that many of the tweets – and I haven't seen all 40,000 of them – have been obnoxious and repellant in many ways, but it is also important to recognise that that tweet was probably eight or nine years old, since which time Mr Young has been on something of a developmental journey.
"It is possible that there is a capacity for reform and we want to encourage Mr Young to develop the best sides of his personality. The sides that have led to him setting up good schools, to working with disadvantaged children in London so they can make the most of their potential."
Robert Halfon, Tory chair of the education committee, also called for Young to be sacked. "I accept that Mr Young has done great work on free schools, but so have many other people," he said.
"And I'm not talking about the things he's done on Twitter. What I'm more concerned about is some quite dark articles where he talks about the disabled, where he talks about the working classes, and much more significantly in 2015 – and I have the article here – on what he calls 'progressive eugenics'.
"Now, I find this incredibly dark and very dangerous stuff, and I suggest to [Johnson] that he looks again at this appointment, because I do not think it will put confidence in students."
Johnson said he would "look carefully at the article" but said Young had "apologised unreservedly".