This Tory Minister Says Students Can Cover Living Costs By Having A "Frugal Existence"
Labour has accused the universities minister of "breathtaking" ignorance over the claim.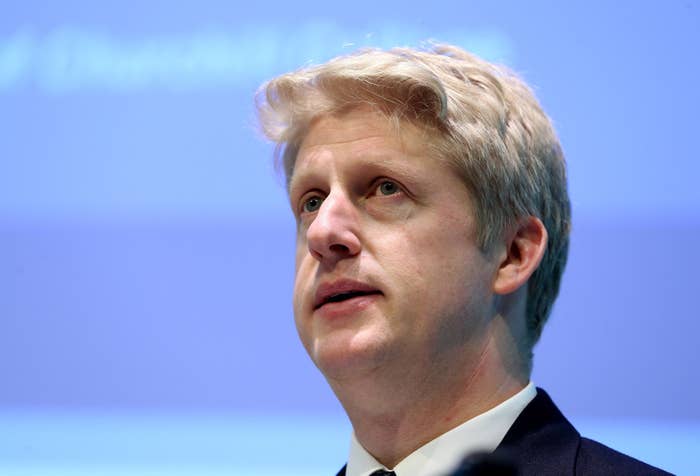 A Tory minister has dismissed fears over rising living costs for students, saying they can save money by having "a frugal existence focusing on their studies".
Jo Johnson, the universities minister, was under pressure at the Conservative party conference to explain why maintenance loans often fell short for many students – forcing parents to find extra money for accommodation and meals.
At a fringe event on Tuesday, he said: "There may be a gap between the amount of loan that's provided and the cost to a student of studying and affording their living costs. There may be a gap but that doesn't necessarily mean it's a gap that must be filled by parental contributions.
"There are many other ways in which students can fill that gap – they can work, as many, many students do, they can also save, and then of course they can borrow from their parents if they wish.

"And what is also so important to bear in mind is that students have many choices about the kind of lifestyle they want at university. Some students want to live very modestly and have a frugal existence focusing on their studies, other students may want different lifestyles."
Johnson, the brother of foreign secretary Boris Johnson, added: "But there isn't one cost of going to university. It's a very specific choice that each individual will make."

His comments were immediately condemned by Labour. Angela Rayner, the shadow education secretary, said: "Jo Johnson's ignorance about students' lives is absolutely breathtaking. These comments reveal a minister so out of touch he doesn't seem to care that students are being saddled with tens of thousands of pounds of debt and their families are experiencing the worst fall in wages for 200 years.
"Instead of patronising students like the Tories do, and assuming they can all rely on the bank of mum and dad, Labour will scrap tuition fees and bring back maintenance grants as we build a National Education Service for the many, not the few."
Martyn Lewis, founder of Money Saving Expert, told the fringe event that the government had failed to come clean on the need for parental contributions.
While all first-time undergraduates in England are eligible for a full loan to cover their tuition fees, the amount of their maintenance loan – which covers living costs – is based on an assessment of their parents' income. It means that most students now do not receive the full loan.
Lewis said: "This isn't about tuition fees, this is about the most important and biggest practical problem that students face at university – affording to live ... There is an official parental contribution on the maintenance loan.
"The truth is your parents will need to give you money, they will need to save up, if you've got two kids at university at the same time.
"What we have here is a real practical problem for middle-class parents struggling to find the money to send their kids to university and their children don't have the cash."
The Tories have attempted to win over younger voters with a revamp of the student finance system – freezing tuition fees at £9,250 and raising the repayment threshold, so graduates will only start paying it back when they earn £25,000 a year rather than £21,000.
The Institute of Fiscal Studies said on Tuesday that this "apparently small technical change" will save middle-earning graduates up to £15,700 over their lifetimes. And it will raise the cost to the taxpayer of providing higher education by around 40%, or over £2.3 billion a year in the long-run.
"Yes, £2.3 billion a year, hurrah!" Lewis told BuzzFeed News. "That's £2.3 billion to students."
Johnson said it would be paid for by measures set out in the Budget later this year.