The Tories Just Backed Labour's NHS Pay Rise Motion After The DUP Supported It
"The reason the government did not vote on this motion is because they knew they would lose," the shadow health secretary said.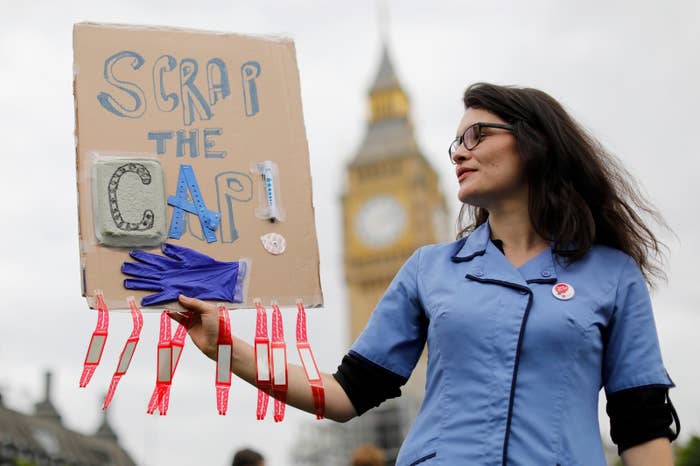 The government has been forced to back a Labour motion to give NHS workers a pay rise, after the Democratic Unionist Party signalled its support.
Labour's motion, which was not binding, was agreed by MPs without a vote on Wednesday as it became increasingly likely that the Tory government would lose.
It's the first time that the DUP, which propping up the Tories in a "confidence and supply" arrangement, has expressed opposition to Conservative policy.
If the house had formally divided on the motion, the Tories would have faced the embarrassment of DUP MPs walking through the voting lobby with their Labour rivals.
The motion called on the government to "end the public sector pay cap in the NHS and give NHS workers a fair pay rise".
It noted that while NHS pay rises have been capped at 1% for 2017-18, applications for nursing degrees have fallen 23%, and the number of nurses and
midwives joining the Nursing and Midwifery Council register has been in decline since March 2016.
In a point of order following the debate, shadow health secretary Jon Ashworth said it was "clear that the reason the government did not divide on this motion is because they knew they would lose".
Earlier in the debate, DUP MP Ian Paisley had told MPs his party would support the motion. "I've already alluded to the fact that I'm delighted that the Labour party has brought forward this debate tonight," he said.
"We will support them if this matter goes to a vote tonight, and it's interesting to see if we will actually get to that point."
On Tuesday the government signalled an end to the public sector pay cap, but so far it has only announced pay rises – albeit below inflation – for the police and prison service.
Liberal Democrat MP Norman Lamb said: "The scrapping of the public sector pay cap is long overdue – this defeat should serve as a wake-up call. The pay cap is hitting morale and recruitment across the health service.
"We simply cannot sustain the NHS with year after year of cuts to the pay of dedicated staff, who are working flat out to keep services running."
Janet Davies, general secretary of the Royal College of Nursing, said: "The government saw the strength of opposition and backed away to avoid defeat. Despite this, the pay cap sadly remains in place tonight.
"The government failed to take the opportunity to scrap it explicitly. Ministers must listen to tens of thousands of nurses who are campaigning on this and put in writing that the cap no longer applies to NHS staff."