The Strange Alliance Between The Conservatives And The Greens Over TV Debates
David Cameron suddenly can't get enough of the Greens. But is that just because he wants to avoid getting involved in pre-election TV debates?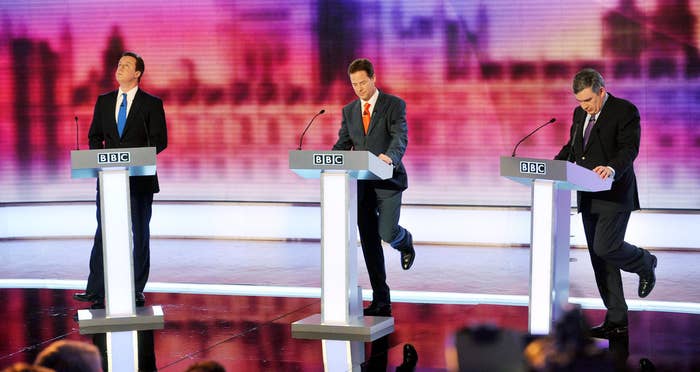 David Cameron has refused to take part in the live televised leaders debates ahead of May's election unless the Greens are included.
He leaped to the defence of the Green Party at Prime Minister's Questions.
"I'm all for these debates but you cannot have two minor parties without the third minor party!" he exclaimed – in a dig at both the Liberal Democrats and UKIP.
As his words rang out in the House of Commons, Green Party leader Natalie Bennett released an open letter backing Cameron's stance. She said the public "rightly expect the political parties and the broadcasters to find a format that is acceptable to all concerned".
So how on earth did these two leaders – at opposite ends of the political spectrum – become allies?
Labour, Liberal Democrats and UKIP say it's because Cameron is terrified of taking part. At PMQs, Labour leader Ed Miliband accused him of "running scared" – saying "no-one believed" he really cared about the Greens getting involved.
"It is frankly a pathetic excuse!" Miliband said. "It is not for him, it is not for me, it is not for any party leader to decide who is in the debate. It is up to the broadcasters, that is the country we live in."
A source close to Lib Dem leader Clegg, who sat sheepishly next to Cameron as Deputy PM, said it had been "clear for a long time" that the Tories did not want TV debates to happen. They said the PM's advisers believed he had nothing to gain from going head to head with his rivals.
"They're clearly not keen on the debates," the source told BuzzFeed News. "They're trying to use any excuse they can think of not to do it."
A source in UKIP leader Nigel Farage's camp added: "The crux of this is to say no one party should be above the broadcasters. The broadcasters have a duty to serve the general public."
In return, Cameron hit back at Labour and the Lib Dems – accusing them of wanting to exclude the Greens.
He gleefully pointed out at PMQs that both UKIP and the Greens had beaten the Lib Dems in recent European elections. "You either have both of them, or you have none of them," he told Miliband. "Why is he so chicken when it comes to the Greens?"
Hammering the point home, a No 10 source said: "Ed Miliband and the Lib Dems, they seem very determined to keep them out. Clearly the Lib Dems are very worried. Clearly they've got a big self-interest in keeping the Greens out."
But both parties were baffled, insisting it was up to TV bosses to decide who should be involved.
A source close to Miliband said: "I think it could be described as green crap."
The source added: "The truth is in the UK the broadcasters operate under regulations. Even if politicians wanted to, they couldn't specify who's in these debates. I think David Cameron is being deliberately misleading on this."
The frenzied Commons session came hours after Miliband, Clegg and Farage signed identical letters calling on Cameron to take part. Unusually, the letter was drafted jointly by the three leaders' offices – who were furious at what they see is the PM's latest excuse to avoid the debate. Released on Wednesday ahead of PMQs in a bid for maximum impact, it demands that broadcasters prepare to "empty podium" Cameron if he doesn't take part.
But in a letter back to the three leaders, Green leader Natalie Bennett said it would be wrong to stage the debates without the PM. Instead Labour, UKIP and Lib Dems should help persuade broadcasters to include her party, she said.
Meanwhile the SNP and Plaid Cymru, which have far more MPs than either UKIP or the Green Party, have also demanded to get involved.
Under current plans, Jeremy Paxman would chair a live showdown between Cameron and Miliband for Sky News and Channel 4. Cameron, Miliband and Clegg would take part in a BBC debate presented by David Dimbleby. And the trio would be joined by Farage for an ITV show chaired by Julie Etchingham.
But there is still time to get it sorted out. The 2010 TV debates were only agreed in March that year, two months before the vote.