The Liberal Democrats Are Pinning Their Hopes For A Revival On Remainers In May's Elections
Senior Tories are nervous about the Lib Dems' chances in London, as they target EU nationals and Remain voters with the ultimate goal of becoming a big player in Westminster once again. But will it work?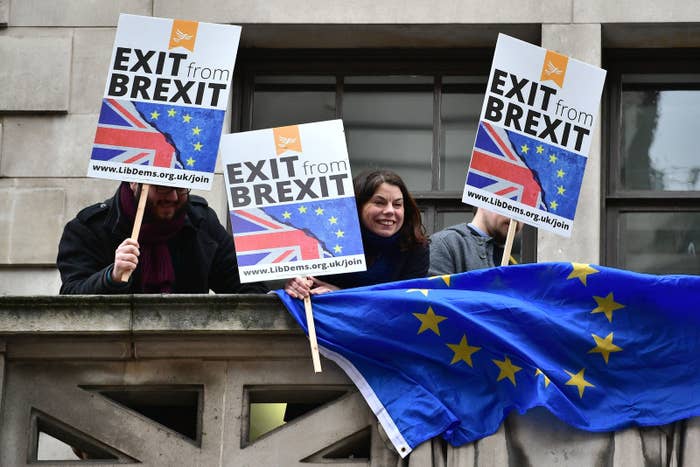 The Liberal Democrats are going all out to woo European Union nationals and Remain voters in the upcoming local elections. After disappointing results last year, the party believes 3 May could be its moment to start clawing back much-needed support – as it seeks to capitalise on the anger and frustration of many pro-EU voters who feel left behind by the government's handling of Brexit.
The campaign involves an ambitious series of social media adverts in 21 European languages, targeted to the feeds of European citizens living in England. In one of them, Cecilia Wikström, a member of the European parliament for the Liberalerna party in Sweden, appeals to Swedish nationals living in England: "Vote for a stronger Europe, vote for the Liberal Democrats!"
"I think it must be true that it's the largest central online advertising campaign of any sort that the party's ever run for a set of local elections," said Mark Pack, editor of the Lib Dem Newswire and author of 101 Ways to Win an Election. EU nationals are not able to vote in general elections or referendums – but they can vote in local elections. Half the battle, according to Lib Dem campaigners, is making sure they know that.

There are around 1.1 million EU citizens living in London, where every council is up for election, and this is where the Lib Dems are focusing their efforts. They know they have a good chance in battlegrounds that are Conservative versus Lib Dem – as voters traditionally give the government of the day a kicking – and will struggle in areas that have a strong Labour presence. Recent council by-election results underline this pattern.
Senior Tories in Westminster are nervous about the Lib Dems' chances. "They're definitely doing better than we've seen for a while," one cabinet minister told BuzzFeed News recently. They put this down not only to their stance on Brexit but to their new position as the "none-of-the-above party".
The local elections will be the first big test for the party's leader, Vince Cable, the 74-year-old who took over in July last year after his predecessor Tim Farron failed to turn anti-Brexit sentiment into a vote surge in the snap general election.
The party is desperate for some light at the end of the tunnel after a dismal few years that saw them fall from being the third-biggest party in Westminster, and the government's coalition partner between 2010 and 2015, to a tiny group of MPs who have largely failed to capture the serious attention of the media or the voting public.
A recent string of positive council by-election results is giving the party a spring in its step and insiders hope that its track record of tireless door-to-door local campaigning will propel it to a good position in May's elections. Whether the party can transform local victories to breaking through on the national stage, however, remains to be seen.

Pack said it was easy to overstate the impact of EU nationals on the local elections, considering how many are registered and will vote. "But in areas like London, that could be a significant factor in close contests," he said. "So it's something the party's putting a lot of resource into."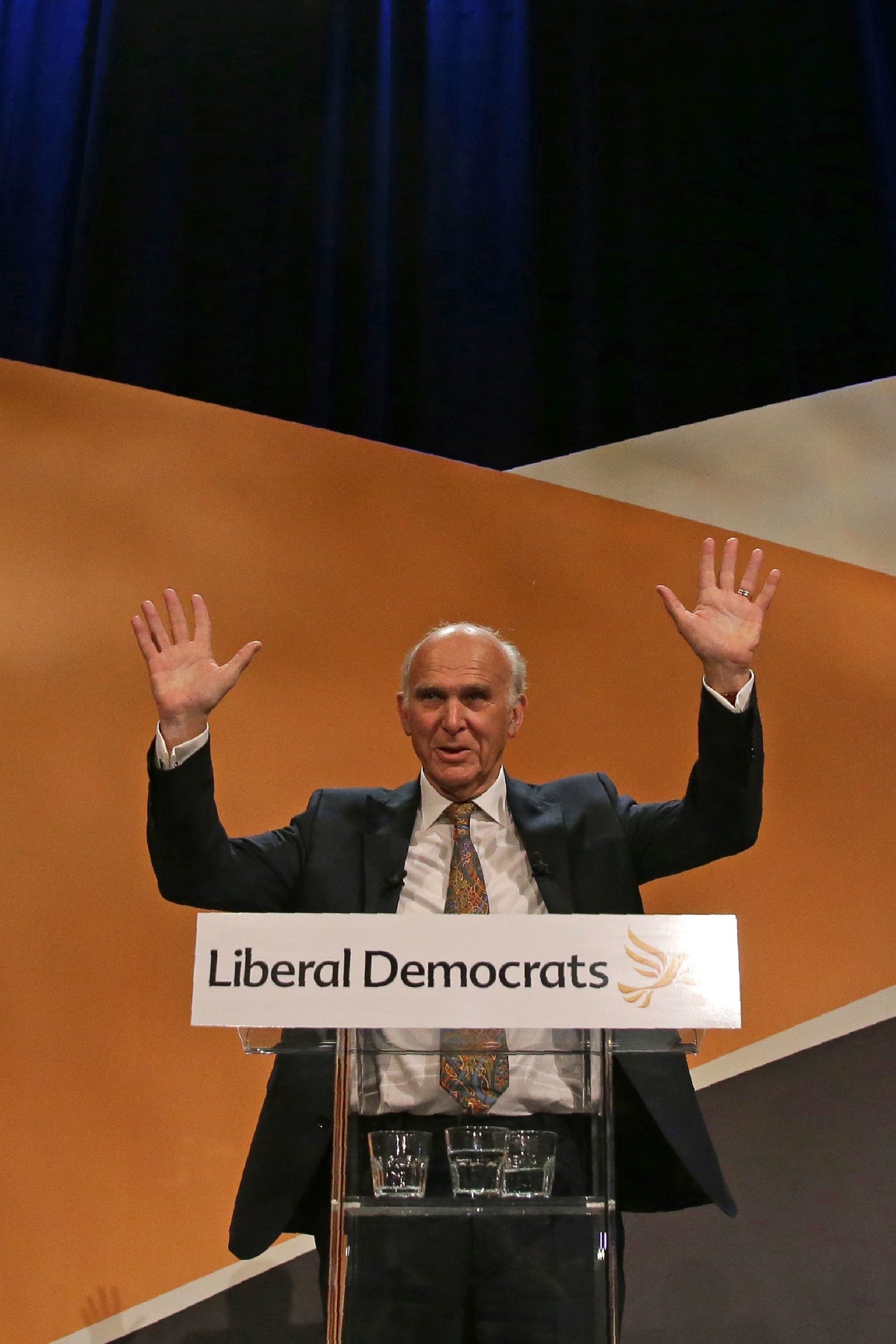 The Lib Dems currently hold the southwest London borough of Sutton and believe they have a chance to grab the neighbouring Remain-voting boroughs of Kingston and Richmond where it is a Tory–Lib Dem fight. They also hope to make some gains in Islington, Jeremy Corbyn's backyard.
They are fighting for more seats on the Labour-run councils of Birmingham, Manchester, and Leeds – although they know this is an uphill battle – and are hopeful of gains in Newcastle and Hull.
"There are a number of seats up for election where we've done well in the past but not so much recently," Pack said. "Progress against Labour in Hull and Newcastle would show that the Lib Dem recovery is more than simply an anti-Tory bounce back."
Lib Dem deputy leader Jo Swinson said she was confident of good results across the country, because this set of elections is focused on a largely urban set of councils in Remain-voting areas.
She told BuzzFeed News the party was "absolutely" targeting EU nationals and getting a good response. "There are parts of the country, certain wards, where they could make all the difference and obviously in London that's very interesting," she said.
But the Lib Dems aren't the only ones going after the EU national vote. Labour has been sweet-talking them for a while, with MPs sending out personal letters and London mayor Sadiq Khan issuing an appeal to vote against the Tories' "chaotic, extreme hard Brexit approach".
Swinson said EU nationals would not be convinced by Labour's stance. "They are pretty furious at the current government and also not too impressed with Labour's position because Labour are really letting the government off the hook when it comes to Brexit," she said.
"In terms of the front benches and the direction of travel, both Labour and the Conservatives are full-speed and extreme Brexit. Jeremy Corbyn wanted to trigger Article 50 the day after the referendum, so he's very much a Brexiteer and EU citizens know that."
Pack said that behind the scenes, Brexit was having a big impact on Lib Dem campaigning – driving a surge in members and volunteers since the EU referendum. "For some of the council by-election gains in the last few months, you might look at the literature and think Brexit didn't have anything to do with this result," he said. "But then if you look at who the candidate was and the people out canvassing every day and asked 'when did you join the party?' – that's where Brexit comes in."
The Lib Dems hope the local elections will mark the definitive start of a fightback – which they point out has already quietly begun in council by-elections – that ultimately leads to them being taken seriously in Westminster once again.
The party won 57 seats under Nick Clegg in the 2010 general election, which was slashed to eight MPs in 2015 – as voters punished them for joining a coalition government with the Tories. Last year's snap election saw the Lib Dems return 12 MPs.
Swinson said: "There's no doubt it was harder when were in government. It was a difficult time in terms of the economics of the country, so just campaigning brilliantly wasn't sufficient, and there were some excellent councillors who lost their seats during that time. But I think what we're finding now is that people are giving us a hearing, and the campaigns are resonating.
"We're now in a situation where we have the credibility of knowing we've been in government – Vince [Cable] is the former business secretary; we have a much more experienced frontbench team than the Labour party – but that we're not in any way tied to the Conservatives ... So you get pure Lib Dem."
The party's position on Brexit has become more mainstream, she added. "I certainly think we'd have more prospects at a general election if it were to be held now because things have moved on."
Cable has called for Britain to be given a vote on the final deal after the UK–EU negotiations have finished, saying people must be given the chance to "exit from Brexit". Both the Tories and Labour have ruled out another referendum.
Pack explained why he believes these local elections are so important to the party. "In the battle over Brexit, the more successful the Lib Dems are seen as being, the easier it will be for the Lib Dems to coalesce anti-Brexit forces around the party – and the more public opinion is likely to shift to 'maybe there's a chance this isn't going to happen'."