Teenagers To Be Trained To Help Friends Deal With Mental Health Issues
"The truth is that the people who best understand the pressures that young people face are their classmates and friends," said education secretary Nicky Morgan.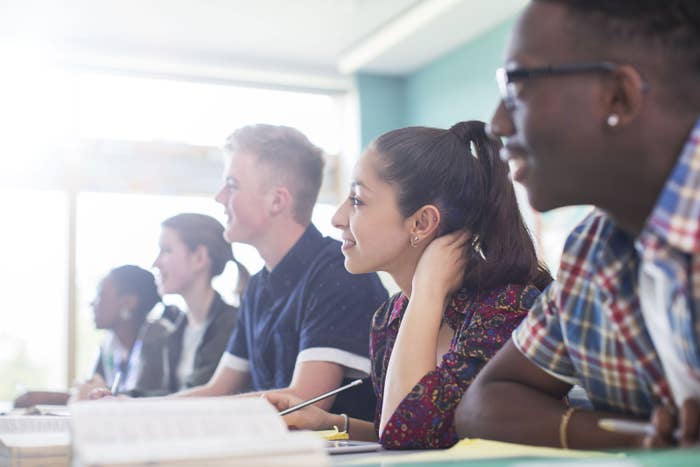 Thousands of teenagers will get training to spot the signs of mental health issues among their friends, the government has announced.
So-called peer support networks will be set up in schools across England to encourage more young people to seek help when they need it.
These could be in the form of buddying schemes, group sessions with trained support, or safe online spaces to allow people to share their worries anonymously.
Launching a "call for evidence" on Wednesday, the Department for Education said it wants young people to tell them the best way of setting up these support networks.
Around 1 in 10 children suffer from a mental health issue such as an eating disorder, depression, or anxiety. If left untreated, many go on to suffer similar problems all their life, the DFE said.
Ministers are making £1.5 million available to help set up the support networks, with the money taken from an existing pot set aside for charities.
It follows a renewed effort from David Cameron to focus on mental health after an official review found that millions of people aren't getting adequate care. Children and young people are faring especially badly.
Education secretary Nicky Morgan said all schools "should be having an open and frank conversation about mental health" to tackle the stigma that still surrounds it.
"The truth is that the people who best understand the pressures that young people face are their classmates and friends," she said. "They're the ones that spot the tell-tale signs that their friends are experiencing problems, and the people to whom children are most likely to turn for support."
A new advisory group, supported by charities, headteachers, and young people themselves, will gather evidence from pupils about their experiences in dealing with mental health issues.
Some of the money will be used to develop new websites or apps – or extend existing ones – to help more sufferers get support. Silent Secret, for example, already provides a safe online space to share thoughts and feelings anonymously. And Get Connected offers a free helpline and webchat service.
New apps could be focused more on the local area, to allow those suffering from mental health issues to link up with people nearby for group support.
Peer support is already happening in some schools. At Sandon School in Essex, pupils volunteer as mentors for classmates who might need someone to talk to about their problems.
Helen Newman, assistant headteacher at Sandon, said: "Young people that would otherwise find it difficult to engage with support feel reassured knowing that they have someone in school to turn to who is close to them in age, who may have had similar experiences to them and who won't judge them."