Victoria Beckham Has Smacked Down An Anti-EU Campaign For Misrepresenting Her Views
The ex-Spice Girl said she was a Remain supporter – just like her footballer husband, David.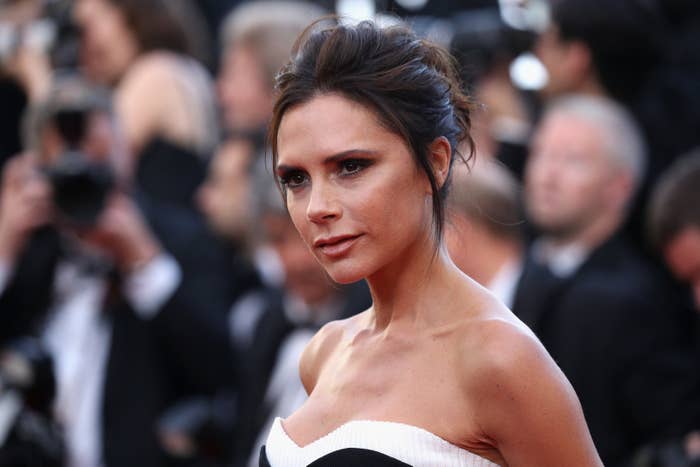 Victoria Beckham has hit out at Leave.EU, the unofficial Brexit campaign, for "misusing" comments she made 20 years ago about the European Union.
The former Spice Girl said she agreed with her husband, David, who revealed on Tuesday that he would be voting for Remain in Thursday's referendum.

Her intervention came after the Nigel Farage-backed Leave.EU group tweeted a graphic of Beckham saying: "The Euro bureaucrats are destroying every bit of national identity and individuality. We must keep our national individuality."
The graphic, first released in April, does not mention that she made these comments in 1996.

Beckham hit back on her Instagram page: "In response to the @leave.eu campaign who have today tried to put a spin on quotes made 20 years ago about keeping or losing the pound, I have to say strongly my comments were not about this referendum and should not be misused in this way! I believe in my country, I believe in a future for my children where we are stronger together and I support the #remain campaign."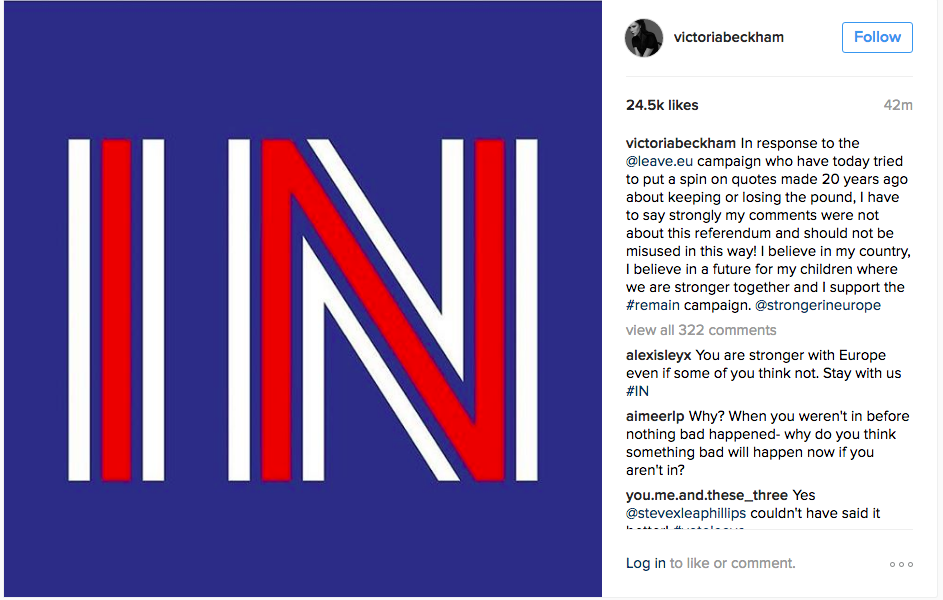 The row kicked off when David Beckham announced he would be voting Remain on Thursday. The former England football captain wrote on Instagram: "We live in a vibrant and connected world where together as a people we are strong. For our children and their children we should be facing the problems of the world together and not alone. For these reasons I am voting to Remain."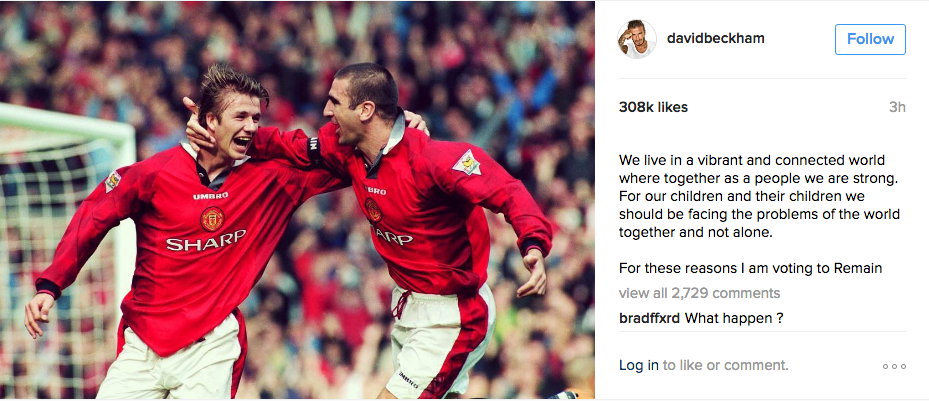 But a Leave.EU spokesperson defended its use of the quote, telling journalists: "She was absolutely clear. We quoted her in her own words on the EU – seems that she can also bend the facts like Beckham."
Many of Victoria's Instagram followers praised her stance on the EU – but some were less than impressed.
One said: "We're your kids born in nhs hospital?? No!! Do U or your family use nhs? No!! Do u or your husband sort out football trails or Burberry and vogue photo shoots for your kids? Yes so you haven't got a clue what it is like to be US!!"
Another pointed out: "Your children are not in the same boat as ours. #voteleave"