On Friday, Sadiq Khan announced £1.4 million in funding for more youth workers in hospital emergency departments, with the aim of guiding young people caught up in knife crime away from a life of violence.
It was the London mayor's third press release about knife crime in as many days, after a call for more schools to take up metal-detecting knife wands, and a warning that government cuts to youth and education services, probation, and prisons have caused violent crime to rise.
Khan's 2018 PR onslaught is his response to a sustained attack from both the Conservative party and the online right over what appears to be a sharp rise in violent crime since he came to office. Knife crime – and the devastation it causes to families and communities – is now a party-political issue, as both sides cast around for someone to blame.
But experts say that behind the headlines generated by both sides, the reality is far more complex and fluctuations in crime rates make it difficult to pin down any trend.
Four young men were stabbed to death in separate attacks in London on New Year's Eve, marking the end of a year which saw a rise in knife crime across the capital and brought the total number of fatal stabbings in the city to 80.
In the days that followed, Khan became the target of mounting personal criticism on social media from Tory MPs and right-wing commentators who accused him of being ineffective and weak on the issue.
On 2 January , the Guido Fawkes website published an article pointing out that knife crime in London had risen by 31.3% "under Khan" between 2015-16 and 2016-17, referencing a report written by his deputy mayor for policing, Sophie Linden.

Tory MPs, including justice minister Sam Gyimah who is responsible for prisons and probation, had already started tweeting Khan about the stabbings, accusing him of doing little to address the "epidemic".
The online campaign stepped up a notch when right-wing figures such as Breitbart's editor Raheem Kassam and Infowars' Paul Joseph Watson – both no strangers to criticism of Khan – began to get stuck in, also using figures from Linden's report (which was first published in mid-December).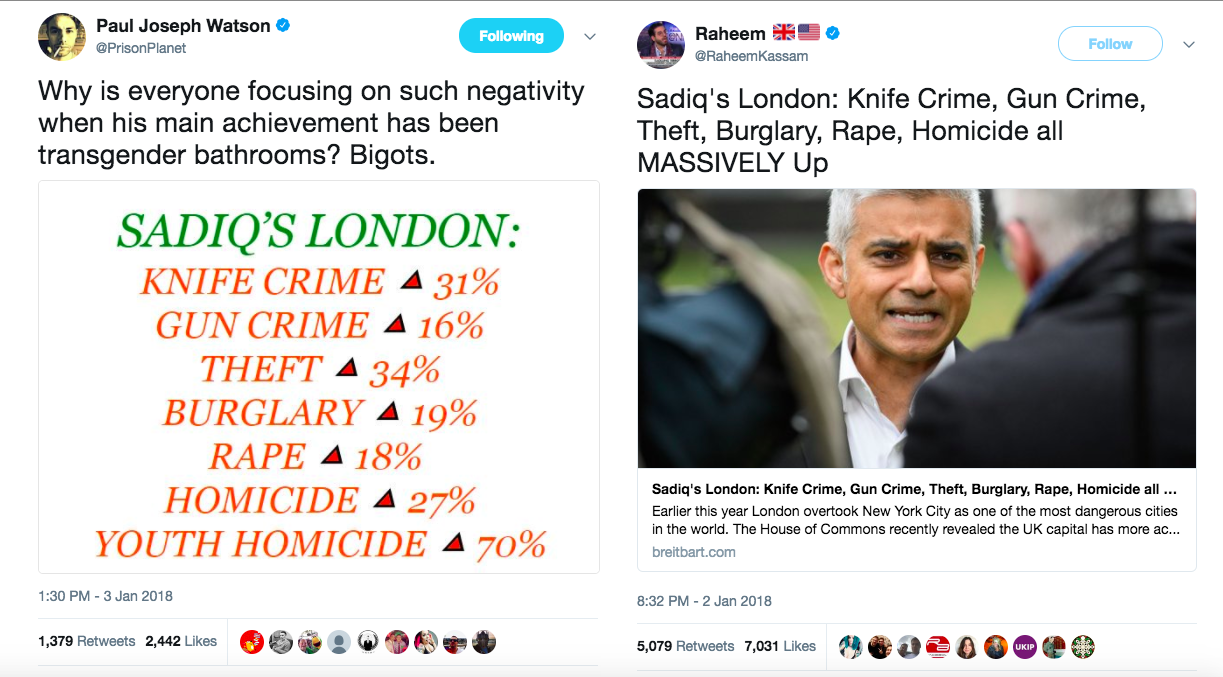 The figures do not look good for Khan: According to the Office for National Statistics, knife crime across England and Wales last year soared to its highest level since 2011 – driven by a surge in London. Almost 37,000 knife offences were committed in the year ending June 2017, up 26% on the previous year and the highest tally since March 2011.
"The police force area that showed the largest volume increase was the Metropolitan police, which accounted for 47% of the increase across England and Wales," the ONS said.
Linden's report showed that "knife crime" offences in London went up from 10,724 in 2015-16 to 14,076 in 2016-17, a rise of 31.3%.
"Knife crime with injury" increased from 4,012 to 4,841, a rise of 20.7%. Khan became mayor in May 2016.
However, Richard Garside, director of the Centre for Crime and Justice Studies, urged caution over the figures. He told BuzzFeed News: "If there's one thing we know about crime statistics you don't just look at one single year – you have to look at a longer-term period."
He warned that knife crime statistics – such as those in the report – were "highly susceptible" to policing practices because, for example, if stop and search activities are increased, the number of people caught possessing knives also increases.
Kit Malthouse, a Tory MP who formerly served as Boris Johnson's deputy mayor for policing, believes that Khan needs to shoulder some responsibility. Writing in the Evening Standard on Thursday, he warned of a "smouldering sense of fear about street violence in the capital" and urged the mayor to get a grip.
"While the Met is an incredible organisation filled with brave and dedicated officers, it must be driven hard," Malthouse said. "Otherwise, like many large organisations, it has a tendency to drift. Mayoral leadership means tenaciously holding the police to account for the death of each and every teenager killed in London."
But Garside said any failure by Khan to hold the police to account would be far from the full picture: "If you look in the longer-run, say over the last 40 years, the rate of death for stab wounds has been, relatively speaking, fairly consistent – regardless of policing tactics," he said.
"I'm not making a political point, but policing strategies have very little to do with the propensity of people to die in the streets from stab wounds – in fact almost nothing to do with it.
"The police can pick up the pieces afterwards, you can have crackdowns, you can toughen up sentences but it's going to have very little bearing on the number of people who die from stab wounds."
Garside pointed to research on the best ways to tackle knife crime that his organisation had undertaken some years ago for the children's commissioner.

"Policing strategies at best had very, very short-term consequences," he said. "You can flood an area with cops, you can have knife amnesties, you can step up your stop and search – and maybe you get a few weapons off the streets – but then they can go home, open the kitchen drawer and get another one."
Sarah Jones, the Labour MP for a south London constituency who chairs the new all-party parliamentary group on knife crime, agreed. She said: "There is absolutely no doubt that funding to the police is part of this but the other side is you can't arrest your way out of this problem. You can catch more people, but you need to get to the root causes and then you've got a lot of issues going on."
Jones pointed the finger at both social media, which she warned was being used as a way of "glamorising" gang culture, as well as a marked increase in pupils being expelled from school.
"What happens is if you've got a kid that's causing a bit of bother and they get expelled quite quickly, they end up going to a pupil referral unit and it is a well-worn path from there to prison," she said.
"You look at the background of a lot of the kids involved – either the ones getting murdered or the murderers – there are a lot who have family issues, parents in prisons, history of violence in their family. There are children we are letting down who are getting into these situations."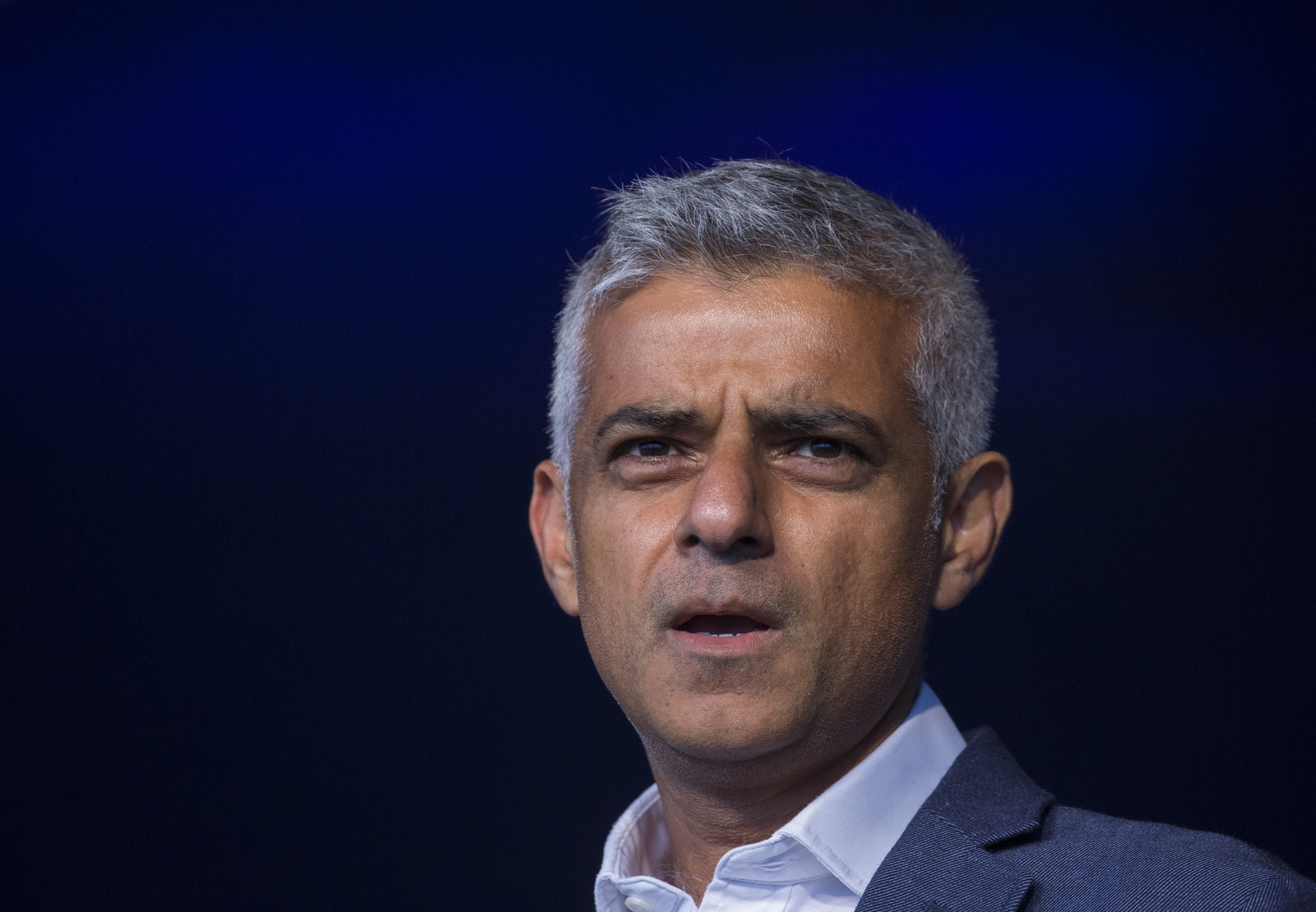 Jones, MP for Croydon Central, said the rise in knife crime in London had been "significant", but that it was wrong to pin the blame on Khan.
"I don't think playing the blame game is helpful, I think there are much bigger things going on here," she said. "Part of it is funding – which is directly the government's responsibility – and part of it is a societal shift as well."
Tom Gash, author of Criminal: The Truth About Why People Do Bad Things, also cautioned against pointing the finger at any one political party or police force.
"I don't think you can say knife crime has a single cause or that you can pin it all on the police or any one service or a particular politician – it's a complex, knotty problem," he said.
Gash said it was hard to say whether the London statistics indicated a long-term trend or just a blip, adding: "You can get quite big fluctuations in knife crime."
He added: "There are worrying signs in London generally and I don't think Sadiq Khan was wrong to highlight problems with a range of services around criminal justice; he rightly points to difficulties in the probation services."
Jones denied that her defence of Khan was down to party loyalty. "I chair the all-party group, it's a cross-party group, all parties want to do something about this," she said. "It's not about the blame game – but you can't deny the [cut in] funding."
She warned that local youth services – which offered teenagers somewhere to go and feel safe – had been "absolutely decimated" due to government cuts, adding: "What have kids got to do? What is the alternative to a life in crime?"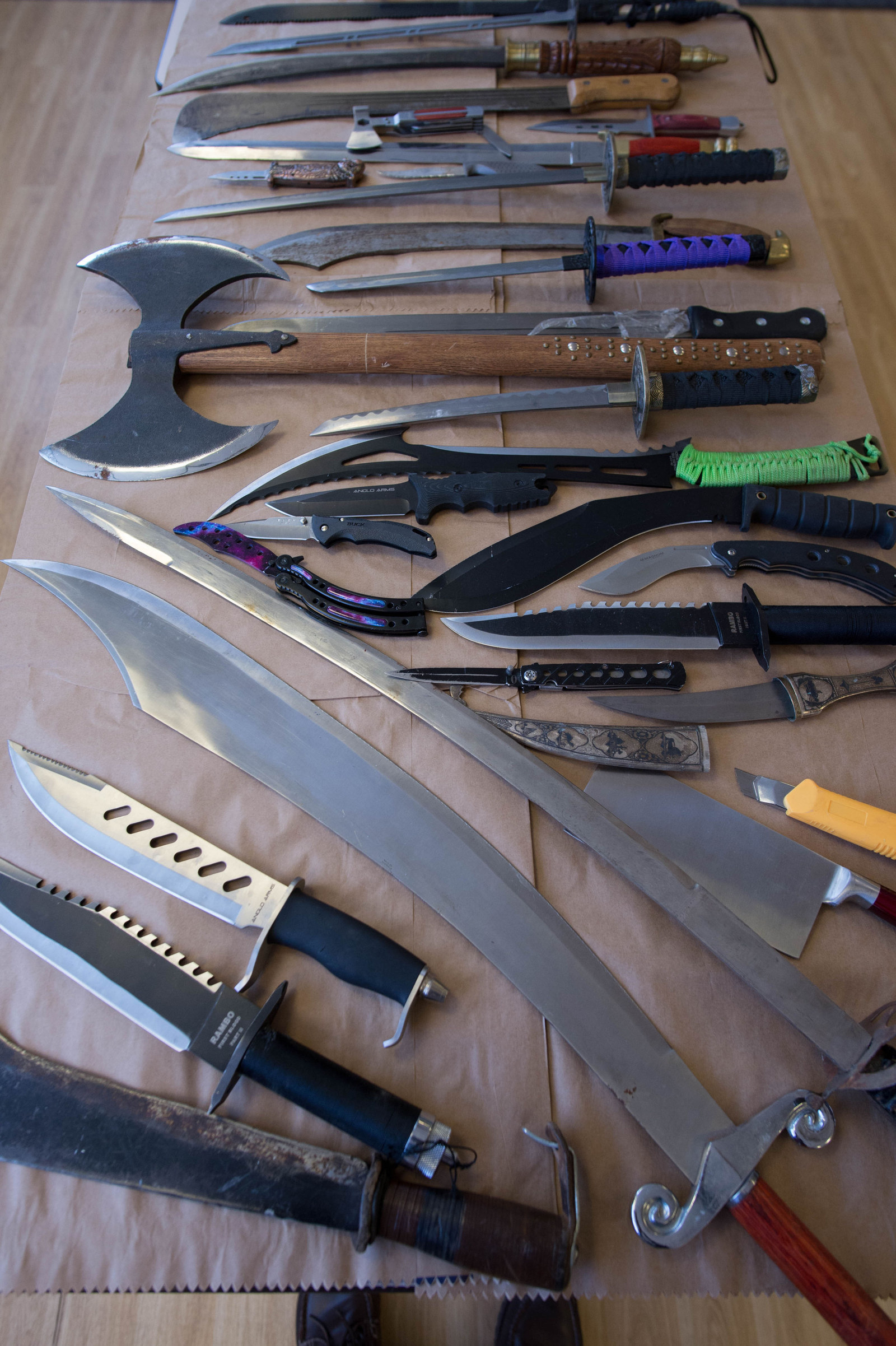 This is a sentiment echoed by Khan, who said in a statement on Thursday: "Ministers need urgently to prioritise local services, youth services, early years, community work, mental health services, probation and prisons if we are to bear down on the senseless violence in which four young men lost their lives this new year.
"On this government's watch, these critical services have been allowed to deteriorate and starved of funding and we are now paying a heavy price."
Shaun Bailey, a Conservative London Assembly member, hit back at Khan's attempt to blame government cuts. "Additional funding for community-led projects would always be welcome but Sadiq Khan's comments are simply an attempt to distract from his own responsibilities on the issue," he said.
Khan has long committed to tackle the root causes of knife crime and gang violence in the city; when he became mayor he pledged to use the money raised by the sale of three water cannon – bought by his predecessor Boris Johnson – for youth services.
Johnson was banned from using the crowd-control machines by then home secretary Theresa May on safety grounds, and they have since cost the taxpayer more than £320,000.
Yet Khan's office confirmed to BuzzFeed News that the cannon still remain on the market because they have so far failed to find a buyer that meets the "rigorous ethical standards" required.
A spokesperson for the mayor said: "The water cannon remain available for sale via the Ministry of Defence which is helping to find the highest and most reputable buyer from a European policing or civil protection organisation, according to conditions set by the German Federal Police.

"It beggars belief that, because the previous mayor rashly purchased them before he even had permission to use them, such a huge amount of taxpayers' money has been wasted on these redundant machines."
Khan's latest move, to bring more youth workers into A&E units, was welcomed by youth charity Redthread, which already provides services for victims in hospital. Its chief executive John Poyton said: "We meet vulnerable young people in A&E departments and on the wards, in the 'teachable moment' – a crucial moment of self-reflection and a potential catalyst for change."
According to the mayor's office, it is part of a £7 million package of "tough and comprehensive measures" to tackle knife crime. This includes Operation Winter Nights, in which the Met seized weapons and made over 900 arrests during October and November; a "bespoke knife crime action plan" for every London borough; knife wands for schools; and a social media campaign, London Needs You Alive.
Will the latest plan mark a shift in solving the blight of knife crime in the capital? The bare statistics and scores of failed initiatives suggest that any progress will happen slowly.
Looks like there are no comments yet.
Be the first to comment!