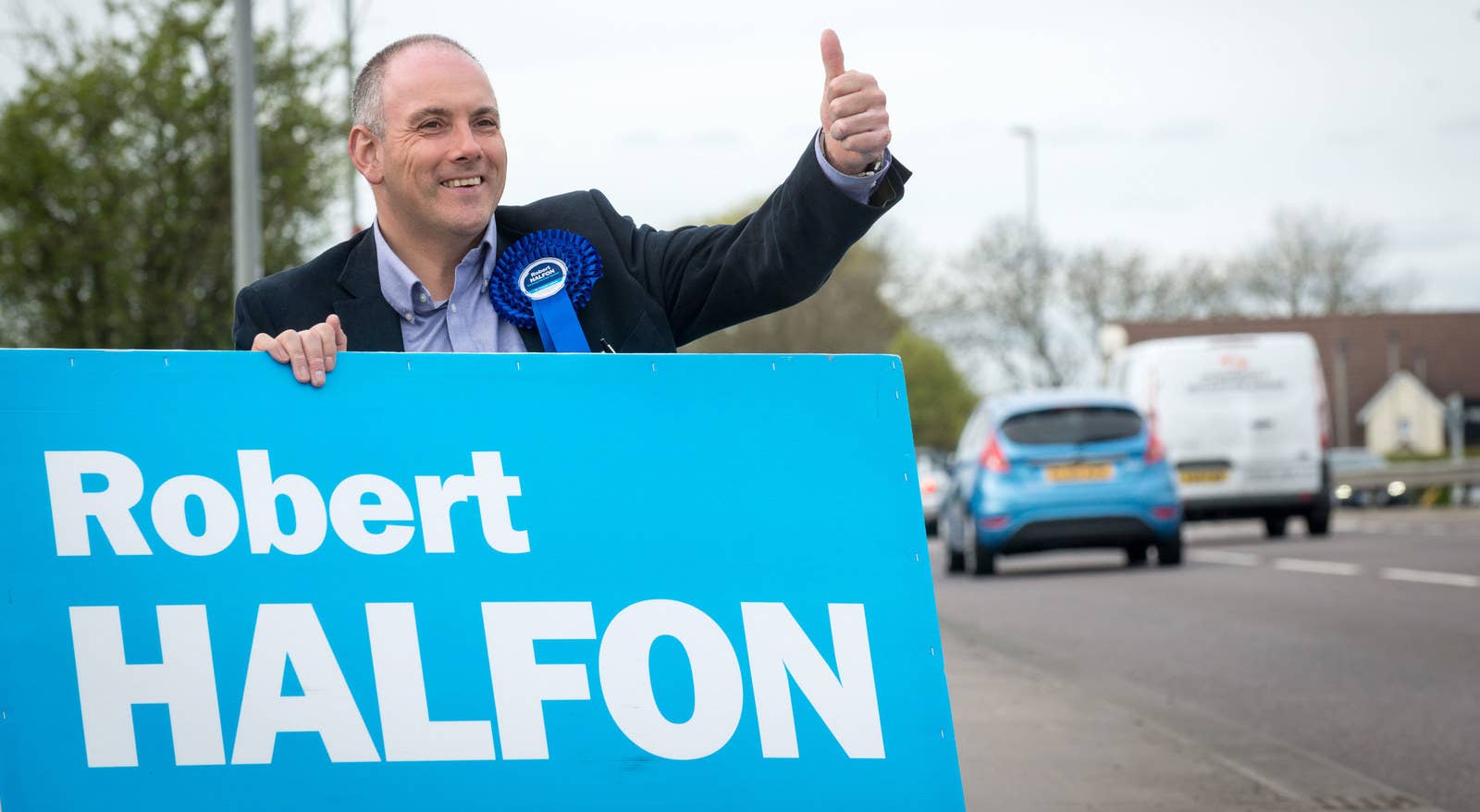 Rob Halfon settles himself on his camping stool at the side of the busy A414 in Harlow, Essex, and props his bright blue election sign up in front of him. Traffic relentlessly thunders by; a few tired passengers look back at this Conservative politician in disbelief. And then: recognition. A grinning van driver honks his horn and gives a thumbs-up, and a man in an estate car flashes his lights. These are commuters coming back home into Harlow after a long day at work – exactly the people Halfon needs to win over to be re-elected as MP for this marginal seat.
His local campaign couldn't be more important as national polling for the Conservative party flatlines ahead of the general election. David Cameron's team seem to be struggling to convince people outside its hardcore Tory base that the party is worth voting for. But in this working-class corner of Britain, Halfon is pulling out all the stops to prove to ordinary workers that he's on their side.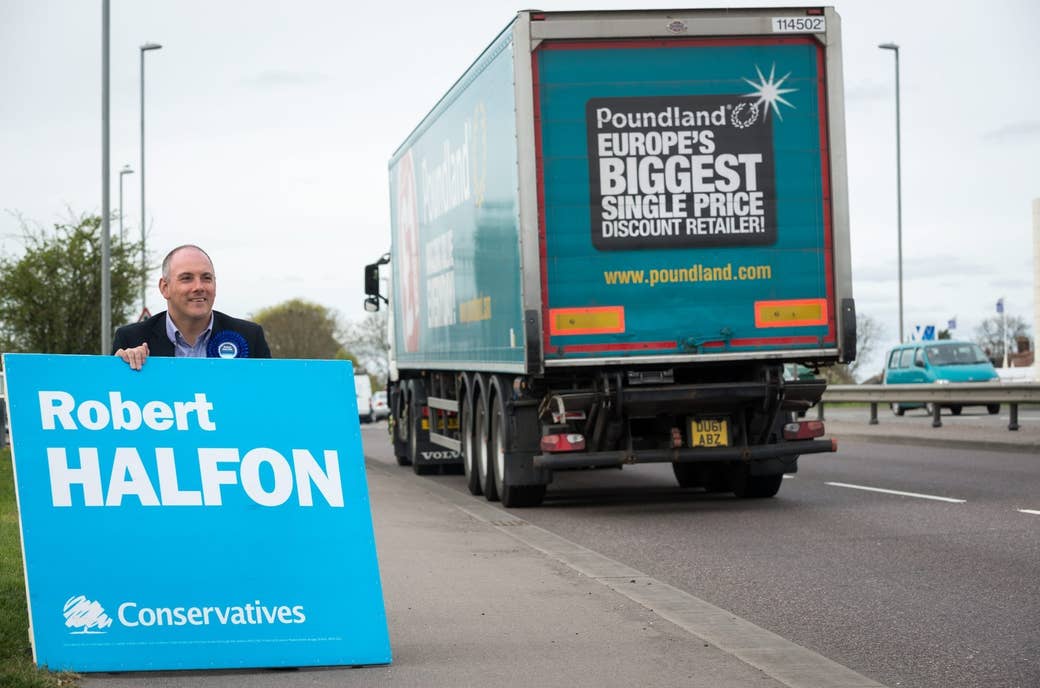 The 46-year-old spends around five hours every weekday sitting by the side of the road, come rain or shine. He usually starts his day sitting outside a BP petrol station between 7am and 9am, catching motorists heading out of town for work. Later he's back at around 4pm, this time on the other side of the road, outside a Shell garage, until 7pm.
His team of activists space themselves at intervals down the road ahead of him to make sure drivers take notice. "You can't just sit there and read a book, you have to wave to people and make eye contact," Halfon tells BuzzFeed News over the roar of passing cars.
"No one expects an MP to be doing this. I did this at the last two elections and I promised I'd do it again this time. People said they didn't expect me to do it again after becoming an MP, but here I am." Halfon believes the tactic is highly effective and allows him to reach "100 cars a minute". "The Labour party hate me doing it because they know it's brilliant." he says. "Instead of doing it themselves, they say, 'All he does is sit around all day.'"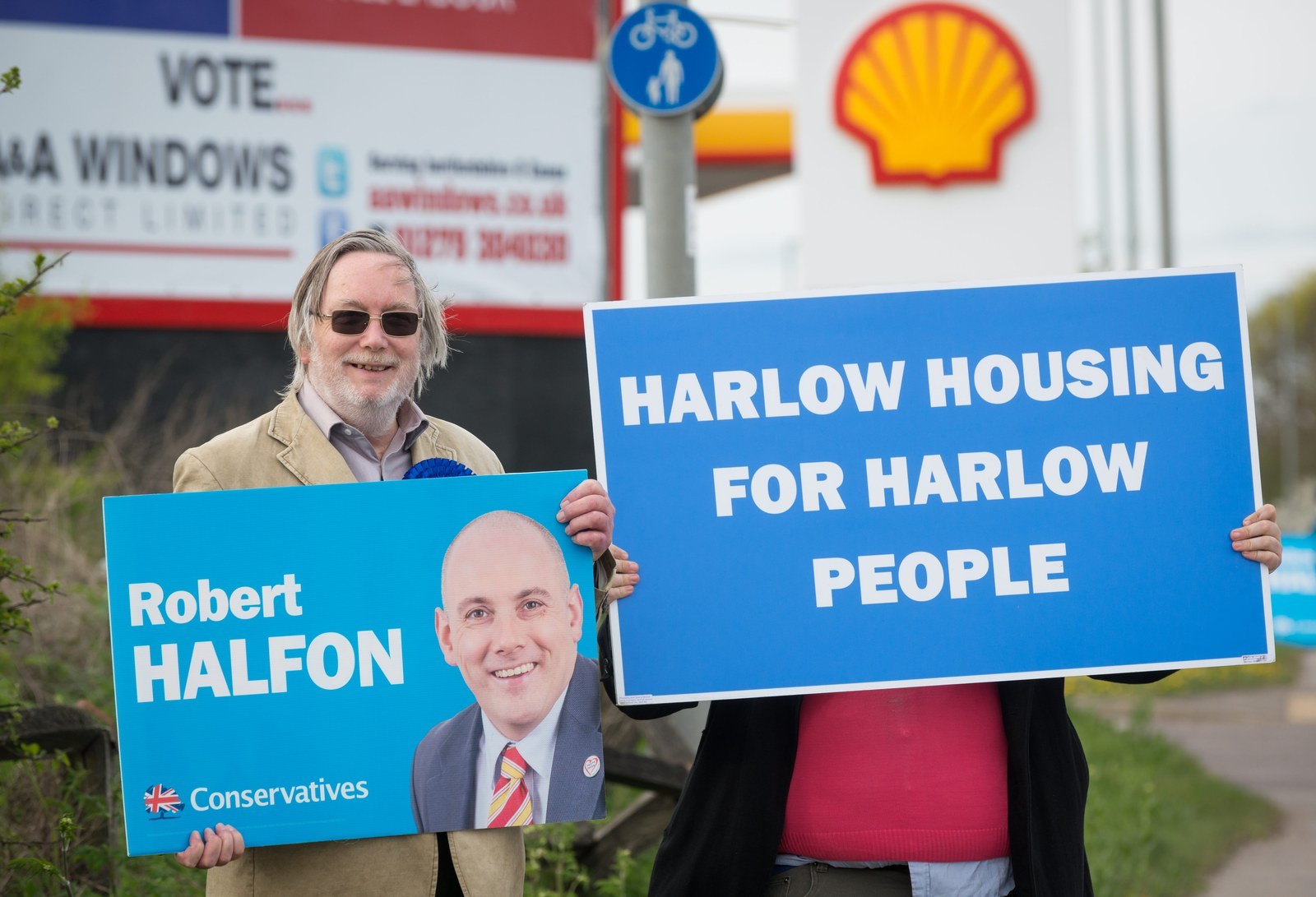 Margaret Thatcher had "Essex man" and Tony Blair had "Mondeo man" – shorthand for the kinds of people they needed to attract to win elections. Halfon believes that to win power, the Conservatives need to do far more than appeal to its Barbour-wearing base. Working people on low-to-average wages striving for promotion are the key to the election. Last year Halfon said he wanted to see the Conservative party rebranded as the "Workers' party", with a ladder logo to show it was helping people get jobs. It didn't happen.
Still, this has been his consistent message since he first ran for parliament in 2001: The Conservatives won't win unless people believe they are genuinely on the side of hard-up taxpayers. Whether the party can make this work is a matter of debate.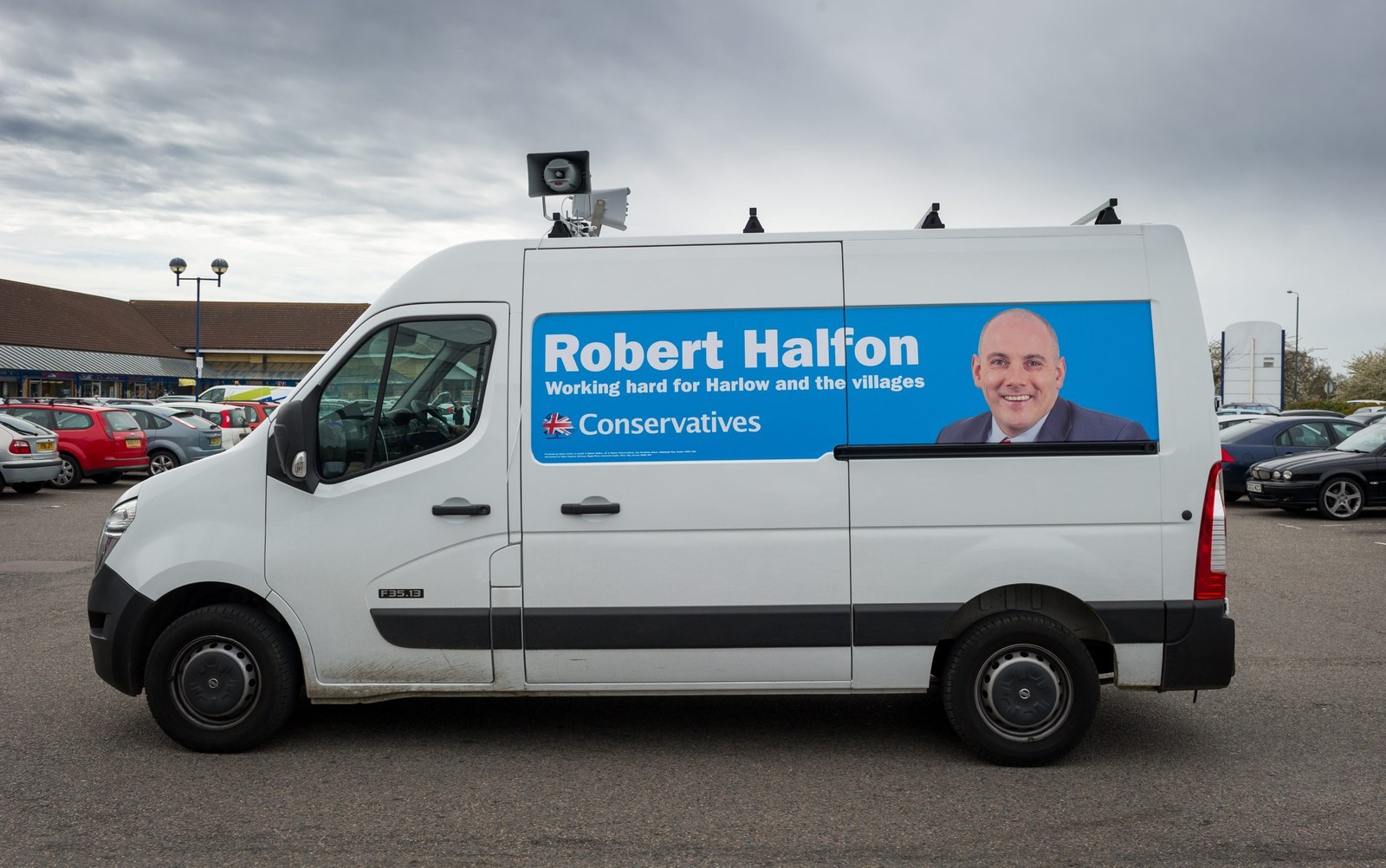 Above all, Halfon is keen to highlight his credentials as a local MP. Earlier in the day, he takes BuzzFeed News for a drive in his white Transit van around Harlow. The use of a white van is no coincidence: Everything about Halfon's campaign is designed to emphasise that he's a "man of the people". And he's made sure people can't ignore his vehicle – speakers on the roof blare out "Eye of the Tiger" and "Gonna Fly Now" from the Rocky movies on a loop at top volume, interrupted occasionally by the words "Vote for Robert Halfon".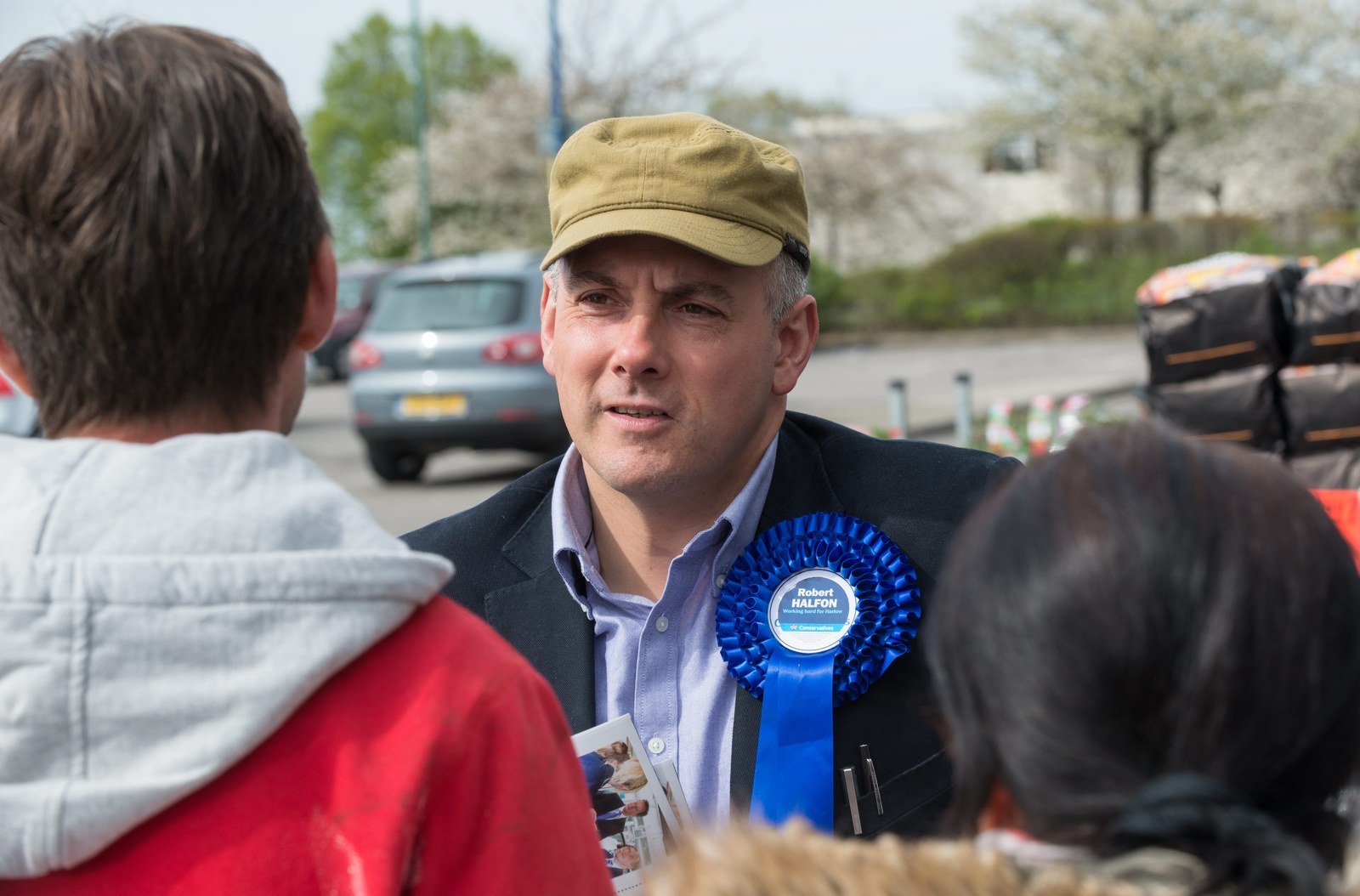 Halfon is taking us campaigning outside Lidl supermarket in Staple Tye ward, which, he warns, can be a "tough area". With a big blue rosette pinned on his chest, he says he's not sure of the reaction he's going to get. "I'm taking a risk here," he says, "but we want to show you it." Sure enough, as soon as we arrive, he's told by an incredulous man leaving the store: "This is a working-class shop, mate – you're in the wrong place." Halfon replies: "I've been here many times, thanks."
Others just shake their heads when offered Conservative leaflets.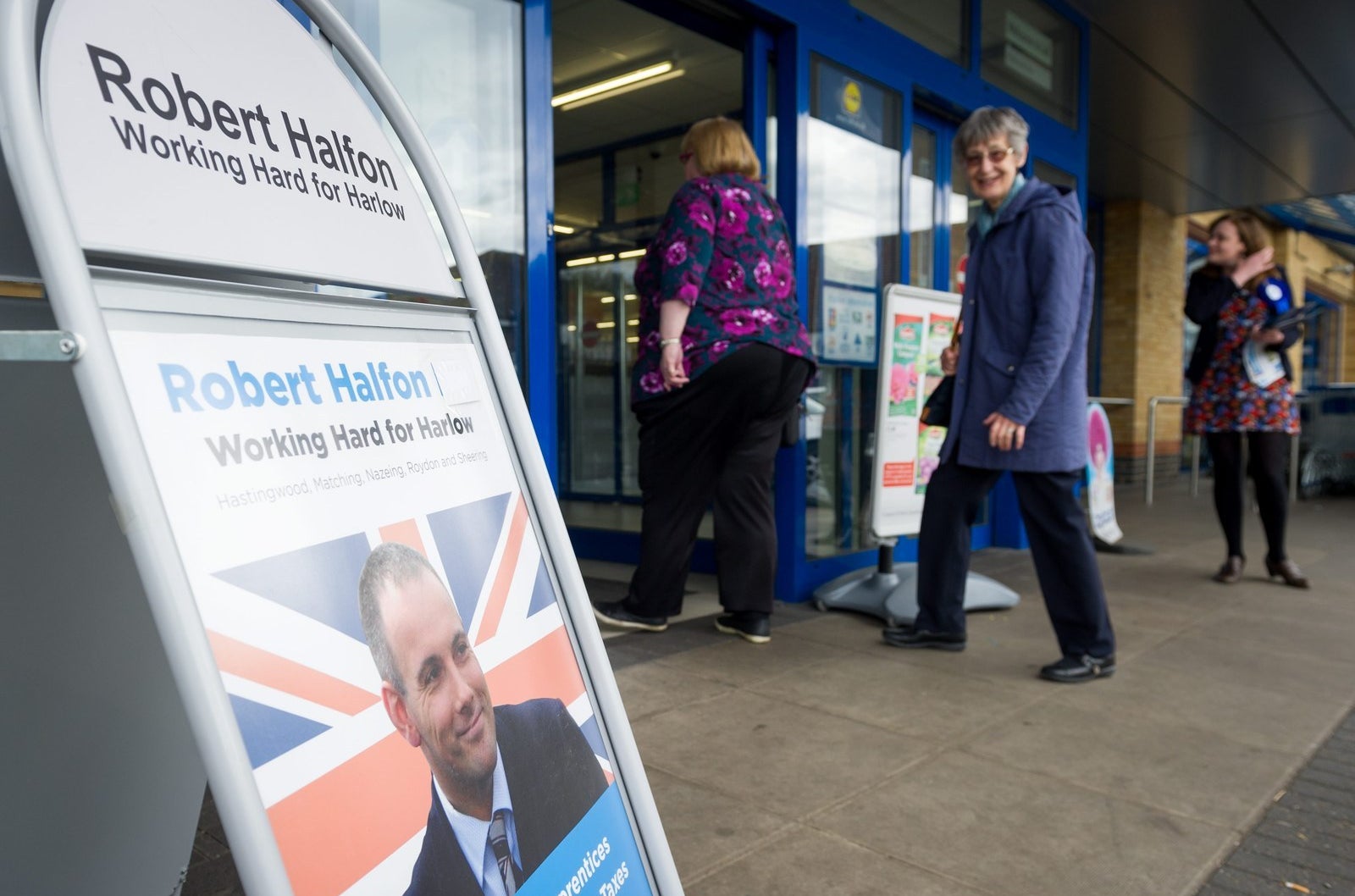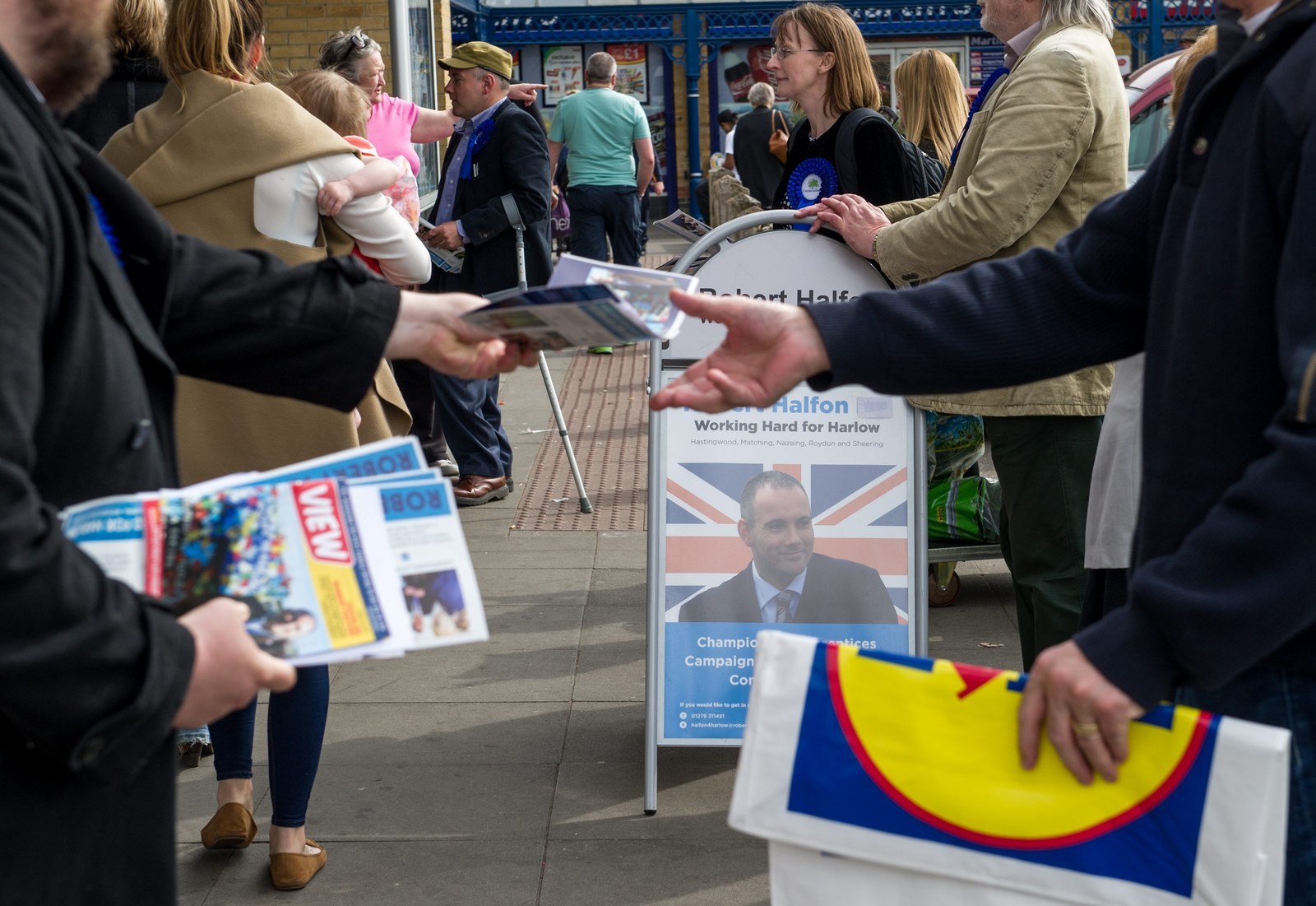 But suddenly, a few supporters begin to appear. "Yeah, you're getting in anyway," says one woman. Another tells him: "Nice to see you. I see you on the news and in the papers all the time. Better-looking in the flesh!" An 80-year-old man tells BuzzFeed News that he's lived in Harlow for 54 years, and that Halfon is "the best MP we've ever had". The man is not convinced by Ed Miliband. "Labour have done the Conservatives a favour picking him as leader," he says. Halfon jumps in, saying: "If we're not careful we'll have a Labour-SNP government."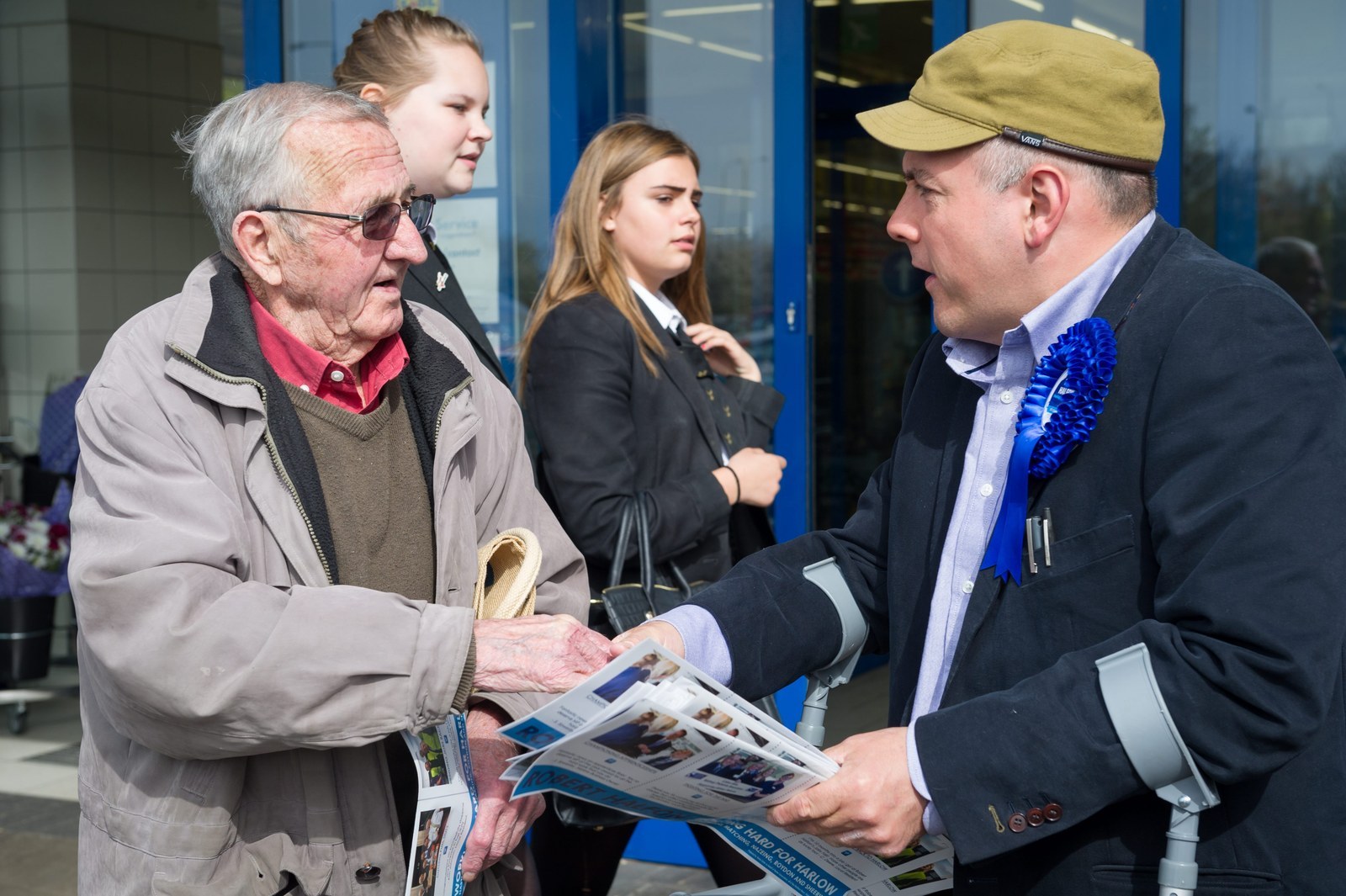 The pensioner isn't the only one to raise the subject of Ed Miliband. A man with a trolley full of groceries tells Halfon: "Miliband's a complete idiot. If his brother had got in, it would have been a different story." A middle-aged woman shopping with her daughter and granddaughter also stops to chat; she recognises Halfon from his stints by the roadside. Meanwhile, two schoolgirls from nearby Stewart Academy hover nearby, attracted by the small crowd that has gathered. They're weighing up whether Halfon is famous enough to be worth a selfie.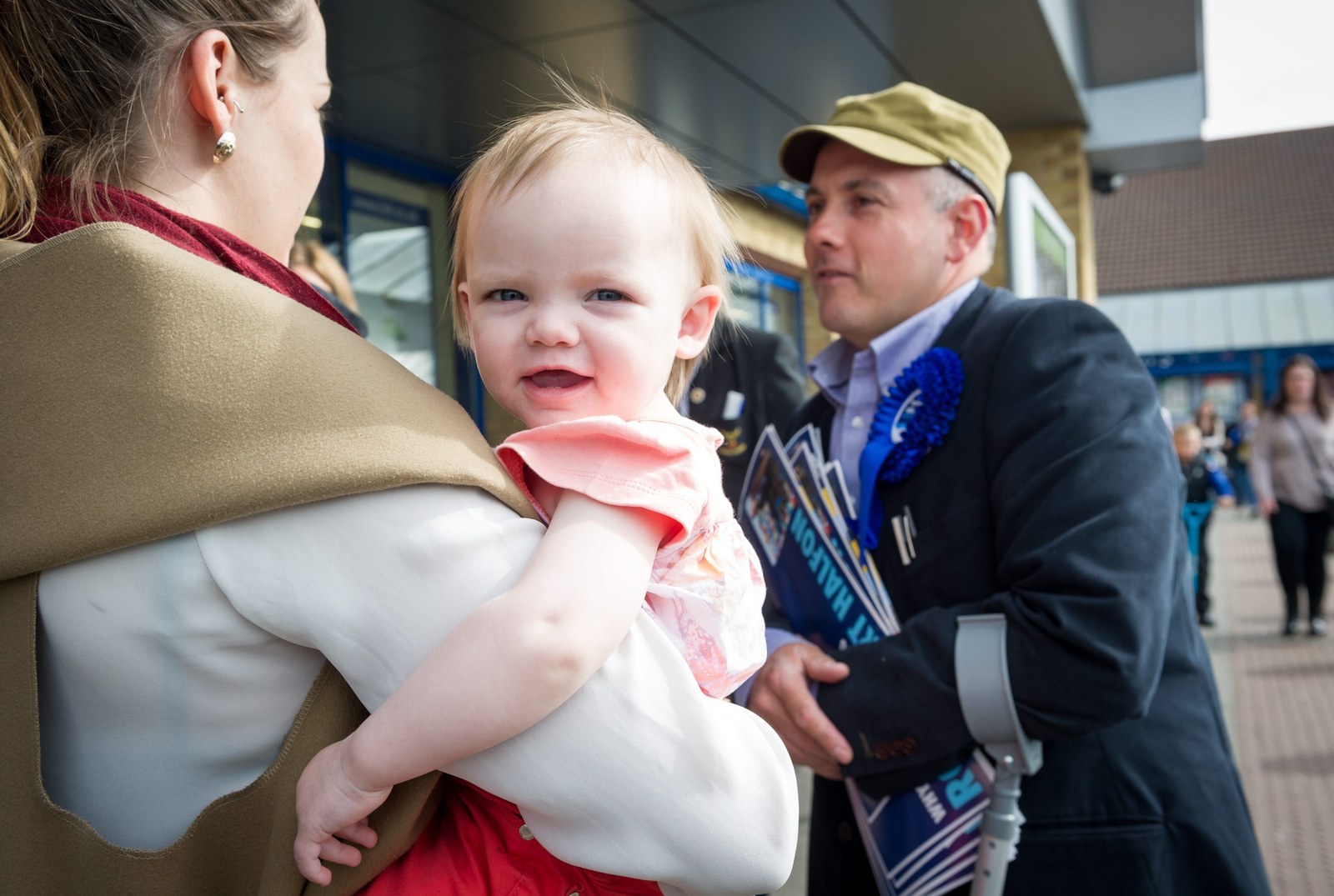 But it's not all easy. For some, Halfon's local reputation isn't enough to convince them to give Cameron another term. "I'm not voting Conservative because I've just reached 60," one woman tells him. "I suffer arthritis and the Conservatives just won't help." Later, as Halfon prepares to leave, an agitated man rushes up to him. "We need to stop people coming here," he says. "Not just stop their benefits when they come here, but stop them coming here in the first place." The conversation is intense as Halfon tries to convince him the Tories are serious on tackling immigration, but the man ends up walking off.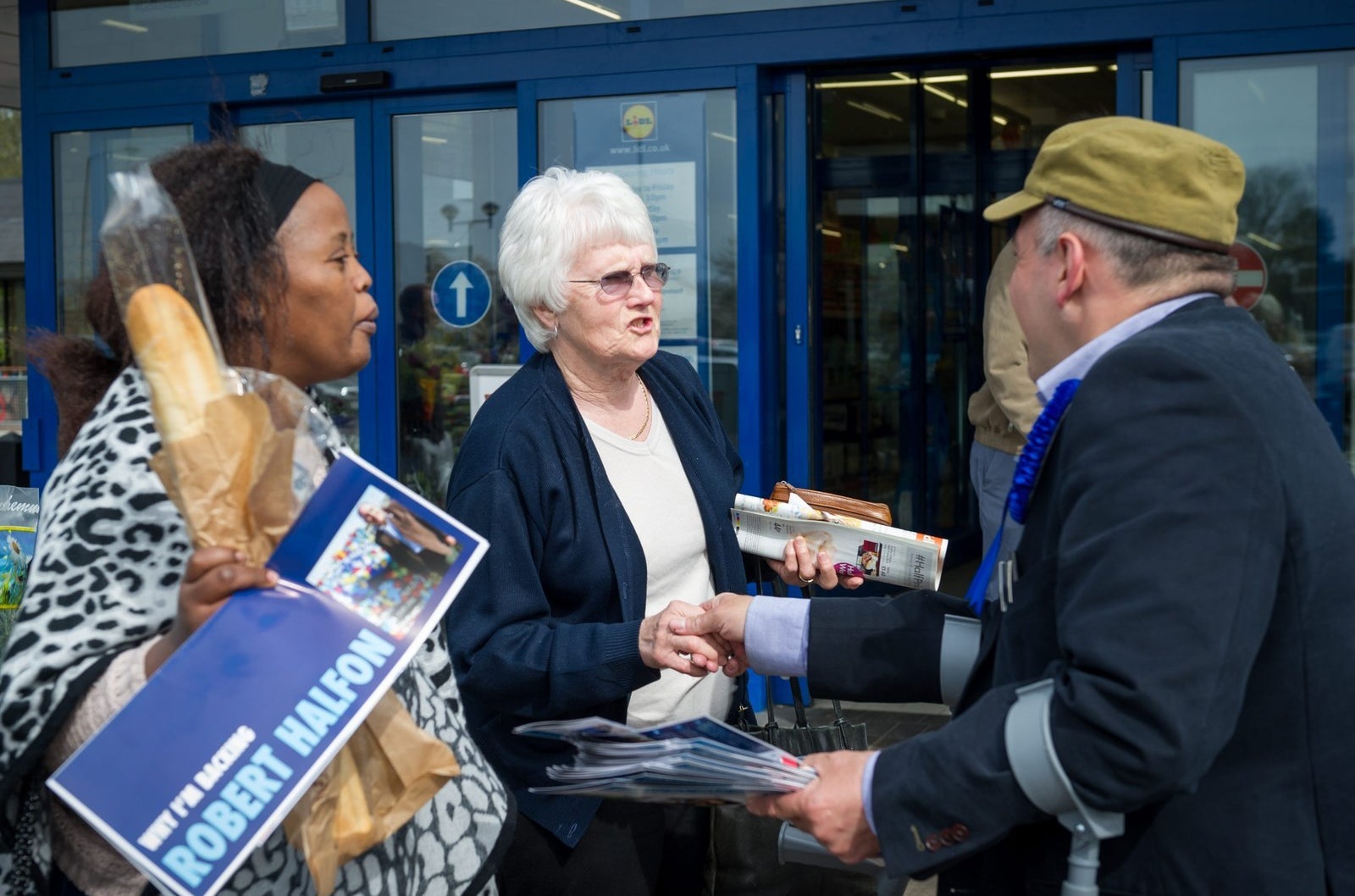 One of Halfon's slogans is "Fair immigration, fair to the taxpayer." There are many immigrant constituents in Harlow, particularly from eastern Europe, he says, and he doesn't want to denigrate them. Not least because his Jewish-Italian father moved to London after fleeing Libya in the early years of the Qaddafi regime. But Halfon is a staunch Eurosceptic and would vote to leave the EU if a referendum was held today. "Yes, I would vote to leave," he says, "but I genuinely want to see what Cameron does. If Cameron gets our powers back then I would vote another way. I think it's gone too far. There's a distance between the EU and the British people. So if there's no renegotiation, I would vote to leave."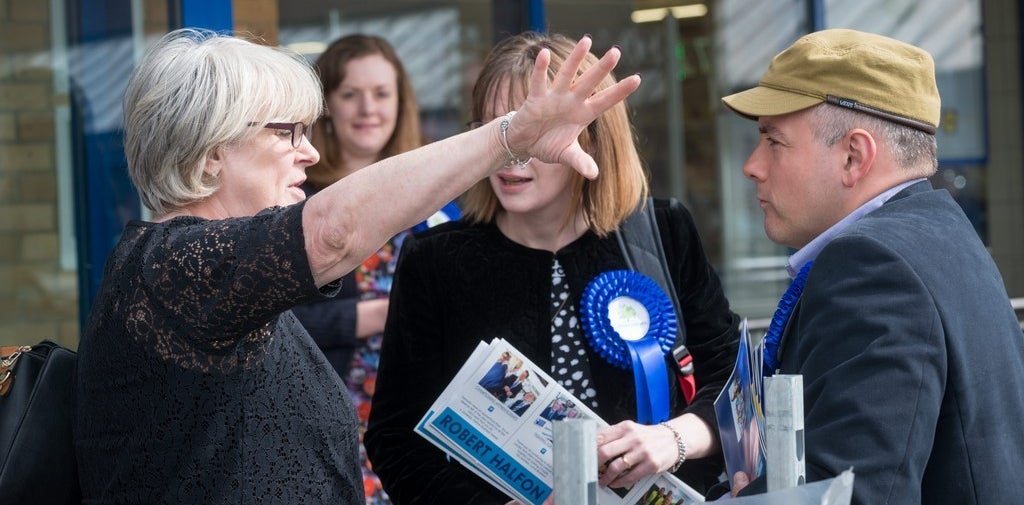 Between shifts on the side of the road, Halfon spends most days handing out leaflets in a shopping centre or visiting local businesses. He leaves his campaign team to go out knocking on doors because he can't walk without crutches: He suffers from osteoarthritis and a form of cerebral palsy.

He says he "barely mentions" Labour in his leaflets. Instead, he sticks to four main themes: cutting fuel duty, protecting the NHS, housing, and jobs. But he doesn't have much time for the local Labour party, which he accuses of "scaremongering". "They're campaigning to slag me off, it's really, really negative," he says. "'Robert is evil and wants to burn babies and vote for the bankers' bonuses, and the Tories want to privatise the NHS.' People don't like that stuff."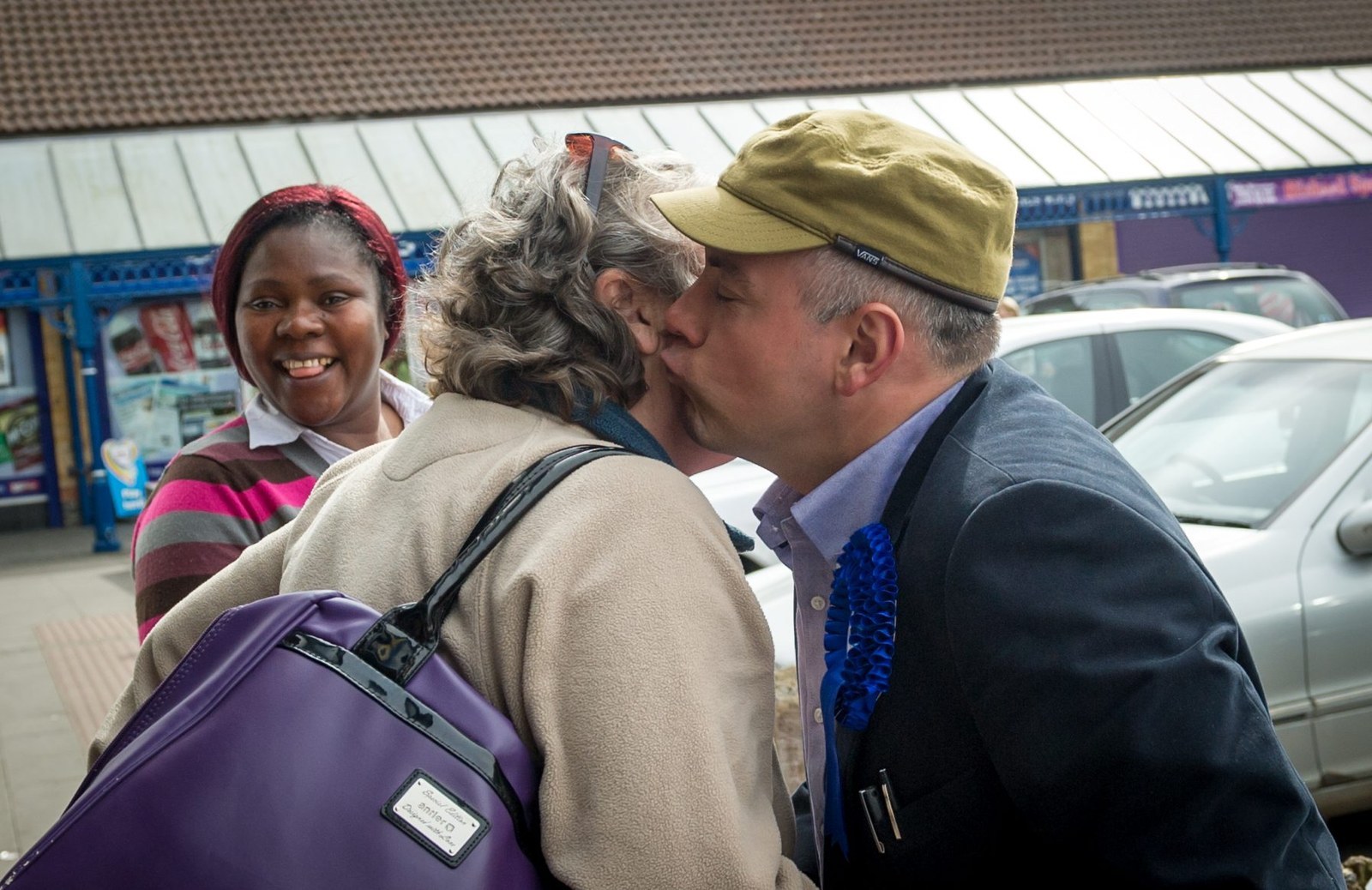 But are local voters convinced by the Conservatives, and, in particular, David Cameron, their privileged leader? "I think for the first time we're showing people that we're on their side," Halfon says animatedly. "The Eton stuff, no one gives a monkey's about. People expect the prime minister to be posh. But people want to know we're on their side. That's been the problem."