Number 10 Has Just Set Out How John Bercow Can Be Investigated Over Bullying Claims
The Speaker has been accused of "over-the-top anger" by his former aide.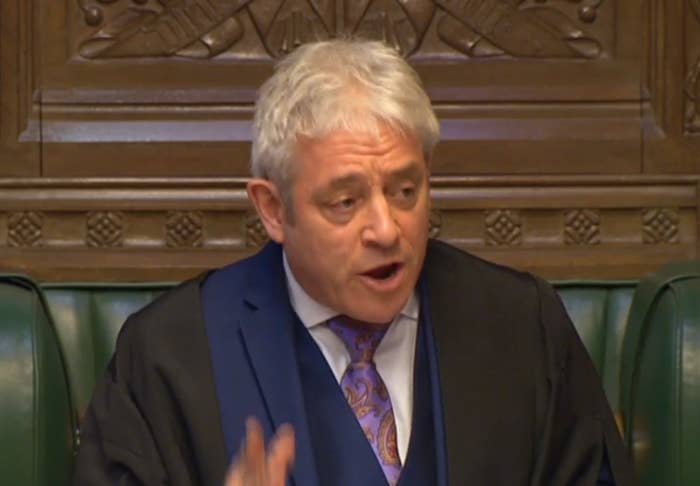 Number 10 has set out in detail how Commons Speaker John Bercow could be investigated over allegations of bullying, as he was forced to defend himself in parliament over the latest claims.
The Speaker's former private secretary Angus Sinclair told the BBC's Newsnight that Bercow was prone to "over-the-top anger", would shout and swear at him, and once even smashed a mobile phone on his desk.
Sinclair said he was paid £86,250 in 2010 as part of a "compulsory early retirement" by the House of Commons authorities, and that he was required to sign a nondisclosure agreement (NDA).
The Speaker's office said Bercow "strenuously denies" the claims.
The prime minister's spokesperson said the allegations were "concerning and should be properly investigated", and that it was up to MPs to decide how to do this.
But in a briefing for journalists on Wednesday afternoon, he suggested a number of ways this could be achieved – including expanding the independent inquiry set up to probe bullying complaints in Westminster.
"We've said that is a matter for the House and there are ways in which this could be done," he said.
"The inquiry has set out its terms of reference but this is something we suggest the chair may wish to consider. Or the House authorities, as the employer of parliamentary staff, could consider the best way for this investigation to be carried out.
"And also the parliamentary commissioner is in a position to investigate allegations that a member has breached the rules of conduct. So those are ways in which this could be approached, but our position is that the House should decide."
The House of Commons Commission is establishing an inquiry into the treatment of parliamentary staff, led by Dame Laura Cox. So far, however, it has said it will not look into individual cases.
The development comes after Newsnight previously reported that Kate Emms, Sinclair's successor as Bercow's private secretary, also left due to his alleged bullying behaviour.
In a point of order on Wednesday, Tory MP Maria Miller, chair of the women and equalities committee, asked Bercow to make it clear that all Commons staff, both current and former, can "speak out about wrongdoing experienced whilst working in this place".
"It's clear from media coverage that a former senior member of staff in this place has felt unable to speak out about serious alleged wrongdoing because of an agreement signed with the House of Commons when they left," she said.
Miller also called on Bercow to make a personal statement "given your involvement in these allegations", which she said "potentially have the effect of undermining the reputation of this House".

Bercow replied: "Let me be clear – current and former staff are not constrained by any agreements from talking freely and confidentially to the independent inquiry into bullying and harassment being conducted by Dame Laura Cox QC and I hope they will do so."
He said the clerk of the House had explained that such agreements between the Commons and staff were "not nondisclosure agreements" and "do not in any way seek to prevent disclosure of wrongdoing on public interest grounds, i.e., whistleblowing".
He added: "As for myself, I say to [Miller] and to the House, I have made a public statement to which I have nothing to add."
Later Bercow told MPs: "I have a superb team of dedicated, effective, and long-serving staff, five of whom have served me for a collective total of over 40 years.
"I am also happy to confirm that the great majority of people who have left my service have done so on perfectly amicable terms."