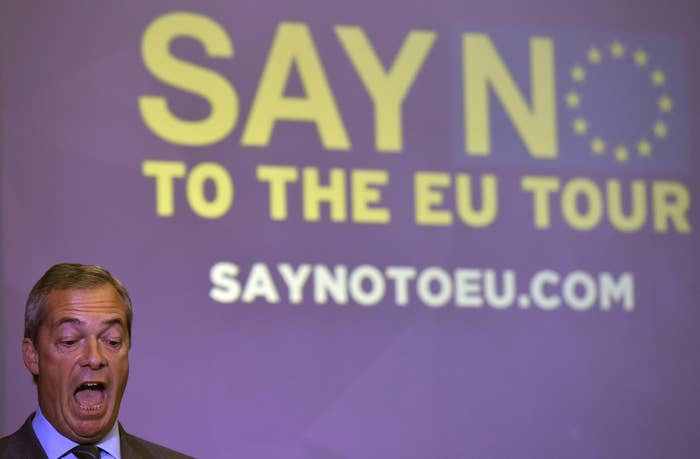 UKIP leader Nigel Farage has warned that ISIS is using the refugee crisis as cover to flood Europe with terrorists.
He said there was a "sinister and dangerous" element to the growing crisis engulfing Europe. "When ISIS say they will use the migrant tide to flood Europe with 500,000 of their own jihadists, I think we better listen," he declared.
"Five hundred thousand may not be realistic but what if it's 5,000, what if it's 500? And already one of the ISIS terrorist suspects who committed the first atrocity against holidaymakers in Tunisia has been seen getting off a boat on to Italian soil.
"At the moment the EU's common asylum policy has absolutely no means whatsoever of checking anybody's background and I would say we must not allow our compassion to imperil our safety."
Farage was speaking at the London launch of his party's Say No campaign for the referendum on Britain's EU membership. He claimed that the vast majority of those making dangerous journeys into Europe were young males from Somalia, Mali, and Mauritania.
While "conditions may not be very nice" in those North African countries, he argued, "it's very difficult to see how more than a few of those people qualify as refugees".
He added: "The EU has got this wrong. Anybody that comes, from whatever background and virtually for whatever reason, can claim to be a refugee. If the European Union wants to help genuine refugees, they need to establish offshore centres and process people correctly, rather than inviting what has now turned into a headlong rush."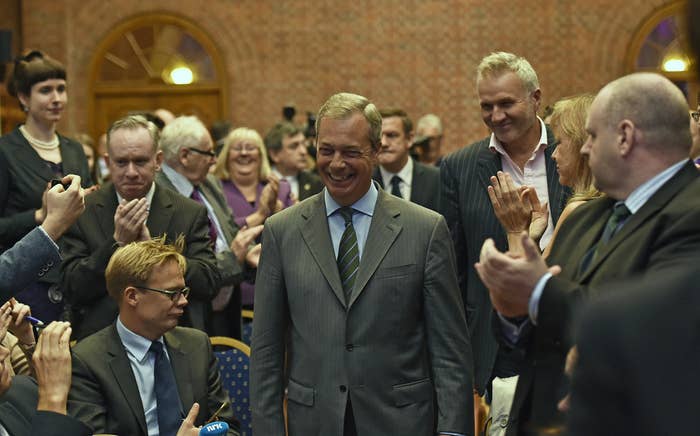 Farage also urged Labour leadership frontrunner Jeremy Corbyn to work with him on a campaign for Britain to leave the EU.
He praised Corbyn for openly criticising the alliance and said he was glad there would "be a proper debate about the EU within the centre-left".
BuzzFeed News asked Farage whether he believed Corbyn would attract some former UKIP voters and whether he had contacted him about the No campaign.
"No, I haven't, I think he's rather busy at the moment," he replied. "He's having the time of his life, I would have thought. What do I think the effect of Jeremy Corbyn would be on the UKIP vote? I think that once Corbyn's won there's almost no point in voting Green in Britain. Almost no point at all.
"They've got their man, haven't they? North London, bicycles, non-drinker, all that kind of stuff. Doesn't sound very much like me, does it, but there we are."
Farage predicted that Corbyn would "funnily enough, as UKIP has done, start to pick up a different kind of voter who otherwise wouldn't vote for anybody".
He added: "So the idea that the Labour vote will just collapse because Corbyn is there is not necessarily right. However I do think there's a chunk of the old Labour vote who will now find UKIP even more attractive than it did on May 7 as a result of Jeremy Corbyn being the leader, and particularly given some of his associations in the past who you wouldn't want to take home to have tea with your mum."