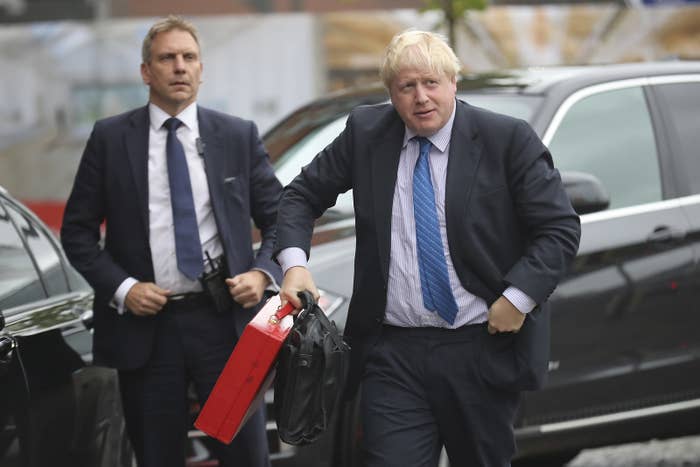 Boris Johnson has arrived at the Conservatives' annual conference to the usual fanfare from party members – but ministers are privately exasperated at his latest intervention over Brexit.
The foreign secretary sparked a fresh row in the cabinet as he gave an interview to The Sun – on the eve of conference – laying down his "red lines" for leaving the European Union.

It came just over a week after he penned a 4,000-word article for the Daily Telegraph reiterating his controversial, and much debunked, claim that Britain would be able to claw back £350 million a week for the NHS post-Brexit.

On Sunday, prime minister Theresa May insisted on BBC1's Andrew Marr Show that her team was "united" and sidestepped questions over whether Johnson was "unsackable".

But behind closed doors, senior Tories were less diplomatic. One cabinet minister told BuzzFeed News: "Nobody is unsackable."
They added: "People who aspire to lead the Conservatives always forget who the audience is. It's not the membership, it's their colleagues in parliament.

"There is absolutely no appetite for a leadership election now. If you said to backbenchers 'let's have a leadership election in the autumn' they would be horrified."

Pressed on Johnson's decision to speak to two major newspapers, the minister said: "It's not the strategy I would adopt."

Meanwhile Scotland secretary David Mundell made his feelings toward Johnson very clear at a conference fringe event.

Asked whether Johnson could be the man to win support for the party from young voters, Mundell said: "I do recall that Boris Johnson once stood as rector of Edinburgh University. You can look at the results of that."

Johnson came third in that race in 2006, when he was shadow higher education minister.

Staying "united" was very much the key message for senior Tories on the first day of conference.
In another thinly veiled warning to Johnson, first secretary of state Damian Green told Radio 5 Live's Pienaar's Politics: "It is extremely sensible when you are in government to express those views in private rather than public."