On Tuesday morning the Department for International Trade tweeted this out – a link to a story on a pro-Brexit group claiming that Britain will enjoy a £135 billion windfall after it leaves the EU.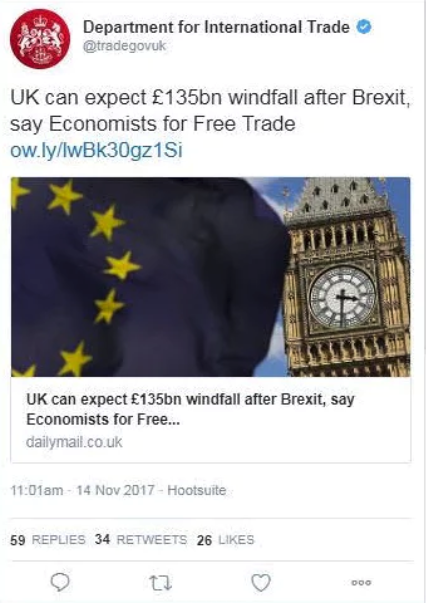 But there was a problem – the story included claims from Tory MP Jacob Rees-Mogg that official growth forecasts were based on "false assumptions" from the Treasury.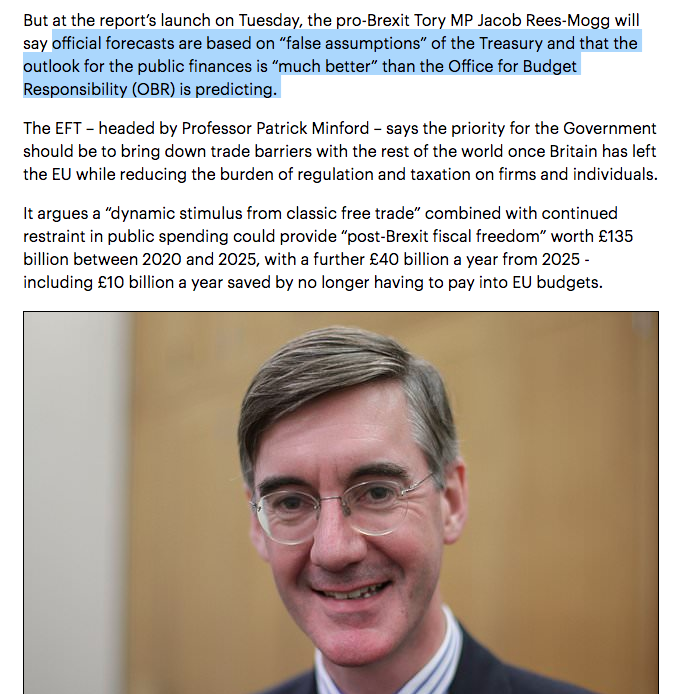 The story from the Press Association, picked up by MailOnline, told how the Economists for Free Trade group believed that Brexit would be "overwhelmingly positive" for the British economy.
That finding, the PA said, was "sharply at odds with most mainstream economists who have warned the UK faces lower growth and more pressure on the public finances as a result of the vote to leave".
The tweet was quickly picked up by political correspondents who pointed out that the Department for International Trade seemed to be promoting attacks on a fellow government department – run by a chancellor who notoriously supported the Remain campaign – just a week before the Budget.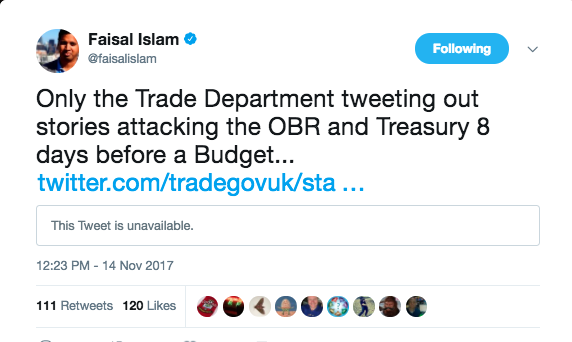 And then, suddenly, the tweet was gone.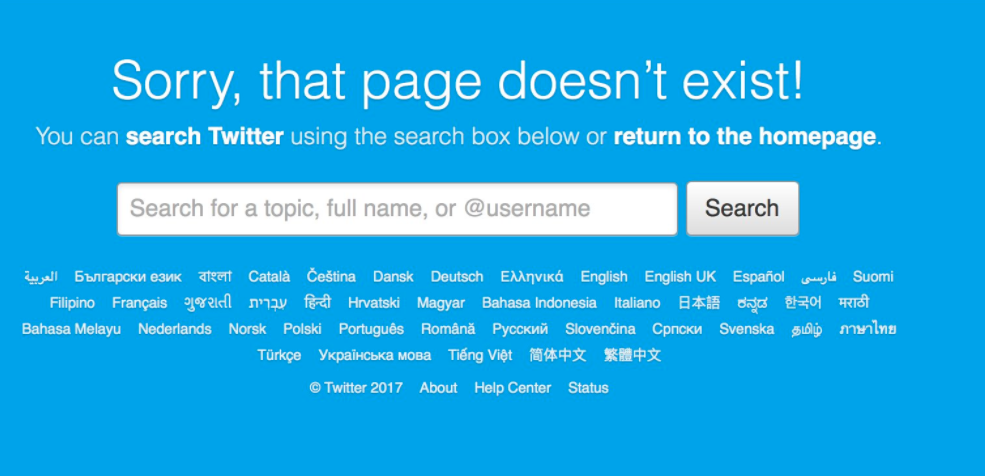 At a regular briefing for journalists, the prime minister's spokesman was asked what Theresa May thought of the tweet. He said: "I have not seen that, but speak to DIT. I'm sure they can explain why they've deleted it."
So we did speak to DIT. A spokesman told us: "It was a genuine mistake and as soon as we realised we deleted the tweet."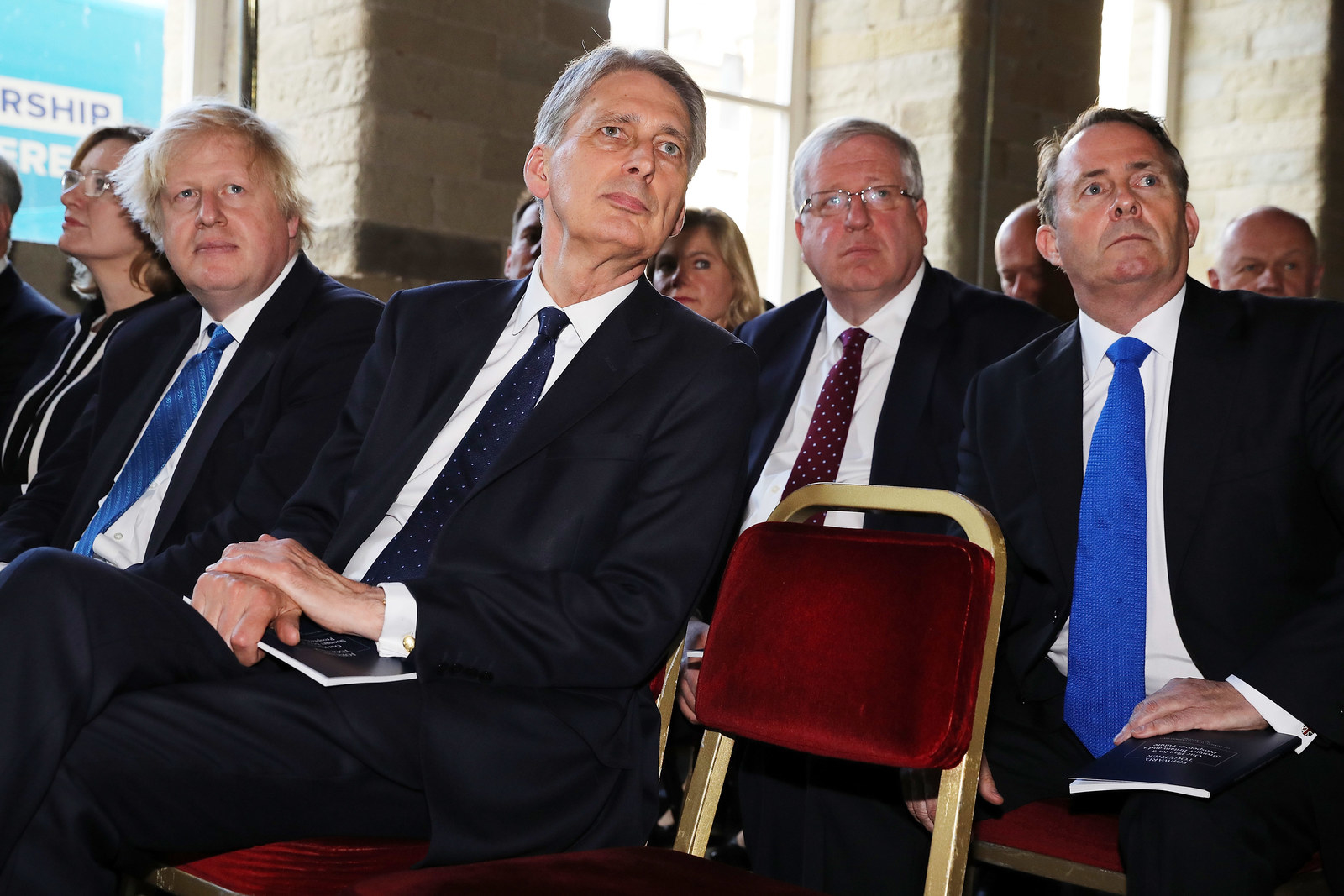 But senior Labour MP Chuka Umunna, a spokesman for the Open Britain campaign, has demanded an investigation by the cabinet secretary into potential breaches of the civil service code and the ministerial code.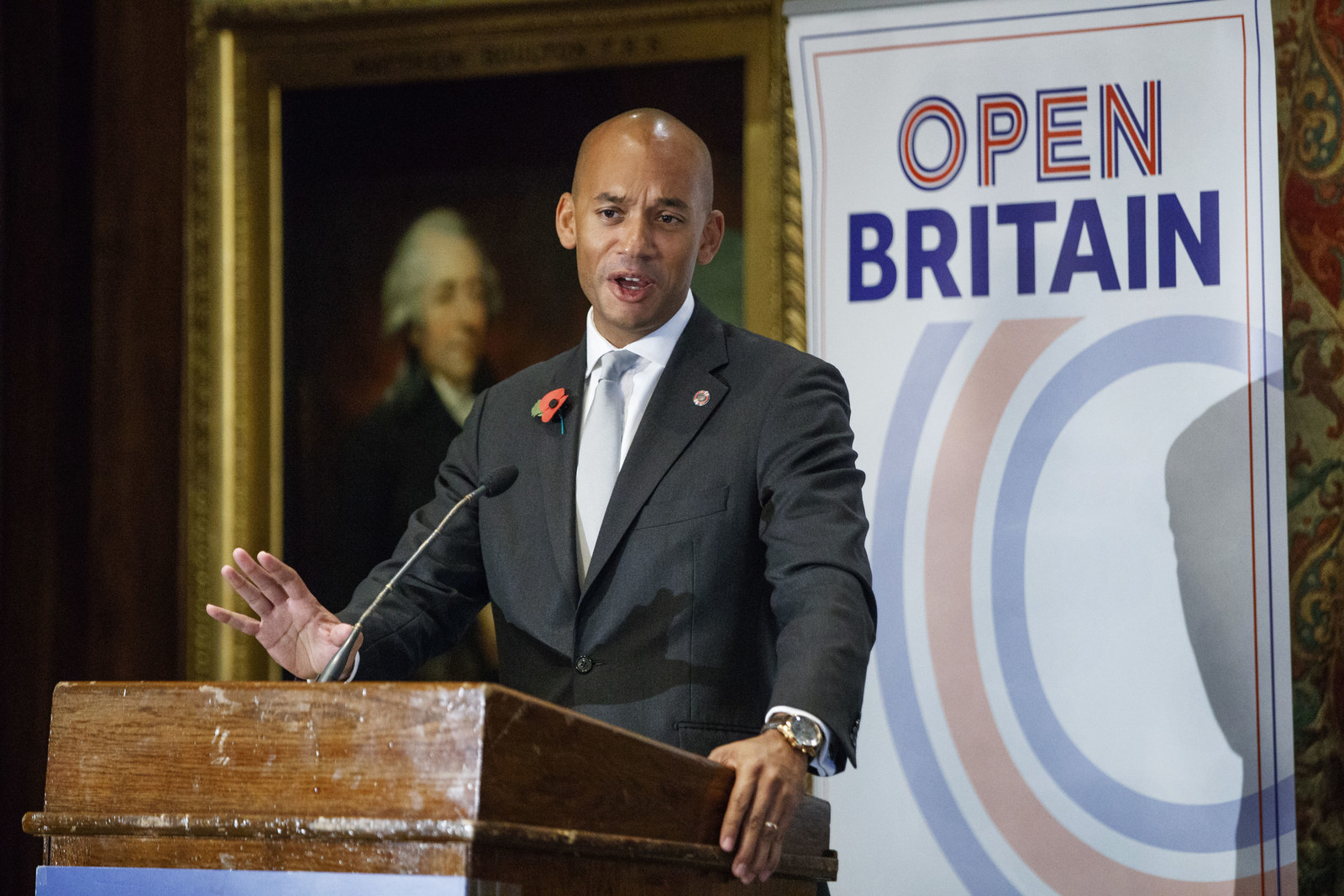 Umunna said: "It is deeply concerning that a government department should be endorsing the kind of hard Brexit voodoo economics contained in this Economists for Free Trade report. Especially when its author, Patrick Minford, has cheerfully admitted that his plans would lead to the elimination of British manufacturing."

And Lib Dem MP Tim Farron, supporter of the Best of Britain group, added: "Liam Fox is living in cloud cuckoo land if he thinks that Britain can expect a £135 billion windfall post-Brexit.
"This group who created this report are backed by Jacob Rees-Mogg and that tells you everything you need to know about them. What is shocking is that a government department would help push this discredited rubbish."