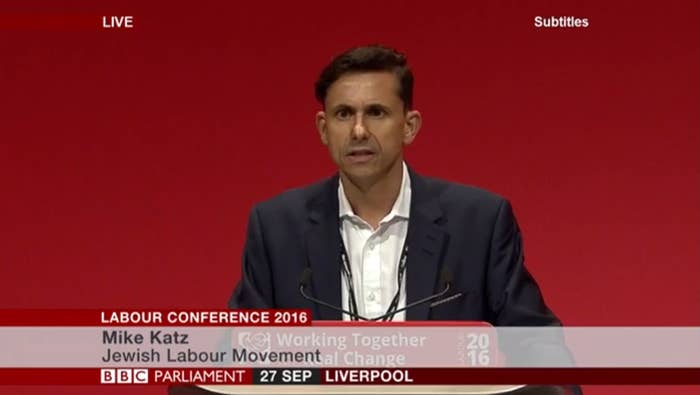 A Jewish Labour activist has called on the party to do more to tackle anti-Semitism, saying it makes him "weep" that Labour is "not seen as a welcoming home for Jews".
Mike Katz, vice-chair of the Jewish Labour Movement (JLM), said on Tuesday there had been an "upsurge" in verbal abuse within the party, even during its conference in Liverpool.
It comes after leaflets were distributed outside a Momentum event on Sunday calling for the JLM to be disbanded for apparently using "the charge of anti-Semitism in the Labour party to attack" Jeremy Corbyn's leadership.
The literature – branded "anti-Semitic and undeniably racist" by Labour MP Wes Streeting – also claimed the JLM was "a representative of a foreign power, Israel".
Speaking on the conference stage, Katz said he was disappointed that specific measures to tackle anti-Semitism had not been included in party rule changes being voted on by members.
"Conference, I don't want to be here," he said. "Because I wish there hadn't been an upsurge in anti-Semitic, Islamophobic, misogynistic and homophobic vile hate speech in our party – even here in our exhibitions and our fringe I'm sad to report.
"Jeremy [Corbyn] has said it, Tom [Watson] has said it, we've all said it – there's no place for this in our party, we must root it out. Against this backdrop, is it any wonder that support for Labour among British Jews is said to be as low as 7%?
"It makes me weep – the party of Manny Shinwell [Jewish former cabinet minister], the party that has done more than other to promote tolerance and equality, the party to which the Jewish Labour Movement has been affiliated since 1920, is not seen as a welcoming home for Jews."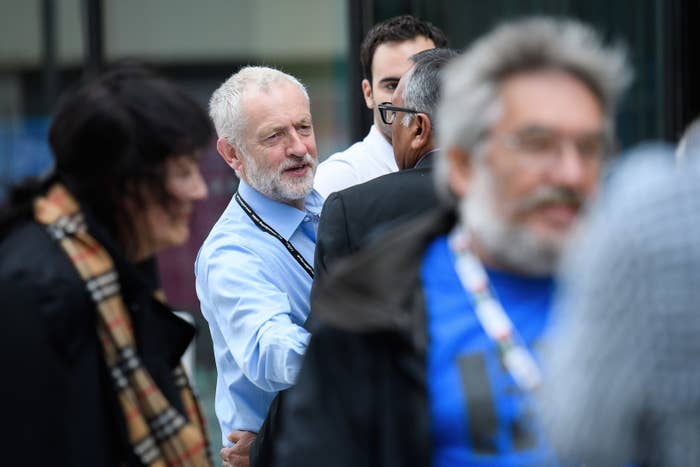 Katz said he welcomed action by the Labour leadership to set up inquiries into anti-Semitism within the party, led by Baroness Royall and Shami Chakrabarti, which had recommended new rules to tackle the problem.

"So I have to say we are beyond disappointed, we are dismayed, that the NEC [national executive committee] didn't put this forward in its package of rule changes so we can sort this now," he said. "Conference, we shouldn't have to wait a year, we shouldn't have to wait a further minute, we should have been able to do it now.
"So I have to say, and I say this with no little regret, the JLM does feel let down. But we are going nowhere, we're going to be working with our members, with our affiliated supporters, MPs, councillors, in CLPs [constituency Labour parties] to show that like every minority community, Jews are welcome in the Labour party."
Katz said it was vital for Labour to show it was "serious at dealing with anti-Semitism, racism, misogyny, homophobia".
In a direct challenge to Corbyn, he added: "It's up to all of us from the very top of the party downwards to take responsibility for calling out hate speech in our party whenever we see it."
His speech was given a standing ovation from many delegates but he was also heckled by some activists who claimed the JLM did not speak for them and shouted "who's 'we'?" and "rubbish".