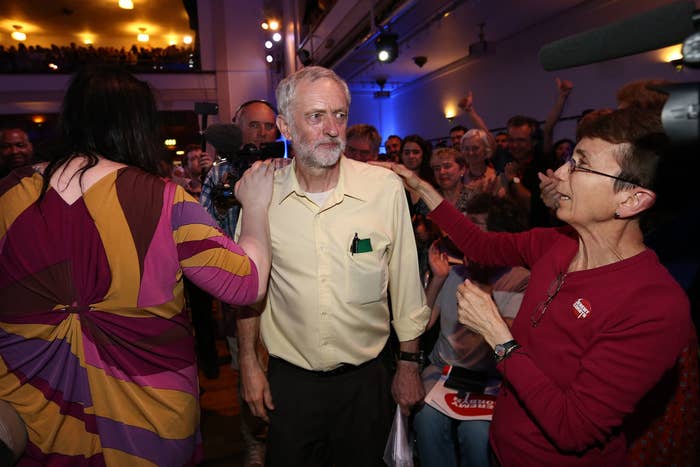 Ripples of anticipation are spreading across the packed hall. Many hundreds of people have sat patiently on uncomfortable chairs, knees squashed against the rows in front, for more than an hour. They have listened and cheered to impassioned speeches from musician Brian Eno, former London mayor Ken Livingstone, campaigner Owen Jones, and union boss Mark Serwotka, among others. They have enthusiastically booed and hissed any mention of Tony Blair.
But these are all simply warm-up acts for the main event. The rock star himself is yet to arrive. The audience is beginning to get antsy. Suddenly, there is a hush as music begins to rumble from the speakers on stage. It is "Glory" by Common and John Legend – from the Oscar-winning soundtrack to Martin Luther King biopic Selma.
"One day, when the glory comes..." Everyone gets to their feet, hands in the air, screaming, as Jeremy Corbyn walks in through the crowd. "It will be ours, it will be ours..." His front shirt pocket bulges with a pen and a glasses case as he ambles slowly down the aisle, being slapped on the back. "Oh, one day, when the war is won..." TV cameramen walk backwards as they follow his every move, keen not to miss a moment. "We will be sure, we will be here sure."
Let's just take a moment to remind ourselves who this is. It is Jeremy Corbyn – the 66-year-old Labour MP for Islington North. The serial left-wing rebel who has never before sought or held high office. The man whose House of Commons speeches have largely been ignored by the nation since he was first elected in 1983.
This is his moment. Ballot papers for the Labour leadership election are sent out next Friday and Corbyn has a very real chance of winning. He struggled to get enough support from his fellow MPs to even get on the ballot paper. But now he may have enough support within the Labour party grassroots to go all the way.
That is, if this London rally is anything to go by. Organisers say more than 2,000 people have turned up for the event at the Camden Centre on Monday evening – 500 of whom have to listen to Corbyn speak from the top of a fire engine outside. Inside the venue, the large hall and two overspill rooms are already packed with supporters who have queued around the block to get in.
The atmosphere inside the hall is electric. The applause goes on and on as Corbyn takes to the stage. There is cheering, whistling; supporters wave posters in the air. Some people who didn't get in are even clinging to the window from outside to hear what is about to say. This does not happen often at political events. There are #JezWeCan necklaces on show, everyone is wearing a JC badge. It is impossible not to be caught up in it all.
And then a hush descends as he finally speaks. "Friends, thank you very much for giving up your Monday evening to be in the Camden town hall." It's not quite the inspirational opener everyone had been hoping for. But he is here!
Corbyn is not the most charismatic politician in the world. He speaks with his hands behind his back, clutching a plastic folder. He rarely alters the cadence and volume of his voice. He has a tendency to ramble on a bit. He is not a showman.
But it seems to be precisely this lack of razzmatazz that has won people over. He does not like talking about his personal life; he is not interested in being a celebrity. He particularly hates it when women call him sexy. He is focused on the issues – fighting austerity and public sector cuts, defending the NHS and welfare, campaigning against wars.
There is a huge cheer as he tells the crowd that he rejects the "politics of personal abuse and the politics of celebrity". He says simply: "I am not indulging in personal abuse of anybody. I won't do it, never have, never will, there isn't time, it is a waste of energy."
That doesn't stop his cheerleaders indulging in personal attacks though. Mark Serwotka, general secretary of the Public and Commercial Services Union, slams the "Blairites trying to trash Jeremy". He lashes out at shadow chancellor Chris Leslie for casting doubt on Corbyn's economic policies and calls Tony Blair "crass and insensitive" for suggesting that people whose hearts are with Corbyn should get a transplant. Serwotka is actually awaiting a heart transplant and says his heart will always remain with Corbyn even if he gets a new one.
Brian Eno, formerly of 1970s glam rockers Roxy Music, says politicians have been "speaking bollocks" for the past two decades. He says he's sick of them being so afraid of the media that "they choose their words so carefully and end up saying nothing at all". Corbyn is "changing the conversation", he claims. "I don't think electability is the most important thing," he adds, to huge cheers.
The crowd is a diverse lot but there are plenty of young people among them. Nathan Akehurst, 22, who graduated from Oxford University last year, is helping out on a stall outside the venue. He only joined the Labour party last week. Why did he do it?
"Two words – Jeremy Corbyn," he says. "I remember seeing the leadership candidates when Jeremy was struggling to get on the ballot. The three candidates [Andy Burnham, Yvette Cooper and Liz Kendall] were saying the same things. It made me deeply depressed about the state of British politics.
"But Jeremy is in politics for all the right reasons, he's the only one who doesn't believe that the only road is slash and burn."
Zainab Rahme, 19, a student at Warwick University, has also been a Labour member for a week. "I joined just for Jeremy," she says. "I heard about him from two friends; they said 'Join Labour because this person is amazing'.
"Then I went to see him at an event in London and I was so impressed with his plans for a national education service and for getting rid of tuition fees. My dad's normally a Labour supporter but isn't pro-Corbyn, he thinks he's too socialist. But look at the NHS, that's a socialist idea. People often look at socialism and think we're going to turn into a communist country like China."
Ellen Physick, 23, and Michael Burgess, 26, live together in Ealing, west London. They think the other Labour leadership candidates are useless. Physick, originally from Liverpool, says: "I don't think Liz Kendall is in the right race, she should be in the Tory one. Andy Burnham is too scared. Yvette Cooper is all about high-tech jobs."
Burgess points out: "They're not going to kick off a revolution, are they?" Physick goes on: "Jeremy is saying these things that are just common sense. It's not revolutionary, it's just common sense. Things that make the world go round for everyone, not just the top 1%. I just think people have been crying out for this."
They are among hundreds and hundreds of supporters who join the long queue to hear Corbyn speak. The crowds attract sellers of the Socialist Worker and Socialist Appeal and campaign organisers flogging "Jez we can" T-shirts for £10 each. A group of excitable union representatives head for pints in the pub opposite the entrance.
One middle-aged couple who turn up early look a little out of place among the students surrounding them. "Oh, we know Jeremy from old," the woman tells me. "I used to work with him on Haringey council."
Meanwhile satirical artist Kaya Mar – no stranger to political gatherings – touts his latest Corbyn piece of art. But people in the queue are unimpressed with this unflattering portrait of their hero and tell him to go away.
Mar is hurt. "They can't stand satire here," he says. "I make people from other parties horrible pictures and they don't mind, they can laugh at themselves. But these people – no."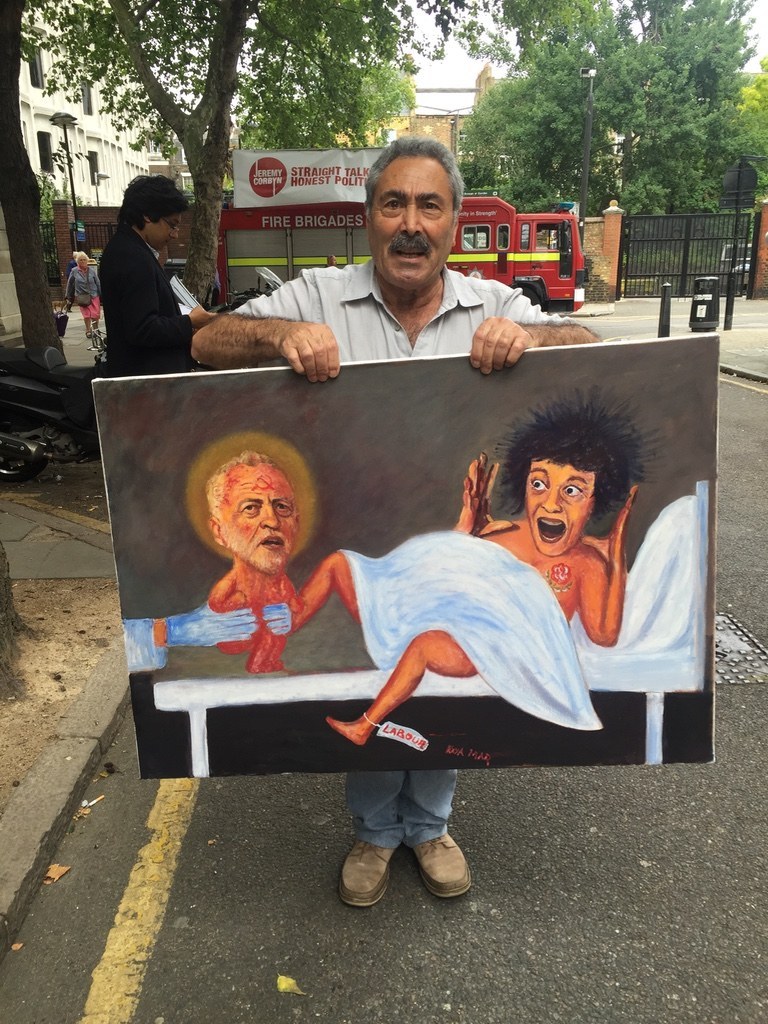 That's because these people are taking Corbynmania very seriously. They truly believe this is the man who can change not just the Labour party, but the whole British political system. He is an island in a sea of mediocrity.
But is it the man himself? Or is he simply a figurehead for an anti-establishment movement that has been swelling since the general election? The sudden fervour is not dissimilar to Cleggmania in 2010, when little-known Liberal Democrat leader Nick Clegg got the better of his high-profile rivals. It is also reminiscent of UKIP leader Nigel Farage, who rails against "the man" and fights for a new kind of politics.
Corbyn knows he happens to be in the right place at the right time. His challenge is making sure his message is acted upon. He tells the crowd: "After September 12th, whatever the result, don't go away and say that was a good summer. Stay together to defend what we have got but above all, stay together to bring about a country that doesn't thrive on inequality and injustice and poverty.
"That voice cannot be silenced. That voice cannot be stopped. That power cannot be denied – together we are very strong. The alternative of staying home and shouting at the television will achieve absolutely nothing."