Most Labour MPs Defy Jeremy Corbyn To Back Renewal Of Trident
Some 140 out of 230 Labour MPs backed the government's motion.
Most Labour MPs have defied their anti-war leader Jeremy Corbyn by voting for the renewal of Britain's Trident nuclear weapons system.
Some 140 out of 230 Labour MPs backed the renewal of Trident, while 47 voted against it, 40 were absent and one formally abstained. It means that of the Labour MPs who voted, three quarters were in favour.
The overwhelming backing for Trident underlined the scale of the division between the party's leadership and MPs, as Corbyn battles to cling onto his position after a flurry of resignations from his front bench.
In in a heated debate in the House of Commons on Monday, Corbyn was forced to fend off attacks from his own backbenchers over his refusal to acknowledge official party policy to renew Trident.
Overall, MPs backed the government's plans to renew Britain's nuclear weapons system by 472 votes to 117.
The vote on whether Britain's fleet of Vanguard-class submarines, which carry the Trident nuclear missiles, should be replaced wasn't technically necessary but allowed the Tories to expose the deep divide in the opposition on the issue.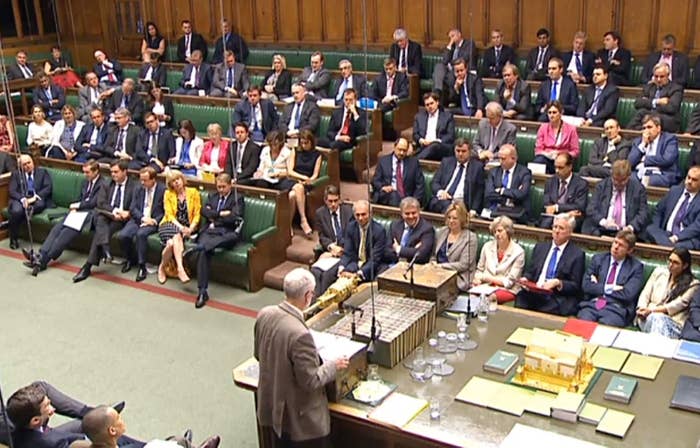 In his opening statement, Corbyn said: "I make it clear today that I would not take a decision that kills millions of innocent people. I do not believe the threat of mass murder is a legitimate way to go about dealing with international relations."
But many Labour MPs – including some who had quit the front bench in protest at his leadership – were furious that he did not speak up for Labour's policy to back the renewal of the deterrent.
Toby Perkins, who resigned as shadow defence minister in June, said: "Labour members should know that they are voting in accordance with the policy they were elected on and in support of working trade union members and our heroic armed forces personnel, that they are contributing towards global security, that backing Vanguard is in keeping with our internationalist principles, and that it is the right thing to do."
He added: "I believe that both my parents were members of CND [Campaign for Nuclear Disarmament]. I do not think I ever had the badge, but as a 13-year-old I certainly made some of the arguments we heard from our front bench a few moments ago."
Jamie Reed, Labour MP for Copeland, said he had never before witnessed a Labour leader argue against party policy at the despatch box. "This reckless, juvenile, narcissistic irresponsibility makes me fearful for the future of the party that I love," he said.
"The sheer stupidity of this approach should be dragged out into the light and seen for what it is because not only is renewal Labour party policy, it's the settled will of the country and every parliamentary decision relating to it will have been taken by 2020."
John Woodcock, Labour MP for Barrow and Furness, added: "For the official opposition to have a free vote on a matter of such strategic national importance is a terrible indictment of how far this once great party has fallen."