Jeremy Corbyn's team has confirmed that this comment from Pat McFadden on the Paris terror attacks was "one of the incidents" of disloyalty that got him sacked as shadow Europe minister.
McFadden lost his job in the shadow cabinet reshuffle on Tuesday night, at the end of a two-day process that also saw shadow culture secretary Michael Dugher given the boot.
A number of Labour MPs have reacted furiously to McFadden's sacking, with several junior shadow ministers resigning partly in protest.
Corbyn's spokesperson confirmed to journalists that the Labour leader had told McFadden he was unhappy with his remarks on the Paris terror attacks when he sacked him on Tuesday night.
"I think it was one of the incidents he referred to," the spokesperson said. "It was part of a number of incidents that Jeremy considered to be disloyal to the leadership."
Other "acts of disloyalty" by McFadden include "criticising the leader during an appearance in Manchester at a rally" and "calling his leadership a rocky road", the spokesperson added.
Here's what McFadden said in the House of Commons in November after the attacks in the French capital, which left 130 people dead.
May I ask the prime minister to reject the view that sees terrorist acts as always being a response or a reaction to what we in the West do? Does he agree that such an approach risks infantilising the terrorists and treating them like children, when the truth is that they are adults who are entirely responsible for what they do? No one forces them to kill innocent people in Paris or Beirut. Unless we are clear about that, we will fail even to understand the threat we face, let alone confront it and ultimately overcome it.
David Cameron replied:
It is that sort of moral and intellectual clarity that is necessary in dealing with terrorists. I know there is something deep in all of us that wants to try to find an excuse, an explanation, or an understanding, but sometimes the answer is staring us in the face. With ISIL, that is absolutely the case.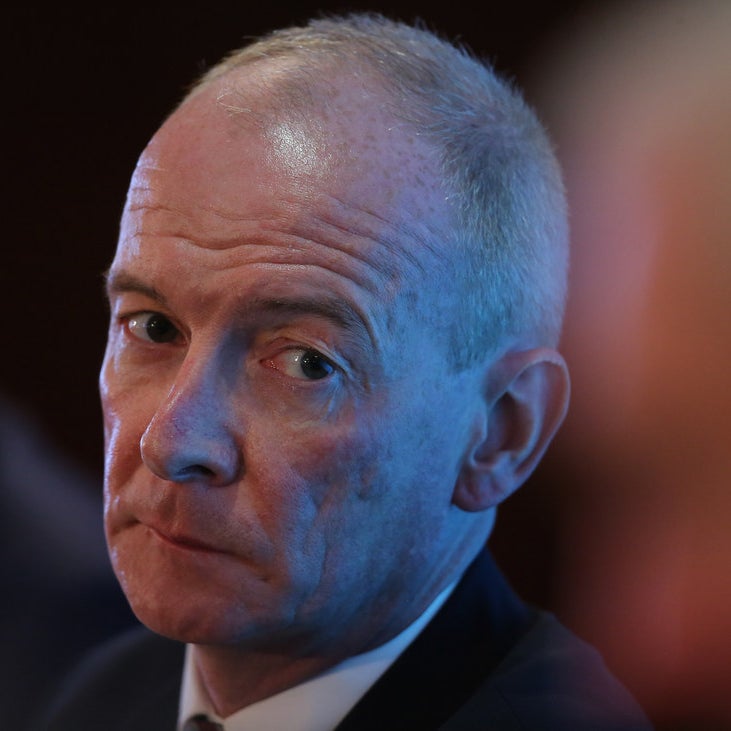 McFadden's comments were interpreted as an attack on the Stop the War Coalition, which Corbyn used to chair. The group was strongly criticised after it posted a now-deleted blog post titled: "Paris reaps whirlwind of western support for extremist violence in Middle East."
In a statement on Tuesday, McFadden said: "Mr Corbyn has told me he does not want me to continue to serve on his front bench, in particular because of questions I asked about terrorism and national security in the Commons statement following the Paris terrorist attacks.
"It is his prerogative to decide his frontbench team and I will continue to support and work for Labour in any way I can."
On BBC Radio 4's Today programme on Wednesday, McFadden added: "[Corbyn] clearly feels that me saying that terrorists are entirely responsible for their actions, that no one forces anyone to kill innocent people in Paris, blow up the London Underground, to behead innocent aid workers in Syria, that when I say they are entirely responsible for that he clearly interpreted that as an attack on him."
Hours after McFadden was sacked, Labour MP Jonathan Reynolds resigned as shadow rail minister.
In a letter to Corbyn, Reynolds said he wanted "more freedom" to be frank about Labour's future from the back benches. He added:
The security and wellbeing of my constituents must always be my first consideration, and I therefore believe my colleague Pat McFadden was right to condemn those who would to any degree absolve ISIS for their actions following the atrocities in Paris.
Shadow chancellor John McDonnell said McFadden had sought to "undermine" Corbyn and had to go.
He told the BBC: "What [McFadden has] done on a number of occasions is unfortunately distorted Jeremy's views and turned that into almost a personalised undermining of Jeremy. To be frank, if you want to do that, go to the back benches and express your views."
McDonnell also pointed to other "issues about loyalty" with McFadden. This is thought to include a tweet he posted in November about former defence secretary John Reid.
Corbyn's team were also said to be unhappy with McFadden's comments to BBC Radio 4's Westminster Hour on Sunday when he warned against a reshuffle.
McFadden told the show: "There is a danger for him [Corbyn] in carrying out a reshuffle as a sort of punishment for shadow ministers who disagreed with him. He has talked of an open and pluralist politics – but a reshuffle for that reason could end up looking more petty and divisive."