Here's How The Trident Debate Exposes Labour's Many Faultlines
The Tories are forcing a vote on renewing Trident on Monday. Labour leader Jeremy Corbyn is against it, his deputy and most of his backbenchers will back it, while his shadow defence and foreign secretaries will abstain.
The deep divisions in the Labour party will be exposed even further on Monday as MPs vote on whether to renew Britain's nuclear weapons system.
Just as the party struggles to contain a bitter internal rift over Jeremy Corbyn's leadership, the government is forcing a debate and vote on the renewal of Trident.
The vote isn't technically necessary – as the decision to approve the next generation of submarines has already been made – but the Tories have seized the chance to highlight the turmoil engulfing the opposition.
Here's an excerpt of the motion that MPs will be voting on:
...the UK's independent minimum credible nuclear deterrent, based on a continuous at sea deterrence posture, will remain essential to the UK's security today as it has for over 60 years, and for as long as the global security situation demands, to deter the most extreme threats to the UK's national security and way of life and that of the UK's allies; supports the decision to take the necessary steps required to maintain the current posture by replacing the current Vanguard Class submarines with four Successor submarines...

It puts Labour in an awkward position because the party is officially in favour of Trident renewal – but Corbyn, who will open the debate for Labour, is a lifelong opponent of nuclear weapons and will vote against.
Labour MPs have been given a free vote on the issue. But while shadow defence secretary, Clive Lewis, and shadow foreign secretary Emily Thornberry have decided to abstain in protest at the "parliamentary pantomime", deputy Labour leader Tom Watson has said abstaining is "unacceptable" and he will vote in favour.
The government is expected to win the vote on Monday night but it's the extent of the Labour split that will be of most interest in Westminster. So how did Labour get into this position and what are the arguments on either side?

Back in September, not long after he was elected leader in a stunning landslide, Corbyn made headlines by saying he wouldn't ever push the nuclear button if he became prime minister.
Corbyn has spent his whole life campaigning against war and nuclear weapons and said his huge mandate from Labour members meant he could speak his mind.
Awkwardly though, he was immediately criticised by his new pro-Trident shadow defence secretary, Maria Eagle, who said his intervention wasn't "helpful". She was sacked in the January reshuffle and handed the culture brief instead.
Digging in ahead of the vote, Corbyn told The Guardian on Monday it simply wasn't necessary to spend tens of billions of pounds replacing Trident.

"Insecurity in the world is not necessarily state insecurity – insecurity is actually random acts of terror coming from dysfunctional states which are a product of the wars we have been suffering for the past 20 years," he said.
But his stance is at odds with official Labour policy. The party actually voted at its autumn conference last year to keep Trident, a fact that is brought up time and time again by pro-Trident Labour MPs.
North of the border, the position is reversed. The Scottish Labour conference voted against the renewal of Trident, even though its leader, Kezia Dugdale, backs it. So while the Labour party is officially pro-Trident with an anti-Trident leader, Scottish Labour is anti-Trident with a pro-Trident leader. Hope that's clear.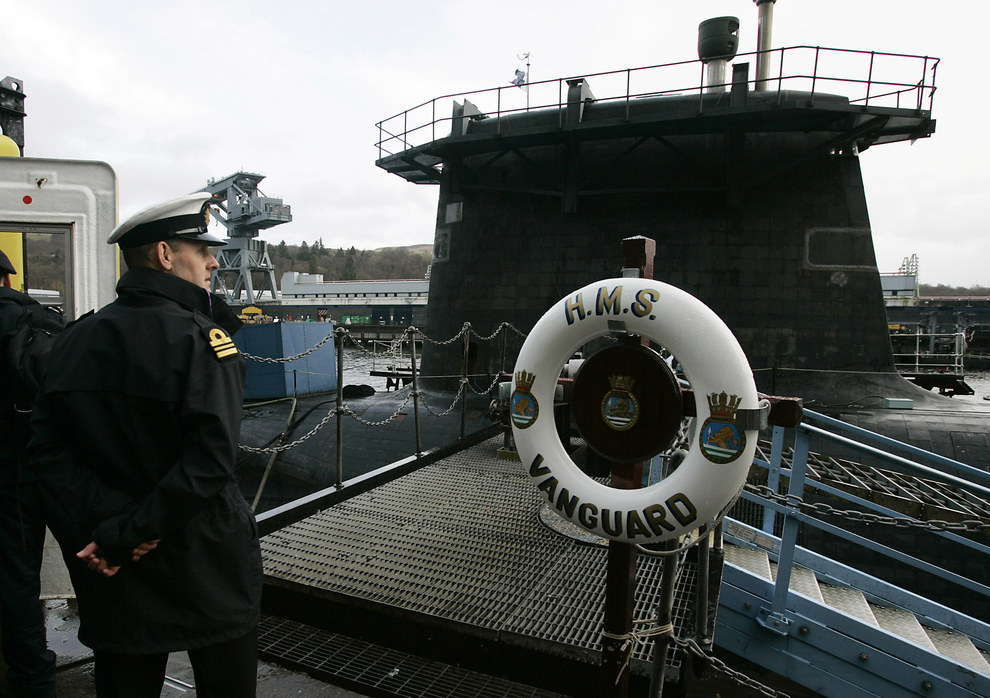 Meanwhile the big trade unions representing defence workers – GMB and Unite – are at odds with Corbyn on the issue. They back the renewal of Trident because they believe thousands of jobs are at stake.
In a statement ahead of the vote, Unite – which has been a key supporter of Corbyn against the leadership coup – warned there was no "moral case for a trade union accepting the obliteration of thousands of its members' jobs and the communities in which they live being turned into ghost towns".
The threat to jobs is one of the main arguments used by pro-Trident MPs such as John Woodcock, in whose Barrow and Furness constituency the replacement submarines will be built.
Back in November when Trident was debated in the House of Commons – on a motion tabled by the fiercely anti-Trident SNP – Woodcock warned that scrapping Trident would cost "10,000 jobs" in Faslane, the Scottish naval base where the submarines are based.
Jamie Reed, Labour MP for Copeland in Cumbria, agreed: "The Trident replacement is forecast to generate as many as 26,000 jobs throughout the UK, with more than 6,000 at the BAE shipyard in Barrow-in-Furness where the submarines will be built.
"The livelihoods of many people in the south of my constituency depend on the renewal of Trident."
Pro-Trident Labour MPs also argue it would be wrong for Britain to scrap its nuclear weapons as long as other countries keep theirs. Reed said: "While there are nuclear weapons in the world, the only effective deterrent is maintaining our own independent nuclear weapons. Unilateralism will never work."
Toby Perkins, who resigned as shadow defence minister in June, warned in November that a UK decision to get rid of nuclear weapons could actually "lead to an increase in the number of nuclear states".
"If Britain and France appeared to be weakening their nuclear contribution, there is no guarantee that other allies would not decide that they could no longer be secure under the NATO umbrella or that they would not look to procure their own deterrents," he said.

Owen Smith, who's running for the Labour leadership, said on Sunday that he would back renewal. "I think the world has got more volatile – we've got to stick with what we've got and renew it, if that's the advice of the security services," he said. "And it's awful that we've got to do that, but I'm afraid it's true."
But anti-Trident Labour MPs argue that Britain's nuclear deterrent was designed for a different age. Paul Flynn said last year that Britain should not be "wallowing in the old Cold War antagonisms and fantasies about our supreme position among the family of nations".
And Roger Godsiff said the nuclear deterrent had done nothing to prevent terrorist attacks on UK soil. "We have witnessed terrible terrorist atrocities in this country —the London bombings — but did our ownership of nuclear weapons do anything to prevent them?" he said in November.
Shadow chancellor John McDonnell, a longtime friend and ally of Corbyn, told an event in Sunderland on Monday that he "cannot support a weapon of mass destruction".
He also said he'd rather invest the cost of renewing Trident – estimated at £30 billion plus an extra £10 billion contingency fund – into housing and jobs. "It's a matter of priority for me."
Green party MP Caroline Lucas, a vehement anti-Trident campaigner, said she was dismayed by Labour's "disappointing and confusing" stance.
"For the first time in recent years we have a leader of the Labour party who is against Trident renewal yet he hasn't even persuaded his own shadow cabinet to vote against spending billions of pounds on this Cold War relic," she said.
"Real leadership means making a convincing case for the causes you believe in and we just haven't seen that on this issue from those at the top of Labour."