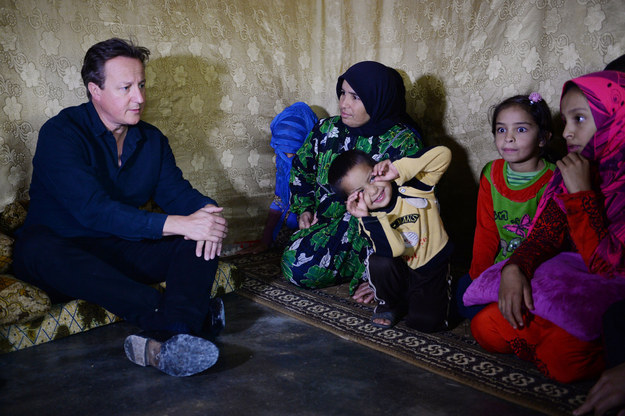 David Cameron must not ignore a warning from former judges over Britain's "slow and narrow" response to the Syrian refugee crisis, Labour has said.
Some 342 lawyers have signed a statement criticising the government's "deeply inadequate" response, warning that Britain's offer to take in 20,000 Syrian refugees from camps over the next five years is "too low, too slow and too narrow".
The list of signatories includes the former head of the Supreme Court Lord Phillips, ex-president of the European Court of Human Rights Sir Nicolas Bratza, and former director of public prosecutions Lord MacDonald.
Shadow home secretary Andy Burnham said the lawyers' statement represented a "serious intervention that simply cannot be ignored". He added: "Some of the most senior figures in the land are telling David Cameron and [home secretary] Theresa May that their response has not been good enough.
"Today's warning confirms what Labour has been saying for months on the government's shortcomings. While it is right for Britain to stay outside of any formal EU quota scheme, the prime minister and home secretary should reach out to counterparts across Europe and take a fair share of refugees this year, as well as increasing support to agencies in war-torn nations."
Retired judge Catriona Jarvis told the BBC: "Around the Balkan crisis we were receiving around 75,000 a year. It was within our capability. We managed it well. We are the sixth- or seventh-richest country in the world, it is not beyond our capabilities to make the necessary changes to receive our share."
The statement follows criticism from Oxfam last week, which accused the government of not taking its "fair share" of Syrian refugees. The charity said the UK should resettle 20,000 refugees within the next year alone.
Richard Harrington, minister for Syrian refugees, insisted Britain had been "at the forefront of the international response to the humanitarian crisis in Syria". He said: "We are providing more than £1.1 billion in humanitarian aid and have also taken in more than 5,000 refugees and asylum seekers since 2011.
"We are working closely with UNHCR (UN High Commissioner for Refugees) to identify and resettle those in the regions who are the most vulnerable. This also deters people from attempting these perilous journeys which have already led to so many tragic deaths."
Looks like there are no comments yet.
Be the first to comment!