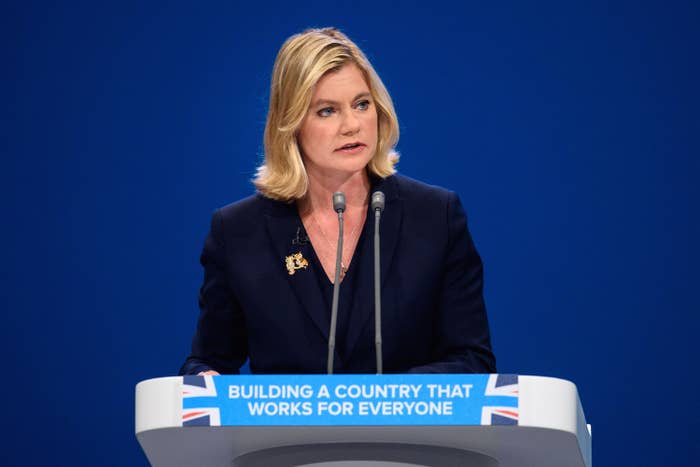 Education secretary Justine Greening has said that money alone is not the key to fixing the entrenched problems of social mobility in Britain, as she unveiled a new "action plan" to boost the life chances of the country's children living in poverty.
Speaking to BuzzFeed News, she hailed the government's investment in schools but accepted there had not been the "right overall strategy" to make sure all pupils had the same opportunities, no matter their background.
Her comments come 11 days after all four board members of the government's Social Mobility Commission resigned in protest at an apparent lack of progress. Former chair Alan Milburn likened his task to "pushing water uphill" while ministers were too focused on Brexit.

Greening denied that Brexit was distracting the government from properly tackling the root causes of social divisions, saying that in fact it gave Britain a chance to "remake itself as a country".
The government is determined to get on the front foot over the issue, not least because Theresa May, in her first speech as prime minister, promised to "do everything we can to help anybody, whatever your background, to go as far as your talents will take you", and to make the UK a "country that works not for a privileged few, but for every one of us".

Greening will warn today the reality in modern Britain is that where you start "too often decides where you finish". She will set out plans to close the gap at all stages of life; from boosting reading skills for preschoolers to giving young people more confidence in their careers.

But there is no new money involved: The planned investments of £50 million to boost school nursery provision in "challenging areas", and £23 million for a "future talent fund" to support the most able pupils in poorer communities have been allocated from existing funding.
Greening said the plan did not require extra cash. "If it was about the money, we would have fixed this problem a long time ago. It's about the fact we haven't had the right overall strategy," she told us.
"We've assumed the same policy will fix every problem in every community when what will work in rural Cambridgeshire is very different to the best approach in Scarborough or, say, Oldham. That means we're moving towards having a national strategy but that then gets tailored at a local level."

Spending per pupil is set to be 70% higher in real terms in 2020 than it was in 1990, she said. "The key is we need to work differently if we're really going to see the record levels of investment we've now got make the difference we want it to."
She said Labour was wrong to demand more spending on education and social mobility. "I really contrast that to what we hear from Labour, which is literally just about the money and it's just slogans and rhetoric," she said.
"And actually, dare I say, what we really need to see from the opposition is, if they've got one contribution to social mobility, it might be fixing the broken education system that they're presiding over in Wales."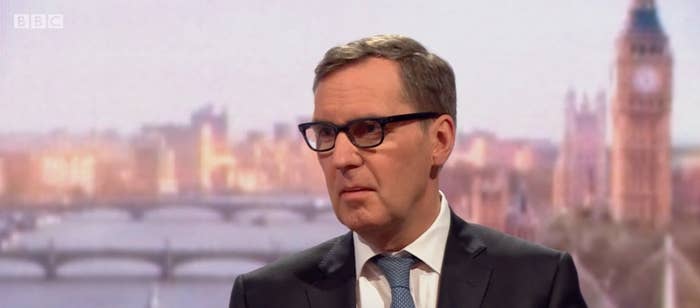 Greening waved away concerns over the resignations of Milburn and his team. "I think Alan and the commission did a great job," she said. "But what I didn't agree with them on was their characterisation of the government.
"In fact we've done a huge amount to drive improved outcomes and social mobility, not least the school standards agenda that sees 1.9 million more kids in better primaries and secondaries."
And she dismissed Milburn's fears that the government's focus on Brexit left no resources for tackling social mobility. "No, I think in many respects it gives us a chance to say actually Britain will be remaking itself as a country post-Brexit," she said, "and we need to make sure that when that happens it's about becoming a country where, for the first time ever, there's equality of opportunity for all our people wherever they are."
Labour's shadow education secretary Angela Rayner hit back at Greening's comments, telling BuzzFeed News: "It's no surprise the education secretary didn't want to talk about money when the Tories have halved funding for Sure Start, taken £2.7 billion from schools, cut adults skills spending by over a billion pounds, and trebled tuition fees.
"Labour's plans for a National Education Service are more than a slogan, they are a solution to an education system that is not delivering for too many; it is a commitment to invest in the skills and lives of the people of this country as we build a country for the many, and not just the few."
Sir Peter Lampl, chair of social mobility foundation the Sutton Trust, welcomed the action plan, saying it would "play an important role in enabling less advantaged young people to get on in life".
But he warned: "We need to be sure that the resources are there to match the ambitions of the new plan, particularly to support good teaching in disadvantaged areas."