Ed Miliband Has Denied That Labour Activists Are Banned From Talking "Too Much" About The Economy
A veteran Labour member claimed that local party chiefs in London are urging activists not to campaign on the economy – because it's "not one of our strengths". But Miliband denied this and said Labour should talk about it as much as possible.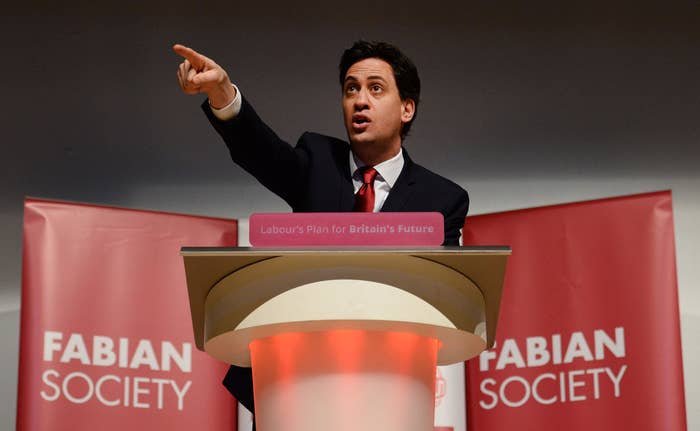 Ed Miliband has denied that Labour members have been ordered not to talk about the economy.
Party member Cecil Jenkins declared that Labour bosses in London had issued the edict because they saw the economy as a weakness for the party.
He made his claim at the Fabian Society New Year Conference as Miliband took questions after his keynote speech.
Jenkins, from Hampstead, North London, said: "We have been told by the Labour region not to talk too much about the economy because it's not one of our strengths. Can this conceivably be true?"
Miliband replied simply "No" and moved onto the next question – sparking laughter from the audience.
Later he turned back to Jenkins and insisted: "We should talk about the economy as much as possible between now and the general election. Because they [the Conservatives] have failed."
Mr Jenkins, who is retired and in his 80s, told BuzzFeed News he had heard about the local party's order on the economy through an acquaintance. "We were completely baffled," he said.
But a senior Labour source said: "It's bollocks." They pointed to Miliband's speech to the conference which was focused on the economy.
The Labour leader had told how he was stunned by prime minister David Cameron's call on UK firms to use the cash from cheaper oil to give workers a pay rise.
"I think that sound we are hearing is people across the country choking on their cornflakes," he said.
The latest claim on the economy comes after a private party memo last month suggested that Labour MPs should not campaign on immigration because it would cost them votes.
The document urged MPs to focus on "moving the conversation on" to issues such as healthcare or housing where Labour was stronger.