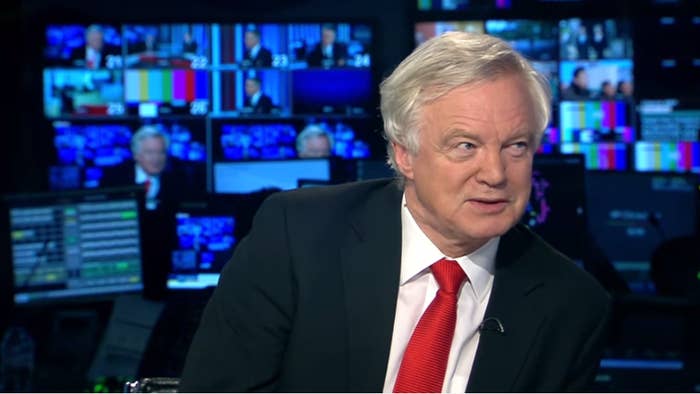 Brexit secretary David Davis has been mocked for claiming that Britain can secure a free trade area that's "10 times the size" of the European Union.
Liberal Democrat MEP Catherine Bearder pointed out that this would actually be 1.5 times bigger than the entire world economy.
Davis, who was appointed secretary of state for exiting the EU by new prime minister Theresa May last week, made the bold claim in an interview with Sky News' Murnaghan programme on Sunday.
He told how Liam Fox, the new international trade secretary, would be "going round the world" making "huge trade deals all over the place" in the wake of Britain's vote last month to leave the EU.
Davis said: "So we're talking to large numbers of people who all want to help and we'll get a very, very large trade area, much bigger than the European Union, probably 10 times the size."
Appearing to realise his mistake, he swiftly added: "Well I'm not going to set Liam targets – but a multiple of the size of the European Union."
Bearder, an MEP for South East England, tweeted that Davis's pledge on trade would be pretty impressive.
Bearder based her tweet on the latest gross domestic product figures from the International Monetary Fund. As of 2015, the EU's share of the world economy was 16.918% while the UK's was 2.36%.
So the EU's share without the UK was 14.55%. A free trade area 10 times that size would be 145% of the world economy – or almost 1.5 times bigger.
"It is frightening that someone charged with negotiating our EU exit seems not to understand the basic facts of global trade," Bearder told BuzzFeed News.
"Unless David Davis has secretly discovered new planets we can trade with, there's no way his figure could actually be reached. Bluster and bravado from the Tory Brexiteers is not good enough. We need clear answers about how they will protect jobs, investment, and opportunities to live abroad."
A source close to Davis pointed out that the minister had been quick to clarify his point on Sky News. "The word bigger can mean all sorts of different things," they said.
You can watch Davis make his point here.