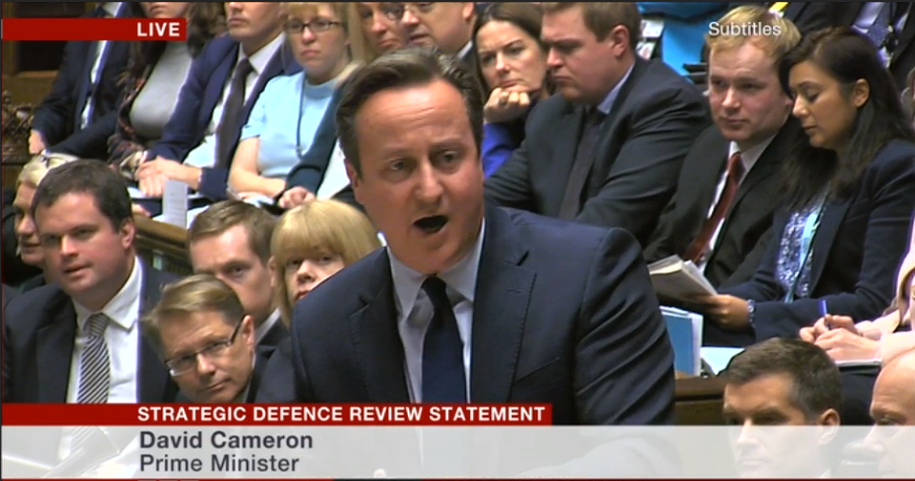 David Cameron will "make the case" on Thursday for Britain to extend its airstrikes against ISIS from Iraq into Syria.
The prime minister confirmed in the House of Commons that he will make a statement in parliament on Thursday ahead of a vote on military action on Syria – which could be as soon as next week.
The move comes in the wake of the terror attacks in Paris. Last week Cameron said it was vital to attack ISIS in the Syrian city of Raqqa, which he branded the "head of the snake".
On Thursday he will respond to a critical report from the Commons foreign affairs select committee that warned that RAF strikes would simply be a "distraction" from the "key task to help end the suffering" in the war-torn country.
Unveiling his review of defence spending in the Commons on Monday, Cameron said: "On Thursday I will come to this House and make a further statement responding personally to the foreign affairs committee. I will make the case for Britain to join our international allies in going after ISIL in their headquarters in Syria, not just in Iraq.
"I will explain how such action would be one element of a comprehensive and long-term strategy to defeat ISIL in parallel with major international effort to bring an end to the war in Syria."
He said ISIS was "not some remote problem thousands of miles away" but had "already taken the lives of British hostages and carried out the worst attack against British people since 7/7 on the beaches of Tunisia, to say nothing of the seven terrorist plots right here in Britain that have been foiled by our security services over the past year".
The PM's statement came hours after he met French president François Hollande in Paris to pay tribute to the victims of the terror attacks.
No. 10 needs to determine whether Cameron has enough cross-party support from MPs before putting the motion to back air strikes to a vote. Officials refused to comment on speculation that the vote could happen as soon as next week.
Cameron lost a crucial vote on military action in Syria in 2013 and wants to make sure that does not happen again. But now there are signs that many Labour MPs are ready to support the government and ignore any objections from party leader Jeremy Corbyn, the former chair of Stop the War.
Shadow defence secretary Maria Eagle even suggested on BBC Radio 4's Today programme on Monday that Corbyn could back the airstrikes. She said: "My understanding is he is not a pacifist and that means that it is conceivable."