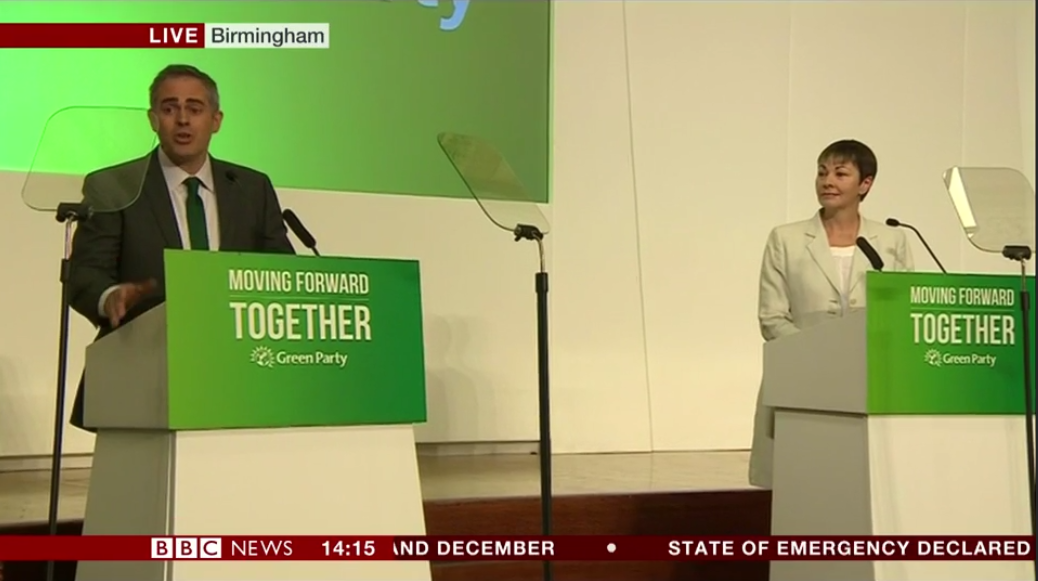 Caroline Lucas and Jonathan Bartley have been elected the new joint leaders of the Green Party of England and Wales.
The duo overwhelmingly beat five other candidates in the race to succeed Natalie Bennett, who is standing down after four years.
Lucas, the party's only MP, was leader between 2008 and 2012 while Bartley is the party's work and pensions spokesman.
The Green Party said it was the first time a Westminster party had elected two leaders in a job-sharing arrangement. Lucas and Bartley took 13,570 – or 88% – of the 15,467 votes cast.
In their first speech to the party's annual conference in Birmingham, Lucas and Bartley pledged a "green industrial strategy" to create "well-paid, low carbon jobs in every part of the country".
They also vowed to draw up plans for a "basic income" to provide people with a decent standard of living, and promised to shake up the parliamentary voting system.
And they said any Brexit deal between Britain and the European Union should be put to the people in a second referendum.
Lucas said: "The new prime minister may claim 'Brexit means Brexit' but that means nothing until we know what the terms of any Brexit deal will be. We cannot accept a deal that doesn't offer hope and security to both those who voted to leave and those who voted to remain."
Bartley said: "We stand here, more united as a party with two leaders than others are with one. And to everyone who wants more than divisions and uncertainty, we say this – come and join the Green Party today."