How One Hastily Scrawled Note Came To Haunt Labour In The Tightest Election In A Generation
"I'm afraid that there is no money," wrote a departing Labour minister in 2010. Five years on it's still a talking point. BuzzFeed News explains how a one-sentence letter helped shape the election.
When Liberal Democrat MP David Laws became Treasury chief secretary in May 2010, his new private secretary handed him a sealed envelope. "Here's something your predecessor left for you," the civil servant said. Laws opened it with interest. "Dear Chief Secretary," he read. "I'm afraid that there is no money. Kind regards and good luck! Liam."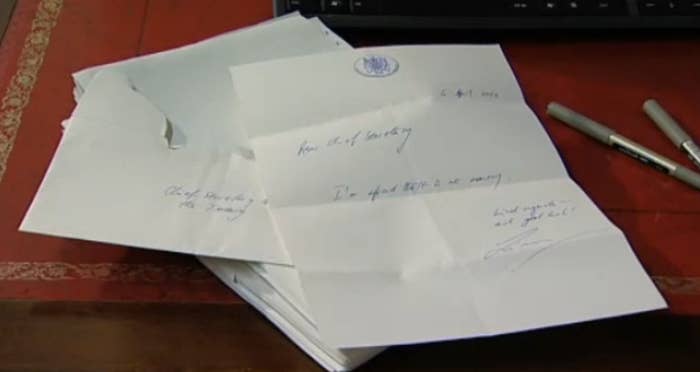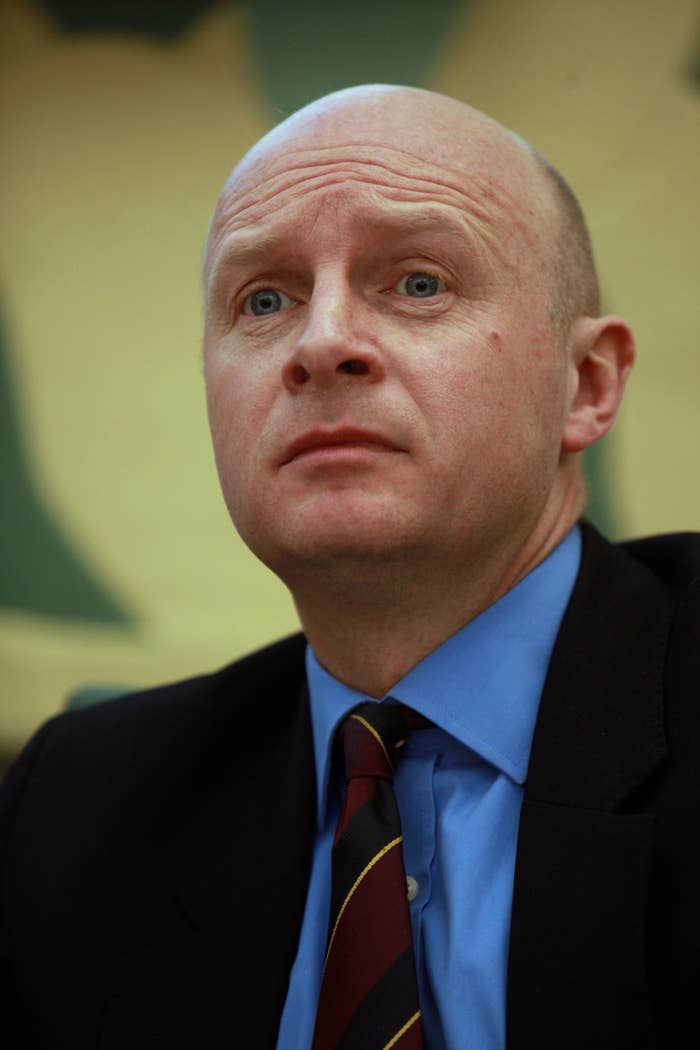 Five years on, the hastily scrawled missive from Labour frontbencher Liam Byrne is still dominating the political agenda. For the Tories and Liberal Democrats, it's the perfect symbol of Labour's supposed spending spree in office, which, they say, hugely inflated the deficit and precipitated the financial crisis. The note is mentioned by David Cameron and Nick Clegg in speech after speech, ministers relentlessly refer to it on TV, and parliamentary candidates rail against it at public meetings. The Conservatives never miss a chance to tweet about it.

So how did it ever get this far? Byrne had served as Treasury chief secretary – the second most important financial job in government – for just under a year when he dashed out the note on 6 April 2010, the day Gordon Brown called the general election. But thanks to a messy election result and feverish negotiations among the main parties, his old office lay empty for longer than most could have predicted. Laws was finally appointed chief secretary on 12 May as part of a Tory-Lib Dem coalition, after five days of wrangling. It was only on his second day in office that he was made aware of the 18-word letter, penned in black ink on government notepaper.

Laws tells BuzzFeed News he never expected it to be a big story: "I opened it and I was a bit surprised. I thought, 'This will make an interesting diary story when I give an interview to someone in the next few days' – an interesting snippet. But I didn't – partly because we were so busy when the coalition was formed – immediately see how politically significant it would be."
Instead it wasn't until a week later, when Laws stood alongside chancellor George Osborne for their first joint press conference, that he casually mentioned it to the nation. The pair were unveiling the new Office for Budget Responsibility (OBR), an independent economic forecaster aimed at ensuring governments could not "fiddle the figures". But instead, the note was the main talking point.
Even Osborne was taken aback when Laws revealed its existence to the assembled journalists. "I found a letter from the previous chief secretary to give me some advice, I assumed, on how I conduct myself over the months ahead," Laws told the audience. "Unfortunately, when I opened it, it was a one-sentence letter which simply said, 'Dear chief secretary, I'm afraid to tell you there's no money left,' which was honest but slightly less helpful advice than I had been expecting." Crucially, Laws misquoted the letter and added in the word "left" – reinforcing the new coalition government's message that Labour are utter spendthrifts and can't be trusted.
The media response was immediate – forget the formation of the OBR, this was suddenly the big Treasury story of the day. Political journalists rushed to call Andy Coulson, David Cameron's then director of communications, to get a copy of the letter.
But Laws refused Coulson's demands, as the magnitude of the revelation hit him. "I was initially surprised at the media reaction," he says. "On the day when it blew up and all the newspapers were asking for a copy of the letter, I declined to give people a formal copy – in spite of the Number 10 press office going fairly mad and phoning us every five seconds asking for the letter so it could go on the front pages of newspapers. Because I did feel a slight embarrassment about having revealed it. But I think he [Byrne] should feel more embarrassed about writing it."
Laws insists it "just came into my mind" to mention the note at the time and admits that part of the reason it took off was because the OBR announcement was a "rather dry one for all the journalists attending – whereas this was a really tangible, human proof of what we were trying to draw attention to". Laws adds: "I suddenly realised what should have been obvious from the word go, that this was formal written confirmation of the state of the public finances that Labour had left the country with."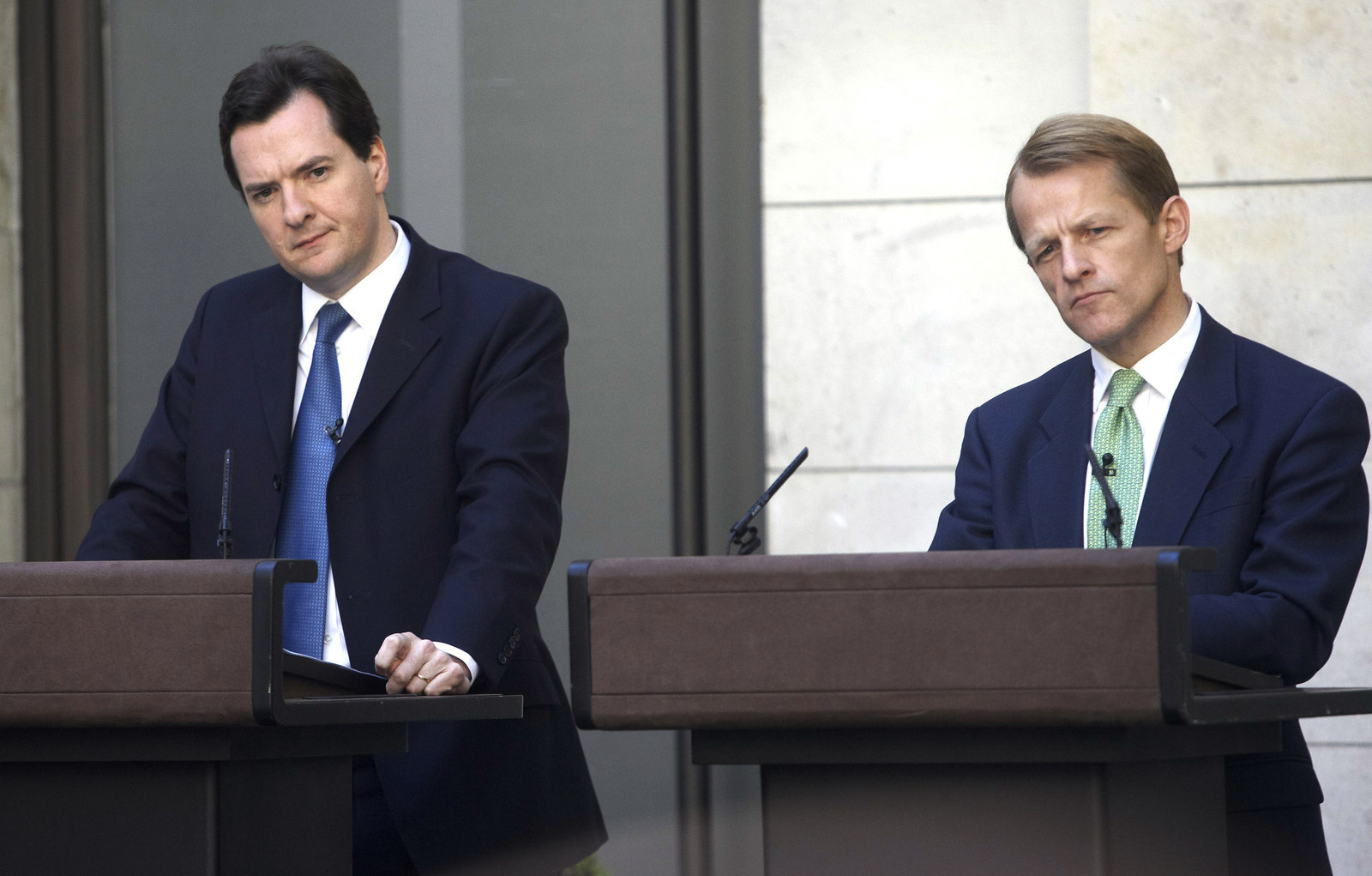 Meanwhile, Byrne was under mounting pressure to explain why he seemed to have blown apart his own party's argument on the economy. First he attempted to shrug it off with a short statement: "My letter was a joke, from one chief secretary to another. I do hope David Laws' sense of humour wasn't another casualty of the coalition deal." But as the storm of outrage grew, he later went on the BBC to insist it was a phrase that all Treasury chief secretaries used as keepers of the government purse strings. "I'm sure it won't be too long before Mr Laws is using it with his colleagues," he said. His clumsy attempts to dismiss it failed to keep the story out of the next day's newspapers, and indeed from political discourse ever since.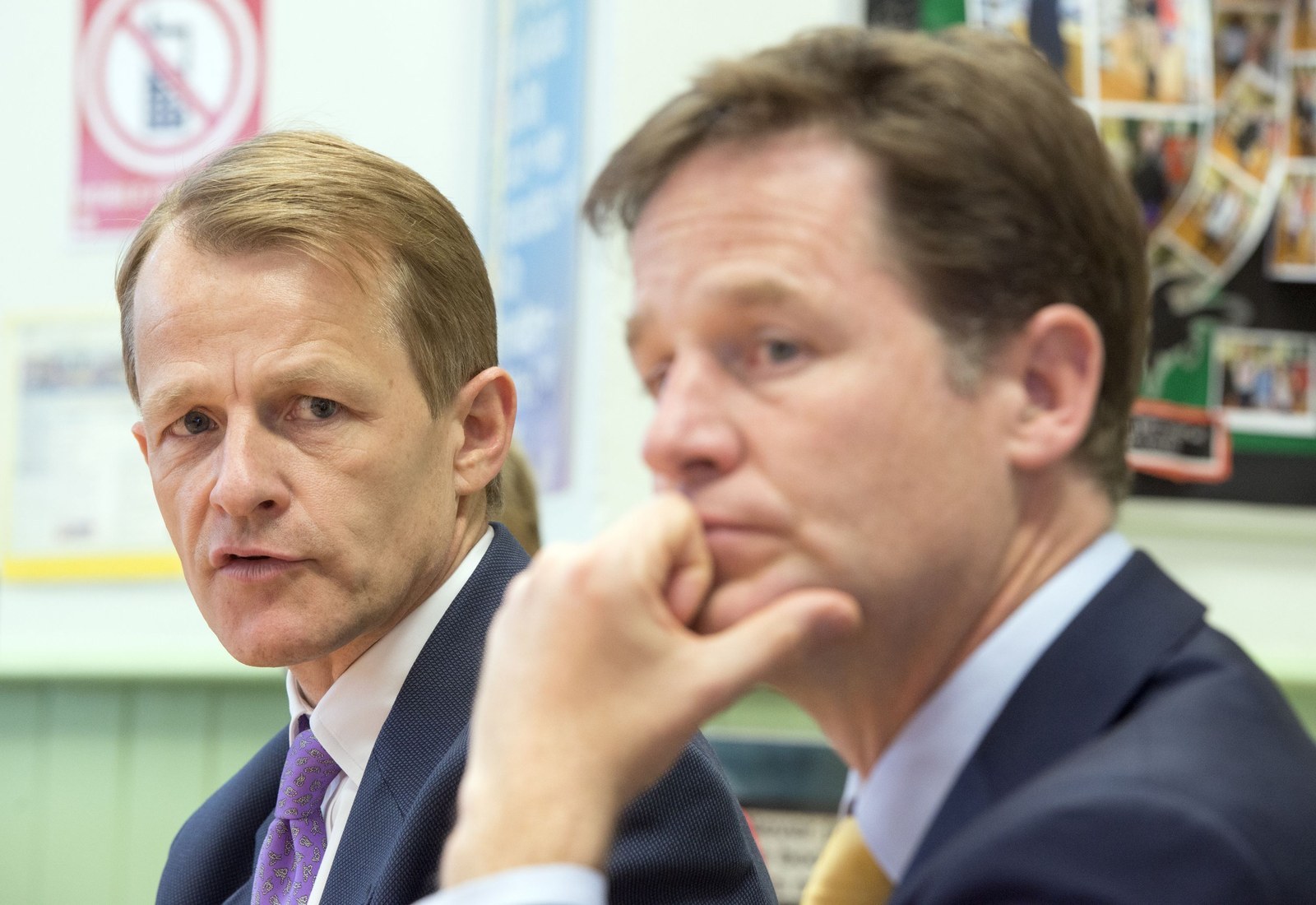 One thing is clear – Byrne never meant for the note to go public. Insiders believe it was meant for Tory minister Philip Hammond, who had been shadow Treasury chief secretary for almost three years. The pair had faced each other across the despatch box many times and it is believed that Byrne thought he could trust him to keep it private. He did not bank on there being a Tory-Lib Dem coalition. It has become something of a tradition for outgoing ministers to leave personal, private notes for their successors. In 1964, outgoing Tory chancellor Reggie Maudling left a note for his Labour successor, Jim Callaghan: "Good luck, old cock. Sorry to leave it in such a mess." Callaghan reportedly thought he was talking about the state of his office at first, before he looked at the books.
Soon after Byrne's note was revealed to the nation, former Labour spin doctor Alastair Campbell wrote a blog blasting "humourless" Laws, saying that rather than taking it "in the spirit in which it was intended, he used it to grease even further up to new boss George Osborne". But Laws defends his decision to go public, insisting he wasn't aware of any tradition of leaving notes. "It was an unfortunate thing to joke over," he says. "I can imagine people leaving each other jokey letters but when you're in charge of public spending and public finances saying there was no money left, it's a joke at the public's expense. I think if I had been writing that letter and then thinking about what I was actually saying in it and how sensitive it was politically then I might have, on second thoughts, scrunched it up and thrown it in the bin. I think it was a rather dangerous thing to do."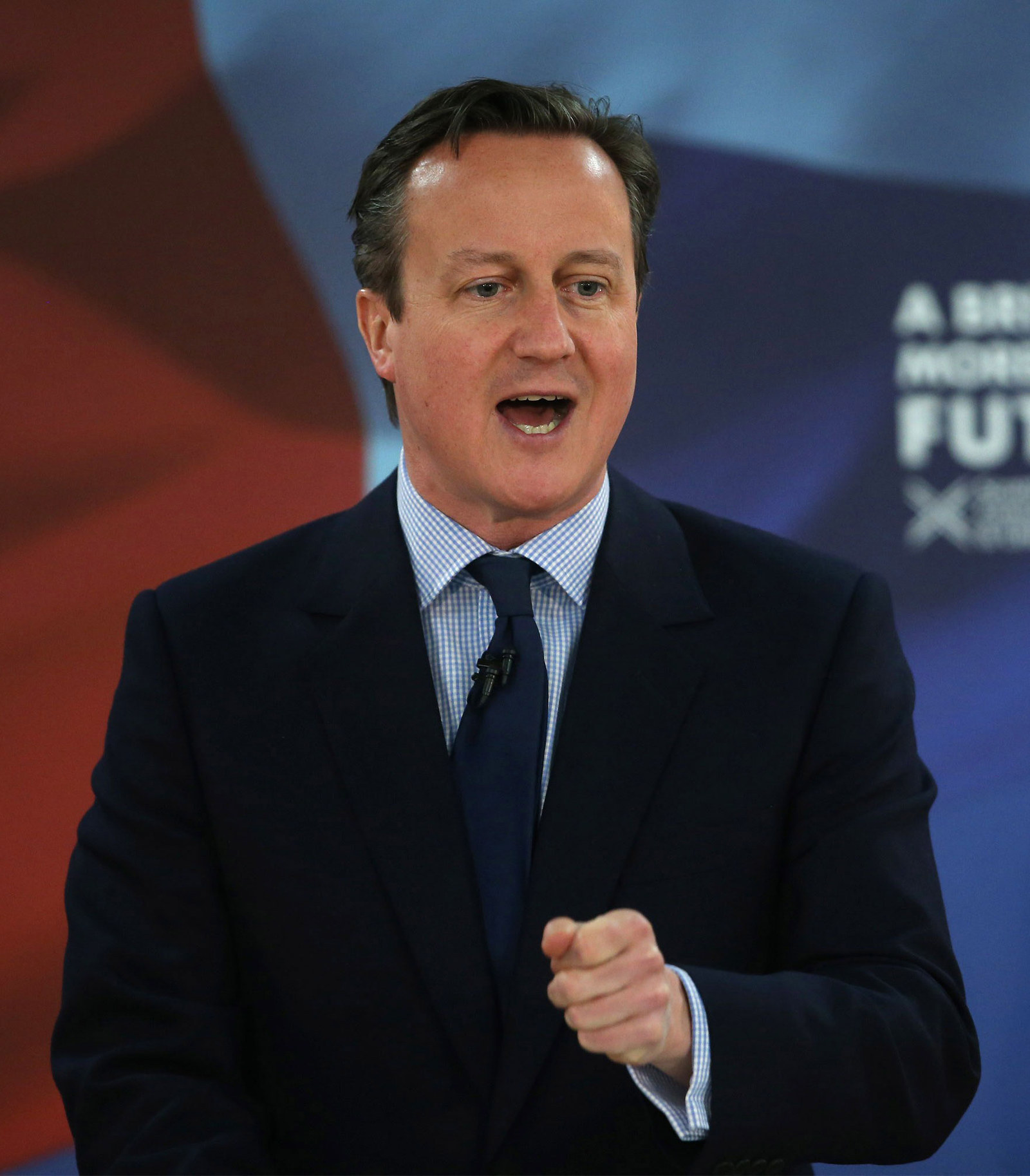 Byrne failed to respond to requests for comment for this article, although in September 2013 he told BBC Newsnight he regretted leaving the note: "It's an old Treasury tradition and actually a tradition that I saw fit to honour. In retrospect, was it a mistake? Yes, of course." But he pointed out that every minister in the past had kept such notes private, which "wasn't something my successor chose to do". Shadow chancellor Ed Balls leapt to his defence on ITV News earlier this month, saying: "I think Liam Byrne will go to the grave with having what he thought was a joke to his predecessor being hung around his neck." But bringing up the note just rekindled the story once more. David Cameron immediately accused Balls of making "one of the most appalling" comments in the election campaign. "That note that was left was correct!" the prime minister cried. "It said there was no money left."
Laws says he finally decided to release the note in 2013 after being "badgered" to do so by ITV News West Country reporter Bob Constantine. "Then the power of the letter demonstrated itself a second time, because whereas I imagined it would get modest regional pick-up – suddenly again it became a national story," he says. "I had Nick Robinson [the BBC's political editor] and everybody else phoning up and asking to do exclusive interviews about it. So it does show it really has stuck in people's minds and has become a symbol of the last parliament and the mess the last government left the public finances in."
The Conservatives and Lib Dems will keep talking about the note until polling day. And it will no doubt be raised in parliament time and time again, no matter who holds power. Laws says the National Archives and the Treasury now both have copies of the note. but the original is lying in a drawer of his desk at home. "It's the most interesting bit of political history I think I've got or am likely to possess," he says.