Britain's New Defence Secretary Has Stepped Out Of The Shadows. Now Colleagues Say He's Out Of His Depth
Gavin Williamson is desperate to impress, but MoD insiders told BuzzFeed News they're not impressed by his lack of attention to detail, use of inflammatory language and briefing against colleagues.
"Frankly, Russia should go away. It should shut up." Gavin Williamson managed not to cringe as his words from March were played back to him on live television. The defence secretary had no desire to reminisce about the language he used after the chemical attack in Salisbury, which was "casual" and "Trump-esque", according to Good Morning Britain host Richard Madeley. A clip of the exchange quickly went viral on social media after Madeley "terminated" the interview when Williamson failed to answer – four times – whether he regretted it.

Williamson ignored the Twitterstorm, opting instead to post a smiley shot with an army major and an elephant on Instagram – his social media site of choice – outlining the anti-poaching drive he had been on TV to promote. Friends were not impressed with the "ambush" from Madeley. "Gavin gets criticised for speaking frankly, but when he starts speaking like a politician, they don't like it," one said.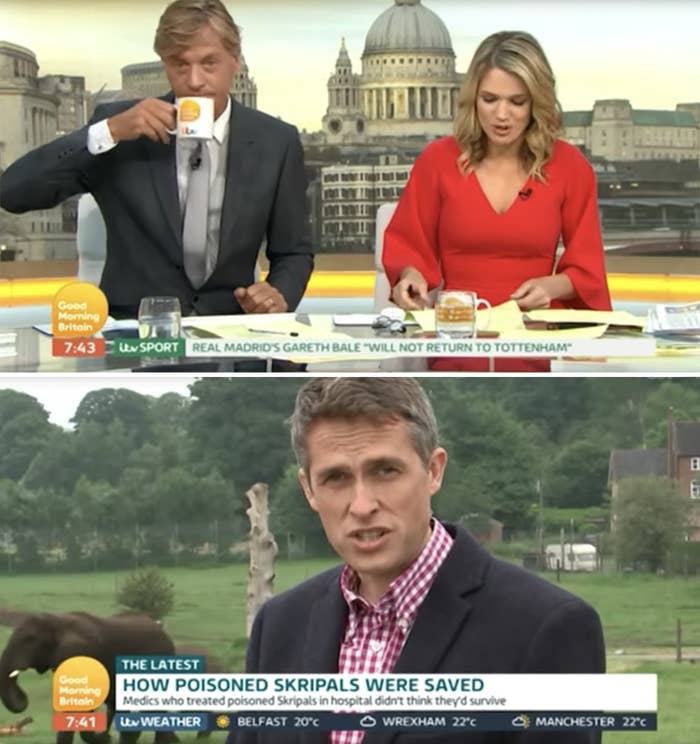 But for his critics, the incident was a stark example of his inexperience as a cabinet minister. "He could have just said: 'Look, it was an off-the-cuff remark. In hindsight could I have worded it better? Probably. But the point I was making was…'" said one government official. "You can't just ignore a straight question like that."
Seven months on from his controversial appointment as defence secretary, it has reignited the questions over whether he is up to the job. BuzzFeed News has spoken to MPs, ministerial aides, Conservative staffers, and former officials about Williamson's dramatic shift into the limelight and how he is handling one of the most complex government departments.
Insiders at the Ministry of Defence raised serious doubts about his performance so far – some say he fails to take on board policy ideas from colleagues, and that he is more comfortable running to the newspapers with gossip than getting stuck into the detail of his brief.
Others believe he has struggled to make the leap from the shadowy underworld of Westminster manoeuvring as government chief whip into the glare of a massive frontline department with an annual budget of over £36 billion and a workforce of almost 200,000 regular military and civilian staff and around 30,000 reserves.
Williamson has told friends he was surprised and upset at the level of vitriol directed at him when Theresa May handed him the role – one Tory MP reportedly called him a "self-serving cunt" – after Michael Fallon was forced to resign over allegations of sexual harassment in November.
One thing is clear: He is determined to prove to the Conservative party that he is taking the job seriously and will not shy away from a fight with the Treasury for more military funding. Whether his motives are purely defence-focused remains to be seen.


Williamson's office on the fifth floor of the MoD on Whitehall is roomy, modern, and functional, a far cry from the whips' office he thrived in just a few hundred metres away in parliament. Step into MoD headquarters and you encounter a no-nonsense mix of suits and military uniforms: The permanent secretary (top civil servant), chief of defence staff (overall head of the armed forces and the most senior uniformed adviser), chief of the general staff (head of the army), chief of the air staff (head of the RAF), and first sea lord (head of the navy) are all based on the same floor as the defence secretary.
"The language has been a little bit alarming to those in the services"
– Former government adviser
Sources close to the MoD said it was not Williamson's lack of military experience that had gone down badly with his new civilian and military colleagues, but his lack of subtlety and use of language. "The shooting from the hip and choice of words has raised a few eyebrows because it's not particularly statesmanlike," one former adviser said. "There is a tendency for some who arrive in the department to want to play with the toys and grandstand, which is something to be avoided – it's not great. The language has been a little bit alarming to those in the services."
Another former senior government aide put it more bluntly: "The Russia clip was embarrassing. You can only imagine what decorated top brass made of that. It was unbefitting of a cabinet minister."
Williamson's outburst in March came as he answered questions after a speech in Bristol, just as Russian diplomats were expelled from the UK in protest at the attack against Sergei and Yulia Skripal. His words were roundly mocked on social media and Russian foreign minister Sergei Lavrov told reporters who asked about it: "Maybe he lacks education, I don't know … He is a nice young man. I guess he also wants to make it into history with some loud statements."
Allies of Williamson said he simply "talks like a normal guy" and made no apologies for not being a robotic politician. "He's a Yorkshire lad – there's no airs and graces," one said. "He calls a spade a spade."
Even Williamson himself has joked about it since, telling an Irish embassy reception last month that the PM had urged him to "be more diplomatic in your language, in your tone". She suggested, he said, that he get advice from the "world's greatest diplomatic service … or maybe this time you shouldn't speak to the foreign secretary".
Privately, though, Williamson is keen to sharpen up his image and become more of a statesman when it comes to public speaking and national media. BuzzFeed News understands he was dismayed recently when a friend outside politics told him that he comes across as eccentric and deceitful.
His beloved pet tarantula Cronus, named after a Greek god who castrated and deposed his father and then ate his children to make sure they didn't oust him, once proudly sat in a glass tank on the desk in the whips' office. But its move to the MoD proved short-lived: department sources confirmed that Cronus was sent back to Williamson's family home in Staffordshire after an arachnophobic official down the corridor was terrified to come into work.
The banishment of Cronus, a Mexican red-legged tarantula, is no bad thing if Williamson is looking to be taken more seriously by the department, military chiefs, cabinet colleagues, and Conservative backbenchers. He is privately determined to impress the party with his tenure at the MoD by securing more funding for the services.

In January, after furious lobbying from Williamson, the government announced that a sweeping review into the military would be broken in two – effectively buying him more time to fight spending cuts being mooted to fill a £20 billion funding gap over the next decade.
Many MPs and Tory officials are in no doubt about his ultimate motive – to run for leadership himself. Others are less sure, saying he is positioning himself as a running mate – someone who knows the parliamentary party inside out and can prove he can manage a big department – in order to secure an office of state.
But his love of gossip and apparent habit of briefing the newspapers has put noses seriously out of joint. Just a few weeks after Williamson was appointed defence secretary, the Times reported on its front page that he had banned the chancellor from using RAF planes until the Treasury settled a six-figure bill. The move was reported as a humiliating blow for Philip Hammond, who served as defence secretary himself from 2011 to 2014 (and "knows far more about the MoD than Gavin does", one government source told us).
Just two days earlier, Williamson had been compared to Private Pike, the snivelling young character from Dad's Army, by an "ally of the chancellor" in the Mail on Sunday. The pair have made no secret of their mutual distaste for each other and were locked in a briefing war over proposed military cuts throughout November and December – culminating in a stand-up row in the Commons.
"The comment that upset him the most was the 'Private Pike' comment from Hammond," one Tory MP told us. "The reason that really upset him is because it's so true."
Williamson has also faced allegations, which his office denied, that he had a hand in speeding up his predecessor Michael Fallon's downfall by leaking a private complaint made by Commons leader Andrea Leadsom to Downing Street about lewd remarks Fallon had made to her. She was furious that her comments were passed to the media. "It was a really unfair thing to do," one government source said.

"His fingerprints are over everything he does. Whether he doesn't care, I don't know" – Former government adviser
More recently, he was accused of using the Northern Irish peace process to further his own leadership ambitions – after details of a cabinet row over plans to set up a historical murders unit were leaked to the press. Cabinet sources accused him of ambushing Northern Ireland secretary Karen Bradley at a weekly cabinet meeting so his comments would be leaked.
One senior Conservative staffer said: "To actually brief against your colleagues in order to do them down is just childish. … He grandstands at cabinet – it's embarrassing. People look down and just cringe."
Another former aide, with close links to Number 10, said Downing Street had "not been too impressed recently" with the way he had behaved towards cabinet colleagues. "He got carried away with a sense of his own importance and burned bridges quite quickly with a few people," they said. "His fingerprints are over everything he does. Whether he doesn't care, I don't know."
Some Tory MPs have been muttering privately that they would rather Williamson focused on getting to grips with the detail of his complex brief than rushing to the newspapers with eye-catching stories and photo ops.
In December, he posed for the Sun with two "hero war dogs" called Kevin and Dazz, who he "rescued from death row" following a campaign by the newspaper to save them. The Belgian shepherds had sniffed out lethal explosives in Afghanistan but faced being put down after army bosses ruled them unsafe for new homes.
However, defence insiders were concerned that for the sake of a good headline ("Bark From The Brink"), the decision had come out of the blue and Williamson had not properly considered the impact on the army in terms of housing and handling costs for the dogs.
"His PPS asked one of my colleagues
last week if she'd be supporting him. I won't be" – Tory MP
"He's playing to a very narrow demographic of right-wing, middle-aged, Daily Mail, conservative voters as part of his leadership campaign," one MP said. "His PPS [parliamentary private secretary Will Quince] asked one of my colleagues last week if she'd be supporting him. I won't be."
Quince told BuzzFeed News that if he had made such a remark, it was in jest and Williamson was certainly not actively campaigning for a leadership bid, not least because there was no vacancy. He said certain MPs were intent on "making mischief" about Williamson's apparent Machiavellian manoeuvrings "but nothing could be further from the truth".
Other friends of Williamson said it was a bit rich for MPs to complain about him talking to the media when others often make "snide remarks" about him that appear in the newspapers.

Williamson is no stranger to gossip: He got his big break in politics – being recruited by then-PM David Cameron as his parliamentary private secretary in 2013 – precisely because of his ability to hoover up information from MPs in parliament and report back to the boss.
Cameron had initially given the PPS job to Sam Gyimah, now universities minister, but he "wasn't really suited to it", says one former adviser. "Gavin had much better qualities for the job and eventually got it for that reason. I always thought he'd go further than people realised. He was really sharp.
"Back then he also used the advantage of not being noticed. He embraced that a lot. There were reams of MPs who all loved the sound of their own voice and he was the one listening. He knew things about people. He remembered things. He made you feel like you were the only one in the room."
Another senior staffer around at the time remembered him as a "very good PPS" who was "really valued" by Cameron because he "offered an unvarnished view of what people were thinking". They remember Williamson always having a "good nugget" for the end of the regular 8:30am or 4pm meetings in Number 10, after the civil servants had left the room.
One eyebrow-raising claim from Williamson was that cabinet minister Michael Gove was having an affair with his friend and ally Dominic Cummings, chief strategist for the Leave campaign – an allegation denied by both men, who are married with children. Williamson responded at the time: "I do not comment on malicious rumours."
Meanwhile Williamson was said to be invaluable in bringing the well-to-do Cameron down to earth when he was out and about meeting voters. One friend remembers Cameron making a speech at an Aldi supermarket, and repeatedly pronouncing it "Orldee". When Williamson took him to one side to ask why he was saying it that way, Cameron replied: "I think you'll find that's how they pronounce it in Germany." Williamson replied: "Well, that's not how they pronounce it here."
Allies of Williamson believe his northern, comprehensive-school-educated background will help him with any future leadership bid. When he first became MP for South Staffordshire in 2010 – one of 147 new Tory MPs elected that year – he helped set up a "Curry Club" that saw like-minded MPs from that intake regularly get together at the Pimlico Tandoori near parliament to discuss how the party should modernise.
Members reportedly included Alun Cairns, now Welsh secretary, Julian Smith, now chief whip, Steve Barclay, now health minister, and Tracey Crouch, now sports minister. The group was established to push the interests of working-class voters. "He has support among a certain type of backbencher – the non-posh northern types," one government aide said.
Born in Scarborough, North Yorkshire, Williamson harboured political ambitions from a young age: He was the national chairman of Conservative Students after studying social sciences at the University of Bradford, and first became a Tory councillor in his mid-twenties. He worked for a fireplace manufacturer, moved into the pottery business (where he became known as the "baby-faced assassin" for his ability to take tough business decisions), and ran an architectural design firm before winning his Westminster seat.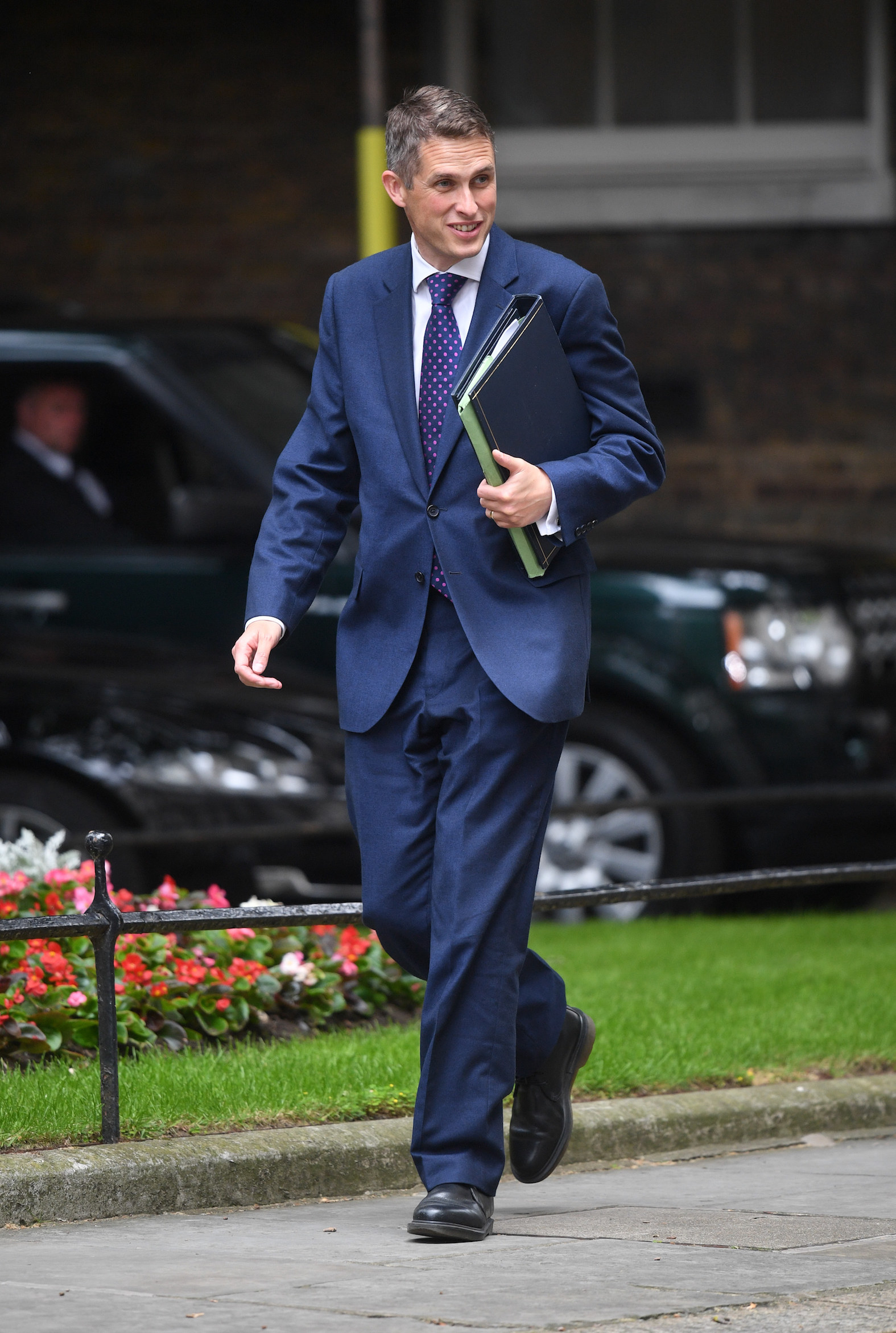 As Cameron's PPS, Williamson was once told off by Commons Speaker John Bercow for being too loud at Prime Minister's Questions. "His role is to nod his head in the appropriate places, and to fetch and carry notes – no noise required," he said. But Williamson clearly impressed the cabinet with his skills behind the scenes, and his political antennae led him to join Theresa May's leadership campaign as soon as Cameron resigned after losing the EU referendum in June 2016.
He later told the Express and Star, his local newspaper, that he "just knew instinctively that she was the one". While "everyone's favourite" at the time was Boris Johnson, "I just couldn't see it", he added. One day after he offered to help with her campaign, May gave him the post of parliamentary campaign manager. Pro-Johnson MPs saw this as a deliberate move by the government to install May as Cameron's successor.

Williamson's task was to encourage as many MPs as possible to back May as leader – and the campaign came to a victorious, if abrupt, end just three weeks later after Johnson pulled out, Michael Gove was eliminated, and Andrea Leadsom then withdrew. Williamson was duly rewarded with the post of chief whip in May's first cabinet – the "perfect job" for him, according to someone who had previously worked closely with him.
"I think Urquhart is more sophisticated"
– Government source
During his 16-month stint as chief whip, Williamson famously never lost a vote on government business, even after the 2017 snap election saw May lose her majority. Allies say he played a pivotal role in persuading the Democratic Unionist Party to back the Tories in a confidence and supply deal.
He was – and still is – often compared to Francis Urquhart, the scheming chief whip turned prime minister in Michael Dobbs' House of Cards. Williamson played up to this caricature at last year's Tory conference when he said he preferred the carrot to the stick: "It is amazing what can be achieved with a sharpened carrot." One unimpressed government staffer told us: "I think Urquhart is more sophisticated."
Yet his undeniable skills with people are still much praised by colleagues who say they admire him for the time he takes with service personnel on trips overseas. (One aide lamented how long-planned trip schedules have to be ripped up because he loves to chat.) He is someone who insists on making visitors tea and coffee and builds relationships with his foreign counterparts with lots of humour, according to allies.
Some inside the MoD, however, have privately raised concerns that although he gives the appearance of listening, he is not taking on board their advice for new ideas and policies – perhaps, they say, because he feels insecure and wants to prove he's doing it in his own way.
He is also acutely aware that each of the armed services has its own agenda, and he is having to learn how to rise above the politics of the MoD itself. One former government adviser said: "You're not sure who's your friend and ally and who's your foe internally – the military, especially the army, have a pretty sophisticated briefing operation and campaigning capability where they will go and independently seek out members of parliament and commentators and influencers to try and push their agenda, which is something which is difficult to handle."
Williamson has told friends he was shocked at the funding pressures facing the MoD as soon as he took home his red box the first weekend after being appointed to the role. As well as securing more cash for the services, he wants to focus on modernisation and new technology to make sure Britain can respond to new threats. And he is keen to get more service personnel into schools, not only to inspire the next generation but also to make the armed forces more visible and relevant to communities across the country – which in turn could bolster his demands for more cash from the Treasury.
But, ever the ambitious politician, he still carves out time at the end of most weeks to travel around the country for Conservative party events. He spends weekends at home with his wife Joanne and their two daughters, where they share the house with a pet cat, and his parents' cocker spaniel Bessie when they come and visit from Scarborough. When the children have gone to bed, he likes nothing more than curling up on the sofa with Game of Thrones – that twisted tale of power games and back-stabbing.