Boris Johnson has refused to guarantee that he will not quit the cabinet this year, as he called on Britons to unite over Brexit.
The foreign secretary left the possibility open after making a long-planned speech on Brexit warning that another EU referendum would be a "disastrous mistake".
His latest intervention on Brexit has raised eyebrows in Whitehall after weeks of turmoil for prime minister Theresa May and speculation that she is on the brink of a leadership challenge.
But Johnson insisted that the UK–EU negotiations were going well and that May was the "cure" for what he called "the current bout of Brexchosis".
Asked whether he would guarantee he would not resign from the cabinet in 2018 over the issue of regulatory alignment with the EU, he replied: "We're all very lucky to serve."
He also denied ever making "inflammatory" remarks about people who voted Remain. "I think I've always been extremely moderate in my language, and loving and caring, and that is my intention," he said.
"I do think that sometimes the discourse does become a bit polemical and I think it would be much, much better if we could all get together and get behind this project."
Tensions have been running high in the government since BuzzFeed News revealed that an official impact assessment had found that leaving the EU will adversely hit almost every sector and every UK region.
In his speech, Johnson referred to people "hailing me abusively in the street" and calling to him with "cheery four-letter epithets".
And he conceded that by making his speech, and attempting to bring the nation together over Brexit, he ran "the risk of simply causing further irritation".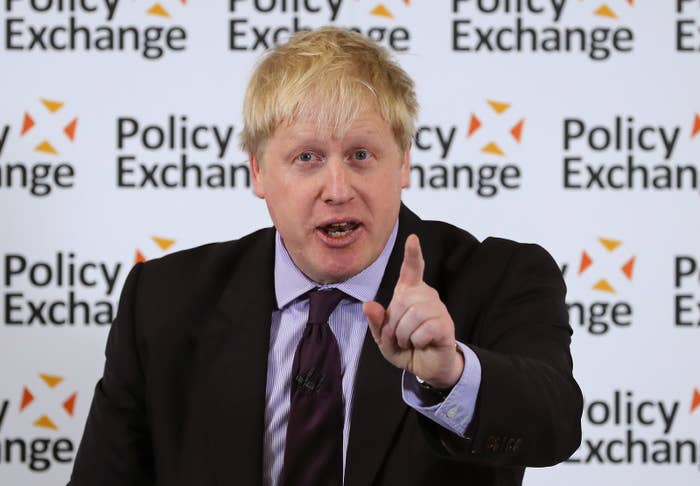 But he added: "I must take that risk because it is this government's duty to advocate and explain the mission on which we are now engaged."

He said: "Is this the time for the referendum winners to gloat? Should we sit in silent self-satisfaction? Of course not.
"It is not good enough to say to Remainers 'you lost, get over it' because we must accept that the vast majority are actuated by entirely noble sentiments, a real sense of solidarity with our European neighbours, and a desire for the UK to succeed.
"All I am saying is that by going for Brexit we can gratify those sentiments – and more."
He insisted that Britons would still be able to retire to Spain, students would still go on foreign exchanges to Europe, and the UK would be able to strike trade deals with growing economies across the world.
And he warned that a second vote would simply lead to "another year of wrangling and turmoil and feuding in which the whole country would be the loser".
But critics in Westminster were not convinced. Labour MP Chuka Umunna, a supporter of the Open Britain campaign, labelled the speech an "astonishing exercise in hypocrisy".
"The scaremongering, mistruths, lack of detail, and utter disregard for the economic realities of Brexit were an alarming throwback to the referendum campaign," he said. "More than 18 months since the referendum, this was simply more of the same Project Fantasy."
Other MPs were critical of Johnson's speech on social media.
Tom Brake, the Liberal Democrat Brexit spokesman, said: "If this speech was supposed to offer an olive branch to Remainers, Boris must have picked up the other version.

"A clear majority of Remain and Leave voters oppose the damaging hard Brexit Boris so vigorously advocates. They do not want job cuts triggered by tougher trading conditions with our largest export market or life-threatening uncertainty at the border between Ireland and Northern Ireland."