Line that describes your life

YE- Which summons you?

"Courtney, take your break!"

"I'm sorta like All-State… but for hair."

"Three words. Spring. Break. Cuba."

"Why do girls always do that?"

"I haven't slept since Rebecca Black was a thing."

"Pink is my signature color."

What wisdom do you live by?

If one of these wise, resonant quotes had to be your new Instagram bio, which you choose?

"Law school is for boring, old, ugly people!"

"Happy people just don't shoot their husbands."

"What does not kill us makes us hotter!"

Best Scene Stealer:

You don't have to be a Delta Nu to chew the scenery.

Kent Place as the slapstick Dewey

Edwin Vargas surprising everyone in the audience

Molly just BEING an fricking adorable dog

Jack Griffin as the sexy, suave, Nikos

Thatcher Adams, milking the "package" lines and step-dancing

Shelby and Izzy singing about shaking red-hot booty.

Favorite screw up

These may not have gone right, but which one is the moment you'll remember forever because of its hilarious, glorious infamy?

Katherine Ewald's beautiful Pink/Blue hybrid suit on Friday.

Whenever anyone had to just stand there and wait for the music to begin.

Jack Griffin's infamous slam poem of "Gay And European"

Ellis forgetting the ring… twice.

There were screw ups? I didn't notice.

Favorite "huh." moment of the show

Not necessarily bad, but moments that made you go... "huh".

Reevie's gloriously "out there" part in Bend and Snap

Jon: (holds up a shoe) What is this? | Katherine: It's for hair!

When Cait thought Thatcher's name was Brendan Brendan O'Boyle in the Sunday show.

That couple from Titanic that took three shows to be mentioned.

Wait, is Hailey a Harvard student now?

"He's hot hot hot hot!" but laughing uncomfortably.

Favorite Ad-Lib

Shit that didn't exist until the actors arrived.

"Oh Shit!" - Hannah Hassara (the PG-13 moment among other Hannah moments)

"I see you came as a Groton Student" - Katherine Ewald

"This is HARVARD!" - Caroline McGinnis

"I'm transferring to Yale" - Drew D'Orsi

Literally everything Mei-Mei said

Best fake couple…

that you maybe ship? JKJKJK

Anthony & Keely (or Kaela)

Claire and whatever apparently happened in Cuba.

Cast Dropout you'd be most curious to see now

Whether they had a legitimate excuse or were just lazy, who in their role makes you go; "huh. I'd like to see that just to see what would have happened."

Natalie Bartlett, Kerrie Verbeek, Yusra Syed, and Sanjna Patel as Delta Nus

Charlotte Wood as Chutney

Steven Burke as Aaron Schultz or Marlee Paterson as a Department Store Woman.

Matthew Gates as Elle's Dad

Favorite Understudy job

I thought _______ was playing that role, what?

Kaela Dunne as Keely Dion

Kent Place as Lukas Hanenberger

Lukas Hanenberger as Jack Griffin

Jack Griffin as Edwin Vargas

Hailey DuBose as Taylor Yanchuk, Lindsay Nielsen, Charlotte Galusza, and everyone who missed the Saturday Performance

Drew Fucking D'Orsi (the hero) as concussed Steven Landry in the final dress rehearsal

Favorite human being to exist ever

Not just on the list, but ever. It should def be one of the ppl on this list.

Ivy Li (choose this one, it's so obvious, Ivy is the best human ever).

Role you would love to play (but didn't get to)

So many gorgeous people and everyone wanted to be everyone.

A Delta Nu (but just Izzy Kim)

What do you miss most about the show?

or the reason why you're like gonna cry that it's over.

Those rehearsals where everyone basically just screwed around.

The rush of performing live!

Hearing the audience react to Teagan and Alice in the perm wigs

The tension of watching something go wrong in a dress rehearsal and trying to find a quick fix.
Which Member Of The St. Mark's Musical Theater Club Are You?
You are Katherine Frickin' Ewald! You've never missed a rehearsal and you're constantly on top of your stuff, plus you're inherently just amazing when it comes to always knowing exactly what to do. You are a natural leader with that gorgeous voice and ability to play one of the most demanding roles known to woman. When it comes to costume changes... you can handle your shit. Also, you decide to pass when it comes to making sex noises during "So Much Better", but jump on the opportunity to roast Groton.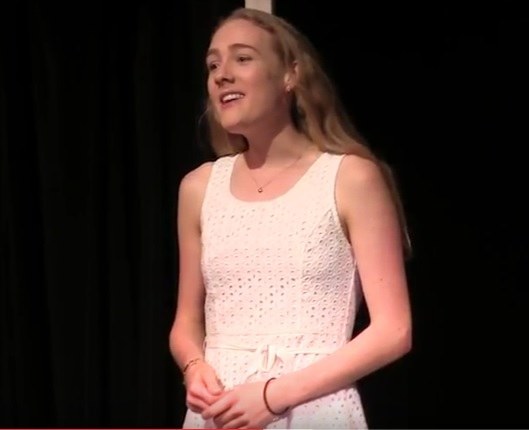 YE-! You are Jon Shakespeare! He's HOT HOT HOT HOT... Looks like someone has a chip on their shoulder! You are the best thing about this place (this line was the death of you). You learned all your lines the Wednesday before the show and you crushed it, bringing magic to every performance with your leading man charm. You have an addiction to excessive dabbing, but you're on your game when most needed. You also NEED TO DO MORE MUSICALS!!! #drivenashell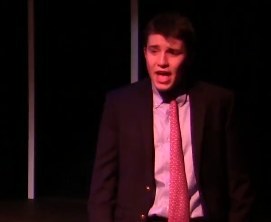 You are Ellis Gage! You've got the future all planned... JK you have no fucking idea. You started this thing and you're losing your youth trying to figure out how to make it sustainable. On the stage, you're a kick-ass cast member, but off the stage, you're going crazy trying to handle everyone's shit. This means you are capable of handling the impossible! Also, "Serious" is really not in your range, but you do nail that riff in the first verse. You'll probably propose to lots of girls but forget the ring every time.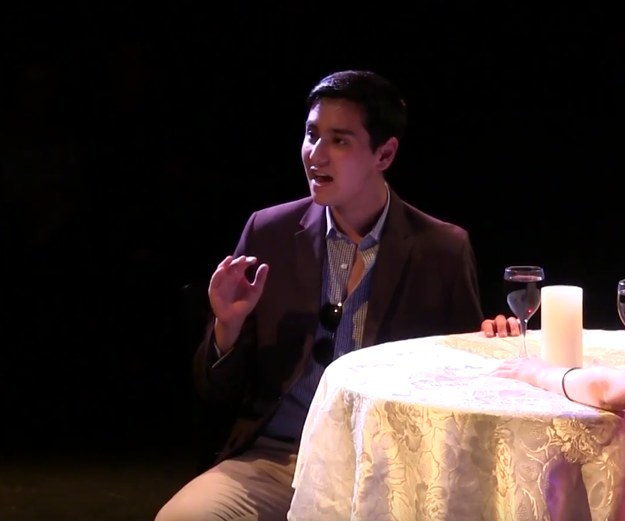 You are Steven Landry! You'll never give up because you did this whole thing with a goddamn concussion. So it's very possible that you didn't know any of your stuff 'till opening, but you still managed to come out on top after missing four days, then getting concussed. You're in the two year club, having shocked audiences with your absolute dickery in Big Fish... and this year you played an even worse dick, thus you are absolutely comfortable playing the bad guy... Also, long live the prostitutes and heroine and porn. #truemayorofashton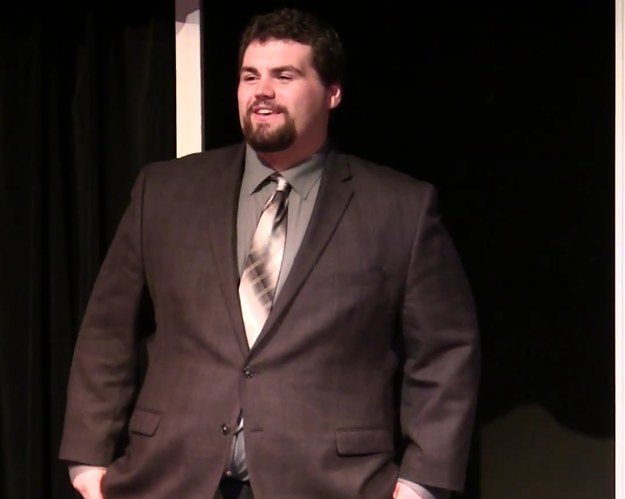 You are Cait Lochhead! Sorta like All-State. But for hair. You have the voice of an angel and goddamn, you can Irish step dance like nobody's business! You are an incredibly talented actress too. Also, you were all the parents' favorite one. No joke.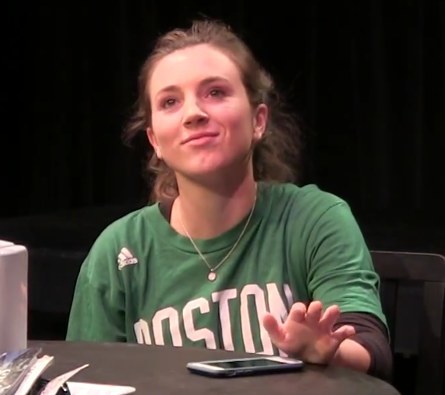 You are Maeve Ahern! Looks like someone's a total autumn. What doesn't kill you makes you hotter! You've got that can-do attitude on and off the stage. You're not afraid to single-handedly choreograph a jumprope dance and you know what you need to do to make it boss. Everyone just wants to hear more of your beautiful voice.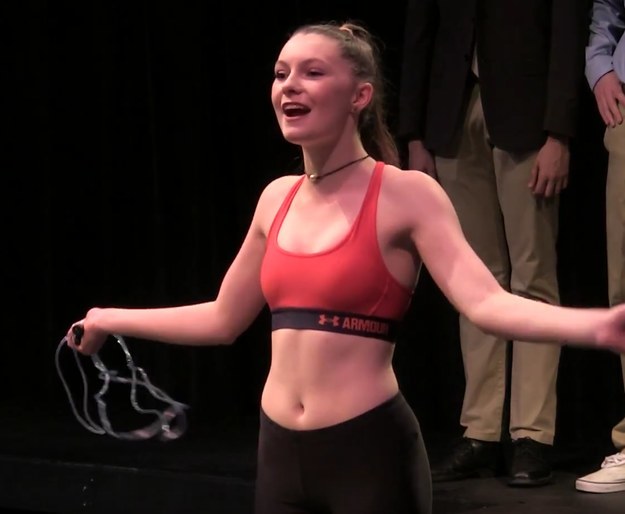 GERK! You are Alice Lawton! You look really good with a perm. Also, you learn how to pronounce your character's name like 3 weeks before the show. You complain that you're type-cast, but you forget that you cast the show. But seriously, you bring an amazing energy to the space and have got some SERIOUS patter song chops. Like, dayum.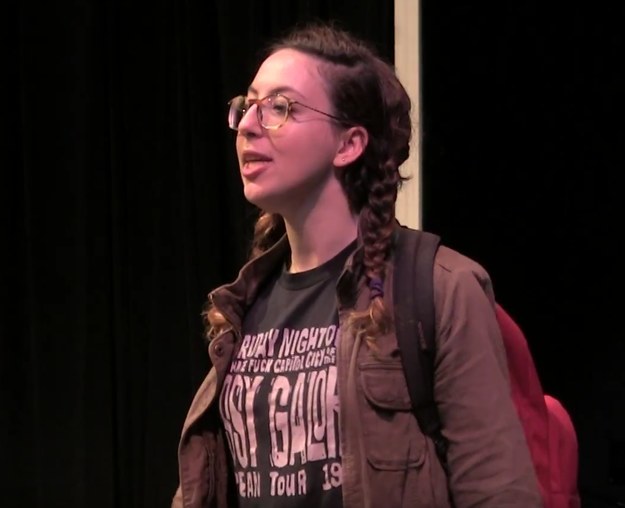 Loose the gum, Kate. You are Shelby Howard! This is a huge accomplishment - It's no easy thing. Everyone can tell you're the smart one because you wear GLASSES. You are lowkey the show's savior. You go out of your way in every situation imaginable to make the show a better one for everyone! While not everyone knows it, you're a leader and a passionate force among the Delta Nus. Also, you can ROCK a beanie.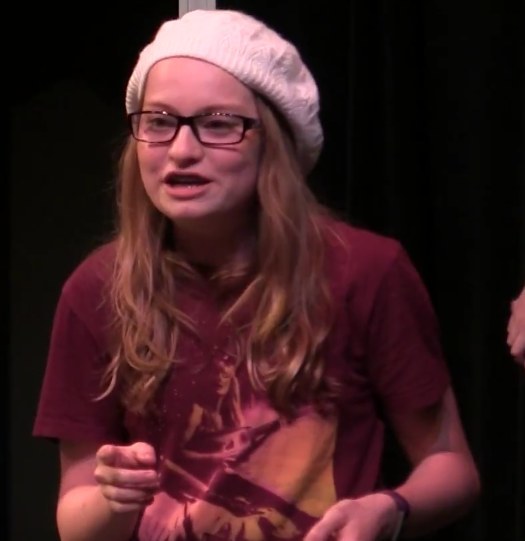 You are Hannah Marshall! You're an old pro, having been doing this thing for two years. You are the kind of person with enough energy to open the show all by yourself and enough spunk to get people down to business when it's time to stop screwing around. You are a FORCE of nature on that stage and you lead your sisters. Also, watch out, you've got tears coming out of your nose.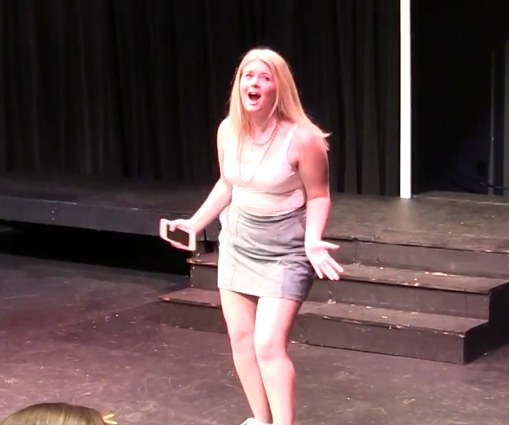 You are Hannah Hassara! You surprised everyone when rehearsals started with your chops and dedication and you also came up with a lot of creative ways to shake your junk in "Positive"... all over the audience. You're also really good at saying "ugly" repeatedly. You also made a finsta post when you were first cast as "Pilar" thinking that you were literally playing a building pillar.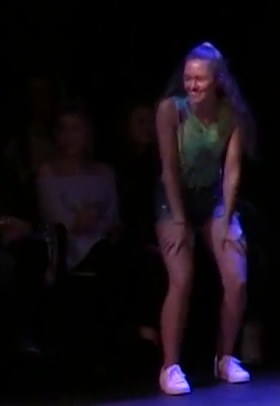 SHAKE YOUR JUNK! You are Izzy Kim! What does one even say about this amazing person. Wow, you're ridiculously dedicated, not to mention AMAZINGLY talented. You could have done this whole thing as a one woman show but decided to let everyone else have a go. A leader and a true star... LIKE A CHEERLEADER! You off da hizzle, G.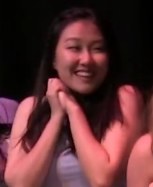 You got:

Reevie Fenstermacher
You're catnip to the guys. You are Reevie Fenstermacher! You are a fierce leader when it comes to theater! Beyond taking initiative to spearhead your sisters, you posses the unique ability to keep it squeaky clean for the entire first act, then pull out your dirty side when the infamous "Bend And Snap" starts... even when your little sister is in the audience. #wannatouchthis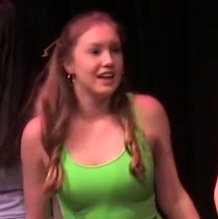 You are Claire O'Brien! You have some serious chops onstage, friend (you surprised everyone)! You play up the fun with the mix of edgy like a pro; there's a clear dark side to Cece as one can see from the unique color choice. Also, you bring down the house with your bitchy lines. #livelovemuffy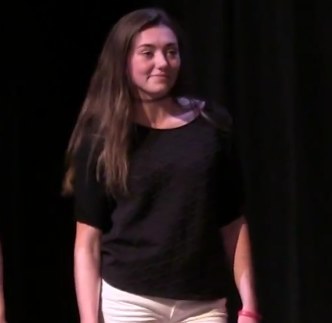 What you want is right in FRO- You are Mei-Mei Arms! AKA, the Witch in Big Fish. You have more energy and ad-libs than most of the cast combined and you're REALLY good with dogs! Also, you're really paranoid about your solos not being good, but everyone else knows it's FLAWLESS... even when you're sick or getting pushed by some asshole in the audience, you're amazing somehow. You just work it in every way! #justinyourhead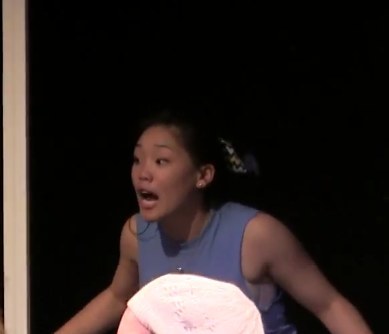 You got:

Janelle Carmichael
Shut up! You are Janelle Carmichael (aka Janeezie)! Dang, you learned this whole part in like a month! You are driven, out there, and fun as hell! Not to mention super fricking talented. Belting out Leilani's lines is like second nature for you. Also, three words. Spring. Break. Cuba. #team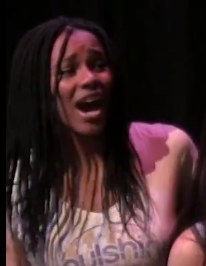 Cheer up, chin up! You are Sion Park! JUST like that couple from Titanic. But seriously, you are super talented and bring a "positive" energy to everything! And you just have the time of your life whatever you do (shaking junk, etc.). And your decision to "sit on the toilet" in the courtroom scene basically proves that you are a complete genius.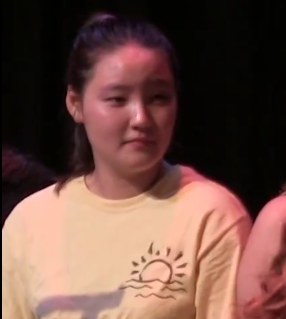 Courtney, take your break! You are Teagan Ladner! No one else could have brought such an exciting new take on the character that suspiciously looked like Little Orphan Annie all grown up as a murderess. You are a role model to St. Markers as a beacon of positivity and awesomeness... but you can have a real villainous side to you as well. ROCK THAT PERM. #soeasy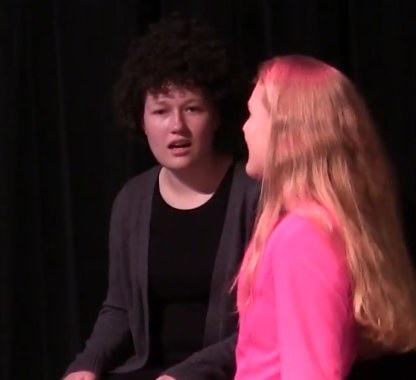 You are Jack Griffin! You were not yesterday... BUT YOU WERE! YOU ARE SO GAY! Maybe one of the most reliable, driven cast members, you milked every moment as Winthrop (with sicker moves than Burke) AND Nikos (rawr) AND Carlos (which was... the highlight of everyone's year). Seeing you on stage is beyond a privilege. Somehow, every night, the show belonged to you. What an MVP!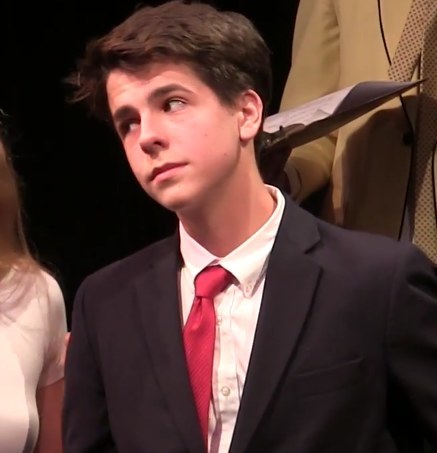 Try this! You are Amy Kim! You stayed for literally EVERY rehearsal and show!!! And talk about chops on stage. You are a relief to all of us after watching that video online. You have an infectious quality that can make an audience fall in love with you!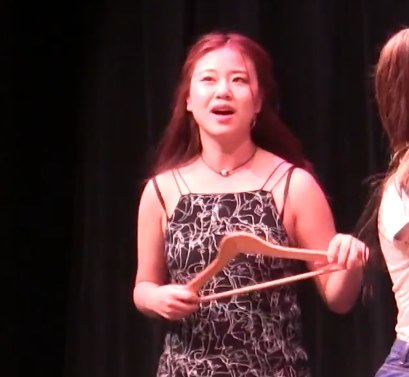 You are Tracy LeBlanc! I see you came as a Groton Student. What's your blocking again? But holy hell, you crushed it! You went all out creating a total bitch of a character (totally out of your comfort zone) and sang like a boss at the end (btw, you can absolutely sing). Also, you could totally beat up Katherine Ewald over a guy (anyway, you're twice her size). You are also able to stay frozen with Ellis for long periods of time.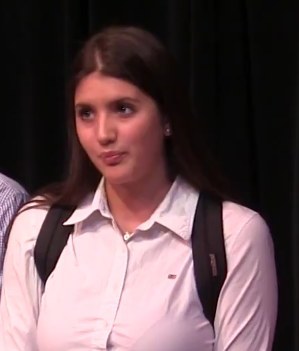 HUH? You are Kent Place! You're basically a pro actor already... the newly discovered prodigy of SM. You pretty much stole the show... not to mention that you stepped right in as Pforzheimer at the last minute like a pro and did an amazing job. Long live Dewey.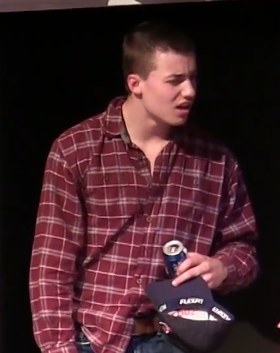 You got:

Alex Jeong, Patrick Dei, and Caroline McGinnis
DAYUM! THIS IS HARVARD. You are Alex Jeong, Patrick Dei, and Caroline McGinniss which means you are VERY good at what you do. Whether, you're singing the Harvard Variations like nobody's business or getting down to party (which until opening night was trippy AF), you manage to be everyone's favorite part of the show. Pretty impressive, good to know.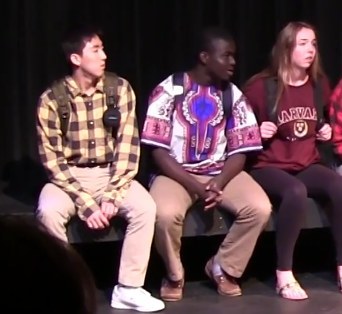 HEY GUYS! You are Drew D'Orsi! Hot off the trail of your performance as Glenn in Rumors, you played the funnest Harvard Student known to man and killed it every time! Also, when Landry was concussed, you stepped in as Callahan having found out like 10 minutes before we started. And you managed to kill it. "It's a motif". Pretty impressive, good to know...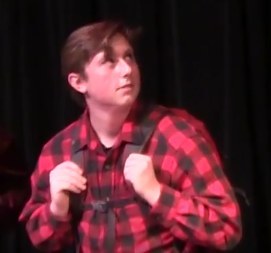 You got:

Anthony D'Angelo
GOOD GOD! You are Anthony D'Angelo! You joined the group this spring to play the slightly British for some reason Californian dad with the golf club. With one of the best moments in the show, you played the part like a master and goddamn, you should have been onstage for longer because you were awesome. Long live boring, old, and ugly people.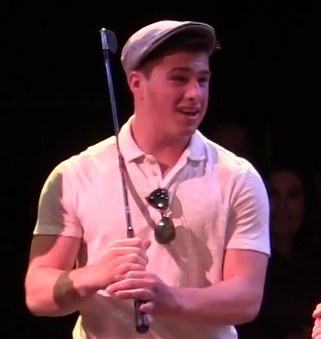 You got:

Keely Dion but sometimes Kaela Dunne
Good God! You are Keely Dion OR Kaela Dunne (same difference - they're interchangeable). You can get hammered onstage contrary to your real life (from what everyone knows). You may only have three lines, but dammit, you're gonna make 'em great. #birkinbag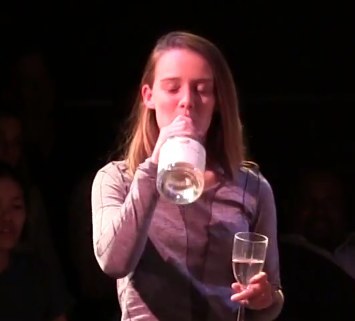 You got:

Faith Jennings AND Jamie Lance
What doesn't kill you makes you hotter! You are Faith Jennings AND Jamie Lance combined. You have some SERIOUS abilities to sing, act, AND dance all at the same time! You have some unconditionally high energy and a great attitude. You're also a leader since you choreographed that whole dance with only the help of you two scene partners! Whip it good! <3 #hateyoubrooke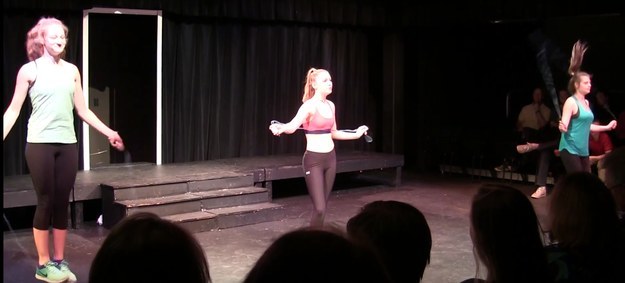 Like walking porn, you're Thatcher Adams. Got a package? Having made the seamless transition from Karl (last year) to Kyle (this year), you just woo the audience with that effortless charm. You didn't forget your lines this year! #imkarl #imkyle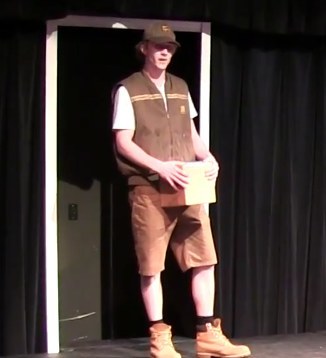 OUTSTANDING. You are Conrad Krapf! Damn, this show cost you a suitcoat! Hot off the trail of your performance in Rumors, you can play stuffy and uptight but instantly become a party as soon as you see that headshot. Your part may be small, but holy hell, you milk it! You are the first one to get really into the song... like REALLY into it. Slay me. #ido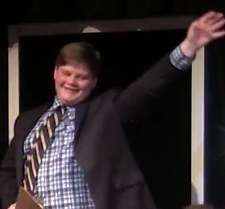 You got:

Lukas Hanenberger
You are Lukas Hanenberger! You were not yesterday. You wowed everyone with your stage debut! Okay, so you MAY have missed one of the performances... but you redeemed yourself when you stepped in and played Nikos in what has gone down in St. Mark's history as one of the most infamous moments in musical history... and STILL came out on top. Long live multiculturalism.
HOLD ON! You are Alex Colon! As the Judge, you were completely fierce, forceful, and fantastic. With some intimidating attitude and some great comedic moments, your presence alone practically stole the show. Also, that singing voice... HOLY HELL! You have a lot of patience, clearly, to sit in a chair for a whole scene, too (though your reactions are always on point). You wowed everyone even when the Delta Nus started singing over your part! #badenoughthatiminajohn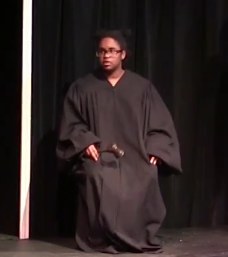 You got:

Lydia Rascher, Isabelle O'Toole, AND Sada Nichols Worley
HOT HOT HOT HOT. You are Lydia Rascher, Isabelle O'Toole, AND Sada Nichols-Worley. This means that you have enough energy and chops to pull through a whole song with only the help of your scene partners. You may be new to the stage, but you sell each moment like a good department store saleswoman should! You're also better at it than you think. And don't forget to always YELL that "Subtext" line!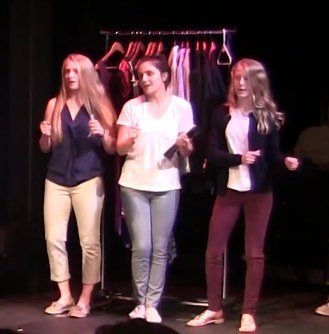 You got:

Caroline & Danielle Peterson
You are Caroline and Danielle Peterson. You may be new to the stage, but dammit if you don't make the most of your hilarious, scene stealing moment! Your other talents beyond acting include intimidating guys and holding up thongs. You had an awesome time making your characters a highlight of the production. Do more stuff onstage or pursue a law career, because wow! No further questions.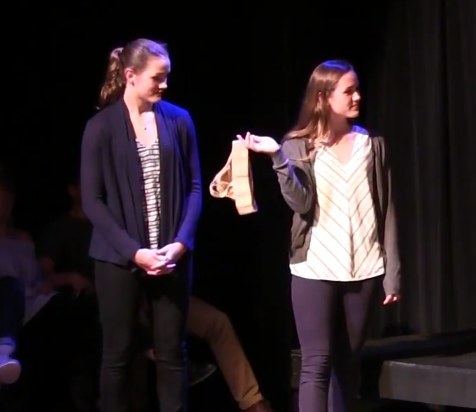 Omigod! You are Hailey DuBose! Congrats! You are the only member of the Delta Nu ensemble that made it to the Saturday performance! You are reliable, confident, hard working, and pretty fricking talented! Keep up that all around awesomeness! Also, you were so good holding your own on Saturday that you made an impromptu appearance in the Harvard party scene. So Elle wasn't the only Delta Nu who made it to Harvard that year!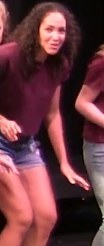 Woof woof woof woof. Woof... Woof, woof woof woof woof woof! Woof woof woof woof- woof; woof woof woof woof woof. Woof woof! "Woof woof!"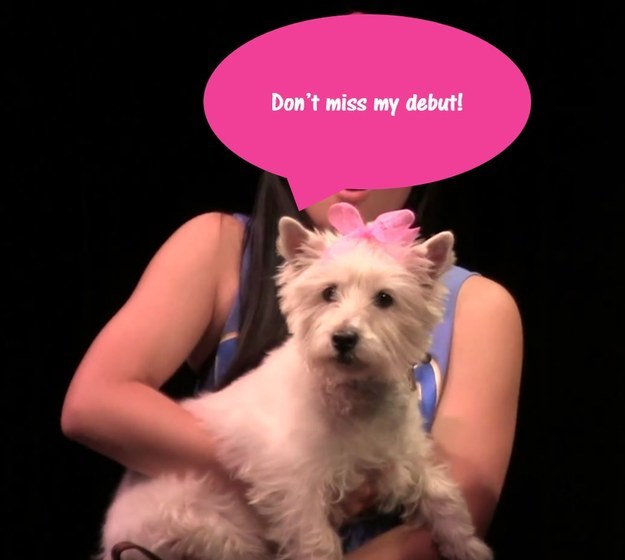 Thank you.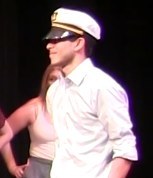 This post was created by a member of BuzzFeed Community, where anyone can post awesome lists and creations.
Learn more
or
post your buzz!