1.
When In Touch printed this ~exclusive~ about her marriage.
And she was not here for it.

2.
When this happened.
And someone told her that she'd "peaked."

So she came up with this A+ response.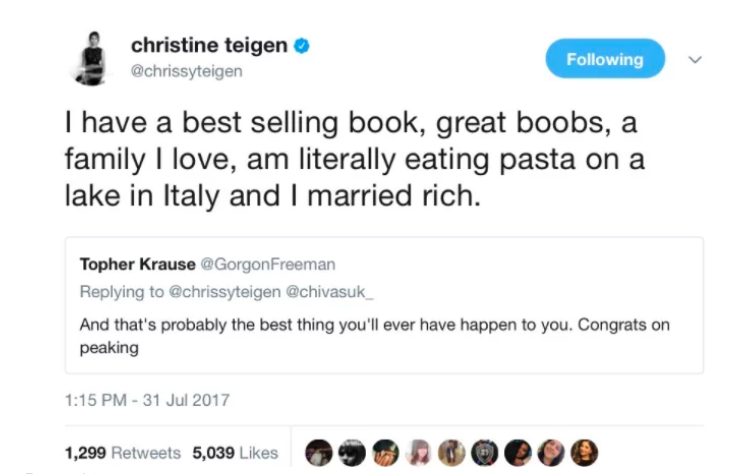 3.
When people criticised her for choosing the gender of her baby via IVF treatments, and she was not here for it.
4.
And then when she announced that she and John would be having a baby boy next, someone asked this.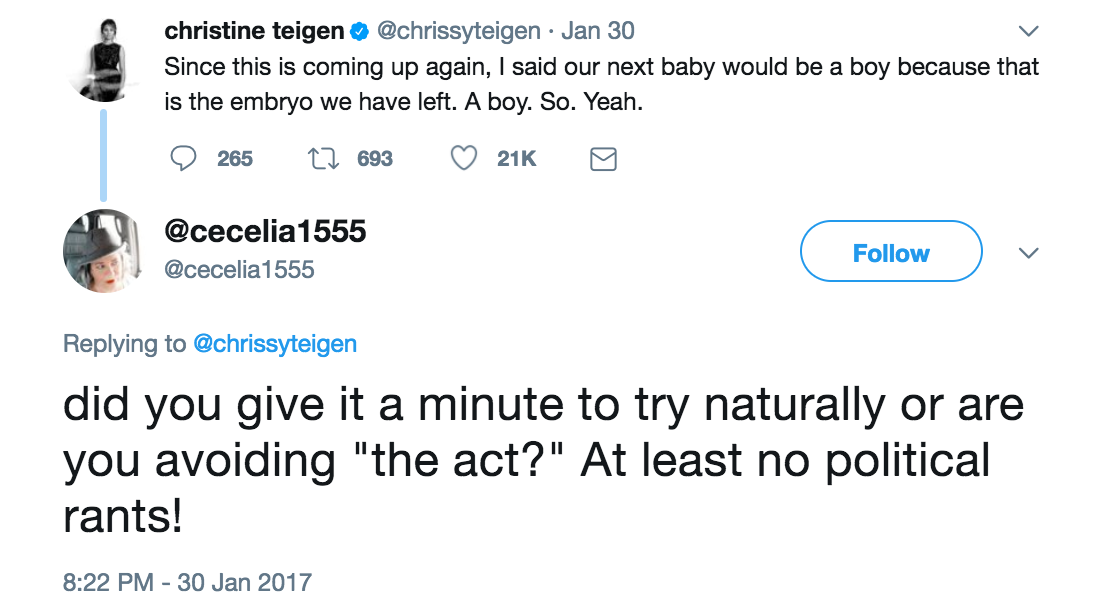 And she had the perfect comeback.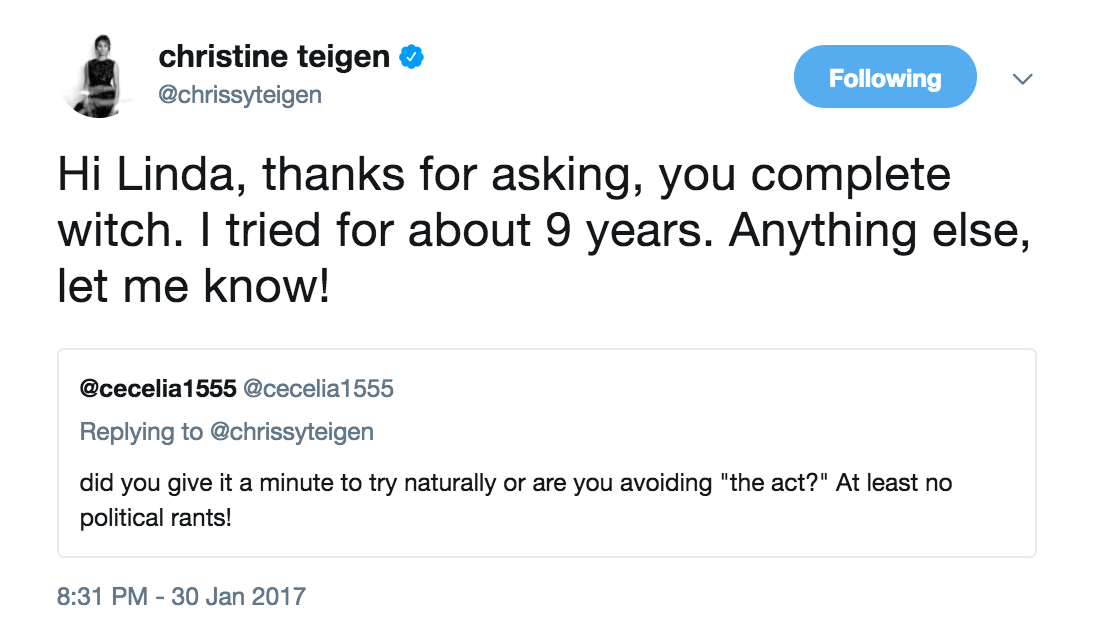 5.
When she was pregnant with Luna and people began saying she was definitely having twins based on the size of her bump.
6.
When someone told her she was carrying her baby wrong.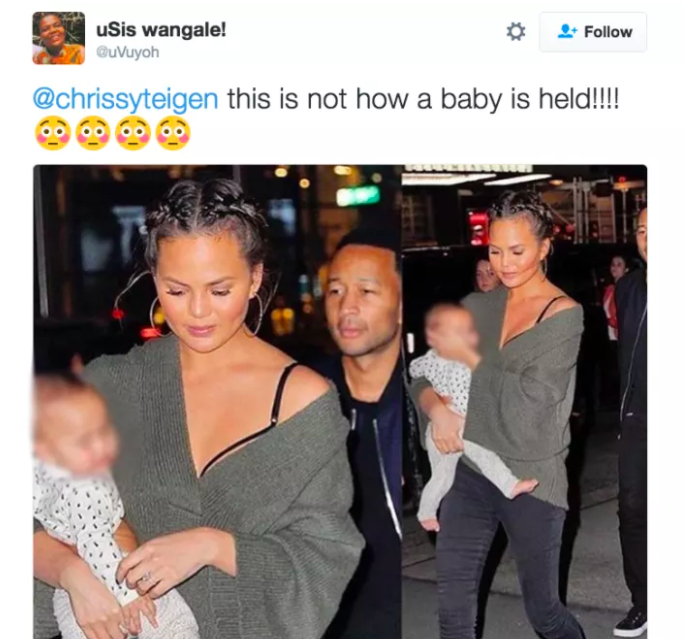 And she was like, "Nope."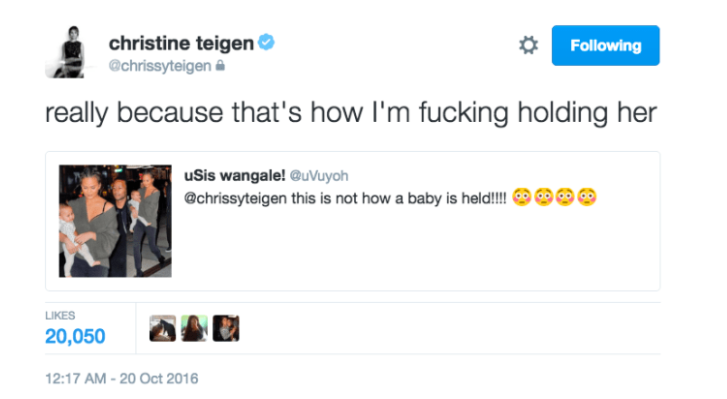 7.
When she shared this photo of Luna.
And took clapping back to the next level by predicting the criticism she'd get.

8.
When this exchange happened and she was really proud of herself.
9.
When Ivanka Trump tweeted this.
And Chrissy burned the hell out of her.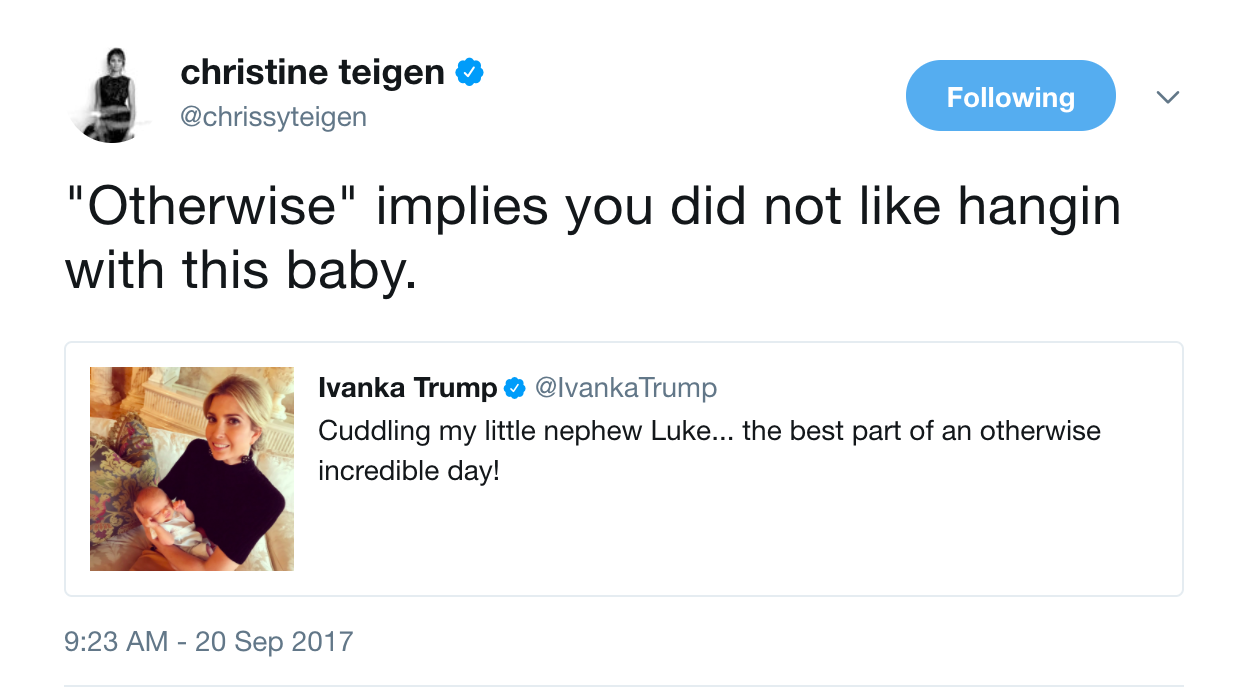 10.
When no one was safe from her fire comebacks – even John.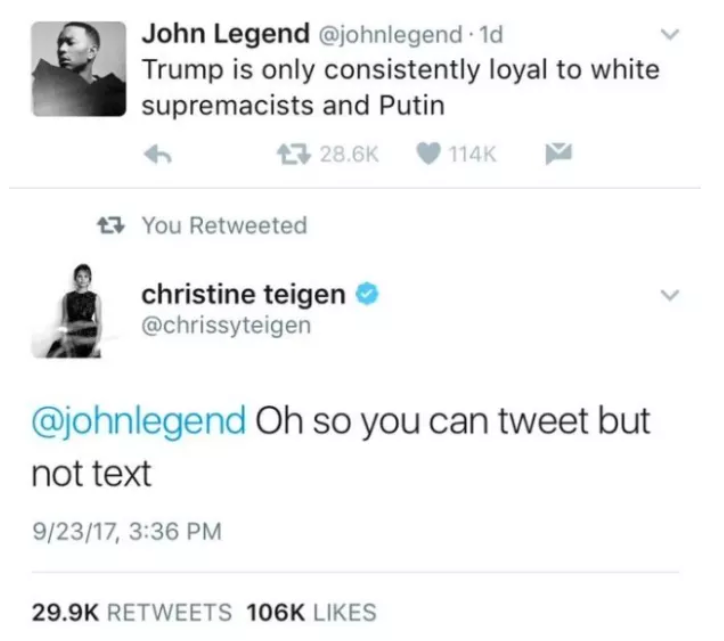 11.
Every time.
12.
When someone told her she was a "bad role model" for her daughter for swearing on social media.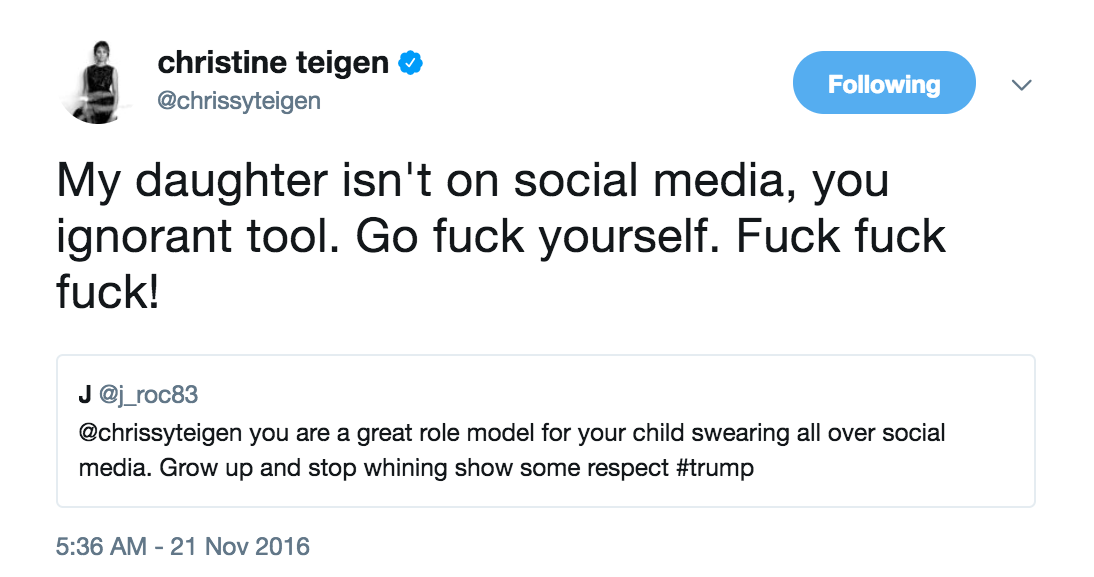 13.
And when someone told her she shouldn't swear on TV because of their kids, and so she shut them down as well.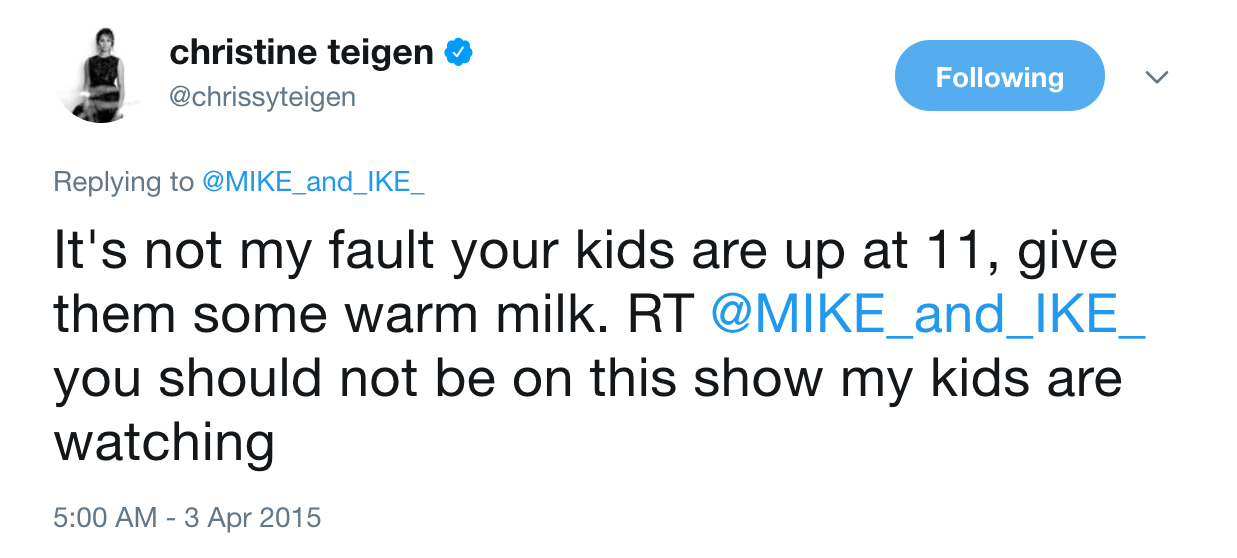 14.
When Trump was being inaugurated as president and she just couldn't deal.
15.
When people criticised her for going out for dinner two weeks after her daughter was born, and she had no time for the bullshit.

16.
And when people really went in with their opinions about Chrissy and John's parenting but she gave no fucks.
17.
When someone said she'd "turn up to anything."
And so she brought back the "witch" line.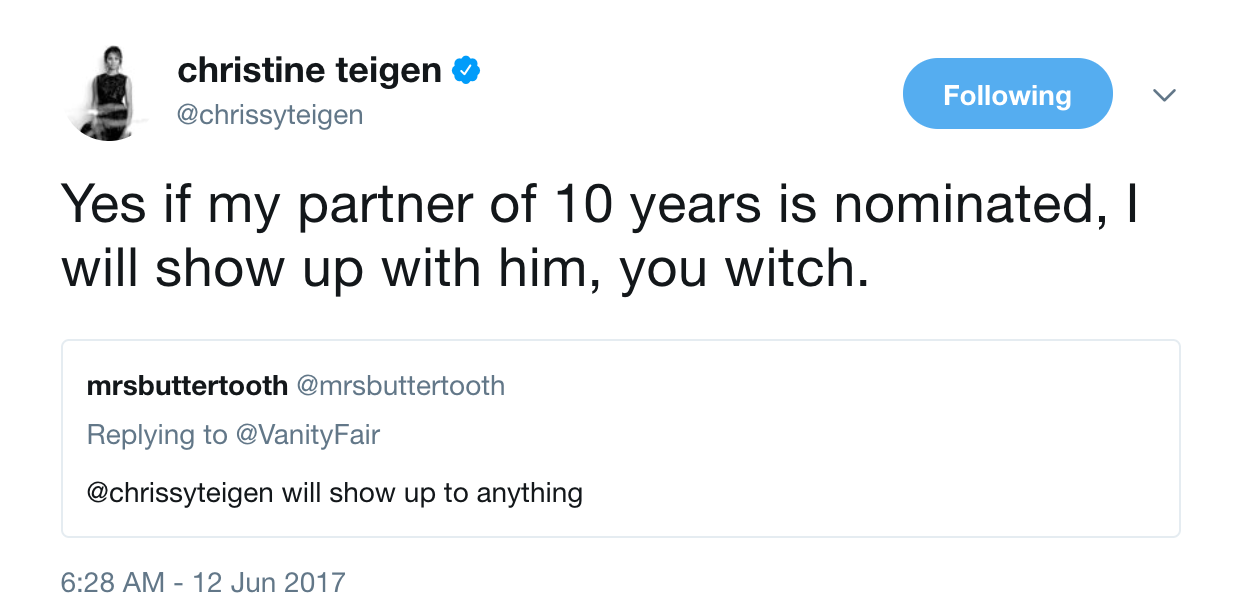 18.
When she was over these kinds of Instagram comments.
19.
And finally, when someone told her to stop engaging with trolls, and she responded like this.