Rebekah Vardy has been brutally honest about the online abuse she's faced after her footballer husband Jamie Vardy hit the big time last year.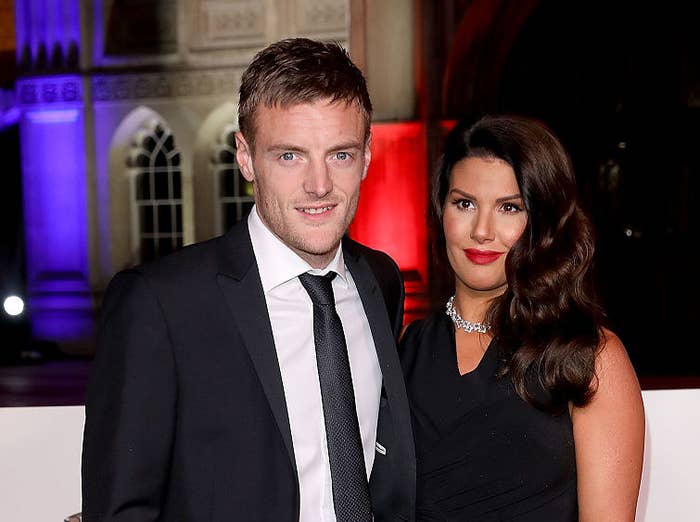 And Rebekah has now revealed that she was the subject of intense trolling over her body immediately after giving birth – including people calling her "huge" in photos of her leaving hospital.
Speaking to The Sun, Rebekah said:
It was ridiculous. People were on Twitter saying that my thighs were fat, saying they couldn't believe Jamie was with me because I was so huge. I'd just given birth, I looked normal. And I have had lots of abuse since then. Women who've just given birth should not be made to feel ugly. I could have got really upset about the abuse but I have become pretty resilient over the years. After having a baby, your hormones are raging. The last thing you want to feel is pressurised and upset.
She went on to explain that she believes celebrities place unrealistic standards on women, especially after giving birth – and that she refuses to contribute to the problem.
Rebekah said:
There is so much unrealistic pressure on women these days to get their figures back overnight because there are so many women in the public eye who seem to be able to do that. I get annoyed when I hear celebrities say the weight "just dropped off." Maybe for a tiny few it does, but for most of us it doesn't. You see stars with washboard stomachs just weeks after giving birth. You hear stories of women who have a caesarean and a tummy tuck at the same time. None of that is normal for most of us. What is natural is doing what I do – wearing plenty of good makeup, a much bigger bra and a pair of Spanx.
Rebekah, who has four children between the ages of 11 and 10 weeks, says she's proud of her body and the changes it's undergone during pregnancy and birth.
She explained:
I think I look pretty good for a woman who gave birth in January – and Jamie thinks so too. I am proud of what my body has achieved. I carried all of my children for 9 months and my body changed constantly to provide for them. I have a wobbly tummy, bigger legs, wrinkled skin and stretch marks, just like any woman does when she's had a baby. At the moment the most important thing is being healthy, because I'm still breastfeeding, and happy with my family – which I am.
It's not the first time Rebekah has promoted body positivity. Shortly after giving birth in January, she shared this comparison between her baby bump and her stomach afterwards, imploring women to be proud rather than criticial of her their bodies.