Since meeting and falling in love on Celebrity Big Brother last year, Geordie Shore star Marnie Simpson and ex-TOWIE star Lewis Bloor have had a rocky relationship to say the least.
However, the pair are now over for good after Marnie revealed that Lewis cheated on her in the middle of the night while they were on holiday together.
Marnie released a series of messages from a girl who claimed that she and Lewis had done "everything but" actually have sex, during a romantic break to Barcelona in September.
Marnie posted the DMs on Twitter.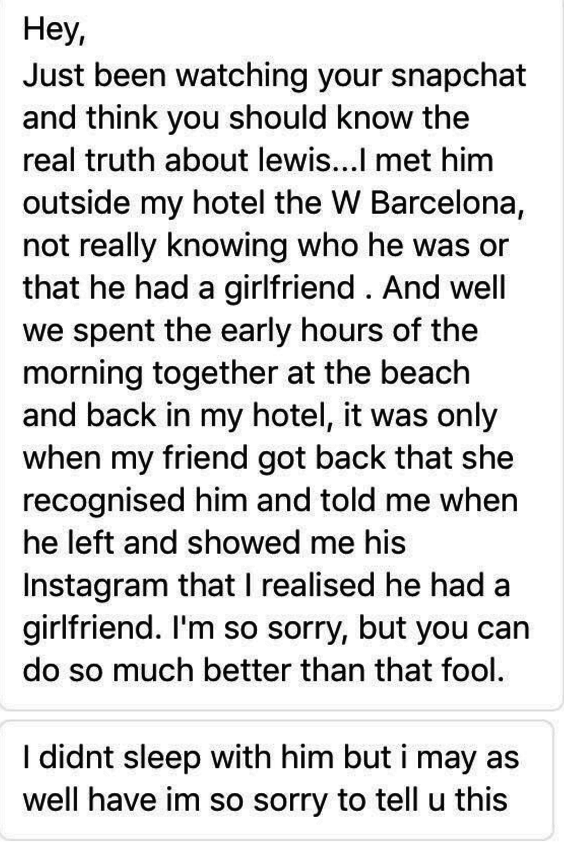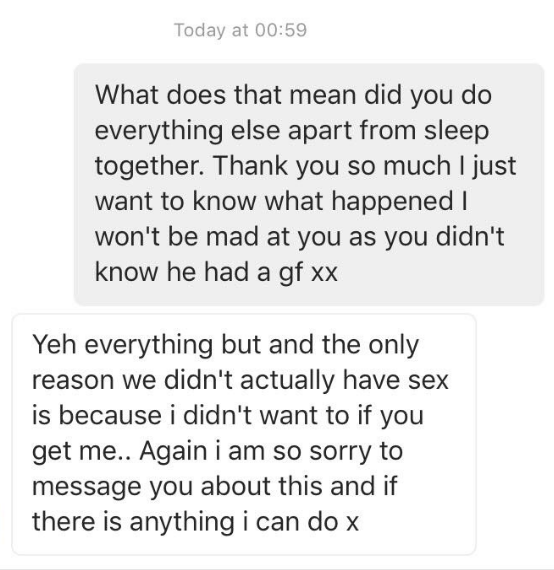 She shared the messages alongside a tweet saying Lewis's behaviour was "unthinkable".
And said the holiday had been the "best of her life".
She went on to post photos taken the day after Lewis allegedly cheated on her as she slept.
As well as explaining the excuse he apparently used when she'd woken in the night to find him gone.
She confirmed that the pair had slept together before and after the alleged encounter.
The only reason the revelations came to light was because Marnie had responded to claims that Lewis had cheated on her on Valentine's Day while she was away working – and had Snapchatted to say that the pair were over for good.
These cheating rumours emerged after the girl Lewis allegedly hooked up with, Amelia Guest, spoke to The Sun and released a video of them in bed together.
Amelia said Lewis was "really pervy from the start", and that after arriving back at her hotel room he "wouldn't take the hint" that she and her friend wanted him to leave.
At this point, Lewis allegedly revealed he had a girlfriend, but told Amelia that they were "unhappy and only together for the money".
Lewis then apparently climbed into bed with Amelia where he proceeded to "try it on", "touching her suggestively" despite her "pushing him off".
Within hours of the video being released, Marnie took to Twitter to share a couple of messages expressing her upset.
Before calling Lewis a "fucking scumbag".
Marnie then shared a six-minute Snapchat story explaining the situation, revealing that Lewis had denied cheating on her until the video was released – and that she'd "smashed up" her house in anger.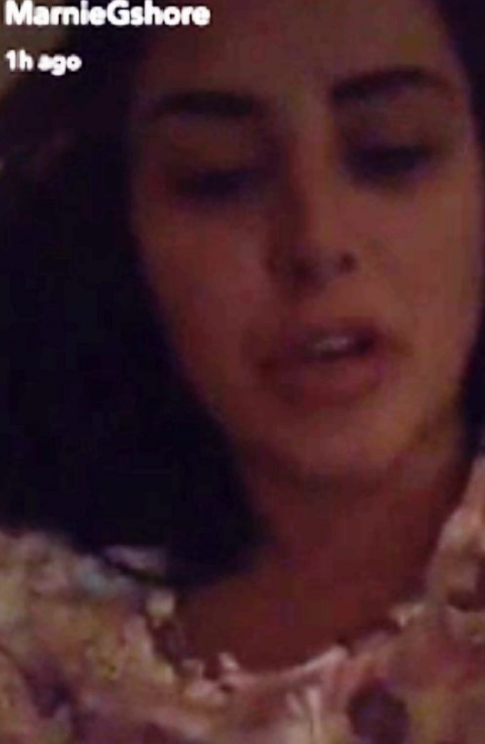 She went on to say she confronted Lewis over the initial video of him in the taxi with the girls, and that he "swore down on his family's lives" that he hadn't cheated.
However, Marnie said that after seeing the video of Lewis and Amelia in bed, she'd experienced "every emotion possible."
And Marnie concluded that she felt "sick" at the fact she'd been lied to throughout their relationship.
And it was at this point that the second girl came forward with the claim that Lewis had cheated in Barcelona too.
Lewis has so far remained silent on the matter, but Marnie has since taken to Twitter to thank fans for their support.
BuzzFeed has contacted spokespeople for both Marnie and Lewis requesting comment.