Kim Kardashian Gave A Detailed Rundown Of All The Times She's "Taped Up" Her Boobs For Fashion And Honestly, It's A Lot Of Effort
"Evenly taped boobs is a good day!"
I think it goes without saying that Kim Kardashian West is not just a reality star, business mogul, multimillionaire, and mom of four, but also a fashion icon of our times.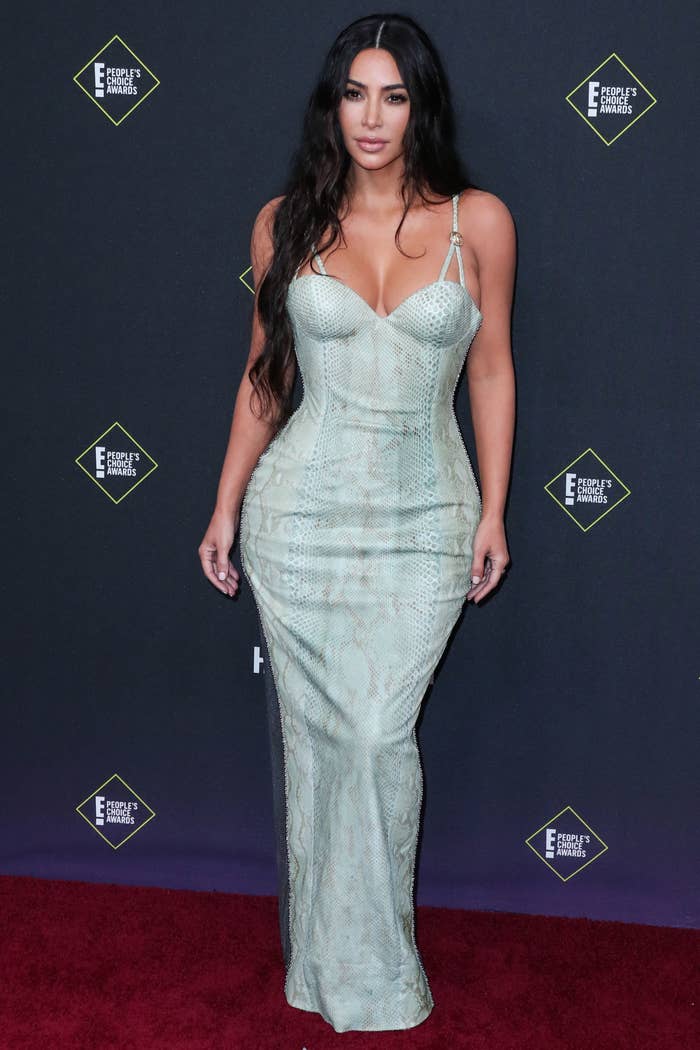 However back in 2016, Kim revealed her very unglamorous and extremely painful ~secret~ to nailing her red carpet looks...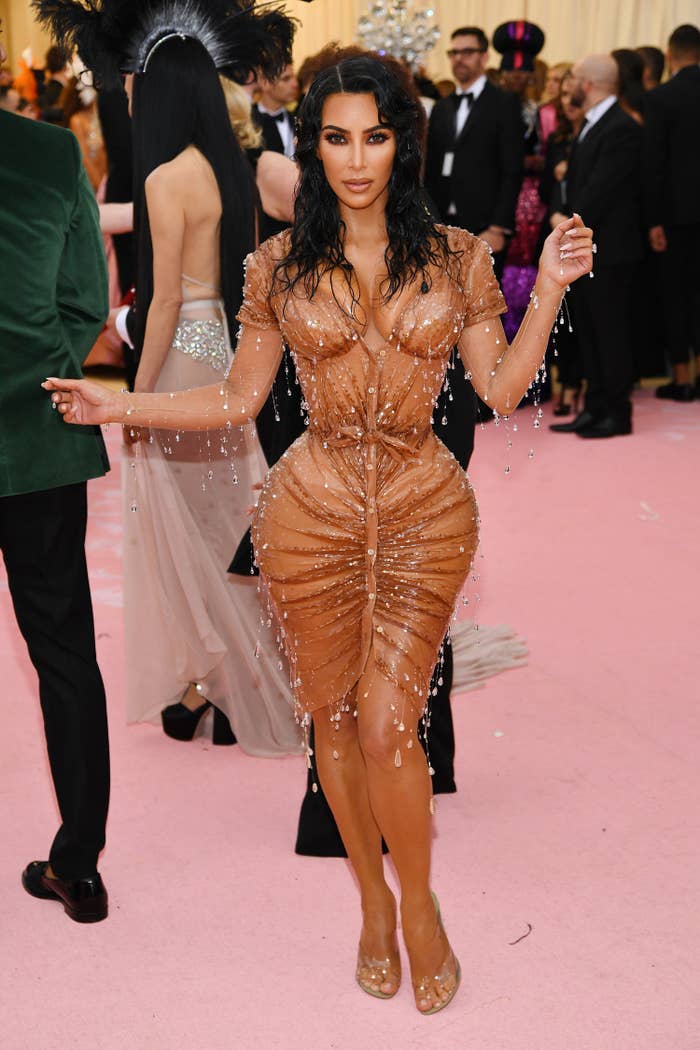 Smothering her boobs in actual gaffer tape in order to lift them and achieve a flawless cleavage.
Back then, Kim shared a series of photos on her app (RIP) which showed the process, but TBH all I could think about was the agony of removing the tape.
Kim wrote alongside the images:
I definitely had to share my tape secret with you guys!! It's my secret trick to have perfect cleavage in photos. You tape them up so they are super lifted. It takes a little work but trust me it's all worth it LOL. I've used everything from duct tape to packing tape to masking tape and I think that the best I found is gaffer's tape. It sticks the best! Make sure you don't have any lotion or oils on when you're lifting your boobs up with the tape. Just brace yourself for when it's time to take it off LOL.
Anyway, three years on and Kim has broken into the shapewear industry with her brand, Skims. And the latest product the company has released is nipple pasties and boob tape.
Taking to Twitter, Kim shared a tutorial for the tape and explained that unlike other brands she's tried in the past, the Skims tape won't cause cuts and burns on removal.
Kim then went on to share a series of photos showing all the times she's taped her boobs in the name of fashion since 2014. And honestly, it's intense.
Kim started with a photo of this outfit, revealing that while the black tape blended in with the dress, it "flattened" the "centre part" of her boob.
Kim then shared this photo, revealing that she was especially pleased with the evenness of the taping.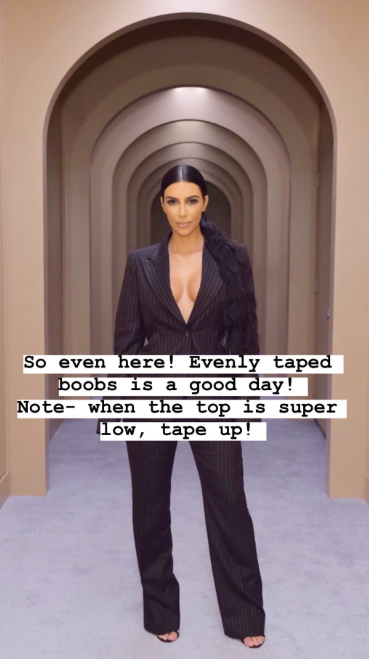 She went on to post a picture of boobs that were taped a little unevenly, revealing that this attempt was a rush job, but if you really want to know, she prefers the "lower one".
She explained in the caption of a pic of herself in this dress that she "cut the tape really thin at the top" here and "made it work so good!"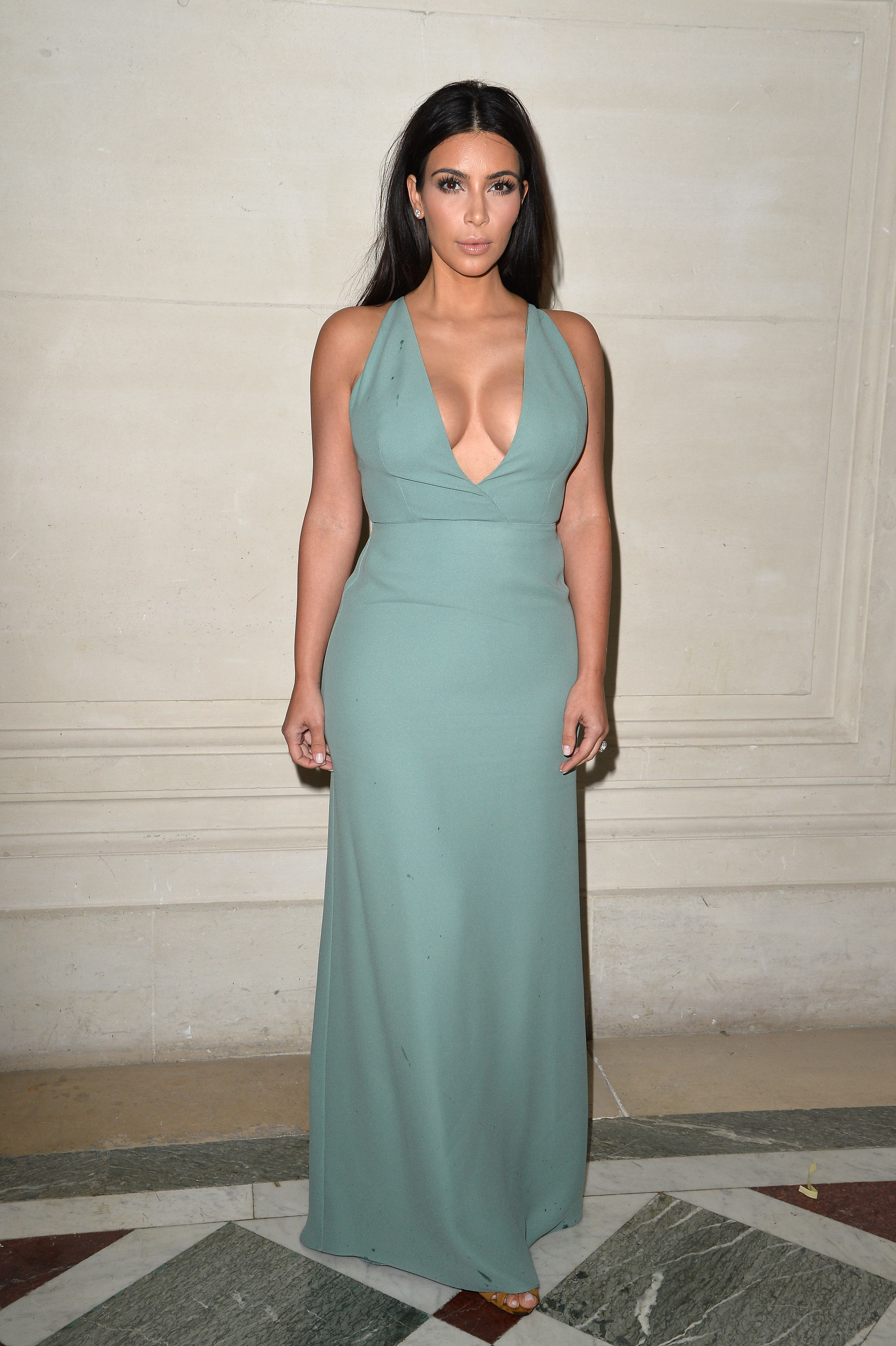 "Any time a top is risky...tape up!" she advised us.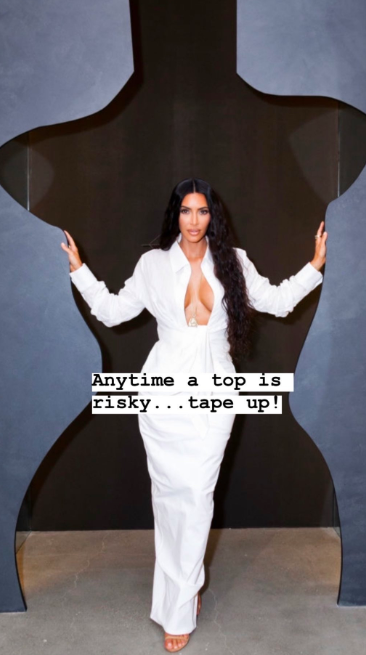 And, finally, Kim even revealed that you can use tape in order to go without a bra in a backless dress. Who knew?!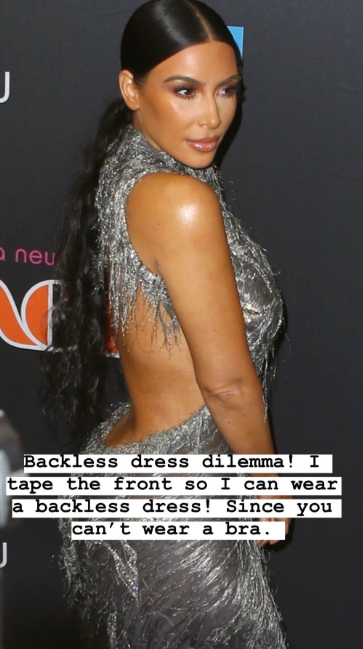 So get taping, I guess!!!