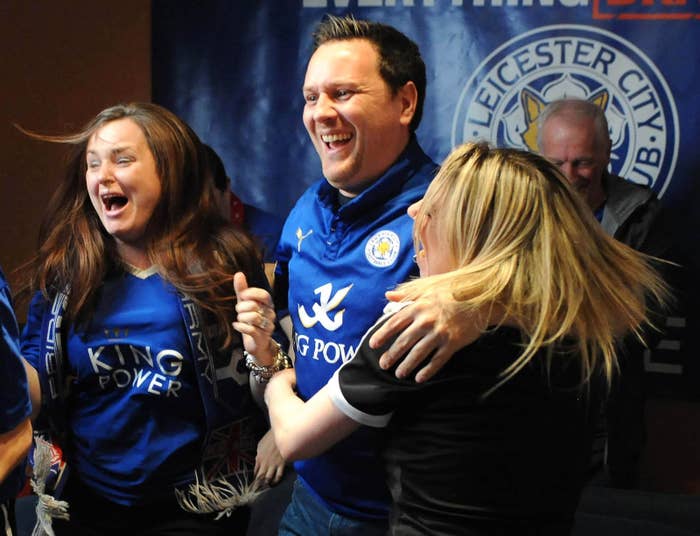 The grandson of a woman believed to be Leicester City's oldest season ticket holder has been chosen to present the Premier League trophy to this year's football champions.
Steve Worthy, 39, was selected out of thousands of fans for the once-in-a-lifetime honour, and says it is the perfect way to pay tribute to his 97-year-old grandmother Gladys Kenny who loves the club as much as he does.
Kenny is a lifelong supporter and attended games growing up before getting her first season ticket about 15 years ago. However, she was forced to retire the seat because of poor health.
It meant she missed the greatest season in the club's history in which Leicester – who narrowly escaped being relegated last year – silenced critics by climbing to the top of the table and winning the title race with two games left to play.
However, the 97-year-old will now get to join her grandson and his fianceé Hayley Lenton on Saturday when he hands the Premier League trophy to Leicester's captain Wes Morgan after winning a competition organised by Barclays.

Worthy was still reeling from the realisation Leicester had won the title after Tottenham Hotspur failed to beat Chelsea at Stamford Bridge on Monday evening, when he got a knock on the door ten minutes after the final whistle.
Here's how Leicester players reacted to the news of the 2-2 draw that sealed their title victory.
When Worthy answered, he was met by one of his footballing heroes, Leicester legend Muzzy Izzet, standing there with the Premier League trophy in tow.

Worthy told BuzzFeed News: "I had no idea at all. All I saw was the trophy, because of the lights from the cameras and that. It was only later that I noticed Muzzy Izzet."
The diehard fan is so devoted to his team that his sister's dog is named after the retired club legend, who made more than 260 appearances for the Foxes during his career. Worthy's old cat was also called Muzzy.

Describing his grandmother's reaction, Worthy said: "In all my life, I've never seen my grandmother cry. She lived through the war and is a strong woman. When Muzzy kissed her on her cheek, she had tears streaming down her face. It was moving just to witness that."
He added: "I know how much this means to her."
In a statement, Muzzy described the look on Steve's face as he opened the door as "brilliant". He added: "The love that he and Gladys have for the club is phenomenal and I can't even begin to imagine how they'll be feeling, as Steve prepares to hand over the Barclays Premier League trophy."

The presentation will take place on Saturday 7 May at King Power Stadium after Leicester's penultimate match against Everton.
When asked if he was daunted by the prospect, Worthy said his role would be "no problem at all" once he gets some much-needed sleep, and sent this message to his fellow supporters: "There's never been a better time to be a Leicester fan, so I want all fans worldwide to enjoy this moment."