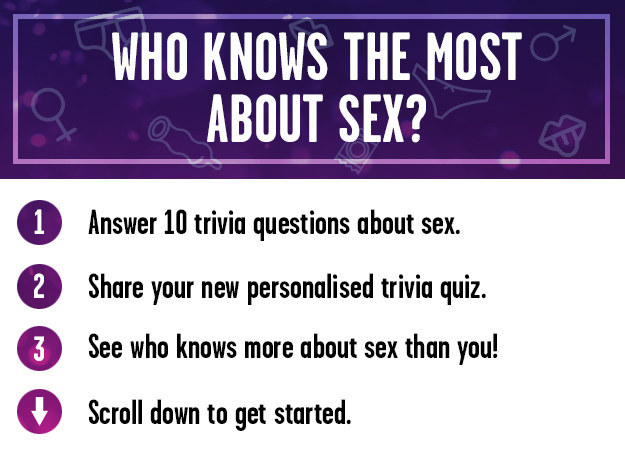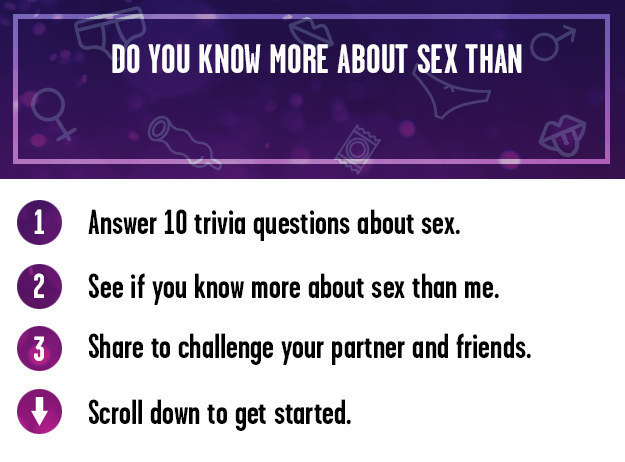 According to a Match.com study that surveyed over 5,000 Americans, 98% of singles think that sexual confidence is the biggest turn-on in the bedroom.

According to a study by Whipple and Komisaruk, when women orgasm, their pain tolerance threshold increased significantly by 74.6%.

The word penis is a Latin noun that originally translated as tail. The word is also associated to the verb pendere, which you will be pleased to hear means "to droop". Source: etymonline.com

According to NHS Choices, "If a woman has an STI, the infection can be passed on through vaginal fluid, blood or close bodily contact". So make sure you always use a new condom if you are sharing sex toys.

Not only is the withdrawal method an ineffective method of contraception, you might also be sacrificing the ultimate climax that you can have with condoms. So don't miss out on all the fun!

According to Oakland University, on average there are 200 million sperm in a man's ejaculation, which as it turns out, is roughly the same number in the average rabbit ejaculation. So there you go.

A woman can get pregnant "at any time of the month if she has sex without contraception", according to NHS Choices. Remember, carrying a condom means you're in control.

According to a report by Relate and Ann Summers, a woman's sexual confidence starts increasing at 40 and peaks between the ages of 60 and 69.

Pumpkin pie and lavender!

The combination of pumpkin pie and lavender might help put you in the mood for sex, at least according to one study that reported on the effects of 30 different scents on sexual arousal.

© BuzzFeed / Shutterstock