Soft Pretzels with Dr Pepper Caramel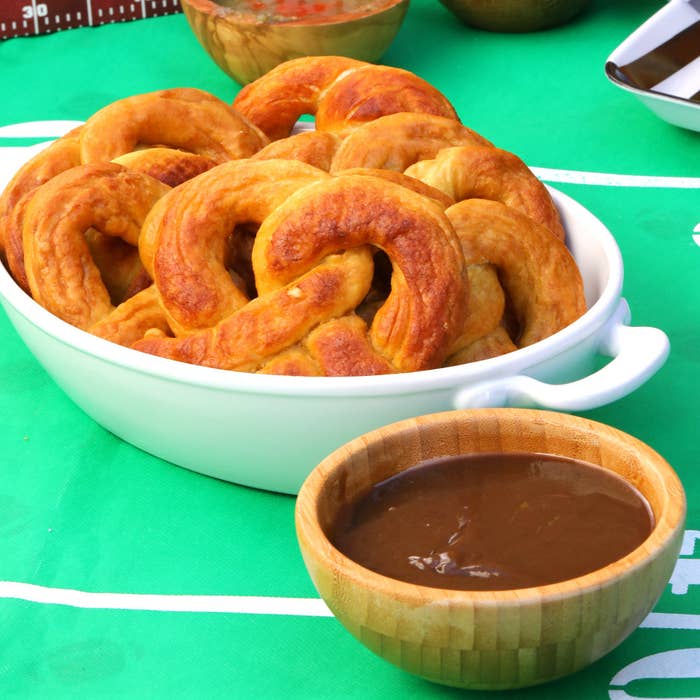 INGREDIENTS
Servings: 8
Caramel:
¼ cup brown sugar
1 can Dr Pepper
5 tablespoons butter
¼ cup heavy cream
½ teaspoon vanilla extract
Pretzels:
1 cup milk
2¼ teaspoons active dry yeast
2 tablespoons sugar
½ teaspoon salt
2 tablespoons melted butter
2¾ cups flour
¼ cup baking soda
½ teaspoon salt and ½ teaspoon sugar combined
1-2 tbsp softened butter
PREPARATION
Caramel
1. In a medium, heavy-bottomed saucepan, bring Dr Pepper and brown sugar to a boil. Cook until mixture is reduced in half and dark in color, stirring periodically as to not burn the liquid. (approximately 10-20 minutes)

2. Reduce heat to medium. 

3. Whisk in butter. Continue to whisk until mixture begins to slightly thicken. 

4. Add cream and whisk continuously until caramel sauce becomes thick. You may reduce heat to medium-low to prevent burning. 

5. Stir in vanilla extract and remove from heat. 

Pretzels
1. Preheat oven to 425ºF/220ºC.
2. Microwave milk for 30-45 seconds, or until it is warm but not hot.

3. In a large bowl, add milk, yeast, sugar, and stir. Let sit for 10 minutes. 

4. Stir in melted butter and flour until the mixture comes together. Knead the dough in the bowl until it is well incorporated and forms a ball. Lightly butter the bottom of the bowl, place dough on top, and cover with plastic wrap. Let the dough sit in a warm place for 1 hour, or until it has doubled in size. 

5. On a lightly floured surface, cut the dough into 8 even pieces. 

6. Roll out each piece into a long rope shape and then form into a pretzel. 

7. Add baking soda to a large pot of water, and bring to a rolling boil. Boil each pretzel for 30 seconds per side.

8. Transfer pretzels to a parchment-lined baking sheet, brush with soft butter, and sprinkle with salt and sugar mixture. 

9. Bake for 10-15 minutes or until golden brown.

10. Dip in caramel and enjoy!