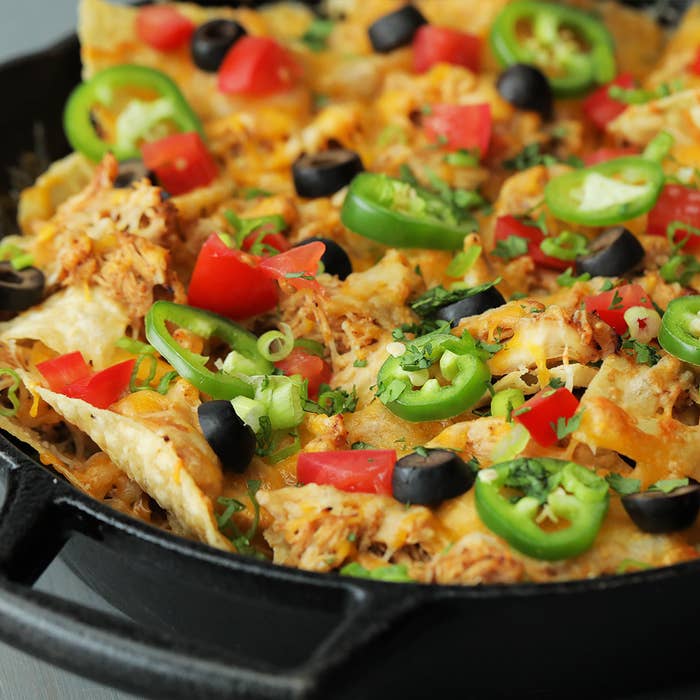 INGREDIENTS:
¼ cup ketchup
¼ cup soy sauce
1 can Dr Pepper
¼ cup apple cider vinegar
⅓ cup brown sugar
4 cloves garlic, minced
2 jalapeños, chopped
1 tablespoon paprika
1 tablespoon chili powder
1½ tablespoons salt
1 teaspoon pepper
4 boneless skinless chicken breasts
Tortilla chips
4 cups shredded cheese, assorted
Toppings
Minced cilantro
Sliced scallions
Diced tomatoes
Black olives
Sliced jalapeño
PREPARATION
1. In a slow cooker, whisk together ketchup, soy sauce, Dr Pepper, apple cider vinegar, brown sugar, garlic, jalapeños, paprika, chili powder, salt, and pepper. Add in chicken breasts. Cook on high for 2½ hours.
2. Remove chicken from slow cooker and shred. Pour a little of the cooking liquid over the chicken and toss.
3. Preheat oven to 375ºF.
4. In a large cast-iron skillet, arrange a layer of tortilla chips. Top with shredded chicken, then shredded cheese. Repeat layering of chips, chicken, and cheese until pan is full.
5. Bake for 5–7 minutes, until cheese is melted.
6. Remove from oven. Top with cilantro, scallions, tomatoes, olives, and jalapeños. Serve!