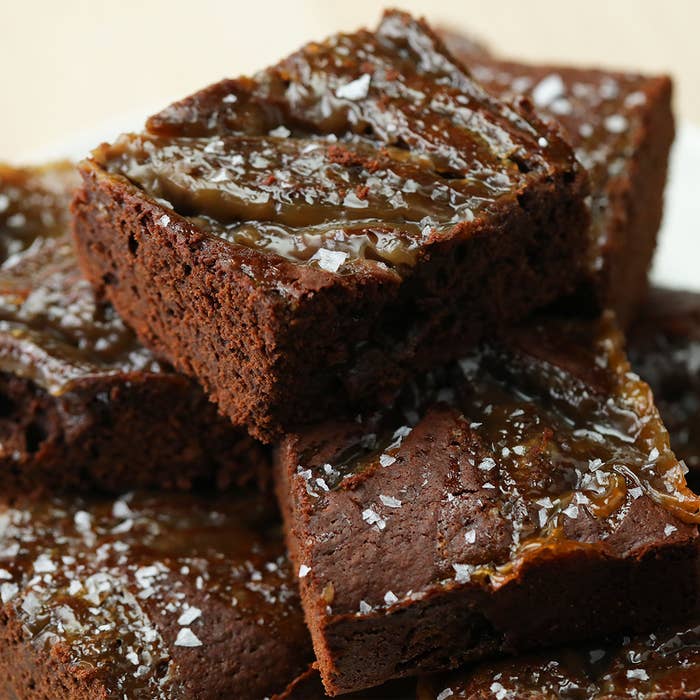 INGREDIENTS
Caramel
⅓ cup brown sugar
¾ cup Dr Pepper
2 cups mini marshmallows
⅓ cup heavy cream
1½ teaspoons flaky salt, plus extra for garnish
Brownies
1 cup butter
1 cup semi-sweet chocolate chips
1½ cups sugar
½ cup Dr Pepper
5 eggs
1 teaspoon salt
1 teaspoon baking powder
1½ cups flour
1 cup cocoa powder
PREPARATION
1. Caramel: Place brown sugar, ¾ cup Dr Pepper, and mini marshmallows in a saucepan. Turn heat on to medium. Whisk and let mixture come to a simmer. By the time the marshmallows have melted, mixture should be syrupy. Pour in heavy cream and flaky salt. Stir and let simmer for 2 minutes. Remove from heat. Let caramel rest in the freezer to cool while you make the brownie batter.
2. Preheat oven to 350ºF.
3. In pot, melt the butter. Add in chocolate chips and sugar. Whisk together until melted. Remove pot from heat. Whisk in ½ cup Dr. Pepper. Let mixture cool for 5 minutes.
4. Whisk in eggs, salt, and baking powder until smooth. Whisk in flour and cocoa powder.
5. Prepare a parchment-lined 9x13" baking pan. Pour brownie batter into the pan. Top with the caramel. Drag a silicone spatula through the caramel and batter to form a swirl pattern. Sprinkle with more flaky salt. Bake for 40–45 minutes.
6. Let cool before slicing.